Volunteering with The Arts Society
Our volunteers offer their time and energy to help us preserve and celebrate the arts and heritage. But you also get something back from volunteering – you'll make new friends, learn new skills, and you can enjoy knowing you are making a huge difference. Watch our short video to learn more.
Our Societies are run entirely by volunteers; a massive achievement by our members. Many Societies also have teams of volunteers who focus on the following areas of work in their local community:
No results found for selected filter !
Volunteering stories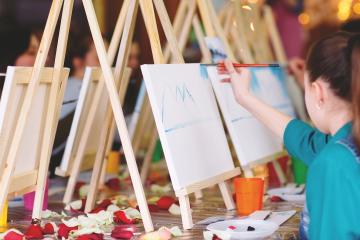 The Arts Society is pioneering new initiatives to support teachers to teach art in schools
The Marsh Awards
Every year the Marsh Christian Trust recognises some of the outstanding contributions made by volunteers of The Arts Society in the field of heritage conservation and arts education.
Link to Marsh Awards page
---
Volunteer with The Arts Society
Your local Society may already have some volunteering initiatives underway. Speak to them about the opportunities on offer. To find your nearest Society please click here.
For other volunteering queries, and if you have an idea for a new volunteering initiative, please email volunteering@theartssociety.org or view our other volunteering activities.
Church Recording
Between 1973-2020 Church Recording volunteers completed the momentous task of recording the contents of over 2,000 churches. Working in small groups volunteers researched and documented the memorials, metalwork, stonework, woodwork, textiles, paintings, libraries, windows and miscellaneous items found in churches across the country. Church Records now reside with local record offices, Church Care, Historic England and the National Art Library at the V&A. These records have previously assisted with local fundraising, grant applications, insurance and research. Interesting past finds have also been reported to The Royal Armouries, National Portrait Gallery and Royal Museums Greenwich to expand their own archives. We wish to offer our sincere thanks to Church Recorders past and present for their hard work and dedication to completing this amazing project.
From 2021 The Arts Society is no longer affiliated with Church Recording but the work is continued by The Church Recording Society and for information on The Church Recording Society and its activities please see - churchrecordingsociety.org.uk