Making a Difference: Art on the go
Making a Difference: Art on the go
Art @ The Station turns railway waiting rooms into pop-up galleries with works by locals of all ages. Caroline Wheater talks to people involved, revealing how this brilliant initiative can move down the line fast, as more Societies join in
---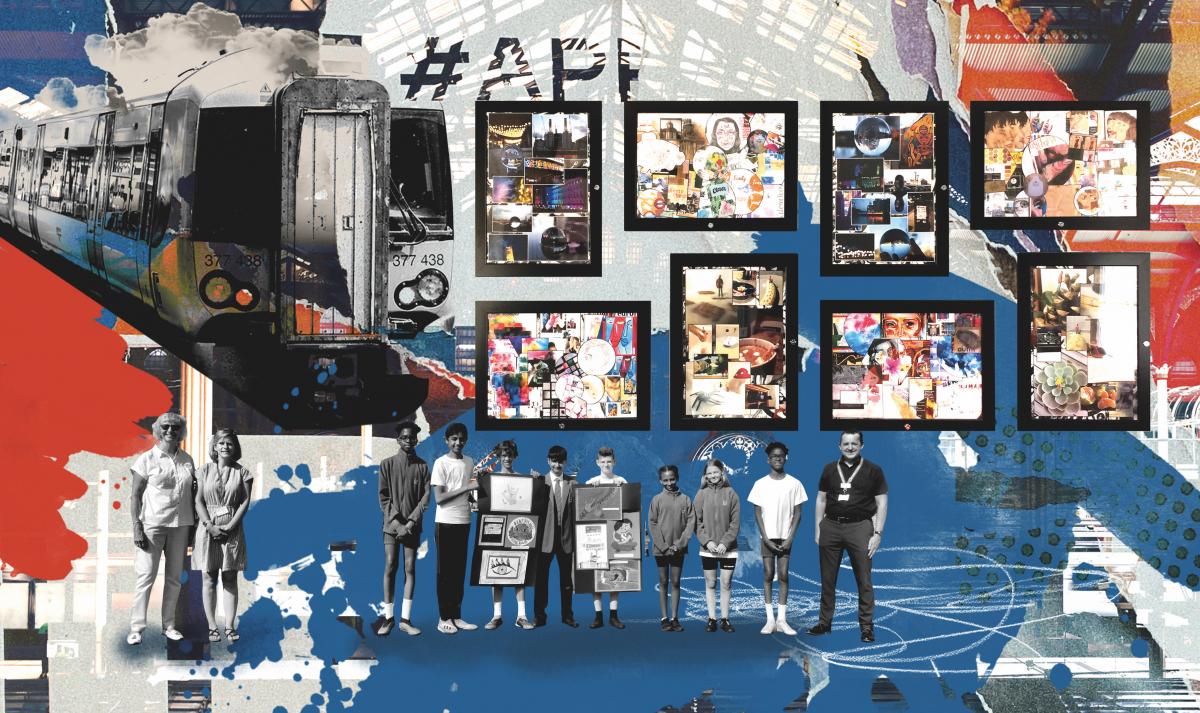 Illustrations by Eleanor Shakespeare

---
In Harry Potter style, the waiting room on Platform 3 at Guildford station in Surrey promises all kinds of magic. No wands or mandrakes involved – instead, a rolling programme of paintings, drawings and photographs casts its spell over passengers. The wonder has spread to waiting rooms at Farncombe (Platform 1) and Woking (Platform 5), too. You might see roaring tigers painted by a primary school child, watercolour sailing boats created by GCSE students, or reproductions of famous paintings by, possibly, some of their parents.
This is Art @ The Station, as championed by The Arts Society Guildford, and now a national Arts Society initiative. Originally launched at Farnham, Guildford took up the baton in 2017 under Cherry-Anne Russell, now The Arts Society's Head of Arts Volunteering. 'Our original aim was to support local young arts,' she says, 'and the chance to stage a "proper" exhibition at Guildford station, in such a great space, was too good to miss.'
With images supplied by A-level photography students at Guildford County School, the event made local news. Head teacher Jack Mayhew summed up the impact at the time by saying: 'It's an incredible opportunity for students to show their work beyond the classroom.' This feeling was echoed by student Albie, who added: 'It's great to have my work on show in such a professional way. I didn't think anyone other than the examiners would ever see it!'
---
GETTING INVOLVED

Since then Art @ The Station has become a fixture on Guildford's calendar. It is run by retired art teacher Liz Collins, who joined The Arts Society specifically to do arts volunteering. The impact of Liz's work has won her this year's Marsh Awards Highly Commended for Arts Volunteering Award, for her tireless activity in promoting this initiative and supporting Societies wanting to get involved. 'The concept was to get art into the community and give it a public space, with a special focus on the work of children, from Year 1 up to Year 13,' she says. Her current rota now includes 15 local schools. The waiting room displays are changed three times a year to chime with autumn, winter and summer terms, and Liz plans the schedule a year in advance – work that takes her two days a month.
---
'WE ARE SO PROUD OF OUR STUDENTS' WORK AND IT HAS BEEN AN INCREDIBLE EXPERIENCE FOR THEM TO HAVE THEIR ARTWORKS SHOWCASED IN THEIR LOCAL COMMUNITY'

– Mel Pearson-Jury, Head of Art, Broadwater School
---
'I got involved because, when I was teaching, I was supported by the local Arts Society. I wanted to do the same for other schools. I'm passionate about art for children and do this to celebrate the work of schools. It's important for the public to be part of school life and to know what pupils are achieving. Our feedback shows the children are delighted with the project. It gives them huge satisfaction, pride and confidence. Plus, if they want to take their art onwards, it's a stepping stone.'
Liz has a clear brief for schools that want to take part in Art @ The Station, inviting teachers to submit eight artworks chosen from curriculum projects. Ruth Cook, head of art and textiles at George Abbot School, saw drawings by some of her Year 9 students (13- to 14-year-olds), go up in Guildford station last spring. Around 40 Year 9 students had been studying the pencil portraiture of artist Iain Macarthur, and Ruth chose eight outstanding pieces inspired by his work. 'They are really expressive works, and I'm thrilled that we could show the quality of our students' drawing skills, already apparent at such a young age.'
---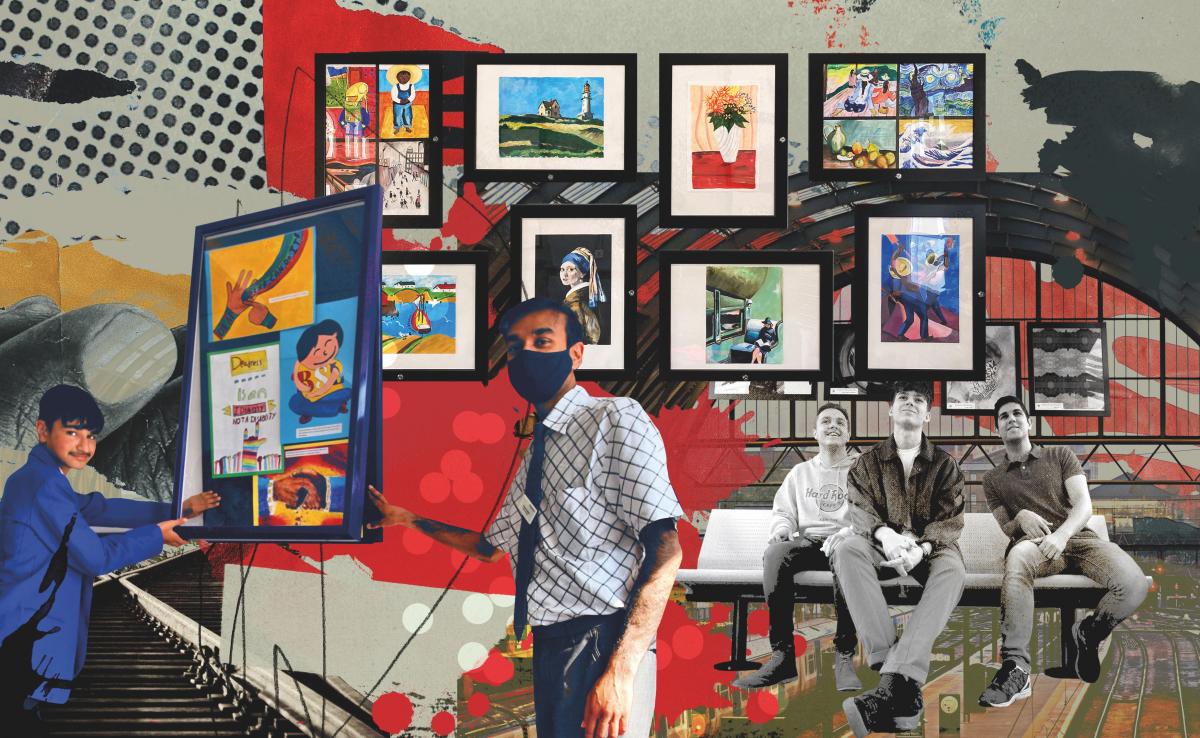 ---
MULTIPLE BENEFITS

Art @ The Station has played a key role for South Western Railway's (SWR) community outreach too. Liz liaised with SWR to formally 'adopt' the waiting rooms at Guildford, Woking and Farncombe stations. 'We have to satisfy health and safety requirements and provide eight lockable, tamper-proof picture frames per station, which SWR gave us a £500 grant towards.' The initiative was deemed so successful that it was shortlisted in the nationwide Community Rail Network (CRN) Awards 2020.
Says Daniel Wright, community rail support officer at CRN: 'We're all about connecting the railway to its communities. Art @ The Station has done so much towards achieving this goal at South Western Railway stations. It has allowed local artists to show off their works to a new audience of rail travellers, and rail travellers have seen station waiting rooms turned into art galleries.' SWR also offers station adopters 60 free train tickets a year – a bonus that's enthusiastically taken up by participating schools.
For the contributors, too, it's exciting to see their paintings gain public appreciation. Arts Society Member and ceramics graduate Cheryl King founded the Roseacre Gardens Grown-up Art Group during lockdown, for the benefit of friends and neighbours seeking an artistic outlet. None of the 12 members have any art training. Each two-hour Zoom session involves a 10-minute talk from Cheryl on a famous painting, which the group then copies.
---
'I feel so much more confident in my ability, and it was lovely to think we could brighten the walls of a waiting room and inspire other people to have a go at art.'

– Nik Badain, contributor
---
This work has seen Cheryl recognised by the Marsh Awards (with the Individual Award for Arts Volunteering) and her group has had its work shown at Guildford and Farncombe stations. 'Time and again, I hear people say they couldn't paint at school and they are hopeless at art,' she says. Now, to her participants' surprise and delight, their works are under public gaze. One contributor, Nik Badain, had her interpretation of Edward Hopper's Compartment C, Car 193 on show. 'I've never done anything like this,' she says. 'I feel so much more confident in my ability, and it was lovely to think we could brighten the walls of a waiting room and inspire other people to have a go at art.'
As news of Art @ The Station spreads, more Societies are getting involved – and no wonder. This is a powerful project that makes public spaces more welcoming and provides a sense of community. The Arts Society St Albans mounted its first display this summer, with Heathlands School for the Deaf. The students' artworks expressed their feelings about attitudes to deafness. This is uplifting art that starts conversations between strangers – and isn't that what art is all about?
---
FIND OUT MORE

• If your Society would like to get involved, or if you are interested in getting a volunteering project started, email volunteering@theartssociety.org
• For more on the Marsh Charitable Trust, see marshcharitabletrust.org/awards
---
This article first appeared in the winter 2021 issue of The Arts Society Magazine, available exclusively to Members and Supporters
About the Author
Caroline Wheater
Caroline Wheater is a freelance writer and editor based in Kent
Become an instant expert!
Find out more about the arts by becoming a Supporter of The Arts Society.
For just £20 a year you will receive invitations to exclusive member events and courses, special offers and concessions, our regular newsletter and our beautiful arts magazine, full of news, views, events and artist profiles.
FIND YOUR NEAREST SOCIETY