Discover Art Among the Pews
Discover Art Among the Pews
13 Dec 2019 - 10:27 BY Holly Black
The Church's position as a commissioner of art is nothing new. For centuries, churches were the only place where ordinary parishioners could encounter aesthetic splendour, from the fine craftsmanship of stained-glass windows to the iconography conceived by painters and sculptors. However, in recent years, an innovative form of commissioning has taken root, seeking to expand and invigorate our relationship with spirituality through challenging contemporary art, while also building new audiences. Here are some of the most exciting projects that have been taking place around the country.
---
SOUTHWARK CATHEDRAL

At Southwark Cathedral, the Lent Art Programme has worked with artists such as Edmund de Waal and Susie MacMurray, whose 2018 work Doubt consisted of a gigantic, oppressive cloud fashioned from butterfly netting. 'I wanted to make a piece that was about uncertainty,' she says, explaining the biblical and universal allusions: '40 days and 40 nights in the wilderness... Dealing with doubt and self-loathing. Be it PTSD [post-traumatic stress disorder] or grief, it is the human condition to be uncertain.'
---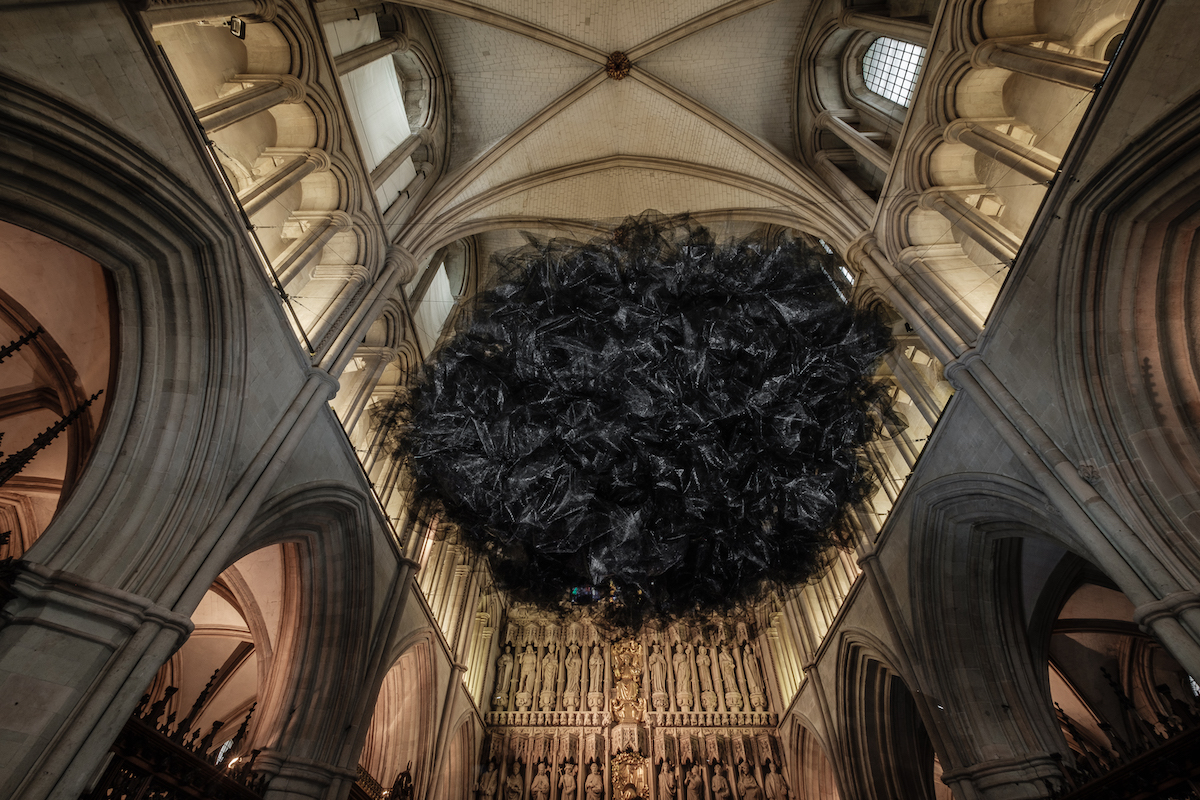 Susie MacMurray, Doubt
---
Rose Harding, who manages the Cathedral's Programme explains: 'As a busy London cathedral, diary management is an integral part of the planning. We always position the piece at the high altar, which allows flexibility and frees up the transepts, retrochoir, nave and chancel.' For MacMurray, these considerations meant a tight turnaround. 'It had to be a piece that I could make in essentially 48 hours,' she says. 'What's more, Doubt had to be gone by Easter morning, as if it had disappeared like a puff of smoke.'
---
ART IN THE CHURCHES, YORKSHIRE

While busy cathedrals might look to contemporary art to open up conversations about faith, new programmes are being launched as a way to revive interest in more diminutive local churches. Recent examples include Art in the Churches, which has curated works in places of worship across the country. One project was Sculpt, a cultural trail featuring site-specific works in seven Yorkshire locations, with an education programme supported by The Arts Society.
---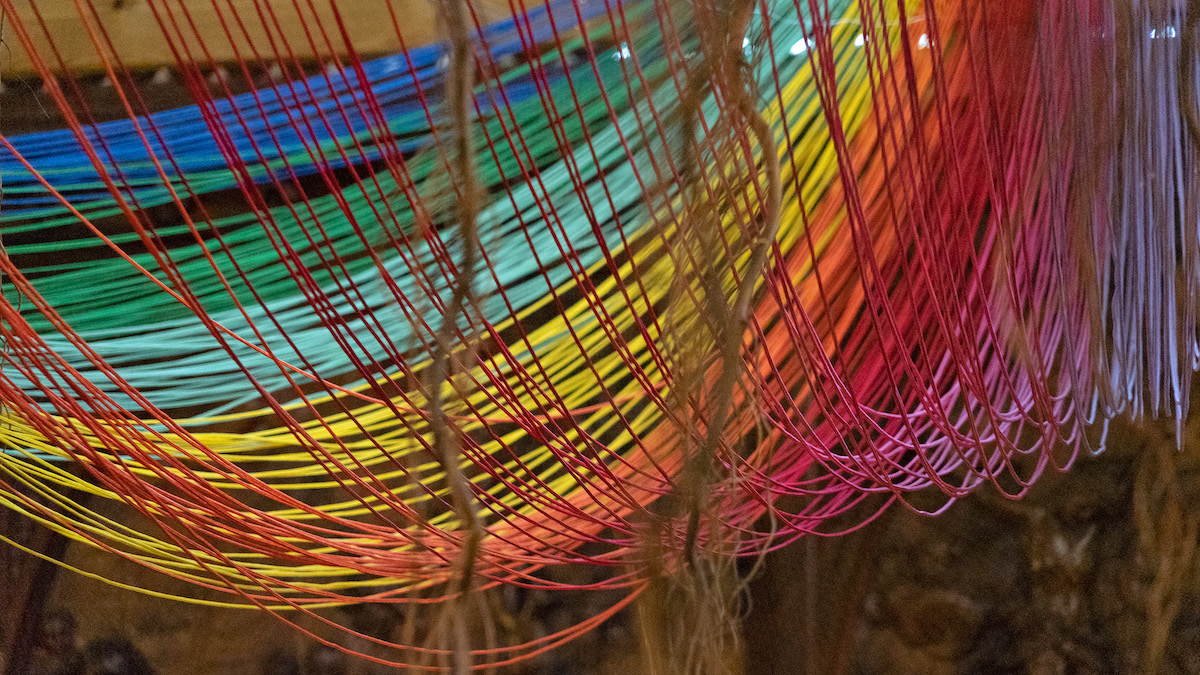 Jonathan Gabb, Wonder and War in Heaven
---
Chris Bailey explains that the mission of Art in the Churches was to spark interest in low-attendance churches and give them new purpose, while also offering great access to art. 'One of the key things it achieved was bringing international, quality art right into rural North Yorkshire.' Jonathan Gabb was assigned Snape Castle Chapel, which features a deteriorating ceiling fresco by Antonio Verrio (c.1636–1707). Gabb responded with a textile installation that alludes to the fresco's once-vibrant palette.
---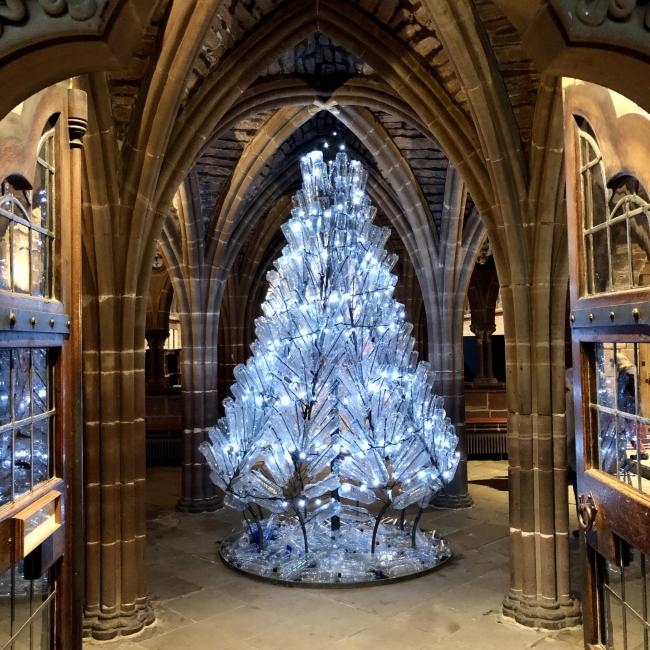 Chester Cathedral Christmas tree by Jacha Potgieter
---
CHESTER CATHEDRAL

Jacha Potgieter's exhibition Saving the Deep (at Chester Cathedral earlier this year) was a clarion call on plastic pollution, featuring his sculptures of marine life, all constructed from plastic waste washed up on a single Welsh beach. 'I am grateful to the cathedral for giving me the opportunity to spread my message of conservation,' says the artist and conservationist. 'I think it's fantastic that they are allowing their spaces to present work to an audience that may not have otherwise seen it.' Potgieter was invited back to create the cathedral's Christmas tree, which is made from 500 plastic bottles donated by the public.
---
Holly Black is The Arts Society's Digital Editor
---
SIGN UP

Read more about contemporary art in churches in the winter issue of The Arts Society Magazine, available exclusively to members and supporters.
Become an instant expert!
Find out more about the arts by becoming a Supporter of The Arts Society.
For just £10 a year you will receive invitations to exclusive member events and courses, special offers and concessions, our regular newsletter and our beautiful arts magazine, full of news, views, events and artist profiles.
FIND YOUR NEAREST SOCIETY