How to look at a painting
How to look at a painting
Have you ever questioned the way you view an artwork? We ask our expert, Alice White, to guide us on the ways of looking at a painting.
---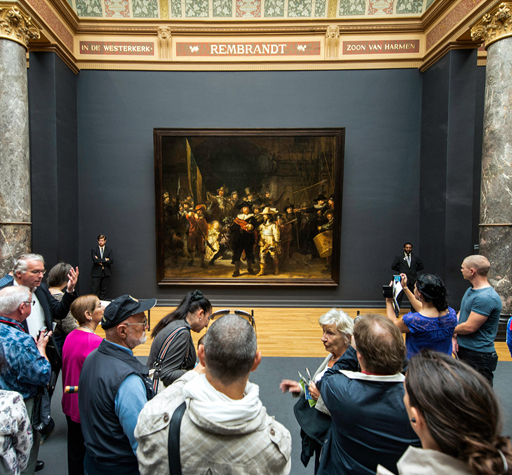 The Night Watch painting by Rembrandt at the Rijksmuseum
---
1. GET CLOSER TO ART
Art belongs to you. Don't be put off by what the so-called 'art elite' might have to say. Whether you're an art aficionado, a dabbling art lover or (perhaps most promisingly) a budding art fan in the making, your perspective is important.
This is the secret of gallery etiquette: get up close. The position of front-centre is usually the most desirable when viewing a painting, and therefore hardest to attain – particularly at a private view. Wait until the person in the best spot moves along. Then swoop in, extending and propelling yourself in one confident movement. Clear your throat (this invokes an atmosphere of power) and become utterly silent in mind and body. Occasionally, people will sidle up to you. Ignore them. When politeness dictates that you should move left, right, or take a step back to free up space for another member of the audience, do so.
Once they move along, you may reclaim your place. Don't be embarrassed or ashamed: this delicate choreography is treated by some as a competition, but it isn't. Everyone has a right to see art. Maintaining the right point of view simply takes patience.
---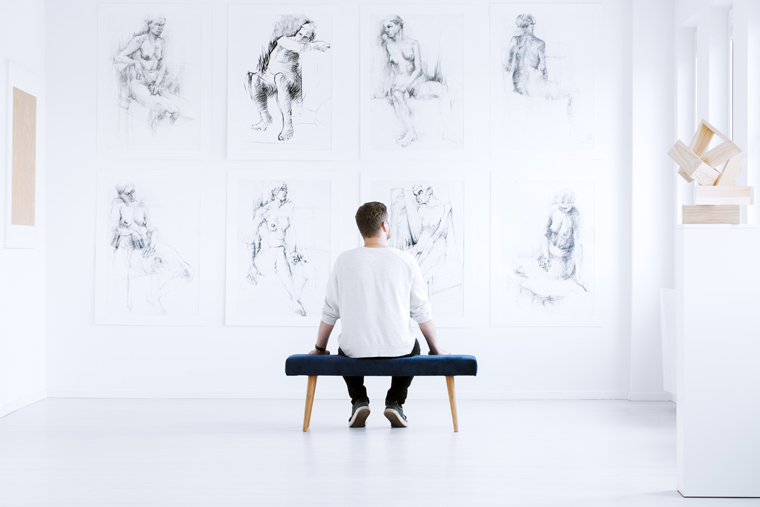 ---
2. THE EYES HAVE IT
There have been studies conducted to find out how long we spend looking at artworks, and the results vary.
One found that visitors look for less than two seconds, turn and read the explanatory text for an additional 10 seconds and then move on. The Louvre found that people look at the Mona Lisa for only 15 seconds on average.
At the turn of the millennium, the National Gallery launched its exhibition Telling Time, inviting researchers from the Applied Vision Research Centre to investigate how we look at paintings. Their landmark study, conducted over three months between 2000 and 2001, collected more than 5,000 responses from participants. One of three paintings were displayed to visitors and their responses were logged by eye-tracking technology designed specifically for the task.
The results were revealing.
We do not consume paintings in one visual gulp. Rather, we view paintings as we do the rest of the world: in a fragmentary way, gathering information from multiple small, precise points of vision, to assemble a picture in our minds. The longer we spend contemplating a painting therefore, the more visual details we can collect, and so the fullness of an artwork is gradually revealed.
---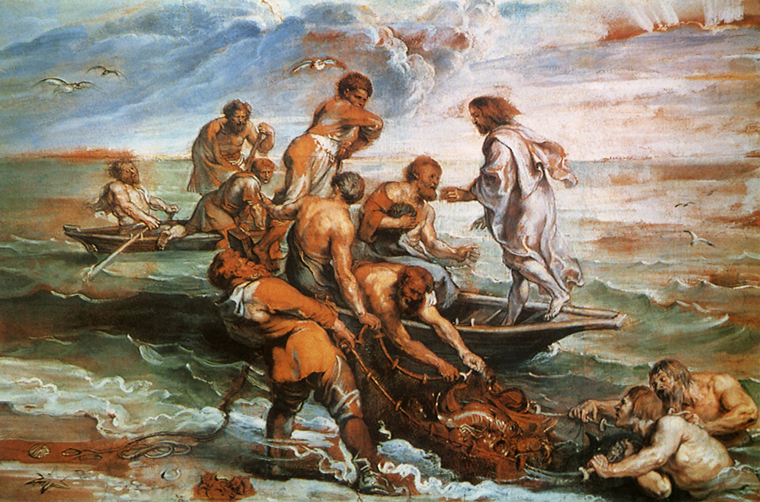 Peter Paul Rubens, The Miraculous Draught of Fishes
---
3. LOOKING VERSUS SEEING
The art of looking at a painting is also the art of slowing down. Considering the evidence, we should stay with artworks for far longer than we currently do.
I recommend 20 minutes minimum. In a gallery visit lasting an hour, this allows us to wander around for 20 minutes, choose an attractive artwork to spend the next 20 with, and still have time to grab a catalogue and a drink.
You needn't always select the most 'iconic' work on show; these are not always the best. Instead, choose one featuring subjects that you have a personal interest in (music, horses, epic landscapes) or that possesses characteristics you enjoy – photorealist detail perhaps, or grand painterly gestures.
Next, lean into the canvas. Paint is all about layers, so look carefully at how it is applied. Oil paint is a particularly sensuous medium. Its wonderful heft and slickness, magnetic depth of shine and transportive smell must be experienced up close. Look for gaps or thin areas of paint: these are where the secrets of an artist's technique are on show.
Look at the above work by Rubens, The Miraculous Draught of Fishes. He flaunts his ink drawing, brown-umber ground, dripping milky wash, highlights and muscular modelling in unfinished corners of this work.
---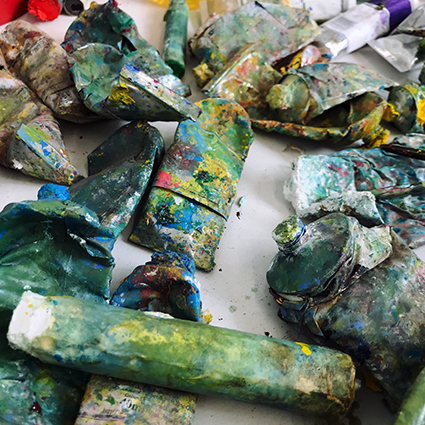 ---
4. PAINTING IS A PROCESS, NOT AN END POINT
I favour artists who use drips, splats, gestures and puncture marks in their work.
Although the term 'process painter' was coined around the 1960s to refer to experimenters like Jackson Pollock – who considered materials and methodology to be fundamental parts of the overall artwork – this view on art as active is useful to introduce the idea that paintings are in constant flux.
They are functioning objects, whose effects shift depending on our cultural and personal environments. The complex machinery of a painting can be appreciated immediately, and understood with practice.
Frank Auerbach is an artist whose relationship with the dimensions of paint is determined by time (spent), space (in which the work is created) and depth (of material and meaning).
He is a glutton for paint. Each brushstroke creates grand furrows and peaks; the paint arching into place in glorious meringue folds. The extraordinary slippery-sticky quality of oil paint is captured with multiple tools: alternately brushes, his own hands, putty scrapers and even paint applied directly from the tube.
Although generous, his approach is as much about deletion as addition. He scrapes the paint off the canvas with a palette knife at the end of every session, to begin again the next day.
---
5. PAINTERS BREAK BOUNDARIES
Auerbach's approach relates to his artistic forebears: Rembrandt used a palette knife. Art conservationists have used X-rays to reveal that Rembrandt used the sharpened wooden end of a brush to carve into his paint while it was wet. This 'worked impasto' was used to depict fine details such as hair, wrinkled faces, fur and delicate undulations in armour and jewellery. Rembrandt's painting process was ahead of its time. He worked in a sculptural way, layering different densities of pigment and glaze, then cutting into them so that they physically resembled the textures and quality of the real subject. He can be understood as a creative construction worker, building monuments to stand the test of time.
Turner was similarly incisive. He was one of the first artists to risk oil painting outside (anticipating the oil-paint tube before its invention), and he scratched at the surface of his sketchbooks with the thumbnail of his right hand – which he grew long for the purpose. This literally cutting-edge approach revealed the white pulp below, creating highlights. His early adoption of new pigments (cobalt blue, chrome yellow, emerald green and scarlet red were invented during his lifetime) influenced the bold colour palettes of the Impressionists – and artists today.
---
ALICE'S TOP TIPS
GO ON A DIGITAL HUNT
All too often, gallery visitors dash up to an artwork, pause (without looking) to snap a digital photo, and rush off. This could, in principle, be a bold act of ownership: you can go home with the Mona Lisa in your pocket. Our modern generation is the first to be able to access hundreds of priceless artworks for free, yet the images are never really examined. Digitised artworks can have an important role. I recommend visiting the Wikimedia Commons collections of Turner's Sketchbooks. When you have the privilege of seeing an artwork in person, please keep your eyes open.
With so many museums and galleries launching their collections online, it can be hard to know where to start. I'd suggest the following:
The Google Art Project, featuring important collections from the Tate, the Getty Museum, MoMA, the Musée d'Orsay and the Rijksmuseum, São Paulo street art from Brazil, and more
---
A GOOD READ
Ways of Seeing by John Berger, published by Penguin Modern Classics'
---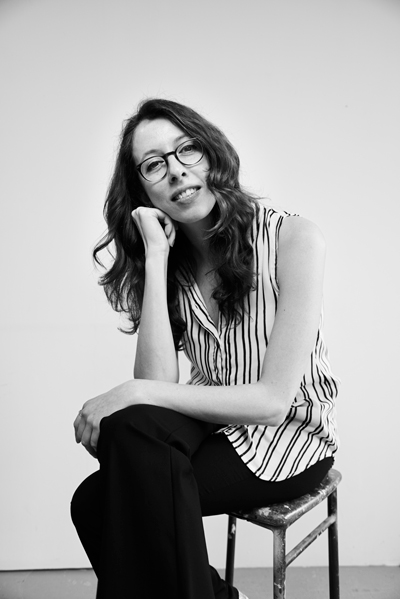 ---
OUR EXPERT'S STORY

Arts Society Lecturer Alice White is an oil painter and tutor at Central Saint Martins College of Art and Design. She also gives lectures at The Art Workers' Guild, King's College London and The Courtauld Institute of Art. Her talks include Ways to Look at Painting. Her essay A Painter'​s Perspective appears in the book Alfred Cohen: An American Artist in Europe, published by the Alfred Cohen Art Foundation and Ben Uri Gallery in March 2020.
Her artwork is informed by scientific collaborations with Brunel, Cambridge University and ZSL London Zoo and she will be exhibiting at Gustavo Bacarisas Gallery, Gibraltar in 2021. Find out more about Alice's work.
---
Portrait of Alice White © Chris Stokes; The Night Watch by Rembrandt © Alamy; Person looking at sketches © Shutterstock; Rubens, The Miraculous Draught of Fishes © Alamy; paint tubes, courtesy of Alice White
---
Stay in touch with The Arts Society! Head over to The Arts Society Connected to join discussions, read blog posts and watch Lectures at Home – a series of films by Arts Society Accredited Lecturers, published every fortnight.
About the Author
Become an instant expert!
Find out more about the arts by becoming a Supporter of The Arts Society.
For just £20 a year you will receive invitations to exclusive member events and courses, special offers and concessions, our regular newsletter and our beautiful arts magazine, full of news, views, events and artist profiles.
FIND YOUR NEAREST SOCIETY