How to Become an Instant Expert on a Short History of Magic
How to Become an Instant Expert on a Short History of Magic
There is universal delight in being deceived by magic, with magicians upending our assumptions about the way the world works. Our expert, magician Bertie Pearce, guides us through this world of smoke and mirrors
---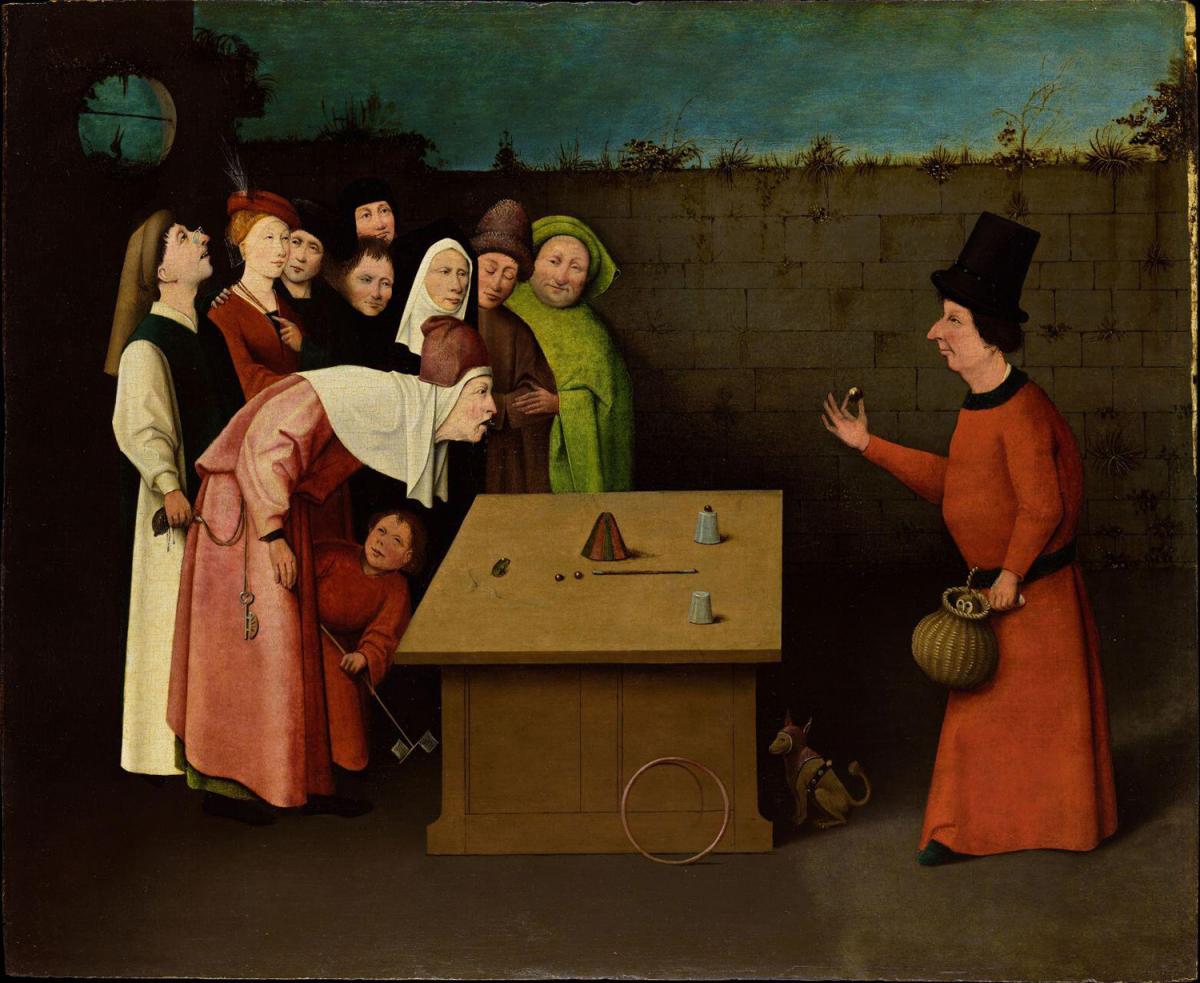 The Conjuror, by Hieronymus Bosch (c.1450–1516)
'The art of the magician is to create a sense of wonder. If we live with a sense of wonder our lives become filled with joy'
Doug Henning, Canadian magician, illusionist and escape artist, 1947–2000

---
1. FROM THE BEGINNING
The starting place for illusion comes within the Bible. Who can forget Moses's battle with the Egyptian magicians as they struggled to replicate the miracles of God?
And from the extended Book of Daniel comes the tale of Bel and the Dragon.
Food disappears nightly in the sealed Temple of Bel, convincing the worshippers that Bel is a living god, with the need to eat. Daniel is not convinced. He scatters an arc of ashes around the offerings. The next morning the offerings are gone, but footprints are visible in the ashes. They lead to a secret door, which opens into the priests' quarters where those offerings must have been enjoyed. And so the origin of illusions can be found, thousands of years ago, in the splendour and solemnity of Greek and Egyptian temples.
Sorcerer-priests went so far as to use their knowledge of hydraulics, acoustics and optics to produce apparent miracles for the edification of worshippers. Some of these are described and illustrated in The Pneumatics of Hero of Alexandria, c.AD 62.
There is also the age-old art of sleight of hand, also known as legerdemain, where the prestidigitator uses digital skill to manipulate small objects. Jongleurs, minstrels and troubadours (magician is a much later term) have been performing, for example, the famous 'cups and balls' trick for centuries.
Now regarded as the oldest trick in the world, it is also the standard test of a magician's skill. The painting at the very top, by Hieronymus Bosch, is a superb example of this.
---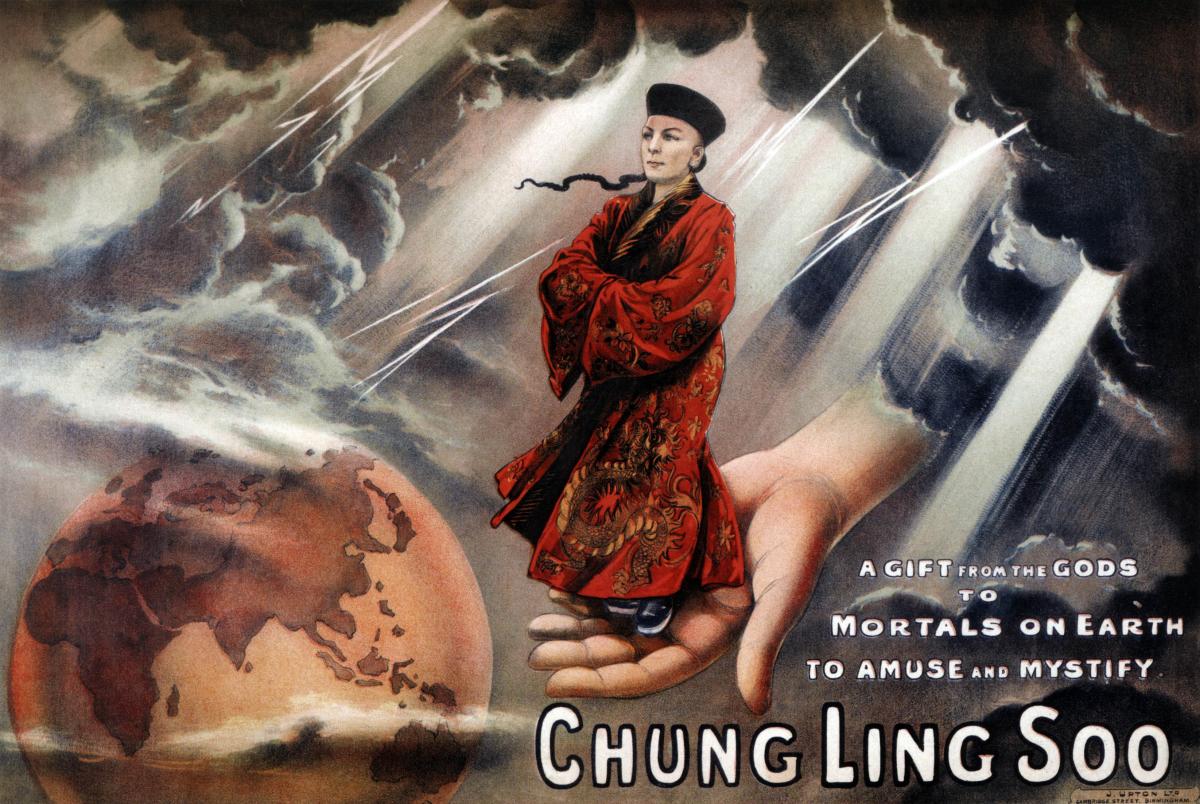 A 1912 poster for the conjuror Chung Ling Soo (1861–1918)
---
2. VIOLENCE AND DANGER
Nothing holds an audience's attention better than the prospect of something going wrong.
Tricks with violence and mutilation run like a thread through the history of magic – they could be called 'crowd-pleasers'.
The Westcar Papyrus (now in the Egyptian Museum of Berlin) recounts tales of the magician Dedi, who slices off the head of a goose and makes it whole again. Egged on by King Cheops, he repeats the trick twice using, respectively, a pelican and an ox.
The first published book to include explanations of illusions is Reginald Scot's 1584 The Discoverie of Witchcraft. Scot wanted to show how the public were being fooled by so-called witchcraft and magic. He even revealed the workings of the 'Decollation of John the Baptist' illusion, the 16th-century magic trick that referenced the decapitation of the saint.
Catching a live bullet between your teeth is arguably the most dangerous trick ever devised.
It was famously presented by the great Chung Ling Soo (real name – William Robinson). Unfortunately it cost him his life when it went wrong, in 1918, at the Wood Green Empire, in front of a large audience. The trick has killed 25 magicians, and counting.
If there is one trick that has come to define the whole art form of magic for the public, it would have to be the illusion of sawing a woman in half.
A century ago, a magician called PT Selbit had the idea of putting a lady in a box and appearing to saw her in two. From his first performance, on 17 January 1921 at the Finsbury Park Empire, it was an instant hit. Since then it has become one of the most pirated, developed and performed tricks of all time.
---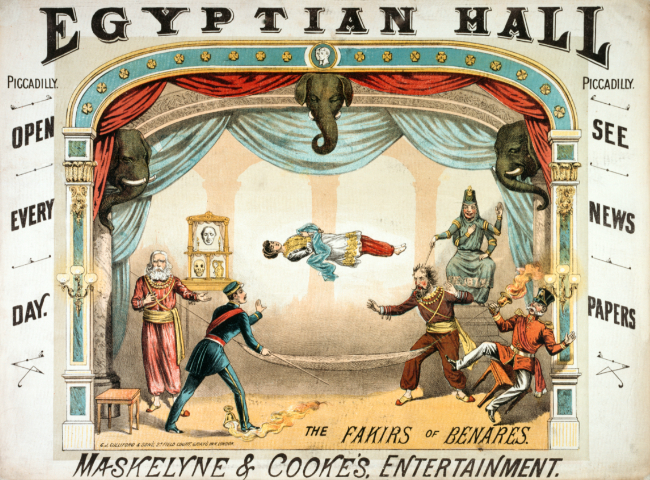 Magicians Maskelyne and Cooke perform levitation at the Egyptian Hall, 1884
---
3. THE GOLDEN AGE OF MAGIC
The 19th century witnessed a stellar time for magic, as successful performers moved from the fairgrounds and taverns to the theatres.
Those magicians were also great travellers, as the development of railways and steamships brought opportunity for global travel.
One such was the French magician Jean-Eugène Robert-Houdin (1805–71), who was hailed as the father of modern magic. A clockmaker from Blois, he brought a new respectability to the art of conjuring. He dressed as a gentleman, used everyday props and famously said: 'A magician is an actor playing the part of a magician.'
Meanwhile, the Egyptian Hall in Piccadilly, and later St George's Hall in London, became England's home of mystery with exceptional performers Maskelyne and Cooke and, subsequently, Maskelyne and Devant.
David Devant (1868-1941) is widely acclaimed as Britain's greatest conjuror. He was a man of great personal charm who brought a new approach to the art as well as inventing some startling illusions. There is a long list of extraordinary magicians, including Alexander Herrmann, The Great Lafayette, Dante and Thurston, who travelled the globe with huge stage shows and a cast of assistants. We only catch a glimmer of their acts from the wonderful posters that advertised their shows, which remind us of a bygone era of theatrical mystery.
---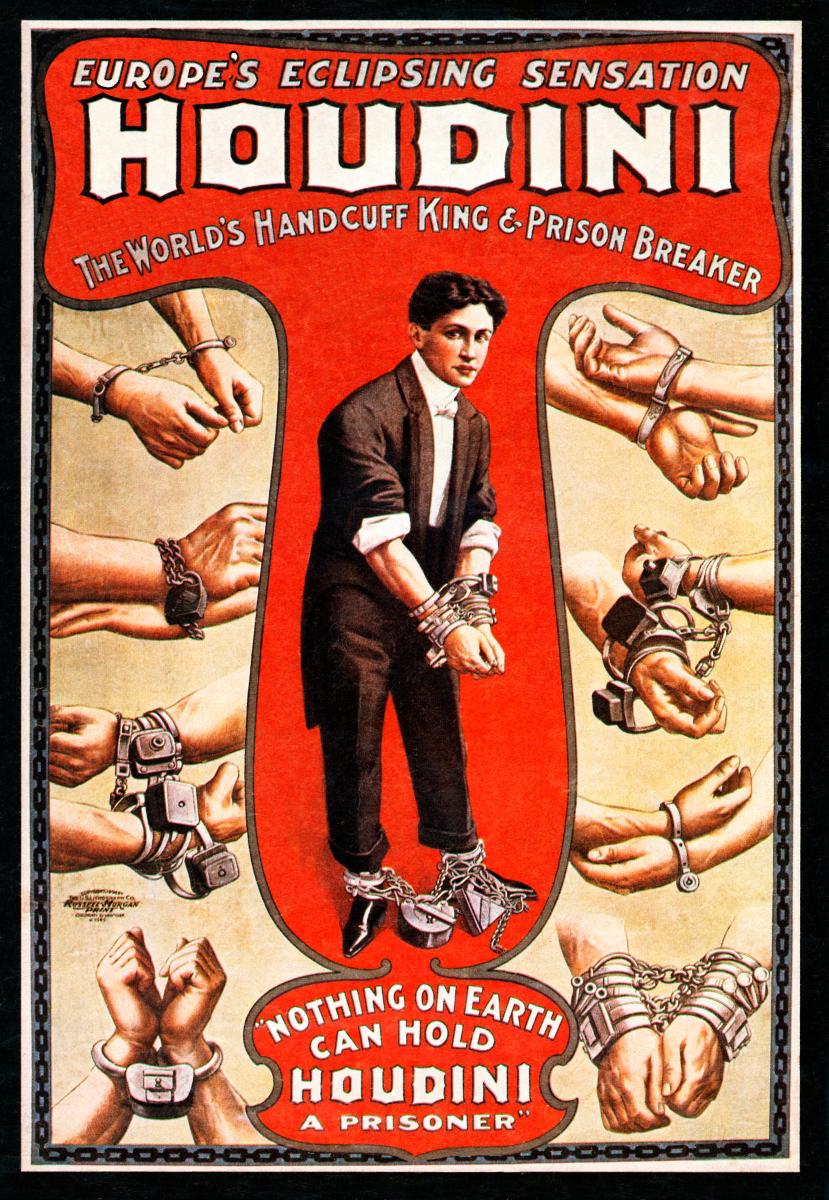 A 1906 poster for 'Europe's Eclipsing Sensation', the escapologist Harry Houdini
---
4. MYTHS AND MAGIC
The world of illusion is also full of myths. The most famous one is the 'Indian Rope Trick'.
People returning from India claimed to have witnessed a rope slowly rising from the ground or a basket. It was said that a small boy would climb the rope and, when he reached a certain height, the magician would clap his hands, the rope would fall and the boy would vanish in mid-air.
Magicians have travelled to India to discover the secret. The Magic Circle even offered large sums of money to see a presentation. The money is safe. The trick is a legend, built on fantasy.
The 'pulling a rabbit from a hat' trick is also legendary.
Where did it come from? Could it be anything to do with Mary Toft, a housewife from Godalming who, in 1726, claimed to have given birth to 10 rabbits? King George I was riveted; everyone was talking about it. Toft, unsurprisingly, turned out to be a fraud, but one way or another a clever performer realised that a rabbit from a hat was the perfect effect.
If there was one entertainer who has to become more of a mythical figure than any other, it would have to be Harry Houdini.
Born Erich Weiss in 1874, he was the son of a rabbi from Budapest. The family emigrated to Wisconsin and, amid the poverty of his childhood, Weiss became captivated by magic and named himself after Robert-Houdin.
His magic soon gave way to dramatic escapes, using an assortment of locks and handcuffs. A brilliant self-publicist, with a natural flair for showmanship, Houdini realised that: 'The public seek drama. Give them a hint of danger, perhaps of death, and you will have them packing in to see you.'
This was exemplified in his electrifying performance of the 'Chinese Water Torture Cell', in which he escaped after having been lowered, head first, with ankles locked into a frame, into a tank of water, then locked into place. Houdini died in 1926, but his name lives on as his legendary escapes are a symbol of how to defy the impossible.
---
5. SECRETS AND THE MAGIC CIRCLE TODAY
When people think of The Magic Circle in London, many have a vague idea of a secret club for magicians.
Founded in 1905 by 23 magicians in Pinoli's Restaurant, today it has approximately 1,500 members from around the world. The Magic Circle motto is Indocilis Privata Loqui, which translates as 'not apt to disclose secrets'. Members give their word not to wilfully disclose secrets – and those that do may be expelled.
How do you learn tricks, then, if they are to be kept secret?
Firstly, there is a huge number of printed books on magic for those who go searching, and now, with the internet, the possibilities for learning are fathomless. There is a limited number of magic principles. They are: production, disappearance, transformation, transposition, penetration, restoration, animation, levitation, time-control and omniscience.
The challenge for every magician is to take the principles of this ancient art form and repackage them for a modern audience in a style that is uniquely their own. One thinks of David Copperfield, the slick American illusionist who made the Statue of Liberty disappear; and Siegfried and Roy, two German magicians, who took magic spectacle to a new level with white tigers in Las Vegas.
Here in the UK, we remember the charm of the first television magician, David Nixon; the comic genius of Tommy Cooper; and the repartee of the versatile Paul Daniels. Today David Blaine, Derren Brown and Dynamo, to name a few, have taken the art form in different directions, making full use of modern technology and social media to reach their audience.
Perhaps the greatest challenge has been to attract more women to take up magic, but now there are signs of change. In September 2021 The Magic Circle welcomed its first female president, Megan Swann, who, describing herself as an 'environmental magician', uses magic as a communications tool to raise awareness of the needs of our planet.
---
BERTIE'S TOP TIPS
See
The Christmas Show at The Magic Circle, London. The theatre is wonderfully intimate, but book early to avoid disappointment. You can book here.
Learn more
Close-Up at The Magic Circle and History & Mystery at The Magic Circle – tickets can be found online here.
Visit

Good reads: books on magic or with a magical theme
David Copperfield's History of Magic by David Copperfield, Richard Wiseman and David Britland; newly published by Simon & Schuster
Lost Empires by JB Priestley, originally published 1965
Carter Beats The Devil by Glen David Gold, published 2001

Enjoy a film
The Prestige, 2006 – a thriller directed by Christopher Nolan
The Illusionist, 2006 – a romantic mystery film starring Edward Norton

---

IF YOU ENJOYED THIS INSTANT EXPERT EMAIL...

Why not forward this on to a friend who you think would enjoy it too?

Stay in touch with The Arts Society! Head over to The Arts Society Connected to join discussions, read blog posts and watch Lectures at Home – a series of films by Arts Society Accredited Lecturers.

About the Author
Bertie Pearce
Bertie Pearce is a member of The Inner Magic Circle with Gold Star. He studied drama at Manchester University and then went on to the École Internationale de Théâtre Jacques Lecoq. He performs at cabarets, private parties and fundraisers. He has been an Arts Society Lecturer since 2008; among his talks are The History of Magic, The Punch and Judy Show, Visual Deception and Charles Dickens.
Become an instant expert!
Find out more about the arts by becoming a Supporter of The Arts Society.
For just £20 a year you will receive invitations to exclusive member events and courses, special offers and concessions, our regular newsletter and our beautiful arts magazine, full of news, views, events and artist profiles.
FIND YOUR NEAREST SOCIETY