Become an instant expert on William Wordsworth, the ice-skating poet
Become an instant expert on William Wordsworth, the ice-skating poet
We think of Wordsworth as one of our greatest poets, a founder of English Romanticism and one of its most vital intellects. His passion for ice skating is a little less well known. Our expert, Annalie Talent, explores the story
---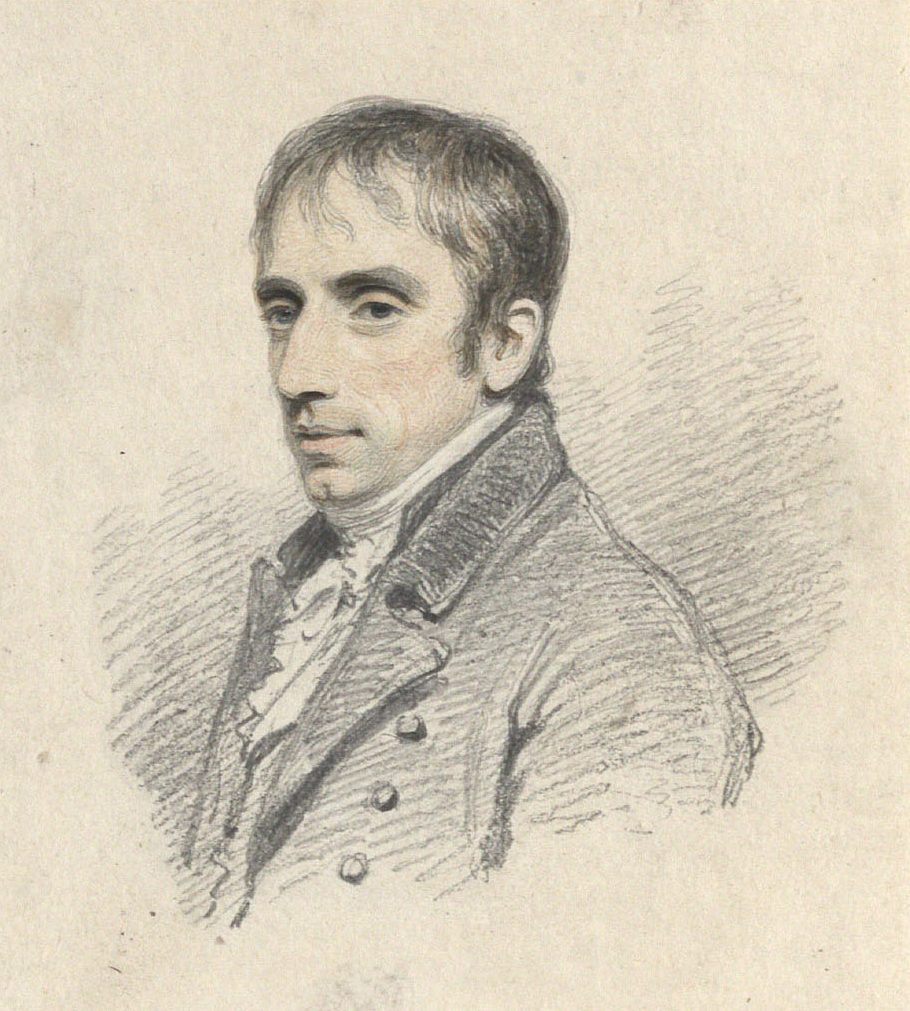 William Wordsworth, by Henry Edridge, 1806. Courtesy of The Wordsworth Trust, Grasmere
---
'Rydale is covered with ice, clear as polished steel, I have procured myself a pair of skates and tomorrow mean to give my body to the wind'

William Wordsworth, December 1799
---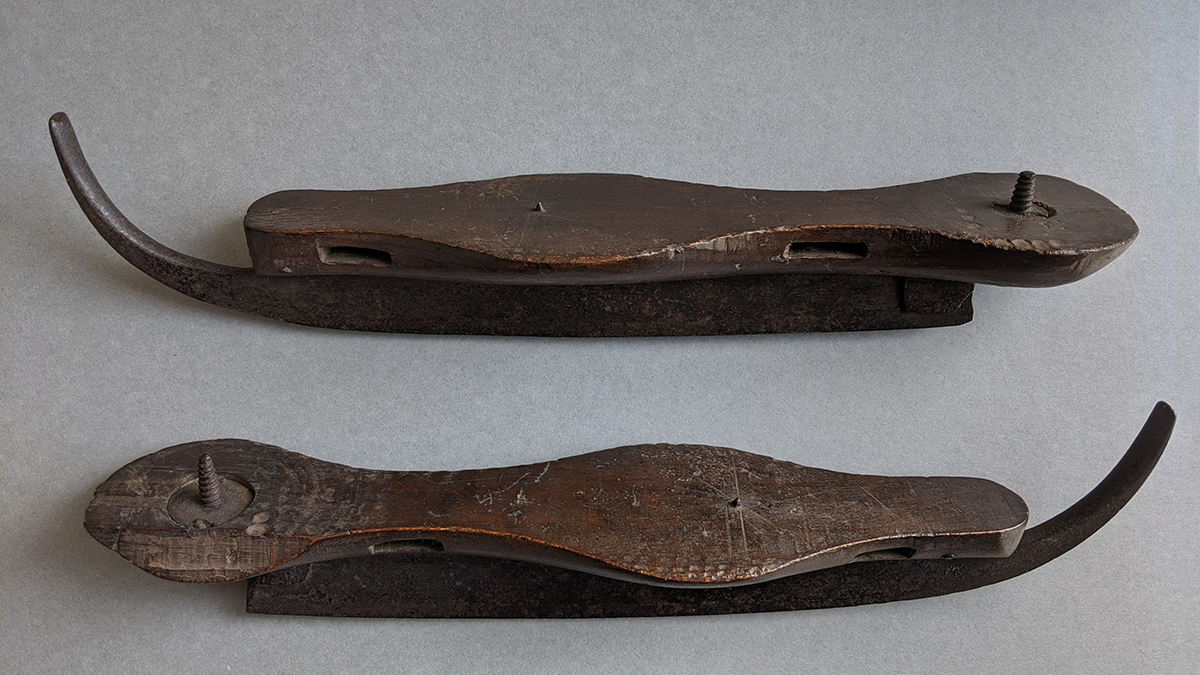 Wordsworth's ice skates. Courtesy of The Wordsworth Trust, Grasmere
---
1. NOT JUST ANY OLD PAIR OF SKATES...
On display in a Lake District museum is a pair of early-19th-century ice skates. These are not the type of skates we might wear today, at the pop-up ice rinks that have become so popular each festive season.
This pair is designed to be worn over shoes or boots, secured to the wearer's feet with leather straps (long since perished). The steel blades are attached to wooden soles; each blade points upwards at the toe like a Turkish slipper.
The owner of these ice skates was the poet William Wordsworth; the museum is one dedicated to his life, work and legacy at Dove Cottage in Grasmere, the home where he lived with his sister, Dorothy. It was at this cottage that Wordsworth wrote some of his best poetry, and it was here that Dorothy wrote her famous Grasmere Journal.
The two set up home in Grasmere in December 1799. In a letter to his friend and fellow poet Samuel Taylor Coleridge, Wordsworth describes how Rydal, the neighbouring lake to Grasmere, is 'covered in ice, clear as polished steel'. He tells Coleridge he has obtained a pair of ice skates and the next day – which is Christmas Day and Dorothy's birthday – he will skate on the frozen lake and 'give his body to the wind'.
---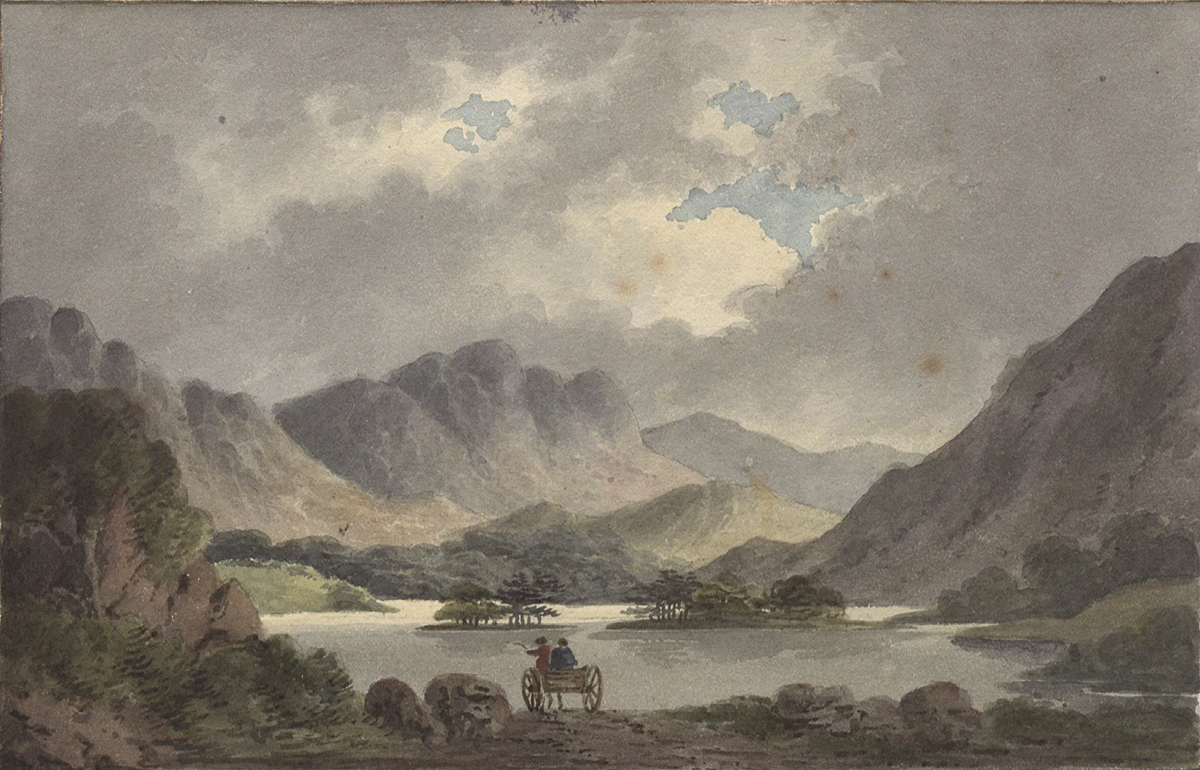 Lakeland surrounds: the 1802 painting Rydal by James Bourne. Courtesy of The Wordsworth Trust, Grasmere
---
2. TAKING TO THE ICE
Wordsworth was well practised at ice skating. He skated regularly as a child and it was memories of this pursuit that informed one of the most evocative episodes from his autobiographical poem The Prelude.
In the poem he vividly recalls the time when, as a boy, he skated on the frozen lake near his home in Hawkshead (a small market town near Windermere, where Wordsworth attended school). One frosty evening at twilight, he joined his friends and 'all shod with steel / we hissed along the ice in games / confederate'.
Wordsworth combines a dazzling mix of visual imagery with sound to bring the scene to life. He compares the noisy boys pursuing each other on the ice to a 'bellowing' pack of hounds chasing a hare. And he describes how 'the precipices rang aloud / the leafless trees and every icy crag / tinkled like iron'.
It's a wonderful and joyous scene, which also sees the young Wordsworth finding time to escape from his friends and skate in solitude. Being alone with nature allows the future poet to contemplate the awe-inspiring landscape that surrounds him: 'I stood and watched till all was tranquil as a dreamless sleep'.
---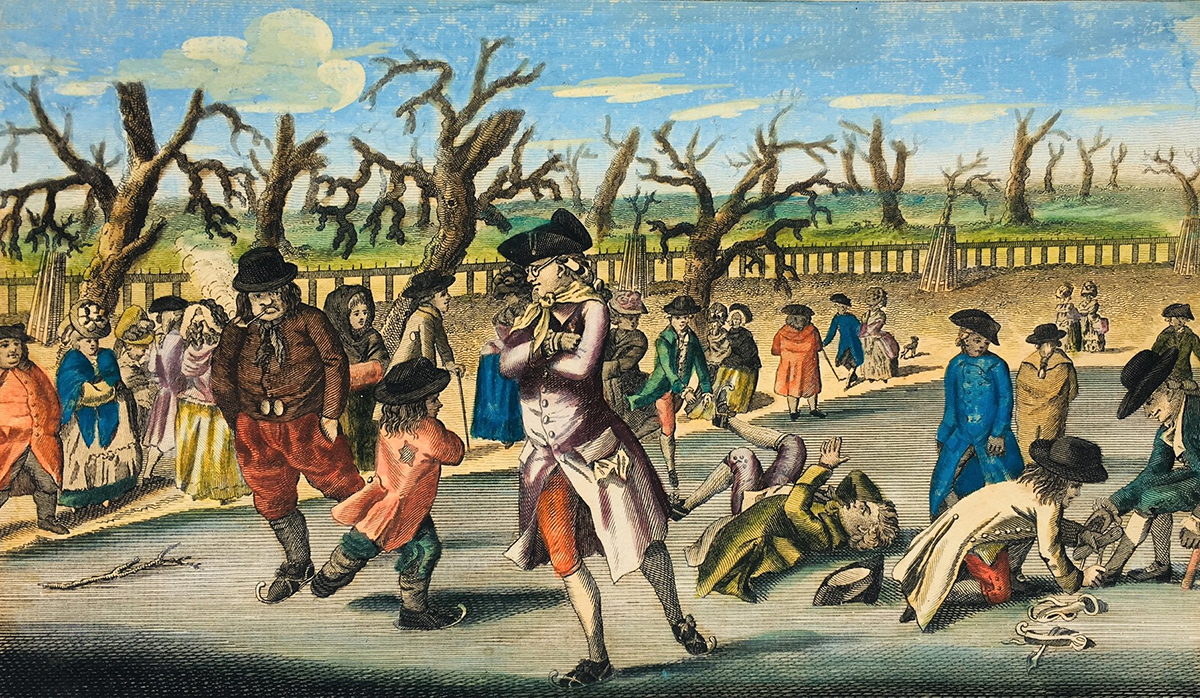 Winter Amusement, engraved by Robert Dighton, c.1785
---
3. WORDSWORTH IN GERMANY
Wordsworth composed this section of The Prelude in Germany, a few months before his move to Grasmere. He and Dorothy spent a very cold winter holed up in the medieval town of Goslar, ostensibly learning German. Despite the bad weather (or, perhaps, because of it) Wordsworth found time to write several poems, including the skating scene, which became one of the key episodes in the first book of The Prelude (not actually published until after his death in 1850).
It is probably no coincidence that Wordsworth was inspired to write about ice skating at this time. The extreme cold would have brought many skaters onto the frozen lakes and rivers, prompting memories of his childhood.
There was also a tradition of ice-skating verse in German poetry of the 18th century, the leading proponent of which was the poet Friedrich Gottlieb Klopstock. Wordsworth met him during his stay, when Klopstock was elderly and past his skating prime; he had swollen legs, missing teeth and wore a wig. When younger, Klopstock was said to have skated with 'the ease and grace of a regular artist', which, if you believe the writer and critic Thomas de Quincey, was more than could be said for Wordsworth, whose technique he compared to that of a dancing cow.
---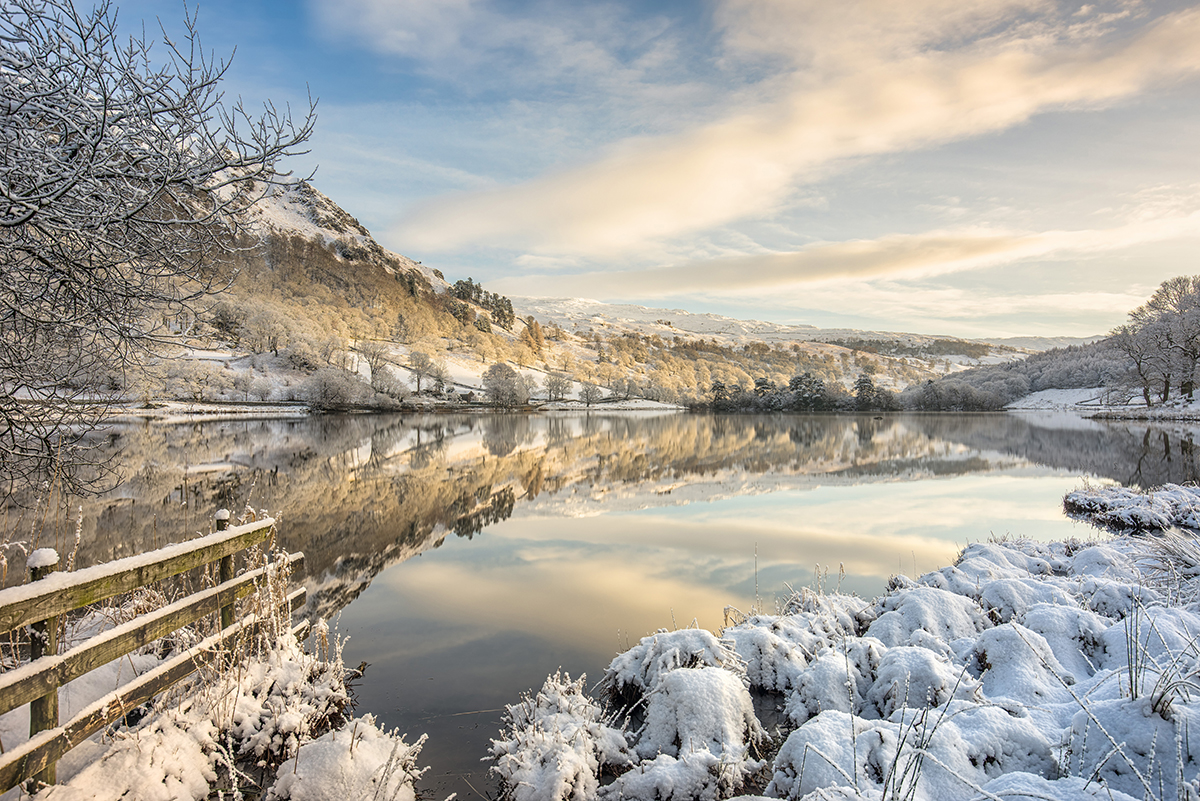 Nature's power: a recent snowy scene at Rydal
---
4. THE POET AS INNOVATOR
Wordsworth wasn't the first English poet to write about ice skating. One of the most popular poems of the 18th century, James Thomson's The Seasons, features an ice-skating scene in which the skaters 'sweep / on sounding skates, a thousand different ways / in circling poise, swift as the winds…'.
The Seasons and The Prelude are both written in blank verse, a poetic form traditionally used for epic poems (such as Milton's Paradise Lost). However, Wordsworth's poem is innovative in that it features himself as the subject (uncharitable readers might call this egotistical; literary critics call it Romantic). The Prelude is the first major autobiography in verse.
The other innovation – again, a key feature of Romanticism – is the way in which nature has the power to inspire spiritual awe and contemplation. In his ice-skating episode, the young Wordsworth takes time to commune with the surrounding landscape: the 'shadowy' banks, the 'solitary' cliffs and the stars. In contrast to those pop-up urban ice rinks of today, this natural icy arena has a sublime power and grandeur. For Wordsworth, ice skating was not just a physical experience; it was a spiritual one too.
---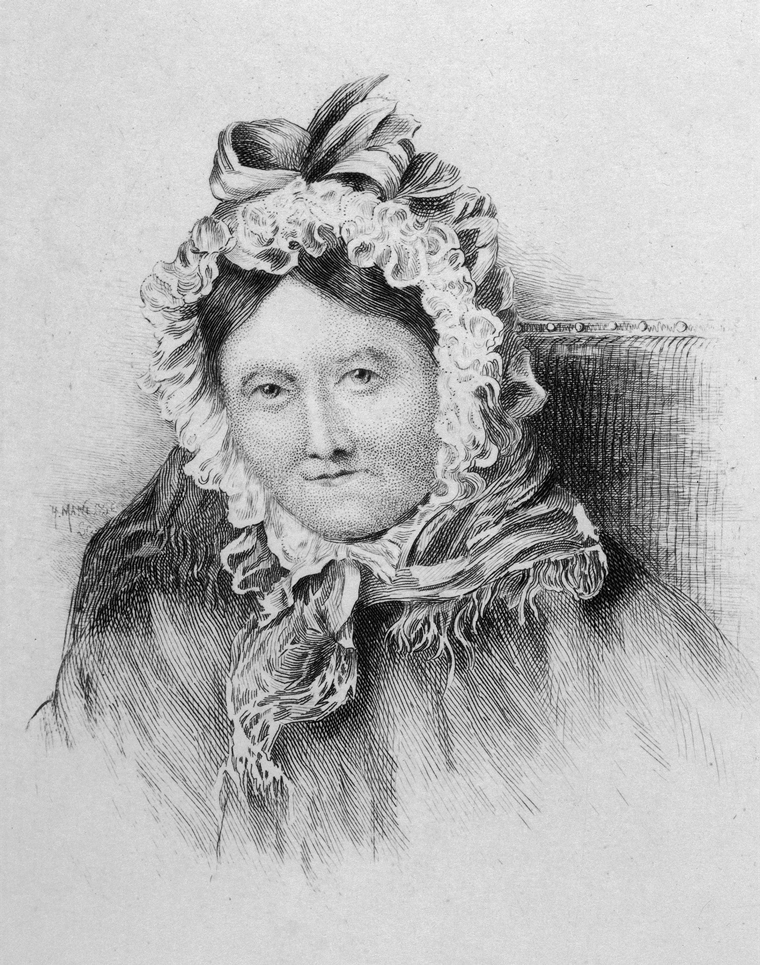 Dorothy Wordsworth
---
5. WHAT ABOUT DOROTHY?
It's important to recognise Dorothy Wordsworth's role in the creation of her brother's poetry. Her acute skills of observation were vital to Wordsworth, and her journal provides numerous examples of how he used her writing to inspire his own (it was Dorothy who first recorded seeing the daffodils that became the subject of Wordsworth's most famous poem).
During her stay in Germany, Dorothy wrote to Coleridge, stating her belief that ice skating must be a 'delightful exercise'. In this letter, she also shares with Coleridge the first draft of Wordsworth's ice-skating scene.
But did she skate? There is no evidence to suggest that Dorothy joined her brother skating on that Christmas Day of 1799, although I like to think she did (it was her birthday, after all).
What we do know is that five years later Dorothy enjoyed a day on the ice with Wordsworth's family (he was by this time married with two young children). Rather than skating, she and his wife, Mary, were pushed around the ice on chairs with the children on their knees. She later described it as 'one of the most delightful days that ever was felt'.
For a woman who, according to her journal, spent much of her time baking, washing clothes and copying out her brother's poems, it must have been a welcome day off.
---
ANNALIE'S TOP TIPS
Head to the Lake District: Wordsworth is a poet of place, so to truly appreciate his – and Dorothy's – writings visit Grasmere; it gets busy, so in these days of social distancing, I recommend going out of season (and never on a bank holiday weekend).
Visit Dove Cottage and the Wordsworth Museum (now known as Wordsworth Grasmere), which is in the process of reopening (planned for spring 2021, following a major reinterpretation).See Wordsworth's skates and other treasures – including manuscripts and first editions – at the museum, but first immerse yourself in the atmospheric cottage where so much great writing was created. This year and next year mark the 250th anniversaries of William and Dorothy's births. Find out more.
Walk the landscape: William and Dorothy spent much of their time walking. My favourite Wordsworth walks are to Easedale Tarn and along the Coffin Path to Ambleside (so called because they really did carry coffins along here for burial in Grasmere – spot the resting stones along the way).
Escape the crowds: If it's a clear sky, follow in the Wordsworths' footsteps and take a night walk. Grasmere skies are ideal for stargazing and, like Dorothy, see if you can spot the moon shining on the lake 'like herrings in the water'.
Read: William Wordsworth: The Major Works edited by Stephen Gill (Oxford World's Classics); The Grasmere and Alfoxden Journals by Dorothy Wordsworth, edited by Pamela Woof (Oxford World's Classics); Radical Wordsworth: The Poet Who Changed the World by Jonathan Bate (HarperCollins); The Ballad of Dorothy Wordsworth by Frances Wilson (Faber & Faber).
For a fascinating take on Dorothy Wordsworth's life compared with her more famous contemporary Jane Austen, read Jane and Dorothy: A True Tale of Sense and Sensibility by Marian Veevers (Sandstone Press).
Listen to the BBC Radio 4 series In Wordsworth's Footsteps presented by Professor Jonathan Bate.
---
OUR EXPERT'S STORY
Annalie Talent has spent several years working on education programmes at museums and literary houses across the UK, including those at the Wordsworth Trust, Grasmere (where she lived opposite Dove Cottage), Wordsworth House in Cockermouth, Jane Austen's House in Hampshire and the Ashmolean Museum in Oxford.
Her lectures for The Arts Society include Dorothy Wordsworth: A Hidden Life, Girls Behaving Badly: Jane Austen's Wicked Women, Rebel Rabbits: Mischief and Mayhem in the Tales of Beatrix Potter and Houses and Relics: A Brief History of Literary Tourism.
Unlike Wordsworth, Annalie doesn't ice-skate very well.
---
IF YOU ENJOYED THIS INSTANT EXPERT FEATURE...
Why not forward this on to a friend who you think would enjoy it too?
Stay in touch with The Arts Society! Head over to The Arts Society Connected to join discussions, read blog posts and watch Lectures at Home – a series of films by Arts Society Accredited Lecturers.
Show me another Instant Expert story
---
Images (top to bottom): Portrait of Wordsworth, Wordsowrth's ice-skates and the watercolour of Rydal by James Bourne, courtesy of the Wordsworth Trust, Grasmere; Photograph of Rydal © Shutterstock; Dorothy Wordsworth © Mary Evans Picture Library
---
About the Author
Become an instant expert!
Find out more about the arts by becoming a Supporter of The Arts Society.
For just £20 a year you will receive invitations to exclusive member events and courses, special offers and concessions, our regular newsletter and our beautiful arts magazine, full of news, views, events and artist profiles.
FIND YOUR NEAREST SOCIETY