Become an Instant Expert on the Transformation of British Art
Become an Instant Expert on the Transformation of British Art
Why did art – and particularly portraiture – change so dramatically from the time of the Tudors to the Stuarts? Our expert, Sarah Ciacci, investigates
---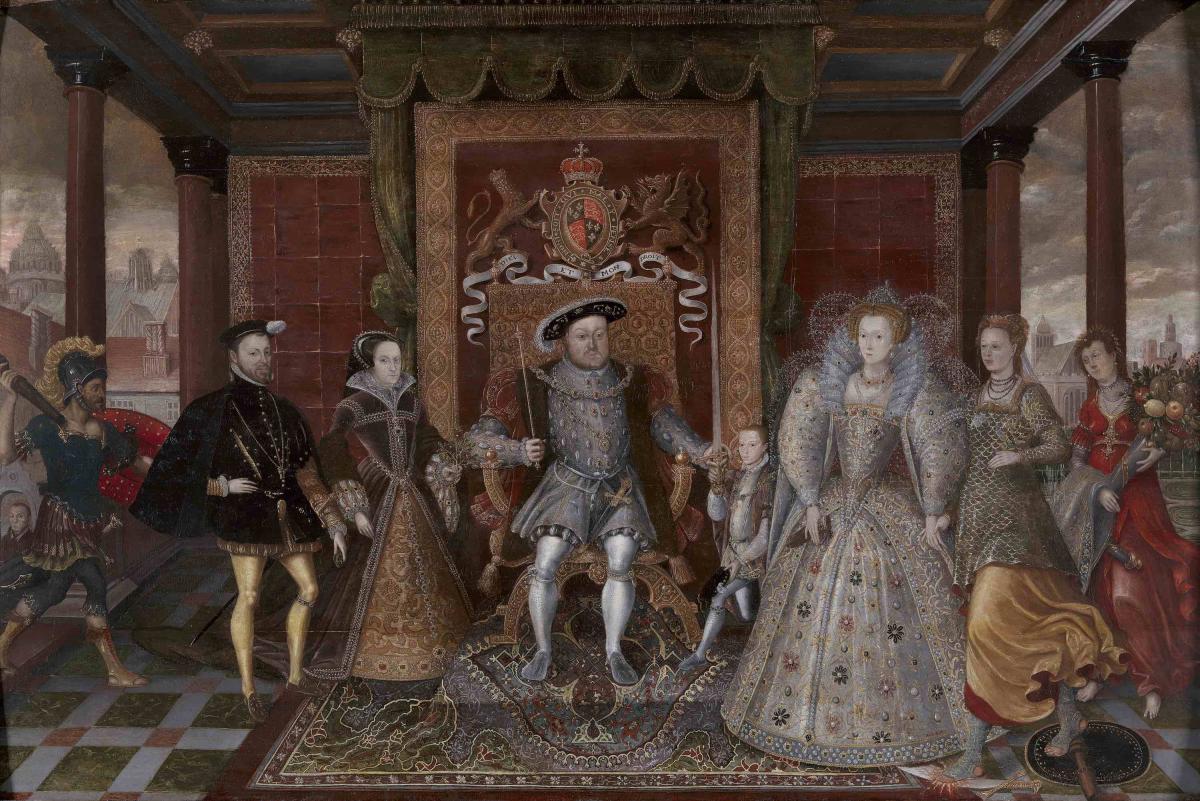 An Allegory of the Tudor Succession: the family of Henry VIII, c.1590, featuring Philip II, King of Spain, Mary I, Henry VIII, Edward VI and Elizabeth I, by an unknown artist

---
'Iconoclasm was the official policy of the Church of England… [and] the process of destruction has been called the Reformation. But what a tame, safely historical word that is for what went on. This was nothing less than a cultural revolution'
Andrew Graham-Dixon, A History of British Art, 2000
---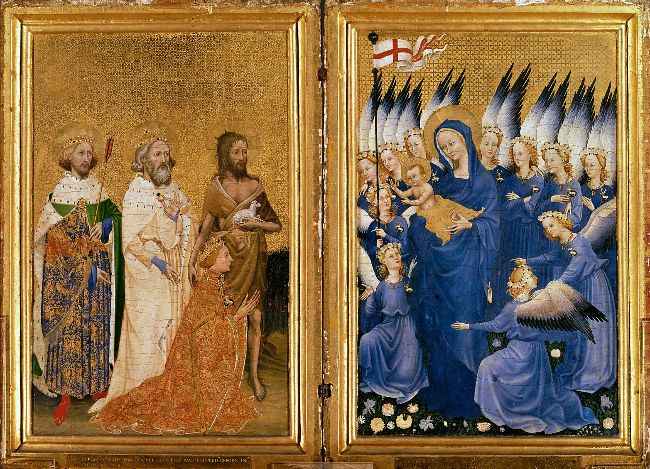 The Wilton Diptych, by an unknown artist, thought to date from around 1395

---
1. RELIGION, RELIGION, RELIGION

Until the Reformation in the 1530s, England was a Roman Catholic country answerable to the Pope in Rome. Most of its art was produced for the Church or for devotional purposes, not for secular reasons.
The Wilton Diptych, dating from the late 1300s, is a case in point. A personal altarpiece that can open and close like a book, it allowed its owner, very possibly Richard II, who we see kneeling in the foreground of the left-hand panel, to carry it with him and pray to, wherever he was. Richard is shown being presented by the three saints (John the Baptist, Edmund and Edward) to the Virgin and Child, who are surrounded by angels. It is an exquisite item, created with the finest materials, including lashings of gold and lapis lazuli blue.
The diptych is a rare survival because of what happened to art after the Reformation.
In 1509 Henry Tudor came to the throne as Henry VIII, and in the same year married Catherine of Aragon. This act would change the course of English history, religion and art. Catherine proved unable to produce the male heir Henry needed; in 1527 he requested an annulment of their marriage from the Pope, so he could marry Anne Boleyn, who he hoped would be successful in producing a son. The Pope would not grant the annulment; in response Henry set himself up as head of the new Church of England, beginning a cultural revolution that would see the almost complete destruction and disappearance of religious art in England.
---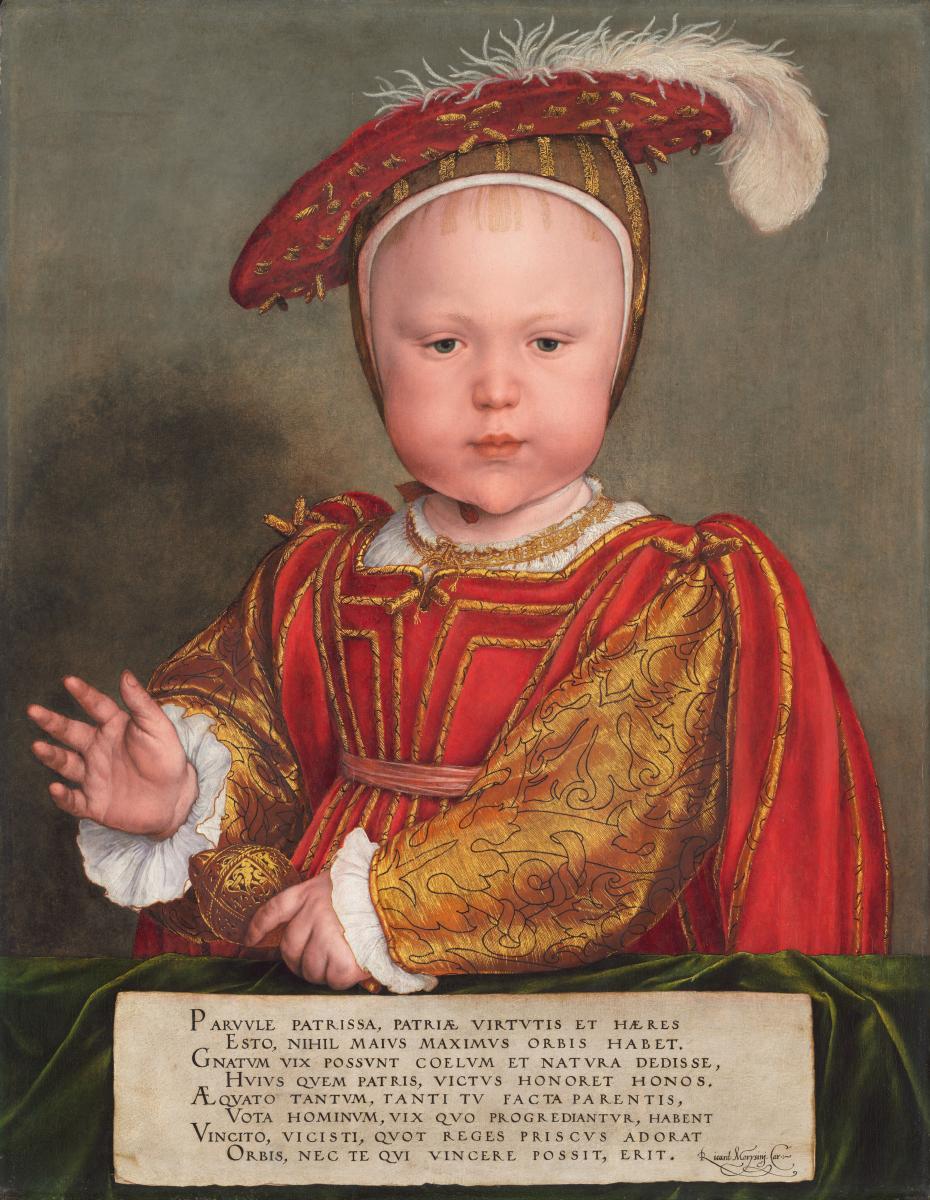 Edward VI as a Child, probably 1538, by Hans Holbein the Younger (1497/98–1543)

---
2. THE RISE OF PORTRAITURE

Henry's new position as head of the Church of England led him to create for himself an equally powerful image. He recognised how architecture, portraits and fashion could help make him look strong, formidable and in control, so he looked to the Continent, where the Renaissance was in full swing, for artistic inspiration.
He employed artists such as the Italian Pietro Torrigiano, who came to England on fleeing Florence, after punching Michelangelo in the face, breaking the artist's nose. Torrigiano brought Renaissance realism to England. Henry also chose the German artist Hans Holbein the Younger, who became the 'King's Painter' in 1538. Here we see Holbein's portrait of Henry's only legitimate son and much desired male heir, the future King Edward VI, who he had with his third wife, Jane Seymour, in 1537.
This portrait clearly illustrates why Holbein was so successful.
He painted in the Northern European High Renaissance style, which was realistic with incredible attention to detail. Edward is only a child, yet he has a powerful physical presence. He is standing erect with his hand resting on a parapet holding a gold rattle like a sceptre , his other raised almost in blessing. He is also dressed in magnificent clothing, reflective of his princely status.
With portraits like these being commissioned by the monarch, it is no surprise that wealthy members of court and society followed suit, commissioning their own portraits, popularising portraiture in England at the expense of religious art.
---
Portrait of Mary Fitzalan, Duchess of Norfolk,
1565 by Hans Eworth (1520–after 1578)
---
3. PROBLEMS WITH PORTRAITS

When Edward in turn became king, art was to be fully and uncompromisingly questioned.
Edward was a radical Protestant, surrounded at court by those equally radical, who wanted to push the new Church of England towards extreme Protestantism. And they had strong ideas about art.
In 1547 Edward took further the destruction of church property begun by his father. He issued more extreme royal injunctions that forbade church processions, the use of holy water, reciting the rosary, crucifixes and religious art.
This set off a wave of iconoclasm in which images and relics, stained glass, shrines, statues, roods, paintings and altarpieces were defaced or destroyed. This destruction was necessary, it was believed, to avoid committing the sin of idolatry, or worshipping the object or image itself instead of God. People were to avoid thinking about the many saints in the Roman Catholic tradition, because in the Protestant belief system only God the Father, Son or Holy Spirit should be venerated. In addition, to avoid the sin of copying anything that God had created, all were to adhere to the second commandment as written in Exodus 20: 'Thou shalt not make unto thee any graven image, or any likeness that [is] in heaven above, or in the earth beneath, or that is in the water under the earth.'
With this came two major developments in art.
The first was that very little religious art was then made until the 1800s, and because religious art fell into the artistic category of history (or story) painting, which was associated with Roman Catholicism, very few big narrative paintings were made either. Instead, portraiture became the dominant art form in Britain.
The second was that a surreal artificiality in Elizabethan and Stuart art took hold as a result, perhaps, of that second commandment; if artists followed the commandment literally, the portraits they created were not to be realistic and natural.
---
Portrait of a Young Lady, possibly Jane, Lady Thornhaugh, 1617 by William Larkin (1580–1619)

---
4. ARTIFICE AND AWKWARDNESS

Hans Eworth was a Flemish painter born in Antwerp in 1520, who came to London in about 1545, painted for Mary I and then for the Elizabethan aristocracy. His portrait of Mary Fitzalan, Duchess of Norfolk, a highly educated aristocrat and translator of texts from Greek to Latin, reflects the slightly odd, awkward feel of much Elizabethan portraiture.
Adhering to that artificiality in style, the artist cannot be accused of fully copying God's creation and is therefore not breaking that second commandment. The duchess stands stiffly, her arms at awkward angles, her hands grasping gloves and holding the chain of her girdle belt. Her face is fairly realistic, but her clothes are flat and lack naturalistic volume, although the red velvet dress, with its patterned sleeves and underskirt, and the abundance of gold embroidery and her jewellery are all beautifully depicted.
In 1603, after Elizabeth I's death, James Stuart took the throne. The strange awkwardness continued in art in his reign, also influenced by the highly artificial Mannerist style popular on the Continent.
In the Portrait of a Young Lady we see an example of this, through the strange fairytale-like style of the lesser-known English artist William Larkin. The figure stands stiffly against a dark-red curtain that has creases and folds that become almost architectural; her sash cuts across her body in bold primary colours, which clash with the delicately coloured flowers and birds on her remarkably low-cut dress (the fashion at the time). Her head seems separate from her body, placed upon an uncomfortable-looking flat collar; she gazes out knowingly at us.
Both of these paintings are posed, static, unnatural and strange. They characterise portraiture of the time, but everything was to change with the arrival of a young artist from Flanders.
---
Katherine, Countess of Chesterfield and Lucy, Countess of Huntingdon
by Anthony van Dyck, c.1636–40
---
5. NATURALISM PREVAILS

In 1632 Anthony van Dyck settled in London.
He was tempted over by the son of James I, Charles I, a great patron of the arts. Charles wanted a European superstar artist to paint his portraits and he was willing to make it worth their while.
He gave Van Dyck a knighthood, a fancy house in Blackfriars and a salary; in return Van Dyck made the king and his courtiers look fantastic, in a completely new way for art made in England.
His sitters look natural, relaxed, thoughtful and elegant; Van Dyck set them in evocative landscape settings, with soft leaves and flowers surrounding them. He wrapped his figures in beautifully painted fabrics that captured the light as it hit. Unlike the static, flat portraits of the Tudors and past Stuarts, Van Dyck also suggested movement in his portraits.
Here we see Lucy, Countess of Huntingdon holding her lute ready to play and Katherine, Countess of Chesterfield will perhaps sing along with her. When they begin, Van Dyck suggests, they will move, as will the fabric; in doing so it will catch the light, heightening the sense of movement. This relaxed but elegant style of portraiture was here to stay. Van Dyck was copied through the centuries, with artists in the 1600s – such as Peter Lely, court painter to King Charles II, and Godfrey Kneller, court painter to William and Mary – Thomas Gainsborough in the 1700s and John Singer Sargent in the 1800s all working in a similar style.
In the 100 years since the Reformation began, to Van Dyck's arrival in London, the story of British art had been transformed by a cultural revolution.
---
Images (top to bottom): An Allegory of the Tudor Succession: the family of Henry VIII © Yale Center for British Art/Paul Mellon Collection; The Wilton Diptych © Bridgeman Images; Edward VI as a Child © Andrew W Mellon Collection; Portrait of Mary Fitzalan, Duchess of Norfolk © Yale Centre for British Art/Paul Mellon Fund; Portrait of a Young Lady, possibly Jane, Lady Thornhaugh © Yale Center for British Art/Paul Mellon Fund; Katherine, Countess of Chesterfield and Lucy, Countess of Huntingdon © Yale Center for British Art/Paul Mellon Collection.
---
SARAH'S TOP TIPS

See the art
Tate Britain is the best place to start with British art. It has two galleries that cover art from the 1500s and 1600s, so you get to see how art changes. Then you can explore the story of the rest of British art, up to today.

National Portrait Gallery – the Tudor Galleries are the most popular rooms and have a wonderful selection of portraits of Henry VIII's court (including a huge drawing of Henry VIII by Holbein) and many portraits of Elizabeth I and her court. You can also explore the 1600 galleries for Stuart paintings and works by Van Dyck.

The National Gallery – here you can view Holbein's masterpiece The Ambassadors along with other works and a huge collection of Van Dyck paintings. You can also see The Wilton Diptych altarpiece, that rare British survival from the 1300s, as well as examples of Renaissance and Mannerist works that will help give artistic context.

The Suffolk Collection at Kenwood House – the house is a hidden gem in Hampstead (not always open to the public, so do check in advance) and holds several William Larkin portraits, which are some of the strangest and most wonderful paintings I have ever seen.

The Royal Collection holds an important collection of Van Dyck and Holbein works.

Books to read
A definitive text, now out of print but possible to find second-hand online, is the Tate Britain Companion to British Art, 2001 (Tate Publishing) by Richard Humphreys

A History of British Art, 2000 (University of California Press) by Andrew Graham-Dixon

The three-volume The History of British Art, 2008 (Tate Publishing) edited by David Bindman
---
About the Author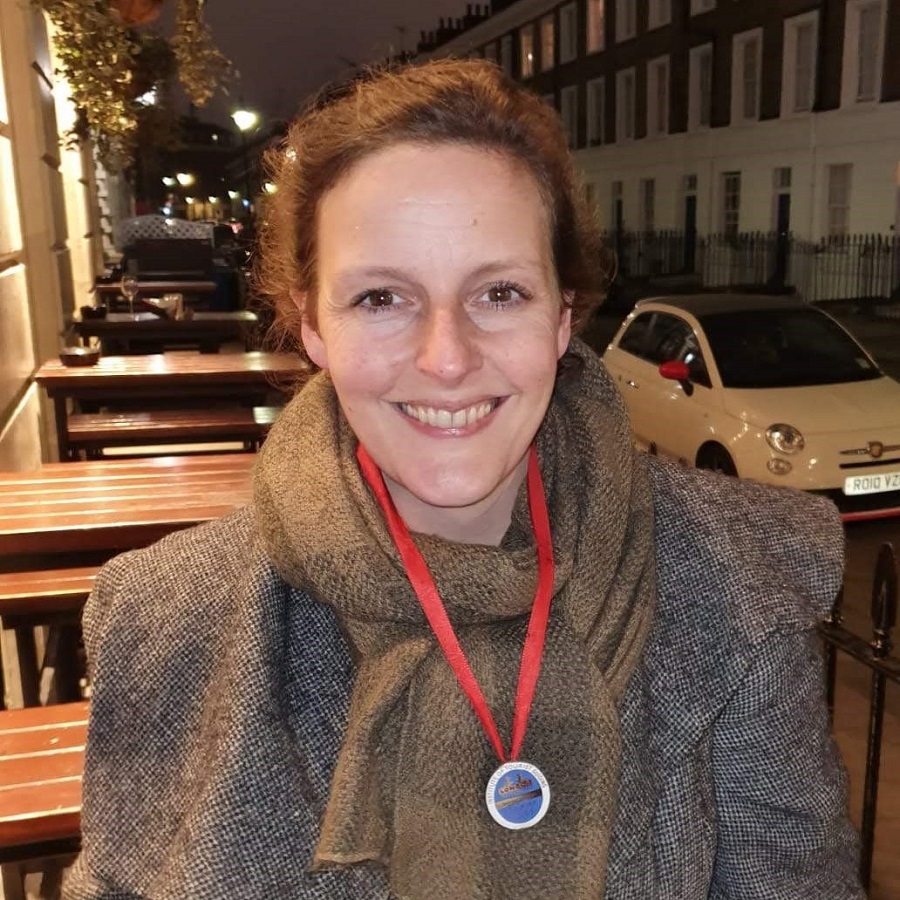 Sarah Ciacci
Sarah Ciacci has an MA in Modernist art from University College London. She has been an art specialist Blue Badge Guide for London since 2008, running tours and giving talks, and has been an art tutor for Blue Badge Guides in training for the same time. She is also a gallery educator and teaches art history at Richmond University. She specialises in British and Modern art. Among her current talks are The Transformation of British Art: Tudor and Stuart Painting in Britain, The Profitable Art of Flattery: Portraiture in the 18th century and The Enigma of Cézanne and the Foundations of Modern Art.
Become an instant expert!
Find out more about the arts by becoming a Supporter of The Arts Society.
For just £20 a year you will receive invitations to exclusive member events and courses, special offers and concessions, our regular newsletter and our beautiful arts magazine, full of news, views, events and artist profiles.
FIND YOUR NEAREST SOCIETY