Become an Instant Expert on street art and graffiti
Become an Instant Expert on street art and graffiti
It's free, there are no rules and one of its numbers, says Arts Society Lecturer Doug Gillen, is the world's greatest living artist. Here are his five top facts on the art of graffiti.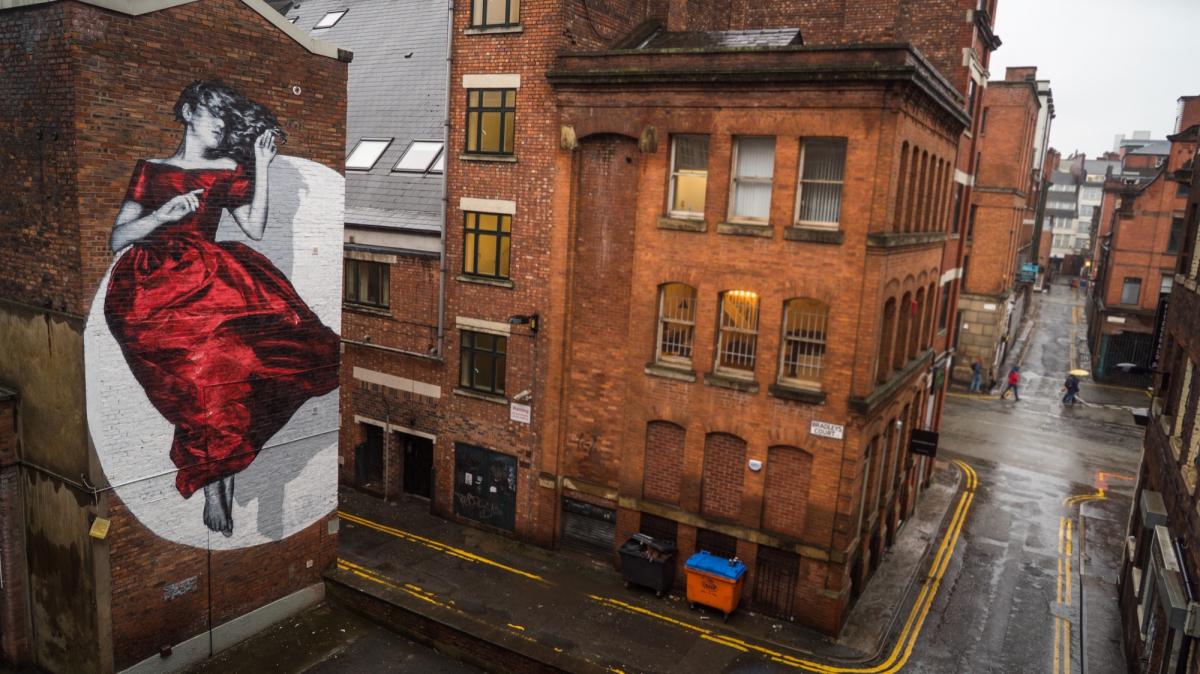 Serenity by artists SNIK/ Doug Gillen
---
1. Graffiti is not new
Let's see if we can ruffle some feathers. Graffiti is not a series of unplanned acts of vandalism. It is a contribution to a conversation that's been going on for millennia. As it stands, the oldest known piece of graffiti dates back to roughly 44,000 BC Indonesia – and I'm almost certain they didn't have permission from the local council to paint it.
Modern-day graffiti was galvanised by the inner-city youth in New York and Philadelphia in the mid-1960s. With lack of access to further education, activities or jobs, the kids spent most of their time on the streets. Crime was rife and graffiti became a response to the growing isolation communities were experiencing.
The simple act of writing a name on a wall offered a sense of belonging. Graffiti became a game played by competing boroughs, with points scored for style, placement or risk. By the 1980s this game went worldwide and a global movement was born.
From caves to tombs, the Colosseum to Pompeii, propaganda to protest, pigment to spray paint, the surfaces and techniques have changed, but the desire to be seen and heard will forever lie at graffiti's core.
---
ART SHOULD COMFORT THE DISTURBED AND DISTURB THE COMFORTABLE – BANKSY

---
2. Graffiti and street art democratise art for the audience and the artist
Few would describe the Western art establishment as young and dynamic. Historically speaking, female representation in art boils down to whether it's one or two nude models in the painting.The art market itself can be viewed as a golden treasure chest in a castle surrounded by gatekeepers. Access to the market is granted through appeasing those that guard and have power in the arts world. Some may say that those with power wait until an artist isdead before they begin to take notice of their work.
But street art and graffiti offer a platform of exposure that crosses culture, class and gender. Through social media, artists have a direct connection to their audience and the rules of the game have changed. They empower and encourage participation, and though you may not need an MFA from Yale to join in, a good pair of running shoes goes a long way.
---
Doug Gillen (middle) at Dismaland - the woman with pigeons is an artwork
---
3. Banksy is the greatest living artist
I promise you I've searched. I've looked in galleries, museums and magazines. I've scrolled on Instagram and I've checked the canteen in Goldsmiths. I've viewed through a Western lens and popped on an Eastern one.
There is not one single living artist who has changed the way the world looks at art like Banksy has. When he unveiled his dystopian theme park exhibition Dismaland in 2015 in Weston-super-Mare, its reach was global, but more importantly, it was accessible. We are incredibly lucky in Britain to have many well-funded museums and galleries that help bridge the gap between art and audience, but there is no art show like a Banksy show.
Standing in line for my £3 Dismaland ticket, I found myself juggling conversations between Bristolian graffiti artists, local builders, ladies out for the day and collectors from New York. For many there, this was the first art show they had ever thought to attend.
Banksy has inspired an entire generation of new blood to get involved and to see the world through a new lens. He's poked, prodded and galvanised an art movement that continues to pump colour through the veins of our streets.
---
One of the protest posters created during the recent Australia bushfires
---
4. Let's fill the world with ideas rather than adverts
You don't have to live in big cities to feel the dominant effects of public advertising. Messages telling us to 'eat this', 'buy that' and 'you must own this to feel valid' play a huge part in our experience of the public domain.
A technique known as ad-busting is an increasingly popular response to this. Custom-made keys can be bought online that open up the advertising boards in bus shelters in cities across the world.
Protesting the Australian government's lack of response to the recent nationwide bushfires that ravaged vast areas of the country, around 50 artists created a series of posters that were used to replace the bus shelter adverts in Melbourne, Brisbane and Sydney. The imagery from the campaign went viral globally, attracting coverage from major news outlets around the world.
A new strain of dialogue exists in the city – one that challenges the notion of who the public space really belongs to and fuels an appetite for change.
---
5. Putting people in jail won't stop graffiti
In March 1989 the homes of 72 artists in the Bristol area were raided, leading to the prosecution of many. Operation Anderson remains the UK's largest governmental pushback against graffiti culture.
If you've walked round Bristol any time in the past few decades, you'll see it didn't work. If anything, this only inspired a new generation of artists to reclaim their voice and push back even harder, Banksy being one of them.
In Iran you can be given a 10-year jail sentence, along with a public lashing, for possession of graffiti paraphernalia. It hasn't worked there either. Young kids risk everything they have to make a mark in the city, to feel that they are seen, that they exist.
Graffiti cannot be forced into submission. The desire for a voice is too embedded within our nature as humans. For every artist that is put in jail, four new ones will emerge. I believe long-term change can only be achieved through engagement. Community bodies should be working alongside youth groups and schools to explore ways of empowering those that feel disaffected.
Legal wall space and mural programmes offer a starting point for young creatives to feel part of the community they live in. It's said that the arts contribute more to the GDP than agriculture, yet they are the first to go when cuts are made. Shutting down conversation will not improve town centres or stimulate business growth, but an open mind might be a good way to start change.
---


Portrait of Doug Gillen, Tom Medwell
---
Doug's top tips

Street art tourism is a rapidly growing industry and it's open to all. In the UK alone we have street art festivals from Aberdeen to Bristol, which each year bring fresh life to the walls of our towns and cities.
Attend one of the festivals when life resumes as normal, stand beneath a four-storey mural and feel its presence. Many cities offer street art tours too, which should be back in action in the months to come. Explore the tunnels and alleyways of a city you'd never dream of walking through. The world is full of treasures that only reveal themselves to those who choose to explore.
Artists are flooding our world with colour. Follow their journeys and support them in any way you can.
---
Our expert's story

Doug Gillen is a freelance film-maker specialising in street art and graffiti culture. The subject has taken him from ghettos in Miami to the shores of Lesbos, through the camps of Palestine to the towers of Hong Kong. When he's not lecturing for The Arts Society, he's documenting art events around the world for his film project Fifth Wall TV (fifthwalltv.com).
His lectures bear no legal responsibility in the event Members find themselves incarcerated for graffiti-related crimes.
His recent film work will be shown at the Bristol Museum in 2021; bristolmuseums.org.uk
---
IF YOU ENJOYED THIS INSTANT EXPERT EMAIL...

Why not forward this on to a friend who you think would enjoy it too?
Stay in touch with The Arts Society! Head over to The Arts Society Connected to join discussions, read blog posts and watch Lectures at Home – a series of films by Arts Society Accredited Lecturers, published every fortnight.
Show me another Instant Expert story
---
About the Author
Become an instant expert!
Find out more about the arts by becoming a Supporter of The Arts Society.
For just £20 a year you will receive invitations to exclusive member events and courses, special offers and concessions, our regular newsletter and our beautiful arts magazine, full of news, views, events and artist profiles.
FIND YOUR NEAREST SOCIETY