Become an Instant Expert of Seaside Pierrot Troupes
Become an Instant Expert of Seaside Pierrot Troupes
12 Aug 2020 - 10:47 BY Dr Tony Lidington
Heading to the coast this month? Our expert, Dr Tony Lidington, conjures past glories of pierrots and parties that once sang and danced on the sands
---
1. THE OVERTURE – AND THE ORIGINS OF PIERROT
A typical comic postcard of a pierrot troupe, circa 1910
---
Pierrot originates as Pedrolino from the Commedia dell'arte of the 16th and 17th centuries, which were travelling troupes performing across Europe. By the mid-19th century, in Paris, the name and character of Pierrot (Little Peter) evolved from his commedia roots into a whimsical, silent mime. This expressed, through action and music, the emotions and psychological complexity that was fashionable in the prevailing avant-garde form of Romanticism.
In 1891, a production called L'Enfant Prodigue, featuring a family of pierrots, transferred from Paris to London's Prince of Wales Theatre. A banjo entrepreneur called Clifford Essex saw the show and a few weeks later created the first British pierrot troupe.
Clifford Essex's Pierrot Banjo Team (as they were originally known) gave their first performances at Henley Regatta in July of 1891. This success was followed by performances for the Prince of Wales at Cowes Regatta and a tour of resorts on the Isle of Wight.
Up until that time, the predominant entertainment at seasides was provided by minstrel troupes, who popularised the use of the banjo for musical accompaniment. But Clifford Essex took what was generally regarded as a novelty instrument (pretty much exclusively associated with African, American and Caribbean cultures) and began to experiment with innovations in manufacture and playing techniques to bring it before a wider audience.
---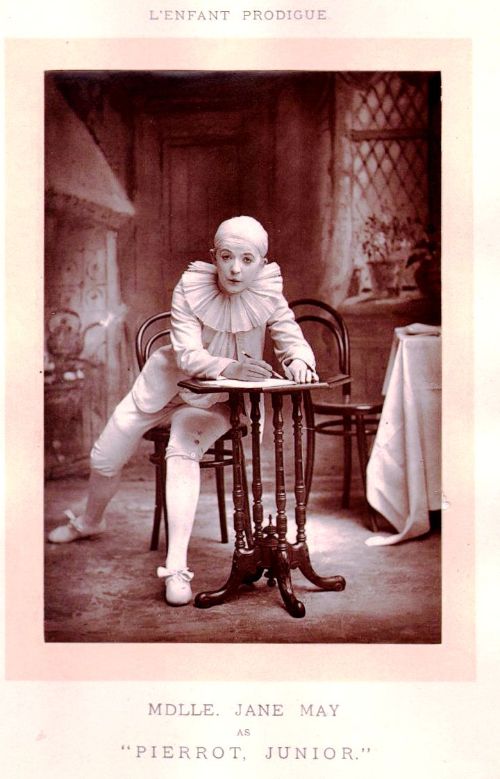 Jane May as 'Pierrot Fils' in 'L'Enfant Prodigue' from the souvenier programme of The Prince of Wales' Theatre in 1891
---
2. OPENING SCENE – THE START OF THE SEASIDE FORM
Essex's shows met with such success that, in the decade following his original troupe, the fashion for a group of pierrots – clad in floppy white costumes and conical hats, presenting a variety-based show format al fresco with music, comedy and dance – became so widespread that almost every resort in Britain could boast of one or more troupes.
The pierrots appealed to the mass market of holidaymakers. Their costume and make-up provided an exotic presence that chimed with the romance and excitement of seaside holidaymaking. By the outbreak of World War I, pierrot troupes had become a mass entertainment form; hundreds of troupes were performing in dozens of resorts and towns.
In the late 19th and early 20th centuries, pantomime, music hall, travelling fairs, circuses and pierrot troupes provided huge employment for performance artists and, between them, they provided the primary cultural experiences for the majority of working-class audiences in Britain. And many of those experiences were to be had at coastal resorts across the UK.
And here's a curious aside: in 1895 one of the founding members of Andie Caine's Pierrots in Filey (East Yorkshire) was one Jimmy Lynton. This was the stage name of Charles Parsons, who was the grandfather of Britain's future prime minister, Tony Blair.
---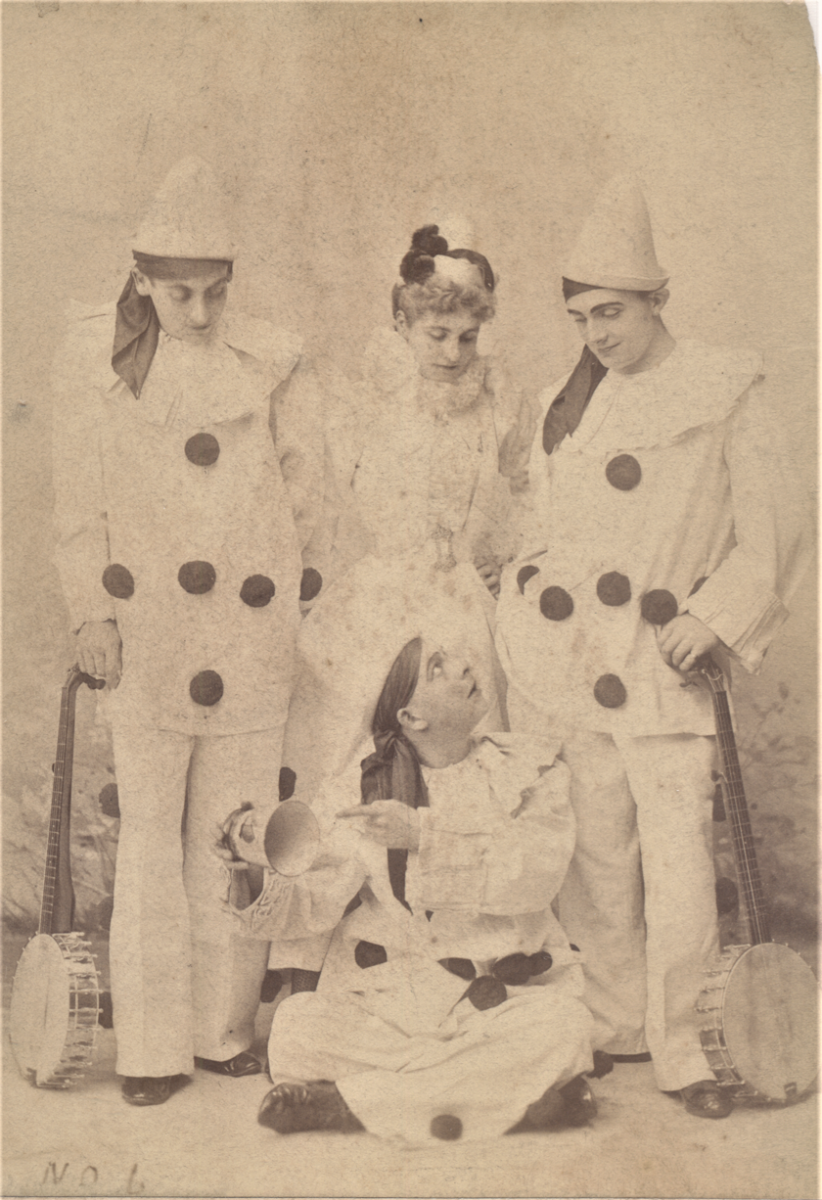 Carte de visite of 'Clifford Essex's Pierrot Banjo Team', circa 1892
---
3. THE SECOND ACT – EVOLUTION AND THE GREAT WAR
The location for the pierrot performances in the late 19th century were often little more than boards or trestle stages on the sands.
The strill (a portable harmonium) and banjo were the common instruments because they were loud, relatively reliable at remaining in tune and enabled a performer to sing as well as play. The performers had to compete against the sound of the waves, the wind, salesmen barking their wares and the hurly-burly of seaside life.
If the troupe was especially popular, there might be a roped-off area near the stage, possibly with deckchair or bentwood seating, available for a small charge (but the majority of the pierrots' income in the early days was purely from busking). As the seaside pierrot shows grew in popularity, these simple stages evolved into larger facilities.
By the outbreak of World War I, pierrot troupes had become a mass popular entertainment form whose songs, routines and image evoked a nostalgic glimpse of normality and a sense of patriotic pride, which provided a boost to serviceman morale, and a temporary escape from the privations and horrors of war. As a result, during the Great War, tens of thousands of performances were given by hundreds of artistes and servicemen throughout the global theatre of war, providing a vital service for the forces and the nation.
---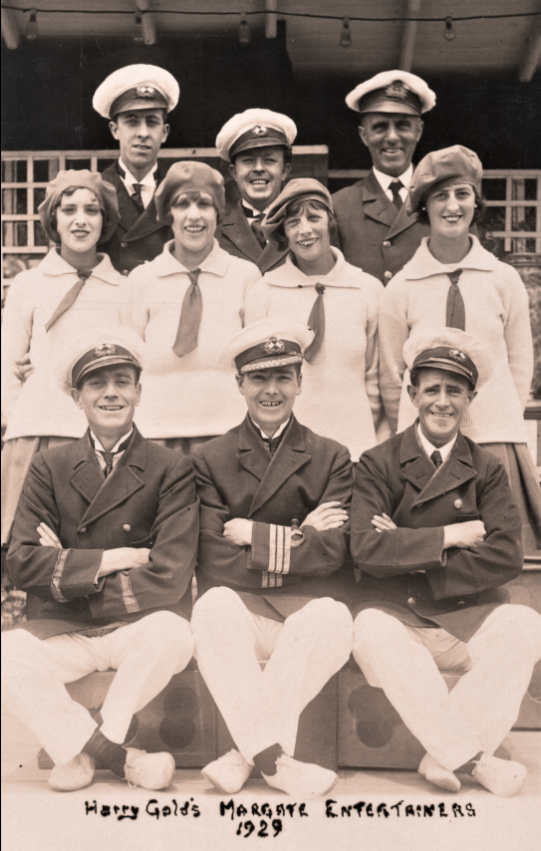 Postcard of Harry Gold's 'Margate Entertainers' of 1929
---
4. ENTR'ACTE – CHANGING ROLES
During the 1920s and 1930s, the jazz age brought an air of informality and modernity to Britain, which holidaymakers embraced, so it is not surprising that seaside entertainers started to relinquish their stylised pierrot look in favour of a more accessible leisure wear, such as boaters and blazers.
Seaside entertainment troupes, however, remained a core part of the working-class British cultural experience (despite the popularity of technological advances such as the gramophone, wireless and cinema), but it was world events that changed everything. The outbreak of World War II signalled the end of an era and a break with the Edwardian past.
All seaside performances ceased when fear of invasion saw beaches and seafronts perceived as a source of danger and threat.
However, from the demise of such performances evolved organisations that managed troupes of performers as part of the war effort. Basil Dean's Entertainments National Service Association (ENSA) was the largest of these and provided concert parties with the versatility to perform on many scales, from a platoon of soldiers in a NAAFI to an aircraft hangar of thousands. The basic staging, facilities and al fresco nature of these troupes directly paralleled the rough-and-ready fit-up stages of the Edwardian seasides.
Within two months, ENSA was delivering 1,500 performances for more than half a million audience members; it was the largest entertainment organisation ever to have existed – the pierrot and concert party format had truly become a mass medium.
Many famous stars, such as Arthur Askey, Elsie and Doris Waters and all the members of The Goon Show, emerged from pre-war pierrot troupes and concert parties.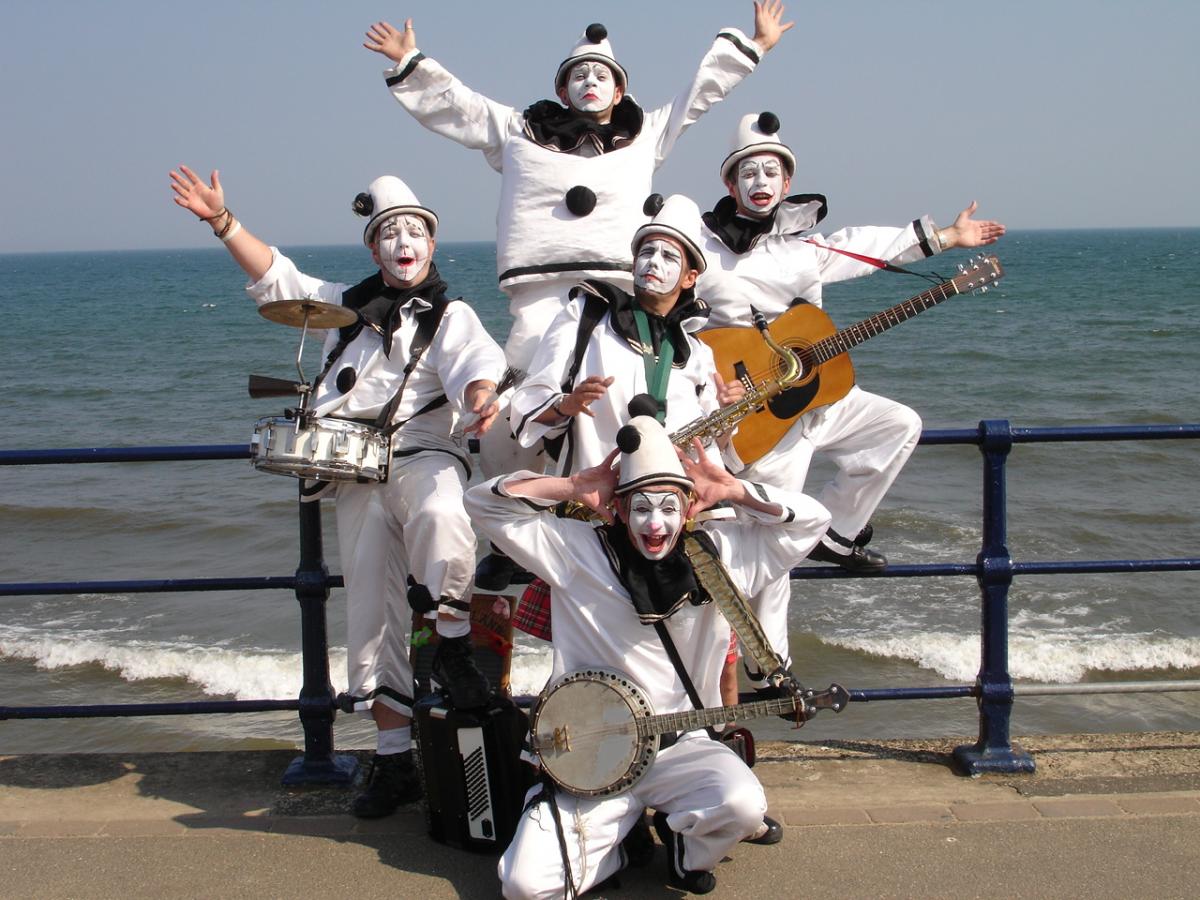 'The Pierrotters' at Filey in 2005 (can you spot the author? – I'm the one with the banjo!)
---
5. THE FINALE – THE END OF THE PIERROT SHOW
After World War II the way we took holidays changed. The traditional seaside trip was exchanged for other experiences, not least because affordable air travel facilitated package holidays overseas. The post-war era also saw the emergence of a financially independent teenage market – young people with the freedom and intention to forge their own, new styles of entertainment in music, dance and comedy.
Seaside troupes fell into a sharp decline, with the last troupe regularly performing in the open air being The Ramblas on Clacton Pier in 1964. After this date, there were no more professional pierrot troupes or concert parties left.
The format of a seaside concert party show appeared only sporadically in the period from 1950 to the 1970s, usually as remediated sketch-based radio and television formats like It Ain't Half Hot Mum. These, however, were framed as historicised and anachronistic, bearing little or no relevance to the more contemporary practices of post-war popular entertainment in Britain.
But the legacy of the troupes can be traced in the new post-war musical and comedy genres that emerged: skiffle music and the comedy sketch formats of radio and television all owed their origins to al fresco, seaside entertainment forms.
By the 1980s there was little record of the impact these troupes had made on generations of British working-class audiences. In 1983 I decided to create my own troupe, The Pierrotters (named after Brighton's rotting West Pier), and with a spirit of curiosity, youthful chutzpah and a musical ability (or lack of) inspired by punk, I began my quest to research the story of pierrots in Britain – an industry that had provided the roots of post-war British comedy and contemporary pop music.
---
TONY'S TOP TIPS
See
My own website has more information on this subject. My hope is that this will become a national archive of pierrot troupes and concert parties. There is also a YouTube channel of the same name.
Read
Promenades and Pierrots: One Hundred Years of Seaside Entertainment by Bill Pertwee
Find original archive materials
Clacton & District Local History Society Museum at Clacton Library in Clacton-on-Sea has an excellent seaside archive.
See also the Crimlisk-Fisher Archive and the University of Bristol Theatre Collection.
---
OUR EXPERT'S STORY
Tony is a broadcaster and authority on British historical popular entertainment forms and their application to contemporary contexts. He is a part-time lecturer at the University of Exeter but is perhaps best known by families throughout the country as 'Uncle Tacko!' – ringmaster of an extraordinary flea circus and the founder of The Pierrotters, Britain's last professional seaside pierrot troupe, with whom he performed for 27 years. Among his lectures for The Arts Society are Pierrot Heroes – the evolution of British seaside entertainment and The Wonder of All Wonders – peepshows and the origins of moving pictures.
---
Stay in touch with The Arts Society! Head over to The Arts Society Connected to join discussions, read blog posts and watch Lectures at Home – a series of films by Arts Society Accredited Lecturers, published every fortnight.
Show me another Instant Expert story.
---
Images (top to bottom): Pierrot Ditties, courtesy of the Mary Evans Picture Library; Pierotters image / Lizzie Coombs; all other images are reproduced with permission from the personal archives of Dr Tony Lidington
Become an instant expert!
Find out more about the arts by becoming a Supporter of The Arts Society.
For just £20 a year you will receive invitations to exclusive member events and courses, special offers and concessions, our regular newsletter and our beautiful arts magazine, full of news, views, events and artist profiles.
FIND YOUR NEAREST SOCIETY