Become an Instant Expert on Cornwall's Forgotten Art Centre
Become an Instant Expert on Cornwall's Forgotten Art Centre
While the Newlyn and St Ives colonies are well documented, in the late 19th and for much of the 20th century, the village of Polperro was also considered a leading art centre, described as 'the haunt of half the artists in Britain'. Yet today visitors to this picturesque spot can come away unaware of its artistic heritage. Arts Society Lecturer David Tovey explores the story
---
When the sun to Westward sinks and bathes all things in Gold, 1896, a view of Polperro's Inner Quay by Edward Reginald Frampton
---
'Polperro would be hard to beat for strong-smelling picturesqueness… Inevitably, therefore, it is invaded each summer by long-haired artists, mostly foreign'
The Bystander magazine, 12 April 1911

---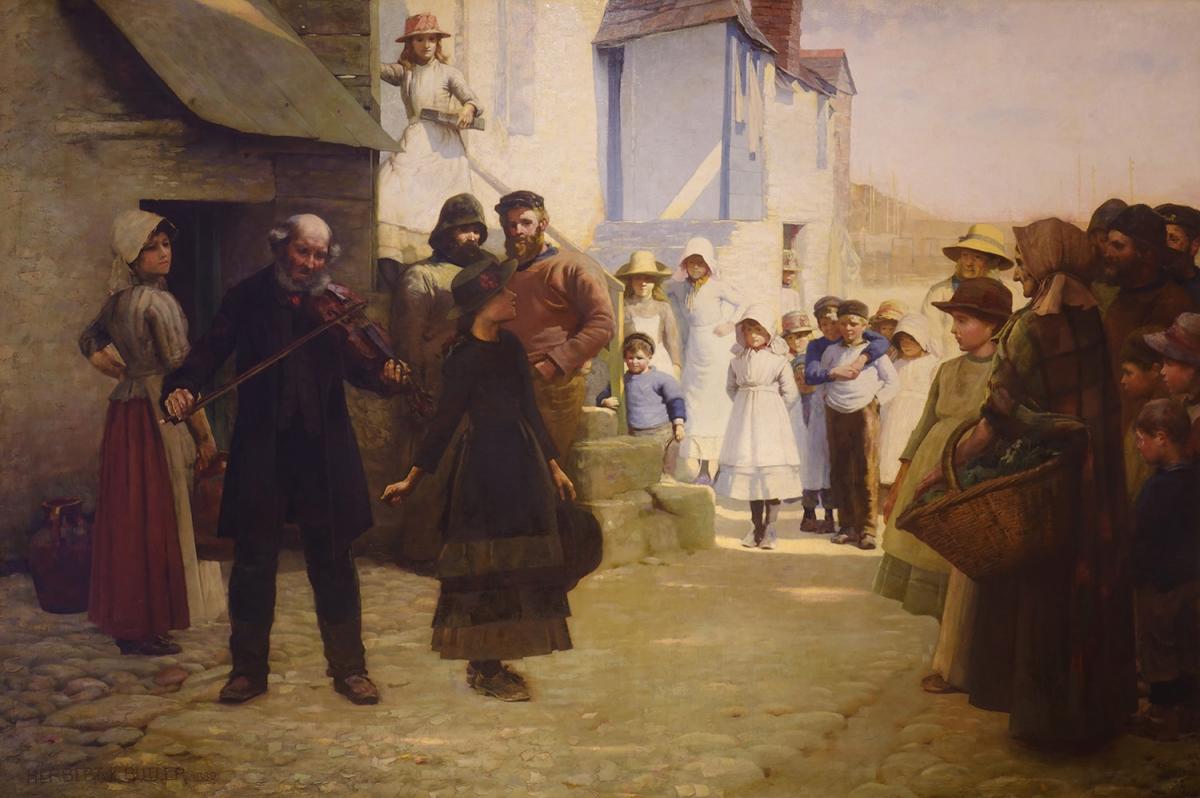 Youth and Age, 1889, by Herbert Butler, was exhibited at the Royal Academy in 1903 and is thought to show St Peter's Day festivities
---
1. INTO THE LIMELIGHT
Polperro's isolated position on the south coast of Cornwall between Looe and Fowey, and the lack of any nearby rail link until 1901, meant that few artists, other than West Country residents, visited before 1880. However, the popularity of an 1880s romantic novel about Polperro's smuggling past – Adam and Eve by Louisa Parr – which highlighted its scenic attractions, resulted in more artist visitors that decade. The result was that paintings of Polperro started to be hung with some regularity at the Royal Academy.
Those artists included William Llewellyn (later president of the Royal Academy) and William Mouat Loudan (who became head of Westminster School of Art), but the most regular visitors were Charles Boutwood and Herbert Butler. The two first visited in 1884, but returned to court two daughters of their landlord (and regular model), Captain John Pond, eventually marrying them in 1889 and 1892 respectively.
Butler and his wife Sophie settled in Polperro in 1900. He is considered the father of Polperro art, remaining a key figure in the community until his death in 1931. He produced oil paintings of the fisherfolk and watercolours of Polperro's harbours and little streets and, when he opened a painting school in 1907, he was also a strong advocate of pencil drawing.
In particular, he highlighted Polperro's attractions as a place for twilight, moonlit and night scenes.
---
The Boat Ramp by John Robertson Reid, a work showing some artistic licence, as the backdrop to the actual boat ramp would have been the village, rather than the sea
---
2. DRAWING THE ARTISTS
While Polperro's encircling hills were an attractive feature in the summer, they did mean that many properties lost direct sunlight early in the winter, which had an impact on the village's desirability as an all-year-round residence. It will also have been difficult for artists to have found housing in the narrow confines of the valley, away from the noise and smells of the fishing industry. These factors led to few artists actually settling permanently in the village and, despite the swarms of summer visitors, it's not really possible to describe Polperro as an art colony until the 1950s.
A very regular visitor from 1901, however, was the Scottish landscape, coastal and genre painter John Robertson Reid. He depicted, in oils and watercolours, the fisherfolk going about their tasks and, in particular, he highlighted how the children were following their fathers' calling. Unlike Newlyn School artworks of those involved in fishing, Reid never hints at sorrow or bereavement in his art.
George Hillyard Swinstead, who had studied at the Royal Academy Schools, was another regular visitor, while Frank Gascoigne Heath, noted in his obituary in The Times as an artist with 'a fine taste in colour', and John Anthony Park, who settled in St Ives and became a founder member of the St Ives Society of Artists, were also Polperro residents for a time.
---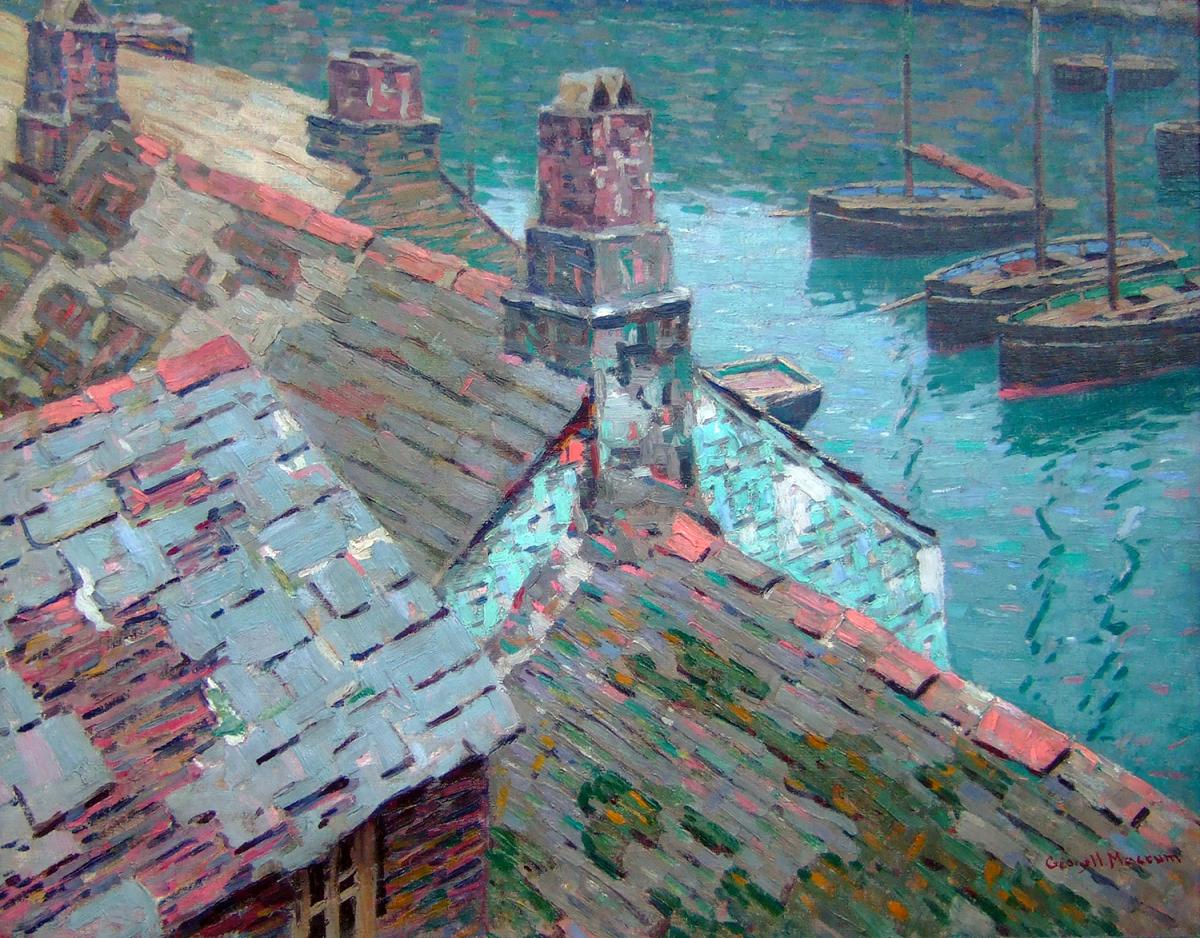 Polperro Roofs, by George Macrum, in which the artist shows the dilapidated state of the roofs. Poverty and difficulties of access led to some upper floors of properties becoming uninhabitable, and stairs even being chopped up for firewood
---
3. A DESTINATION FOR INTERNATIONAL ART STUDENTS
'An artist need not go out of his way to find material for his brush and pencil as everything is near at hand – there are pictures at every turn. It is simply magnificent in every way and someone wishing for models will find the Polperro children superb and the Cornish fisherman a splendid type of manhood, picturesque and courteous to strangers.' This was the French educator and painter Auguste Delécluse, writing from Polperro in the summer of 1894 to his American colleague, the artist Edward Ertz.
In that summer, Delécluse, the master of a well-respected Paris atelier, brought a party of some 30 female students to Polperro for three months. It was a hugely successful venture, with Delécluse waxing lyrical about the beauty of the location and the variety of subject matter, as well as the suitability of the local fishing industry population as models. He himself exhibited a painting of Polperro at the Paris Salon in 1895.
In 1900, Ertz, one of Delécluse's long-term assistants, came to Polperro with one of his students, Ethel Horsfall. They were to fall in love not only with each other, but with Polperro. On getting married that year they settled in the village and opened a painting school which, due to Ertz's Paris contacts, attracted an international clientele.
From 1903–14, American art students also came to Polperro, as European summer classes run by Henry Bayley Snell, who, for over 40 years, was head of the Philadelphia School of Design for Women, were held in the village. Snell also ensured that his students' work was hung, particularly at the New York Water Color Club, where he was president, so that paintings of Polperro by himself, his wife, Florence, also a well-respected artist, and their students became a regular feature of American exhibitions. A number of these students went on to have distinguished careers.
---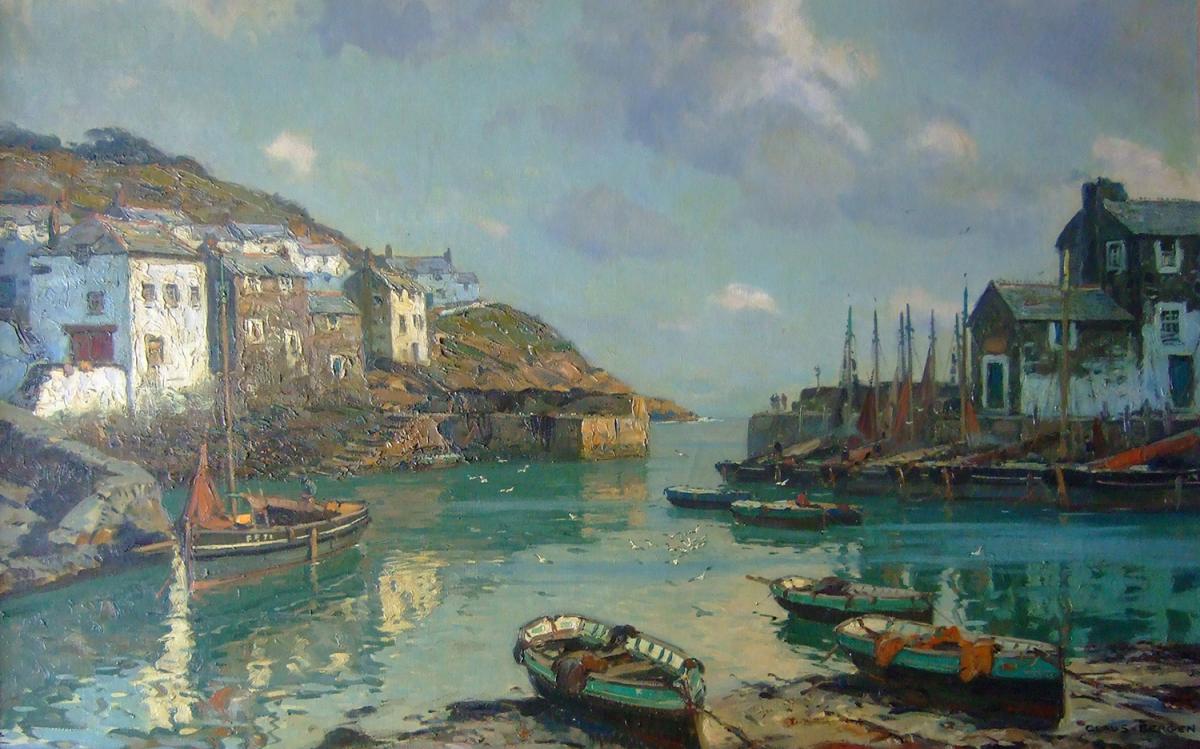 Claus Bergen's Polperro an der Küste Cornwall; Bergen often painted the view out to sea from the harbour, incorporating attractive buildings from other aspects
---
4. ARTISTS FROM OTHER SHORES
Polperro's burgeoning reputation in America led to major American artists including it in their European itineraries. Thomas Moran, 'the Dean of American Painters', who came to Cornwall in 1906 to follow in Turner's footsteps, came to prefer Polperro as a subject to Looe, where Turner had painted. Walter Elmer Schofield, a leading American Impressionist, visited in the years 1912 and 1914, and George Macrum, known for his urban genre, landscapes and harbour paintings, had a Polperro painting hung at the National Academy, New York in 1914.
Other significant foreign artists to visit pre-World War I include the German artist Cornelius Wagner, whose 1910 Royal Academy painting Low Tide Work, Polperro is owned by Gallery Oldham. Another German artist, Claus Bergen came each year between 1908 and 1913. He made his initial reputation in Germany with his Polperro paintings.
Then there was Hendrik Jan Wolter, one of the few Dutch artists to embrace Impressionism, who visited regularly from 1909–32. His Cornish works are considered among his best, and a painting of Polperro is on the front cover of his biography. From even further afield came the New Zealander Herbert Babbage, whose painting of Polperro roofs, now owned by the Suter Art Gallery, Nelson, must rank as one of his finest works.
After World War I foreign artists were still coming to Polperro, and special mention should be made of two such visitors. In 1930 and 1936 Teng-Hiok Chiu, the Chinese painter who famously won the Turner Gold Medal in 1929, painted here; and the Austrian refugee Oskar Kokoschka spent 11 months in the village in 1939–40. His Expressionist paintings of Polperro are included in the collections of the Tate, The Courtauld Institute and The Fitzwilliam Museum, Cambridge.
---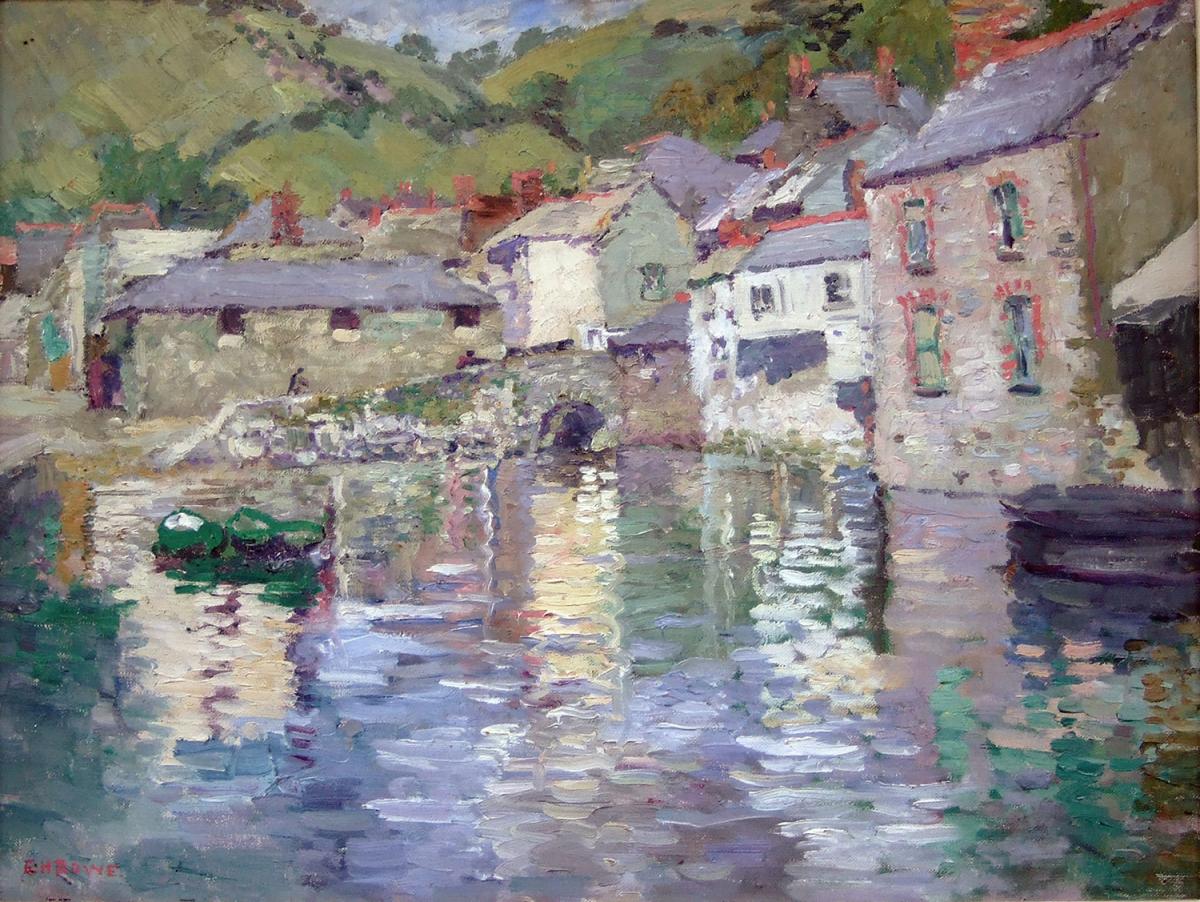 The Old Bridge, Polperro, by the lesser-known artist Elsie Rowe, who flourished in the 1920s
---
5. POLPERRO'S HEYDAY
In the period post-World War I, the number of visitors to Polperro increased and it began to be referred to as one of the most painted villages in the world. During the 1930s, paintings featuring the village were regularly hung at the Royal Academy and featured in solo shows in London and elsewhere.
Polperro also played host to left-wing illustrators in the 1930s, who railed against social injustice, fascism and warmongers. Most prominent was the pacifist and social commentator Arthur Wragg, whose uncompromising 1933 The Psalms for Modern Life, with its stark, black and white satirical images highlighting social injustice, caused a sensation. As a social commentator Wragg was compared to Hogarth, Blake and Goya.
After World War II, when the fishing industry in Polperro was coming to an end, an art colony formed in the village. The principal figures were Jack Merriott, who was successful as a poster artist and art teacher (known as 'the Wizard of Watercolour'); Stuart Armfield, a master of painting in egg tempera, whose still-life paintings were often imbued with heavy symbolism or surrealistic passages; Tom Morton, whose mental problems sadly garnered more headlines than his distinctive art; Frederick Cook, best known for his decorative depictions in gouache of Polperro's harbours; and Anyon Cook, his wife, a portraitist whose subjects included a six-year-old Princess Anne.
---
DAVID'S TOP TIPS​
Visit Polperro – due to acquisitions of sections of Polperro cliffs, by or on behalf of the National Trust in the 1920s and 1930s, Polperro remains a Cornish beauty spot. The ban on most traffic in the village, enforced since 1968, also means that one can enjoy its charms without fear of being mown down. The Polperro Heritage Museum of Smuggling and Fishing, in the old Teglio Pilchard Factory, gives a fascinating glimpse into the smuggling, privateering and fishing past of the village. While Polperro's artistic heritage is not yet on view, The East Cornwall Society of Artists, founded in 1944, has been based in the village at the Ebenezer Chapel since 1972, while the Polperro Arts Foundation now operates from the village hall.
View the works – many Polperro paintings in public collections can be viewed on the Art UK website. Check out the post-1901 paintings of John Robertson Reid and those of William Harold Dudley. See also the Oskar Kokoschka paintings at the Tate, The Courtauld and The Fitzwilliam Museum, Cambridge.
Plan ahead – the first-ever exhibition devoted to Polperro artists, Polperro – Cornwall's Forgotten Art Centre, will be staged in 2022 at Falmouth Art Gallery from 2 April–18 June. One of the centrepieces of the show will be Mouat Loudan's Fish Sale, Polperro (RA 1888), which is undergoing significant restoration to which contributions would be much appreciated (see stivesart.info/art-in-polperro/). Its previous state can be viewed on the Art UK website.
Books to read – I have written two books on this subject, to be published in April 2021, which include relevant historical aspects on Polperro's development. Polperro – Cornwall's Forgotten Art Centre, Volume One – Pre-1920 and Polperro – Cornwall's Forgotten Art Centre, Volume Two – Post-1920. These can be obtained via stivesart.info
---
OUR EXPERT'S STORY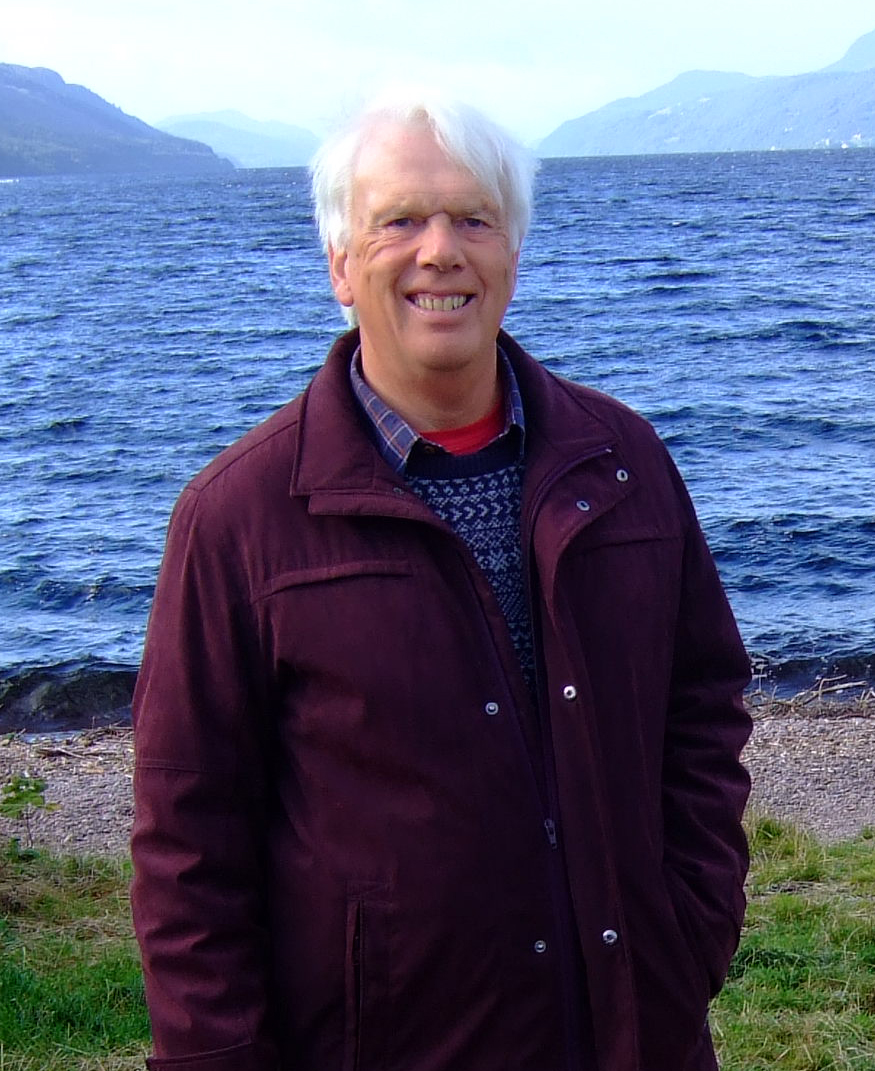 David Tovey is an independent art historian who specialises in Cornish art. He has curated many exhibitions on the subject, principally with Penlee House Gallery & Museum, Penzance. He has also written numerous books and, in particular, a series of detailed studies of both the artistic and social history of the St Ives art colony. David produces a six-monthly newsletter, The Siren, with details of his latest research into the St Ives colony, which can be viewed at stivesart.info. He is also editor and chief contributor to The Flagstaff, the six-monthly magazine of the Lamorna Society; a current project is to write an artistic and social history of the Lamorna art colony. His Arts Society lectures include talks on Polperro, St Ives, Lamorna and a range of other Cornish art topics.
---
IF YOU ENJOYED THIS INSTANT EXPERT STORY...
Why not forward this on to a friend who you think would enjoy it too?
Stay in touch with The Arts Society! Head over to The Arts Society Connected to join discussions, read blog posts and watch Lectures at Home – a series of films by Arts Society Accredited Lecturers.

About the Author
Become an instant expert!
Find out more about the arts by becoming a Supporter of The Arts Society.
For just £20 a year you will receive invitations to exclusive member events and courses, special offers and concessions, our regular newsletter and our beautiful arts magazine, full of news, views, events and artist profiles.
FIND YOUR NEAREST SOCIETY