Become an instant expert the Art of Self-Portraiture
Become an instant expert the Art of Self-Portraiture
From the almost hidden to the truly overt, our expert, Aliki Braine, explores the development of the self-portrait.
Frida Kahlo's studio in Mexico City, with the mirror she used for self-portraits
---
'I PAINT SELF-PORTRAITS BECAUSE I AM SO OFTEN ALONE, BECAUSE I AM THE PERSON I KNOW BEST'
ARTIST FRIDA KAHLO (1907-54)

---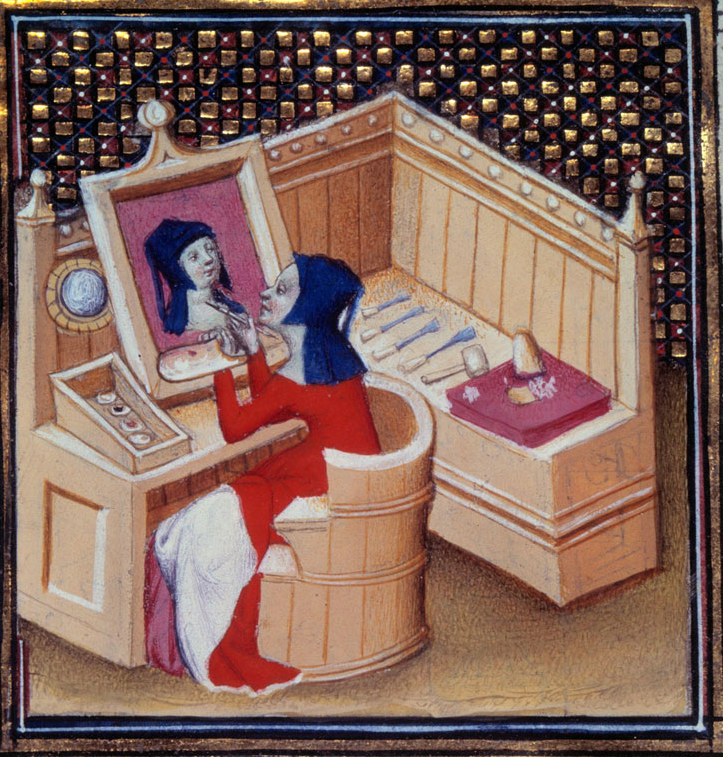 Iaia shown painting her own miniature portrait, from De mulieribus claris, by Giovanni Boccaccio
---
1. THE FIRST SELF-PORTRAITIST WAS A WOMAN CALLED IAIA OF KYZIKOS
The term 'self-portrait' conjures paintings on walls of galleries and museums; images of middle-aged men in darkened tones holding the attributes of their craft and defiantly staring out at the viewer. So it's surprising to find that in the history of European art, the invention of both portraiture and self-portraiture is attributed to women artists.
In his encyclopaedic Naturalis Historia, the first-century writer Pliny credits the invention of drawing portraits to the daughter of a potter from Sicyon named Butades. It is said that she traced the cast shadow of her departing love against a wall, creating the first portrait.
Likewise, Pliny credits the artist Iaia of Kyzikos with the invention of self-portraiture. Describing how Iaia created her self-image with the aid of a mirror, he goes on to praise the swiftness of her skill and the fact that her paintings fetched higher prices than those of her male counterparts. While we should rejoice in the attribution of such a fundamental image type to a female artist, self-portraiture was eventually downgraded for requiring little skill, relying on direct copying, rather than the creativity of invention.
---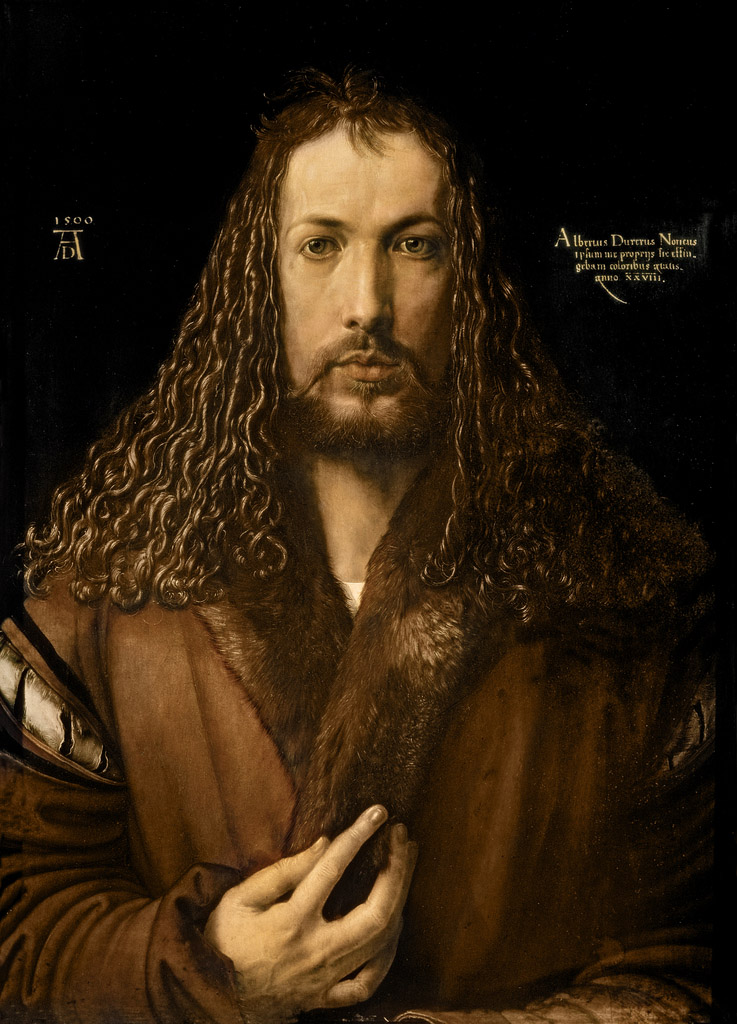 Albrecht Dürer's Self-portrait at the Age of Twenty-Eight
---
2. ALBRECHT DÜRER WAS THE FIRST SYSTEMATIC SELF-PORTRAITIST
The first western European artist to systematically make images of himself was Albrecht Dürer. His earliest-known self-portrait, a drawing in silverpoint, dates from 1484 when he was just 13. It is annotated: 'This I have drawn from myself from the looking-glass, in the year 1484, when I was still a child.'
Dürer depicted himself in drawings and paintings throughout his successful career, though none of his self-portraits show him at his easel with brushes, paints or palette in hand. Instead, he presents himself as a dapper gentleman and a well-travelled individual. A self-portrait aged 26 shows him in exquisite garments and kid gloves. He is sitting before a window through which a mountainous landscape evokes his recent return from northern Italy where, as an artist, he had been granted an elevated social position.
By 1500, aged 28 and at the midpoint of his life, Dürer's sense of status and self-importance led him to create an extraordinary self-portrait in the guise of Christ. Squarely facing the viewer in an unshifting gaze, the artist chose a full-frontal pose, one normally reserved for the depiction of the true Christ.
---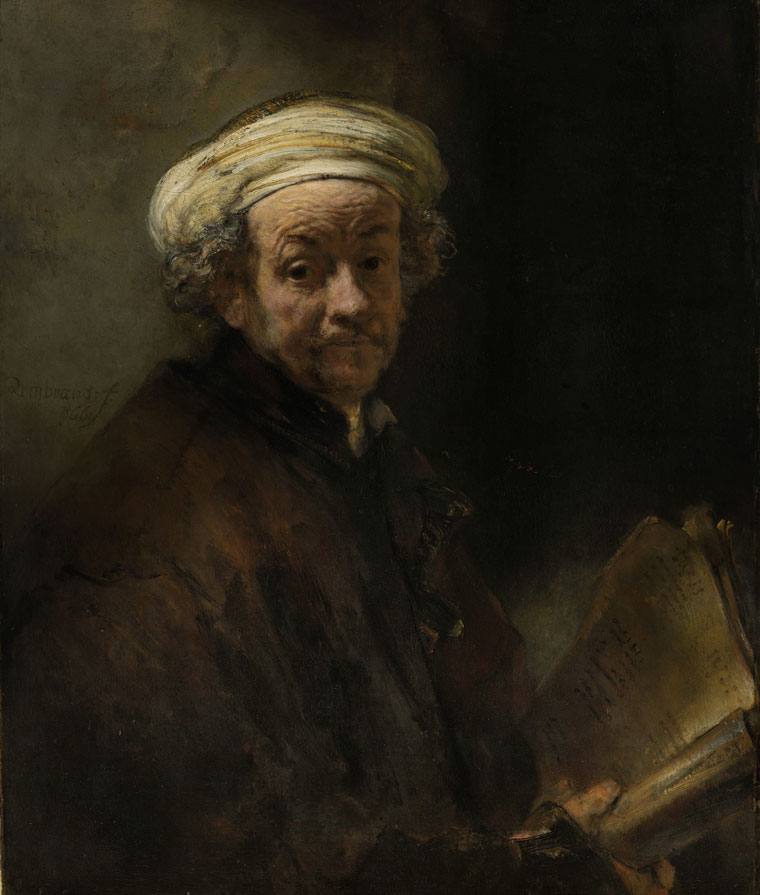 Rembrandt's Self-Portrait at the Age of 63, 1669
---
3. THERE ARE SOME 80 SELF-PORTRAITS OF REMBRANDT, NOT ALL PAINTED BY HIMSELF
The exact number of self-portraits made by Rembrandt is still a matter of heated dispute among scholars. It is estimated that there are over 40 paintings, 30 etchings and 10 or so drawings of the artist made by him, along with many copies by assistants and students. By the 17th century the status and fame of artists had grown to such an extent that art connoisseurs and collectors sought not just paintings by great artists, but also images of them.
Rembrandt's earliest self-portraits, dating from the 1620s and showing an extraordinary range of facial expressions and posturing, are not strictly self-portraits but 'tronies', or staged 'headshots'. While there is no doubt that they represent the artist's own features, Rembrandt presented himself in a repertoire of character types, rarely as a painter, but instead using costume to play out different roles, from Renaissance scholar to Old Testament figure, playful youth to crapulent beggar.
His self-portraits nonetheless document the shifting stages of his life. They show him progressing from successful artist to a bankrupted, bereaved and ageing old man, in a series of frank, unflinching and poignant autobiographical records.
---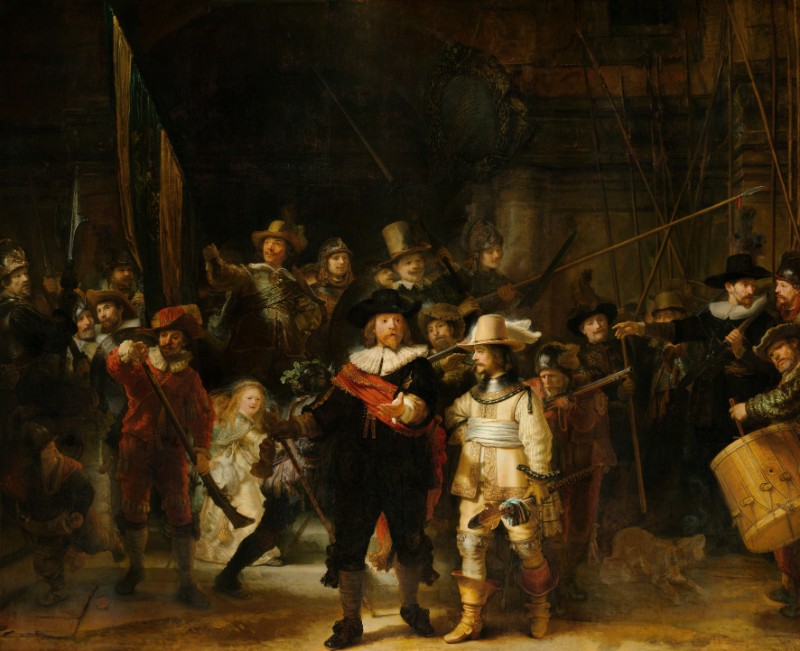 The Night Watch, 1642 at the Rijksmuseum, Amsterdam
Rembrandt is thought to have inserted his barely visible self-portrait in the middle of the painting, behind the man in green and the guard in a metal helmet
---
4. SPOT THE ARTIST
While Rembrandt formalised and popularised the image of the self-portrait, he also continued a much older tradition of self-representation by stealth. Inserted at the back of his most celebrated masterpiece, a group portrait of a militia company known as The Night Watch, is the artist himself, peeking between other figures, wearing his trademark beret.
While artists only began to make formal portraits of themselves in the late Renaissance and Baroque eras, earlier artists had also included their self-image by hiding it among the cast of characters in their paintings. These often playful and subtly inserted self-portraits are hard to spot and to attribute definitively. The face of Andrea Mantegna is thought to be dissimulated among decorative foliage in a painting in Mantua. The features of Jan Gossaert appear to be peering out between two brick walls in his The Adoration of the Kings; and Giorgio Vasari's own likeness is attributed to the saint in his St Luke Painting the Virgin.
These self-portraits in hiding, in miniature or in disguise, function as a means for artists to credit their work and also testify to the artist's presence in front of his or her subject.
---
---
5. FROM SELF-PORTRAIT TO SELFIE
Since the advent of photography, the ability to make faithful records of one's outward appearance has spread to become a ubiquitous feature of contemporary life. The camera and the widespread availability and instantaneity of digital photography enabled by smartphones have made the act of self-portraiture available to most people. The coining of the term 'selfie' to refer to this new body of images indicates a profound shift in the practice of self-depiction.
Interestingly, the term 'self-portrait' itself only emerged in the early 19th century, when a modern self-consciousness reappraised and renamed these portraits of artists. Before 1822 – when the term was first used – such paintings were listed in inventories or described as 'pictures of the artists by their own hand' or 'pictures of the artists by themselves'. Nowadays, by conservative estimates, 100 million selfies are taken each day worldwide. Artists working with photography have both embraced and reacted against this mass democratisation of self-portraiture. Artists Cindy Sherman and Zanele Muholi make a point of forgoing the instantaneity of the camera and instead construct new identities for themselves, which they then shoot. These contemporary artists bring the self-portrait up to date, using staging, costume, make-up and makeovers to explore and challenge social and gender stereotypes.
---
ALIKI'S TOP TIPS
Spy an early self-portrait
A favourite contender for the title of earliest western European self-portrait isPortrait of a Man (Self Portrait?), a painting of a man in a red turban by Jan van Eyck of 1533. It hangs in The National Gallery in London.
See a great collection
The greatest and most comprehensive collection of self-portraits is in the Uffizi in Florence. The collection comprises over 1,600 paintings of celebrated and lesser-known artists from the 16th century to today, a selection of which is on display in what is known as the Vasari Corridor.
Catch a contemporary display
Zanele Muholi's exhibition at Tate Modern was rescheduled due to Covid-19; you can see it now from 5 November 2020 to 7 March 2021.
Enjoy these good reads
The Moment of Self-Portraiture by Professor Joseph Koerner, published in 1993, is the most comprehensive academic account of how and why self-portraiture came to be. James Hall's The Self-Portrait, published in 2014, is a fantastic survey on the subject, and the catalogue of The National Portrait Gallery 2005 exhibition Self-Portrait: Renaissance to Contemporary is a perfect visual companion.
---
OUR EXPERT'S STORY
Parisian-born Aliki studied at The Ruskin School of Fine Art, Oxford, The Slade School of Fine Art, London and The Courtauld Institute. After working for the National Gallery for 20 years, she now teaches for Christie's Education and the Wallace Collection and is an associate lecturer for the Camberwell College of Art, University of the Arts London. Aliki is also a practising artist who regularly exhibits her photographic work internationally. Her Arts Society lecture titles include: The Birth of the Artist: Self-Portraiture and the Image of the Painter in the 17th century, From the Workshop to the Studio: Images of the Artist at Work and Where Have all the Women Gone? Putting Self-Portraits of Women Back into the Frame.
---
IF YOU ENJOYED THIS INSTANT EXPERT EMAIL...
Why not forward this on to a friend who you think would enjoy it too?
Stay in touch with The Arts Society! Head over to The Arts Society Connected to join discussions, read blog posts and watch Lectures at Home – a series of films by Arts Society Accredited Lecturers.
Show me another Instant Expert story
About the Author
Become an instant expert!
Find out more about the arts by becoming a Supporter of The Arts Society.
For just £20 a year you will receive invitations to exclusive member events and courses, special offers and concessions, our regular newsletter and our beautiful arts magazine, full of news, views, events and artist profiles.
FIND YOUR NEAREST SOCIETY