Become an Instant Expert on the Art of the Breugel Dynasty
Become an Instant Expert on the Art of the Breugel Dynasty
7 Feb 2021 - 13:27 BY Dr Amy Orrock
Sons, siblings and soaring talents – the Bruegel dynasty spanned almost 200 years, starting with Pieter Bruegel the Elder. An artist of remarkable skills, he was the first to capture snowfall in large-scale oil paintings. Our expert, Arts Society Lecturer Dr Amy Orrock, takes up the tale
---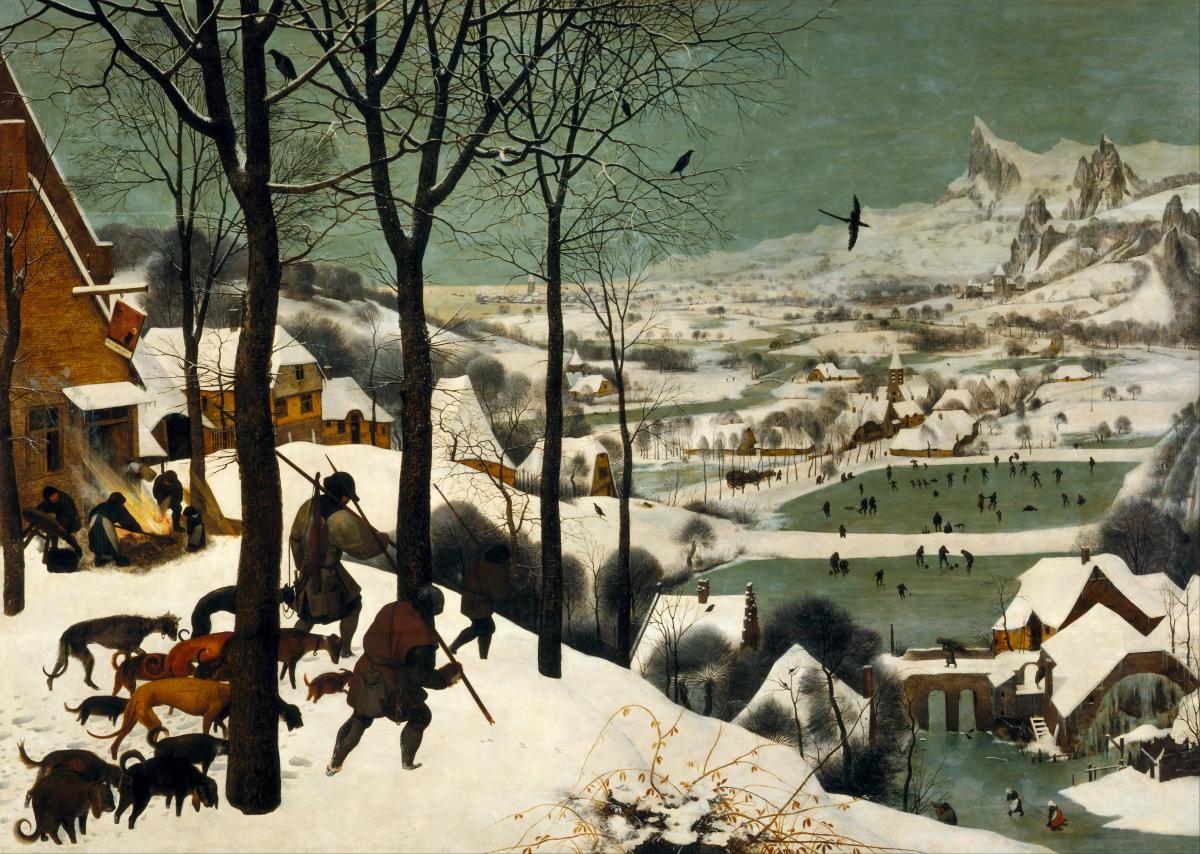 Pieter Bruegel the Elder, The Hunters in the Snow, 1565
---
1.WHAT'S IN A NAME?
Today the name 'Bruegel' is synonymous with snowy landscapes. Expanses of white, studded with skeletons of bare winter trees, plumes of smoke rising from low houses and squat figures gamely strapping on skates have been repeated by generations of Bruegel's descendants, and now feel familiar. Yet Bruegel, born around 1525, was one of the first artists to make the everyday life of the Netherlands the subject of large-scale paintings.
---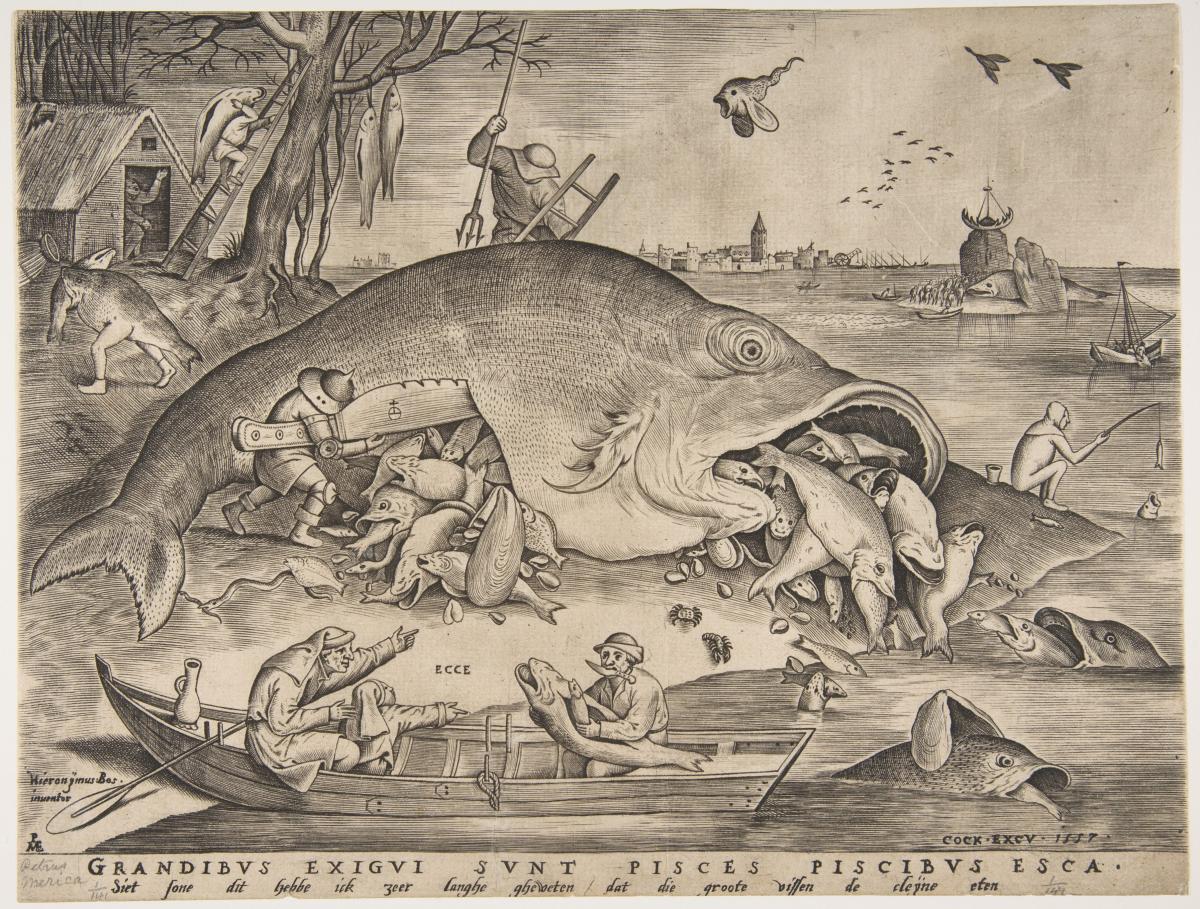 Big Fish Eat Little Fish, 1557, engraved by Pieter van der Heyden after a design by Pieter Bruegel, but marketed as a work by Bosch
---
Hailed the 'new Hieronymus Bosch', Bruegel's earliest works were designs for prints (as above), some of which were credited to his more saleable predecessor, Bosch (c.1450-1516). But a print such as Big Fish Eat Little Fish shows how Bruegel was able to assimilate esoteric, Boschian elements to produce work that was differently weighted. In Bruegel's hands, fantastic scenes of devilry lie within the orbit of mankind: see how the curious, dreamlike events occurring on the bank are observed by human figures in a boat, the father urging his son to look and learn from the proverb.
In 1559 Bruegel changed his signature, replacing the Gothic lowercase 'brueghel' with the Roman capital letters 'BRUEGEL'. This aligned his identity with the humanistic leanings of his friends in Antwerp, who included the geographer Abraham Ortelius (1527-98), author of the first modern atlas.
---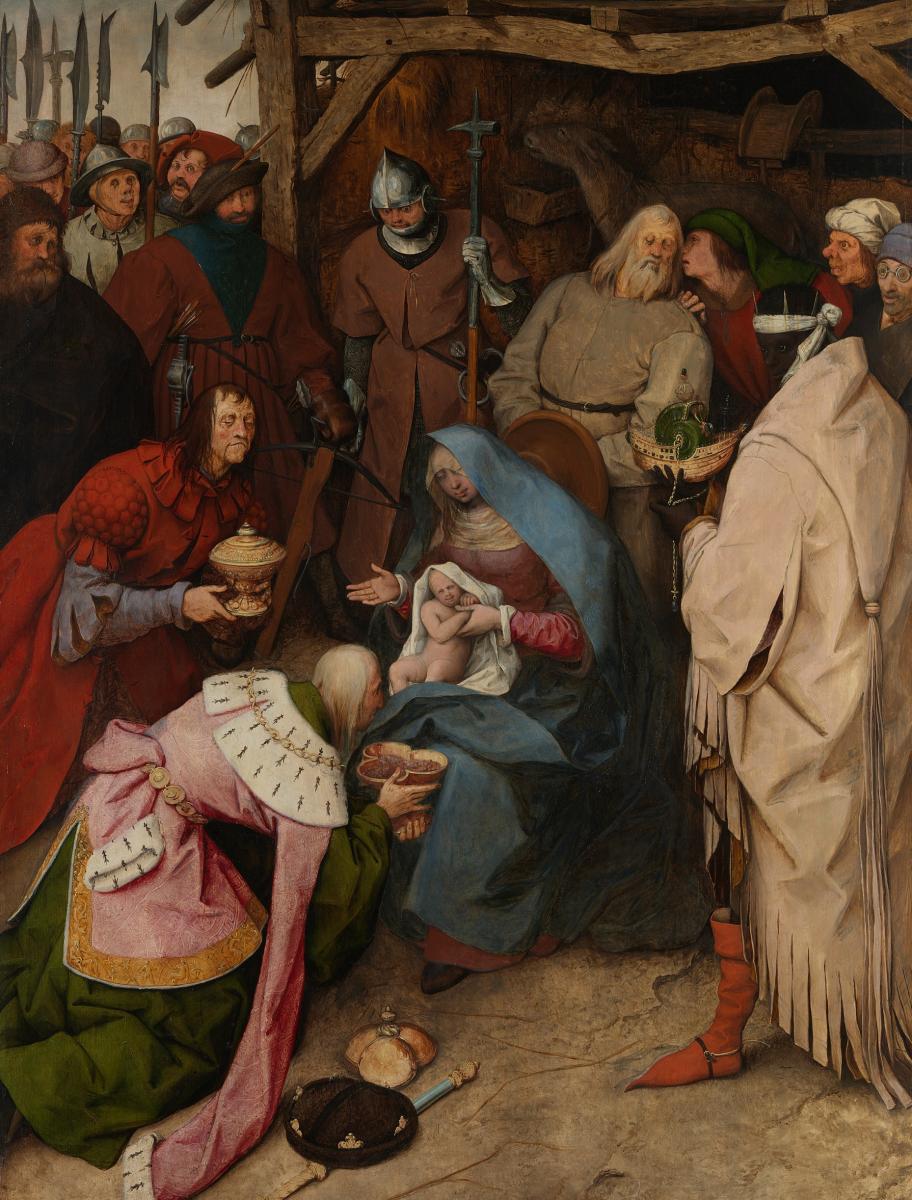 Pieter Bruegel the Elder's The Adoration of the Kings, 1564
---
2. THE DEVIL IS IN THE DETAIL
Bruegel was able to bring fresh human insights to even the most familiar of narratives. His The Adoration of the Kings of 1564 differs from the peaceful, joyous scene usually imagined by artists. Bruegel's kings are unidealised: wizened and ageing, their presence does little to allay the sense of foreboding articulated by the squirming Christ child and whispering figures who crowd around the stable. The advancing soldiers, traditionally relegated to the background of the scene, here press forward, their weapons forming a forest that blocks out the sky.
Look closely and Bruegel's paintings are filled with the detritus of everyday life, the ground often littered with straw, bones, broken pots and eggshells. His cool, anthropological eye extends to the human figures, who are frequently caricatured types. Mean-faced harridans, gluttonous revellers with their jackets riding up and short-sighted 'connoisseurs' sporting thick round glasses can be found again and again in his compositions.
---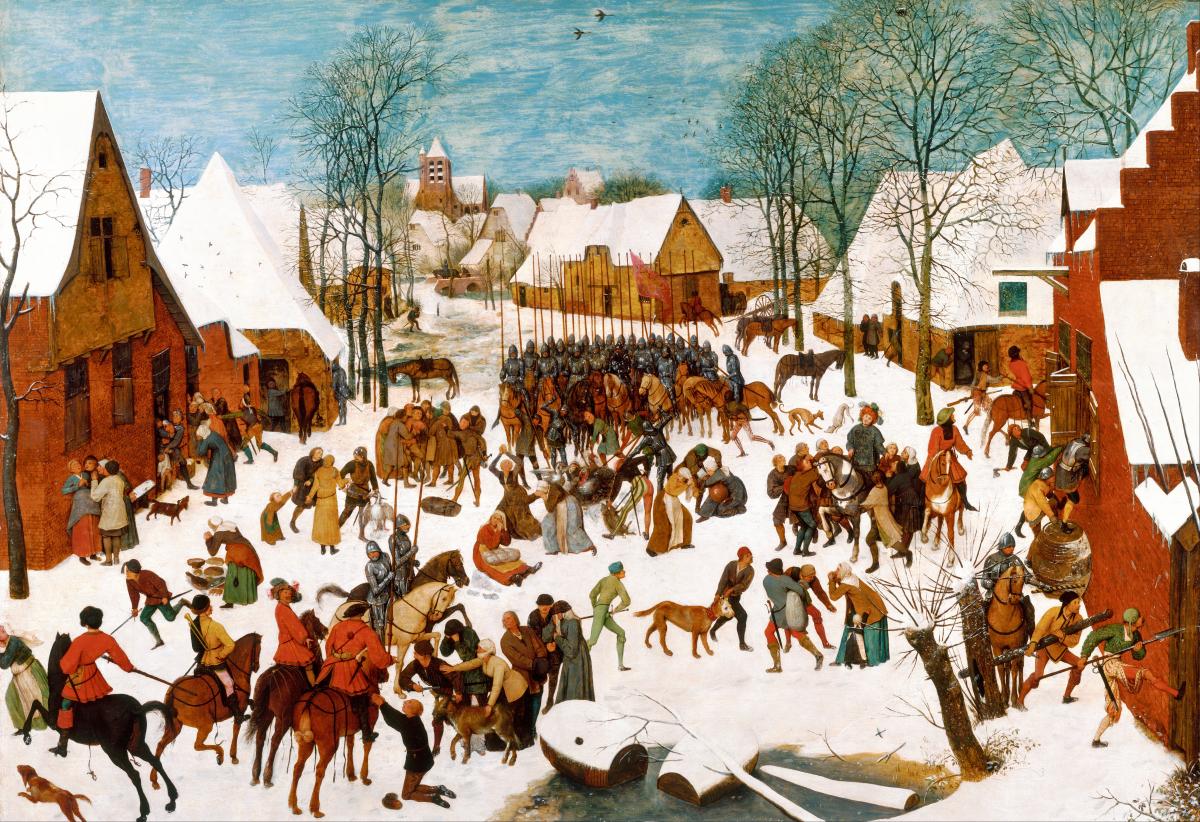 Pieter Bruegel the Elder, Massacre of the Innocents, c.1565-67
---
3. POLITICAL ART
Bruegel's decision to set biblical stories in his own time means that his work often packs a political punch. In his Massacre of the Innocents, Herod's infanticide takes place in a frozen Flemish village, referencing the severe winter of 1564–65. Contemporary accounts of the 'Little Ice Age' record that it was possible to roll beer barrels and ride horses across the frozen River Scheldt.
This period saw increased conflict between the local population and the ruling Spanish forces, with violence reaching new heights following the arrival of the unpopular Duke of Alva in 1567, with an army of 10,000 men.
Bruegel's painting reveals its multitude of horrors in a series of cinematic vignettes: doors are kicked in, babies snatched from their parents and fleeing figures foiled. The work was deemed so savage that it was overpainted early in the 17th century. With many of the painting's worst atrocities now hidden beneath a thin layer of overpaint, its original details can be reconstructed from the many copies made after the composition (as above)
Bruegel had an extraordinary capacity to convey the darkest aspects of human nature – the anguish of displaced peoples, the damage wrought by religious intolerance, as well as the indifference of the world to the tragedies faced by the common man. This was aptly expressed by W H Auden who, on encountering Bruegel's work in Belgium on the eve of World War II, wrote: 'About suffering they were never wrong, the old Masters: how well they understood, its human position…'
---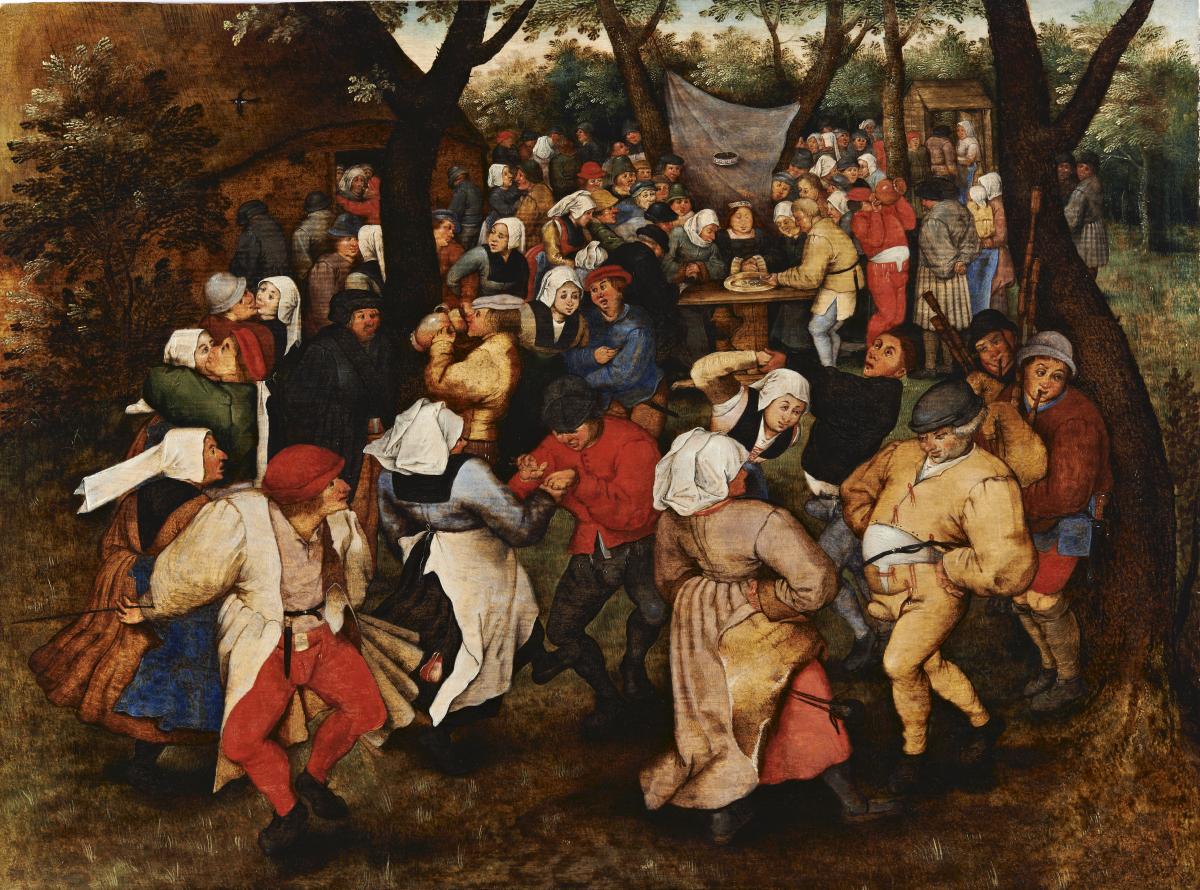 Pieter Brueghel the Younger, Wedding Dance in the Open Air
---
4. HIGH DAYS AND HOLIDAYS
Not all of Bruegel's art is serious, and his early reputation was that of a joker: in 1604 the painter, poet and writer Karel van Mander wrote that few could look at Bruegel's paintings without laughing. Van Mander also described how Bruegel would leave Antwerp and travel into the countryside 'dressed in peasant clothing' in order to infiltrate country weddings. This account is hard to verify, but inventories confirm that Bruegel's grandiose scenes of stomping peasants were popular with his wealthy patrons, who hung them on the walls of their country villas. In the decades following Bruegel's death the taste for peasant pictures grew, and his sons eagerly stepped into the breach.
Inspired by his father's compositions, Bruegel's eldest son (who inserted the 'h' back into his surname and is known as Pieter Brueghel the Younger) used a set of drawn preparatory 'cartoons' to replicate scenes many times. Employing apprentices in his workshop enabled Brueghel the Younger to produce small-scale paintings in plentiful amounts for sale on Antwerp's open market.
The Holburne Museum's Wedding Dance in the Open Air is an example of this type of painting. Loosely based on a print designed by Bruegel the Elder, the composition was one of Brueghel the Younger's most popular: there are over 100 of the versions of this painting catalogued today, 32 of which can be attributed to his hand.
---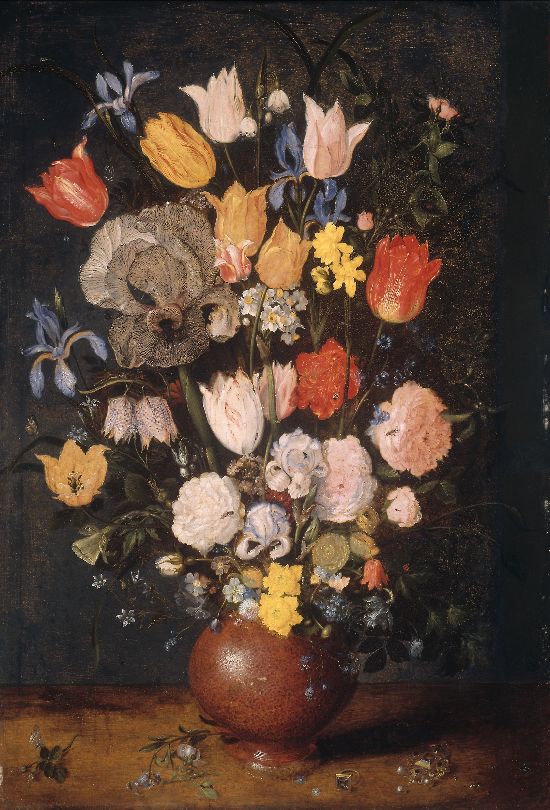 Jan Brueghel the Elder, Vase of Flowers, c.1607-08​
---
5. A WOMAN'S TOUCH
Women played an important role in the story of this remarkable dynasty. Bruegel's two sons, Pieter Brueghel the Younger (1564-1637) and Jan Brueghel the Elder (1568-1625), are his best-known followers, but they were not taught to paint by their father – they were toddlers when he died. Instead, Van Mander suggests that the boys received their early artistic training from their maternal grandmother, Mayken Verhulst (1518-99), who was a renowned miniaturist. This may account for Jan 'Velvet' Brueghel's trademark ability to dazzlingly imitate the textures of flowers and jewels on luminous copperplates.
Jan Brueghel the Elder collaborated with many artists. He produced 24 works with Peter Paul Rubens (1577-1640), painting exquisite landscapes into which Rubens inserted figures. Two of Jan Brueghel's daughters further propelled 'brand Bruegel' forward, with Paschasia Brueghel marrying artist Hieronymus van Kessel (1578-c.1636) and Anna Brueghel marrying the painter David Teniers the Younger (1610-90). Both families went on to produce painter sons. As late as 1729, the meticulous studies of insects, fish and flora produced by Jan van Kessel (1626-79) were still being praised in the context of his grandfather, Jan Brueghel: 'more than one Connoisseur would have mistaken it for Brueghel's paintbrush.'
Accomplished at producing everything from religious pictures and peasant scenes to satirical prints, flower pieces and nature studies, the artists of the Bruegel dynasty continued to innovate and define trends in art for almost 200 years. Five centuries later, the energy, inventiveness and reach of this unique family of painters remains unrivalled in the history of art.
---
AMY'S TOP TIPS

A room with a view
For the ultimate Bruegel experience make a pilgrimage (when our current times allow) to the Kunsthistorisches Museum in Vienna. This repository of the great Habsburg collections holds almost a third of Bruegel's surviving oeuvre. You can delve into the details of these paintings from the comfort of home by taking a virtual tour of the Bruegel Gallery on the official website.
In the UK Bruegel's paintings can be enjoyed in The National Gallery, The Royal Collection, The Courtauld Institute and Upton House, Warwickshire, while works by Pieter and Jan are in the collections of The Holburne Museum, Bath, and The Fitzwilliam Museum, Cambridge.
Curl up with a book
Walter S Gibson's Bruegel (Thames & Hudson, 1977) is a great, compact introduction to Pieter Bruegel the Elder
Snowy landscapes abound in Bruegel's Winter Scenes, edited by Tine Luk Meganck and Sabine van Sprang (Mercatorfonds, 2018), published to mark 450 years since Bruegel's death

My book, Bruegel: Defining a Dynasty (Philip Wilson, 2017), provides an overview of the clan
---


---
OUR EXPERT'S STORY

Dr Amy Orrock is an art historian and curator who has published and lectured widely on northern European art of the 16th and 17th centuries. She first became fascinated by Bruegel as an undergraduate at University College London and then completed her PhD on Pieter Bruegel the Elder at the University of Edinburgh. In 2017 she co-curated the exhibition Bruegel: Defining a Dynasty at The Holburne Museum. Amy is currently senior curator at Compton Verney Art Gallery & Park, where she has curated the exhibitions Painting Childhood: From Holbein to Freud (2019) and Cranach: Artist and Innovator (2020-21). Amy's Arts Society lectures include: Who was Bruegel? Discovering the Master through his Sons and Bruegel's Winter Scenes.
---
IF YOU ENJOYED THIS INSTANT EXPERT FEATURE...
Why not forward this on to a friend who you think would enjoy it too?
Stay in touch with The Arts Society! Head over to The Arts Society Connected to join discussions, read blog posts and watch Lectures at Home – a series of films by Arts Society Accredited Lecturers.
Show me another Instant Expert story
---
Images (top to bottom): The Hunters in the Snow © Bridgeman Images; Big Fish Eat Little Fish © New York Metropolitan Museum; The Adoration of the Kings courtesy of The National Gallery, London; Massacre of the Innocents © Luisa Ricciarini / Bridgeman Images; Wedding Dance in the Open Air courtesy of The Holburne Museum, Bath; Vase of Flowers © the Art Institute of Chicago.
---
Become an instant expert!
Find out more about the arts by becoming a Supporter of The Arts Society.
For just £20 a year you will receive invitations to exclusive member events and courses, special offers and concessions, our regular newsletter and our beautiful arts magazine, full of news, views, events and artist profiles.
FIND YOUR NEAREST SOCIETY