Become an Instant Expert on 20th-century glass
Become an Instant Expert on 20th-century glass
Twentieth-century glass offers a vibrant way to understand the changing styles of that century'sdecorative arts– and with many pieces being affordable, you can find beautiful examples for your home. Our expert, Arts Society Lecturer Mark Hill, reveals five key facts on this, one of the glossiest of art forms.
---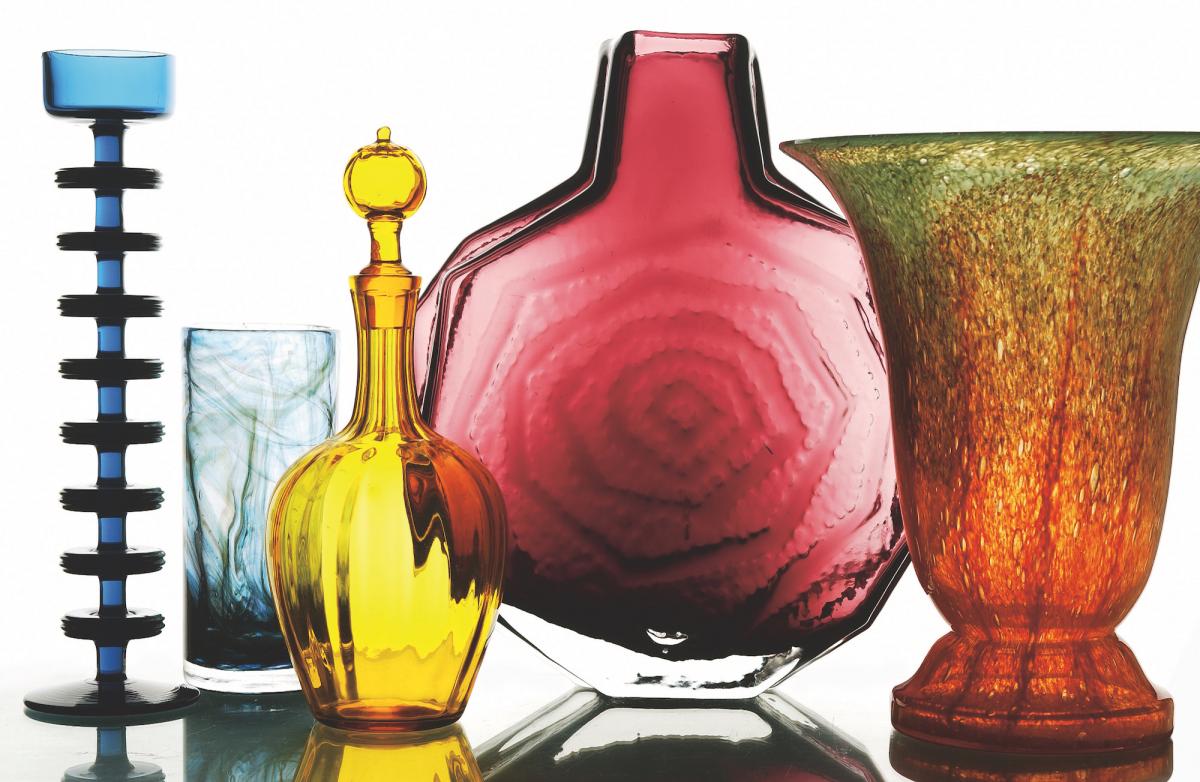 A group of glass including Wedgwood and Whitefriars, dating from the 1920s-70s. Credit: Graham Cooley Collection & Graham Rae
---
1. Glass reflects art movements
Glass was produced as part of every major design movement of the 20th century, from the handcrafted and nature-inspired styles of the Arts andCrafts (c.1880–c.1920) and Art Nouveau (c.1890–c.1915) movements, to the progressive, clean-lined Modernist (1900s–30s) and Art Deco (1920s–30s) movements, and on to the Mid-century Modern of the 1950s–70s. The latter decades of the century saw a diversification of design, including the Postmodern (1970s–80s) and 'Contemporary' (1990s–2000) styles, and the rise of the Studio Glass Movement. Some glass included elements of styles seen earlier in the century. Although architectural designs such as stained-glass windows were produced, most glass pieces were produced for the domestic market, and range from practical vases and bowls to, later, sculptural and artistic works.
---
2. Countries count
Although most countries produced glass, some were more prolific and influential in their glassmaking, and so are considered more important glassmakers than others. During the first decades of the century, France was pre-eminent in terms of the Art Nouveau and Art Deco styles. In Italy, glass from the Venetian island of Murano began undergoing a design revolution during the 1920s and 1930s. This reached a peak during the 1950s and 1960s, when companies such as Venini and Seguso employed progressive designers, whose influence had a lasting effect on glass design across the entire Western world.
Similarly, companies and designers in Scandinavia grew increasingly notable from the 1920s onwards, reaching the apex of their influence in the three decades after the war. In Czechoslovakia (Bohemia), designs were produced in nearly every major style, from Art Nouveau cameo glass to avant-garde postwar modern designs. The United States, Germany and Britain can also be considered relevant, but designs produced in these countries were often affected more by design developments in other countries, such as Italy and the Scandinavian countries, rather than being pioneering on their own account. From the 1980s onwards, against the rapid rise in the production of decorative glass in the Far East, the proliferation and development of studio glass techniques (see below) has led to most countries having at least a handful of prominent glass artists.
---
A 1970s Czechoslovakian Exbor flashed and cut jardiniere with 'amoeba' pattern, designed by glass artist Ladislav Oliva in 1968
---
3. Greats and unknowns
The work of major, high-end designers and companies who acted as style leaders or progressive pioneers at the time is considered the most important stylistically, academically and in terms of financial value. Good examples are the Art Deco designs of French designer René Lalique (1860–1945) and the Art Nouveau cameo glass works of Daum Frères (est.1878) and Emile Gallé (1873–1936). However, most 20th-century glass, particularly factory-produced glass, does not bear signatures or marks identifying the maker or designer, although they may have originally borne a label, which may have been washed off. Examples can be dated and attributed to a company and/or a designer by looking at the style, form, tones of colours, making techniques and overall design. Consult reference books, period publications and the decade-based design compilation books from publishers such as Taschen to learn which names are considered significant.
---
4. Spotting the real thing
If a piece is complex, clearly having required skill, time and experience to make, it was almost certainly important and expensive in its day – and will be now. Glass can be blown and formed by hand; formed by hand using a mould; blown by a machine into a mould; and pressed into moulds. It may then be cut, engraved or enamelled with a pattern. A unique piece of cameo glass, where thin, differently coloured layers of glass are cut back like a cameo brooch to create a linear and tonal design, will nearly always be worth more than a piece of mass-manufactured pressed glass. I always suggest 'seeing' with your fingers, as touch can help you understand the production process used to make a piece. Reproductions or fakes can be difficult to spot, so it is key to view and preferably handle as many original pieces as possible. Even a different colour tone, weight or size can help discern a reproduction or fake from an original piece.
---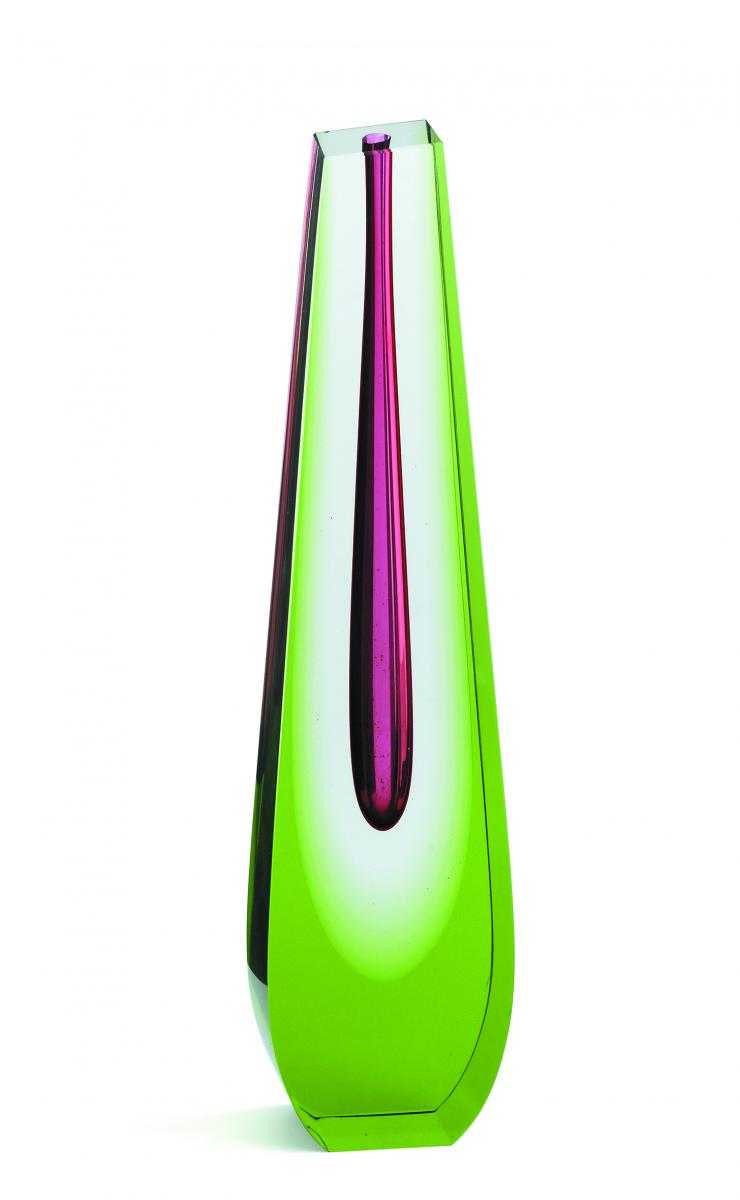 A 1960s Czechoslovakian Borske Sklo cased and cut Monolith vase, designed by Pavel Hlava from 1958
---
5. Style speaks!
If the design of a glass piece is bold and shouts the aesthetics of the day, from the geometric, clean-lined and highly stylised Art Deco style to the gentle, curving floral and foliate designs of Art Nouveau, it will be desirable. Today, the visual appeal of a piece is paramount, as many people collect to display pieces at home, rather than acquiring for purely academic reasons. Bold forms and colourful designs are currently in vogue. British company Whitefriars' Textured range, designed by Geoffrey Baxter (1922–95) from 1966 to 1967, and produced into the 1970s, is a good example – especially the Banjo vase. But don't ignore simpler, more austere designs led by German and Scandinavian designers such as Wilhelm Wagenfeld (1900–90) and Kaj Franck (1911–89), which are historically relevant and can look striking in groups, as well as standing alone in a minimal interior. Glass is all about light. It allows light to pass through it, and colour tones change with different light across the day. Also consider that Art Nouveau glass, for example, was designed to be seen by daylight or gas or low electric lighting at night, as that is what existed at the time. Light such a piece as close to that as possible, for example by candlelight, and it will come to life.
---
Mark's top tip
Postwar and contemporary British and European studio glass by key names from the late 1960s to today looks set to rise in popularity as the area is reappraised and studied in depth. 'Studio glass' is the term given to unique pieces of glass handmade by individuals who are also the designer or artist, as opposed to glass designs serially produced in a factory. Studio glass may have a strong artistic element, the glass being used to convey a message in the same manner as other media such as paint, bronze or clay. The current rise in interest in, and prices being paid for, work by British studio glass pioneer Sam Herman (born 1936) may lead a wider resurgence of interest in individual works of art in glass. Look for the work of early pioneers, examples with a strong sense of artistry and use of complex techniques. See a range of examples of studio glass from across the world in the glass department of the Victoria & Albert Museum in London.
---
Our expert's story
Mark Hill is an author, publisher and specialist in postwar Czech and 20th-century decorative glass. He is an Arts Society Accredited Lecturer and a Freeman of the City of London. Co-author of the annual, internationally published Collectables Handbook & Price Guide with Judith Miller from 2002 to 2017, he has also co-presented five prime-time series on antiques and interiors for BBC Two. He has been an expert on the BBC's Antiques Roadshow since 2007. Mark has lectured across the world, with many of his Arts Society talks focused on glass, while his latest lecture is 'Selfies, self-expression and the Victorian carte de visite'. Find out more about Mark's work at markhillpublishing.com
---
Enjoyed this Instant Expert? Sign up to receive the next one directly into your in-box!
About the Author
Become an instant expert!
Find out more about the arts by becoming a Supporter of The Arts Society.
For just £20 a year you will receive invitations to exclusive member events and courses, special offers and concessions, our regular newsletter and our beautiful arts magazine, full of news, views, events and artist profiles.
FIND YOUR NEAREST SOCIETY