Become an instant expert on…Rubens and the women in his art
Become an instant expert on…Rubens and the women in his art
There's a popular assumption that the artist Peter Paul Rubens only painted one type of woman: the voluptuous 'Rubenesque'. A new exhibition at Dulwich Picture Gallery is the first to challenge that thinking. Its co-curator, Arts Society Lecturer Amy Orrock, reveals the story
---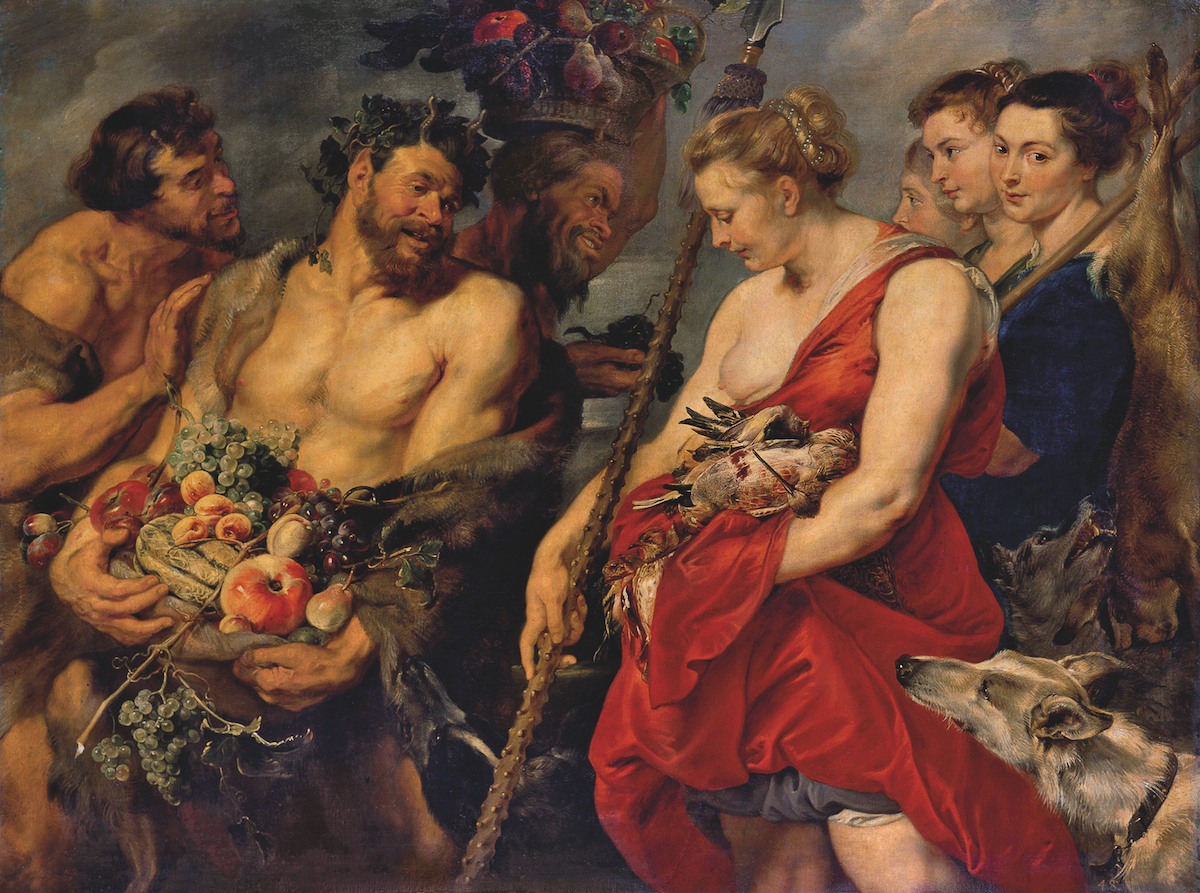 Diana Returning from the Hunt, c.1615. Image: Courtesy Staatliche Kunstsammlungen Dresden
---
'Now by God's grace ... I am leading a quiet life with my wife and children and have no pretensions in the world than to live in peace'
Peter Paul Rubens, 1634
---
Peter Paul Rubens, The Virgin in Adoration before the Christ Child, c.1616. Image: KBC Bank, Antwerp, Snijders&Rockox House
---
1. Rubens in love
Peter Paul Rubens (1577–1640) was one of the greatest artists of all time.
He worked prolifically, reputedly rising at 4am every morning. He ran a large and successful studio, with the result that around 1,500 paintings are attributed to him today. Rubens was also charming and well read. He spoke six languages, corresponded with the major collectors and thinkers of the day, and possessed diplomatic skills that were put to good use in the courts of Europe. Such skills brought him knighthoods from both Charles I of England and Philip IV of Spain.
But what of the women behind this great man?
Rubens was married twice, and both relationships left an indelible imprint on his art. He married his first wife, Isabella Brant, in 1609, shortly after returning to Antwerp from eight years abroad in Italy. Isabella came from a respectable family, and her father, Jan Brant, was an official of the city of Antwerp. Soon after the wedding Rubens bought the house that was to become their home, and set about transforming it into an elegant, Italianate palazzo with a courtyard garden and dedicated painting studio. He painted several portraits of Isabella that show her with dark hair, hazel eyes, arched brows and a lively expression.
Her face seems to have inspired his images of the Virgin Mary. The painting of The Virgin in Adoration before the Christ Child is one of several thought to have been modelled on Isabella and one of the couple's two sons. Isabella died unexpectedly aged 34, probably from the plague. Grief stricken, Rubens described in a letter how: 'I find it very hard to separate grief for this loss from the memory of a person whom I must love and cherish as long as I live.'
---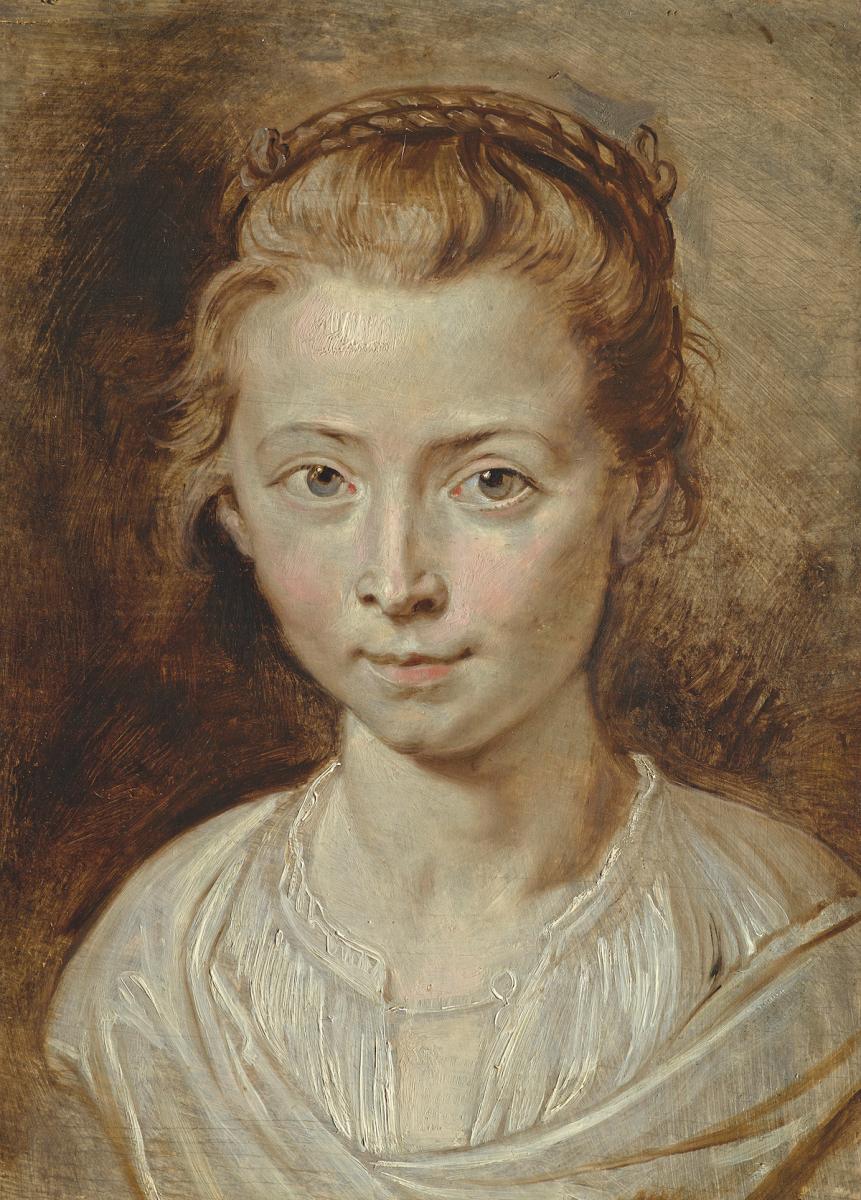 Peter Paul Rubens, Clara Serena Rubens, the Artist's Daughter, c.1620–23. Image: Private collection
---
2. The cherished daughter
Rubens had three children with Isabella Brant, and five with his second wife, Helena Fourment.
His eldest daughter, Clara Serena, shown here, seems to have had a special place in his heart. Although Rubens disliked painting portraits and generally preferred to paint more prestigious subjects drawn from history, myth or religion, he made an exception for his family members, whom he painted often and lovingly.
These tender, sensitive portraits were not made to commission but for Rubens's own pleasure and enjoyment. The direct gaze of Clara Serena in this oil sketch dating from the early 1620s suggests the depth of the relationship between father and daughter. The sombre, restricted colour palette of this painting may also allude to an illness – like her mother, Clara Serena also died tragically young, aged just 12.
---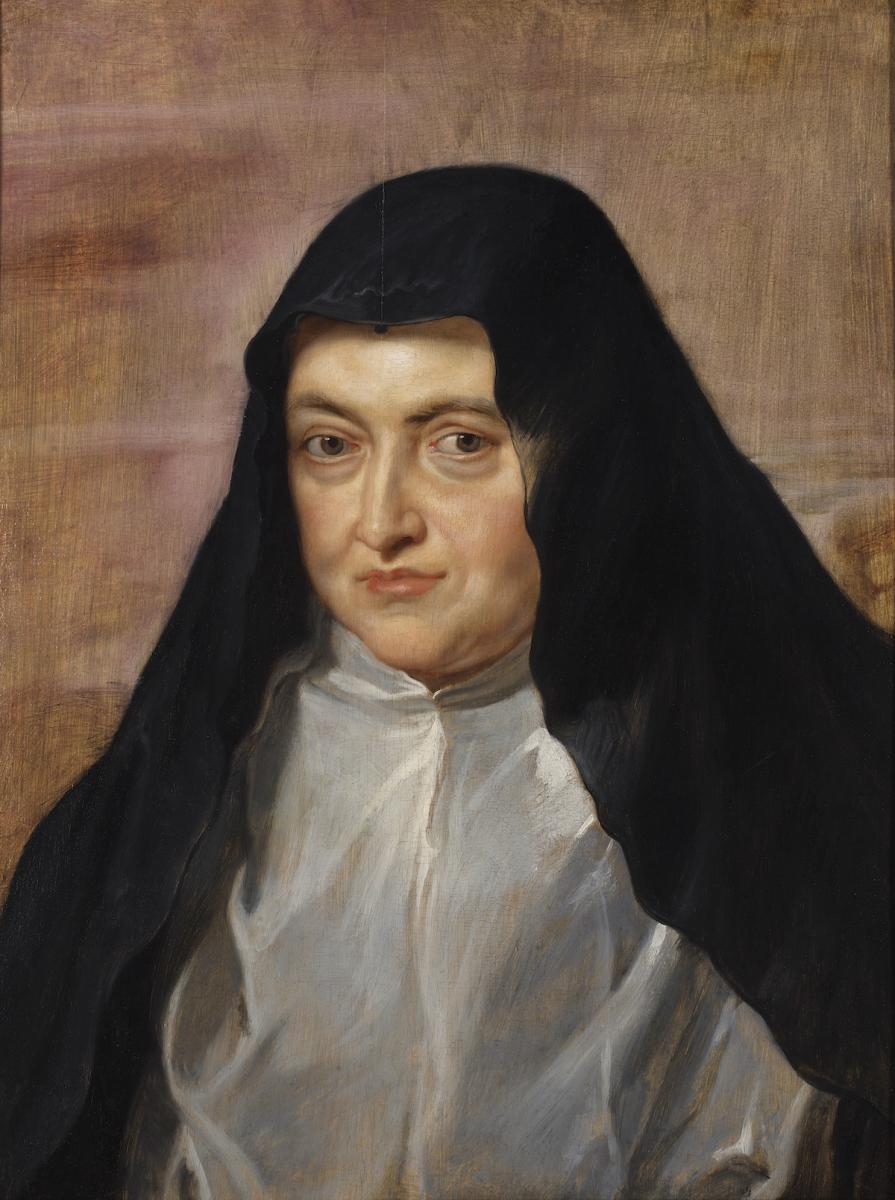 Peter Paul Rubens, Isabel Infanta of Spain in the Habit of a Poor Clare, 1625. Image: Private collection, Antwerp
---
3. Powerful patrons
Professionally, Rubens earned the respect and trust of women, and many of his most important patrons were female.
Prominent among them was the Infanta Isabel Clara Eugenia, the daughter of Philip II of Spain. With her husband, Archduke Albert, Isabel ruled the Southern Netherlands for most of Rubens's life.
The artist accepted the post of court painter to the couple in 1609; they were so keen to have him in their service they allowed him to remain living in Antwerp, even though their court was based in Brussels.
Following Albert's death in 1621 Rubens continued to work for Isabel, who governed alone for a further 12 years. In her widowhood she cultivated a personal image of piety and authority, expressed through her decision to join the Franciscan order of the Poor Clares and wear the habit of a nun. Rubens painted portraits, altarpieces and decorative schemes for Isabel, and acted as her confidante and diplomatic emissary, travelling to the courts of Spain and England to participate in negotiations intended to bring an end to the Eighty Years' War (1568–1648).
Isabel's desire for peace matched his own, and he wrote respectfully of her: 'Long experience has taught her how to govern these people and remain undeceived by the false theories which all newcomers bring from Spain.'
The Infanta may have recommended Rubens to another powerful female patron, the French queen mother, Marie de' Medici. It was she who pushed the painter's creativity to new highs when she commissioned him to execute a grand series of paintings glorifying the events of her life.
Remarkably, the cycle of 21 huge canvases remains intact and is today displayed in the Louvre. Filled with goddesses, personifications and portraits of real people, this series demonstrates the depth of Rubens's invention, as he strove to represent the controversial life of a contemporary woman with all the gloss and glory of ancient history.
---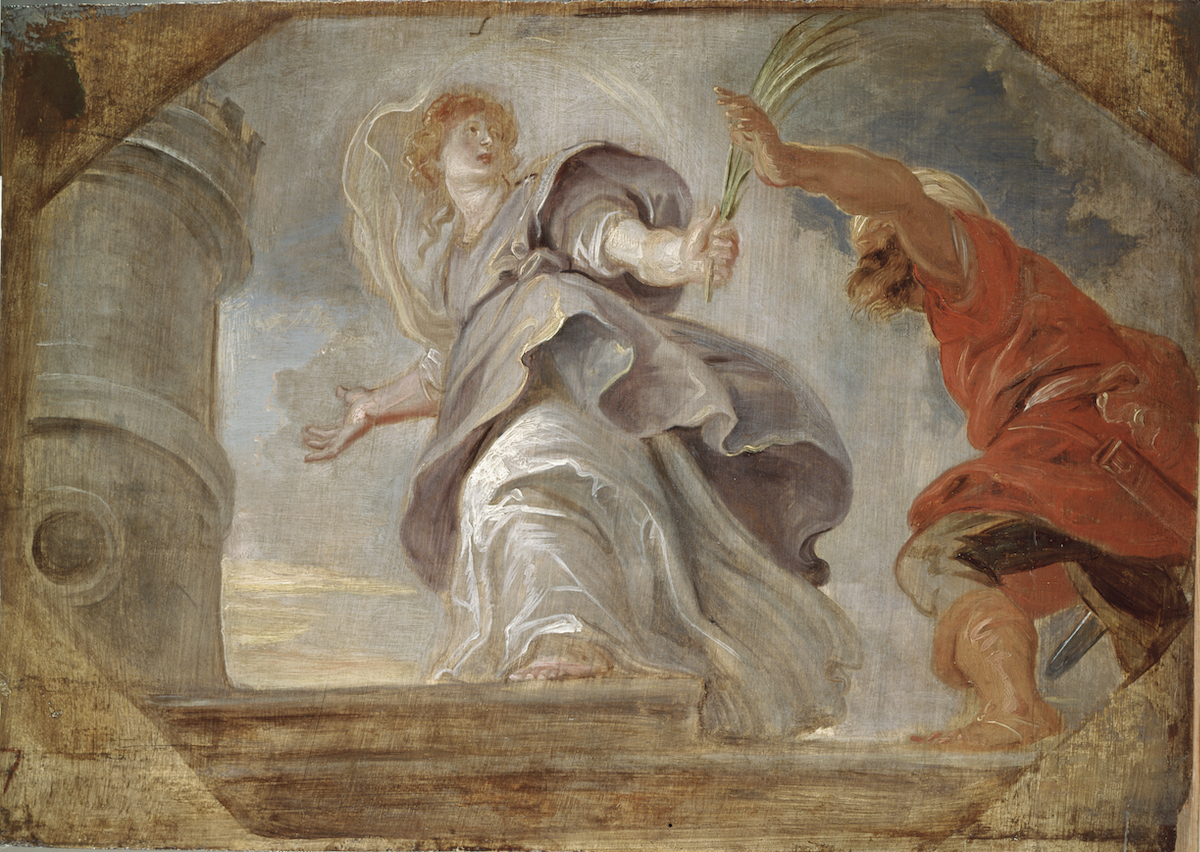 Peter Paul Rubens, Saint Barbara fleeing from her Father, c.1620. Image: Dulwich Picture Gallery
---
4. Other-worldly women
Women also played a key part in decorative schemes for religious buildings.
In 1611 Albert and Isabel issued a decree ordering the restoration and refurbishment of churches that had been destroyed or damaged during the iconoclasm of the previous century. The Virgin Mary and female saints were popular subjects for new commissions, and Rubens proved himself adept at portraying events from the lives of these other-worldly women in ways that were dramatic, life-like and moving.
An example of Rubens's supreme abilities as a storyteller is the rapidly painted oil sketch of Saint Barbara fleeing from her Father, seen here.
This shows the heroic saint running away from her evil father, who has his sword drawn ready to kill her. Saint Barbara's swirling blue skirts and the flowing white drapery that arcs above her head suggest that she already belongs to the heavens.
The foreshortening of both figures is masterfully rendered and tells us that we are looking up at the scene – this sketch was one of 39 designs for a decorative ceiling for the new Jesuit church in Antwerp. The technique of using modelli (small oil sketches) to work out complex decorative schemes was something that Rubens had learned in Italy. The contract for the commission stated that Rubens could either hand over the modelli or, if he wanted to keep them, paint an extra altarpiece.
Rubens chose to keep the oil sketches, demonstrating how much he valued his initial inventions.
---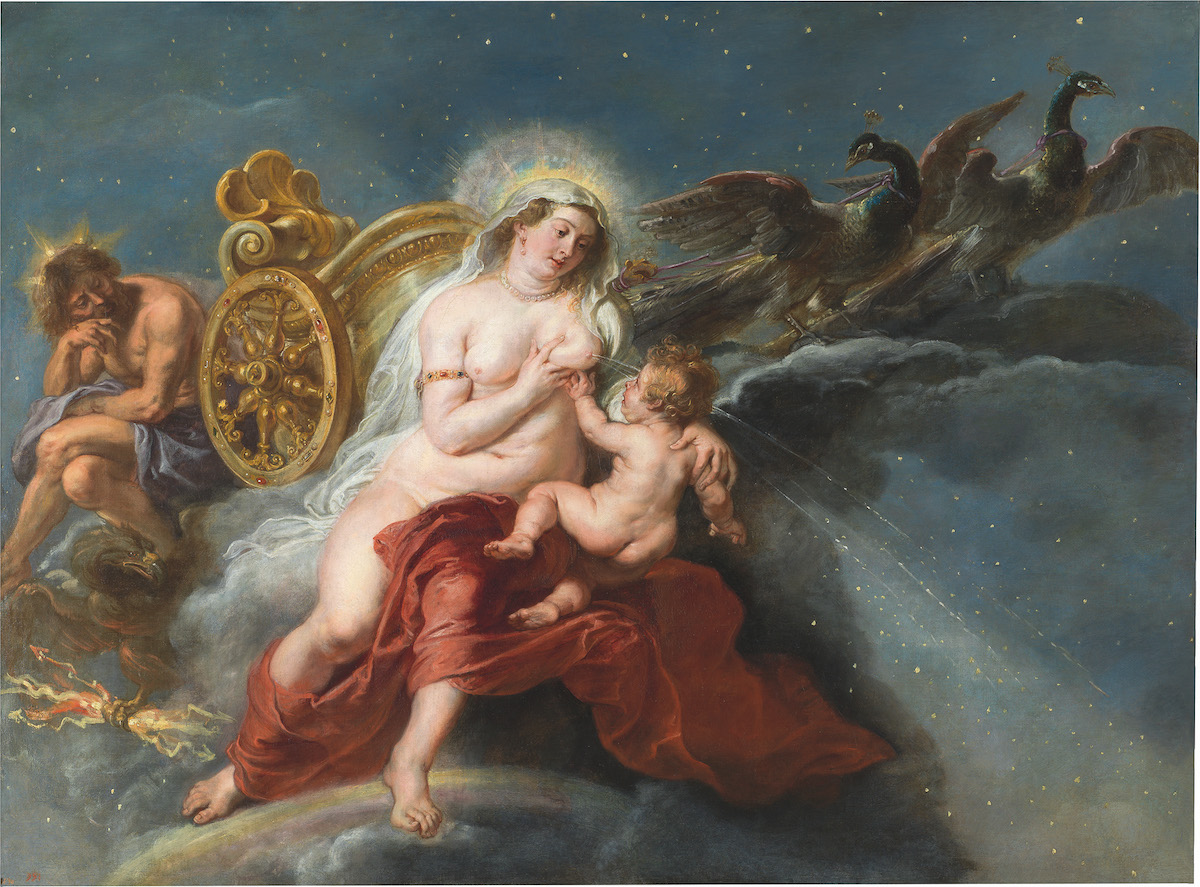 Peter Paul Rubens, The Birth of the Milky Way, 1636–38. Image: © Photographic Archive. Museo Nacional del Prado, Madrid
---
5. Beauty and mythology
Rubens never forgot his time in Italy.
He was fascinated by Classical sculpture and with his Italian predecessors, particularly Titian; Rubens copied his paintings whenever he encountered them throughout his life.
Rubens's paintings reference these sources, but he also brought something new to his depictions of mythological women: a powerful physicality, the sense that they are real flesh and blood.
This developed further following his marriage to his second wife, Helena Fourment, in the final decade of his life. His young wife was praised by contemporaries for her beauty, and her face can often be seen in Rubens's later paintings. In The Birth of the Milky Way Helena appears in the guise of Juno, the queen of the goddesses, whose bountiful, spurting breastmilk formed the starry night sky.
The women in Rubens's paintings are far more than mere figures to titillate or admire for their beauty. Time and again in his art women are presented as a life-giving force, powerfully championing peace and embodying plenty.Only Venus, the goddess of love, can disarm Mars, the god of war. Strong and compassionate women are an essential, enduring and characteristic element of Rubens's art, and were doubtless informed by the many powerful and inspiring women that he encountered in his own lifetime.
---
Amy's top tips
See
Rubens & Women at Dulwich Picture Gallery, London. The exhibition opens on 27 September and continues until 28 January 2024. A further theme of the show will follow the evolution of the female nude in Rubens's art. For all details see dulwichpicturegallery.org.uk
Great places to visit
The best way to walk in the footsteps of Rubens is to pay a visit to his home, the Rubenshuis (Rubens House), in Antwerp. The house is currently closed for renovation but will partially reopen in 2024. For the latest details, see rubenshuis.be/en
The Galerie Médicis in the Louvre in France provides a purpose-built space in which to appreciate Rubens's ambitious cycle of 21 paintings made for Marie de' Medici's Luxembourg Palace.
The largest surviving work by Rubens still in its original location is the magnificent ceiling of the Banqueting House, which can be visited in London today, where it is open for guided tours on specific dates. Commissioned by Charles I in 1629, the total painted area of the ceiling measures 225 square metres. Rubens painted the canvases in Antwerp and never saw them installed in England.
Good reads
For a brilliant short overview of Rubens's life and art see Kristin Lohse Belkin's Rubens (Phaidon, 1998).
For fascinating insights into Rubens's network of family relationships see the exhibition catalogue Rubens in Private: The Master Portrays his Family, edited by Ben van Beneden (Thames & Hudson, 2015).
Rubens's oeuvre is discussed in detail in the many volumes of the Corpus Rubenianum Ludwig Burchard, an ongoing series of catalogues that is partially available online.
---
If you enjoyed this Instant Expert why not forward this on to a friend who you think would enjoy it too?
Show me another Instant Expert story – theartssociety.org/instant-expert
About the Author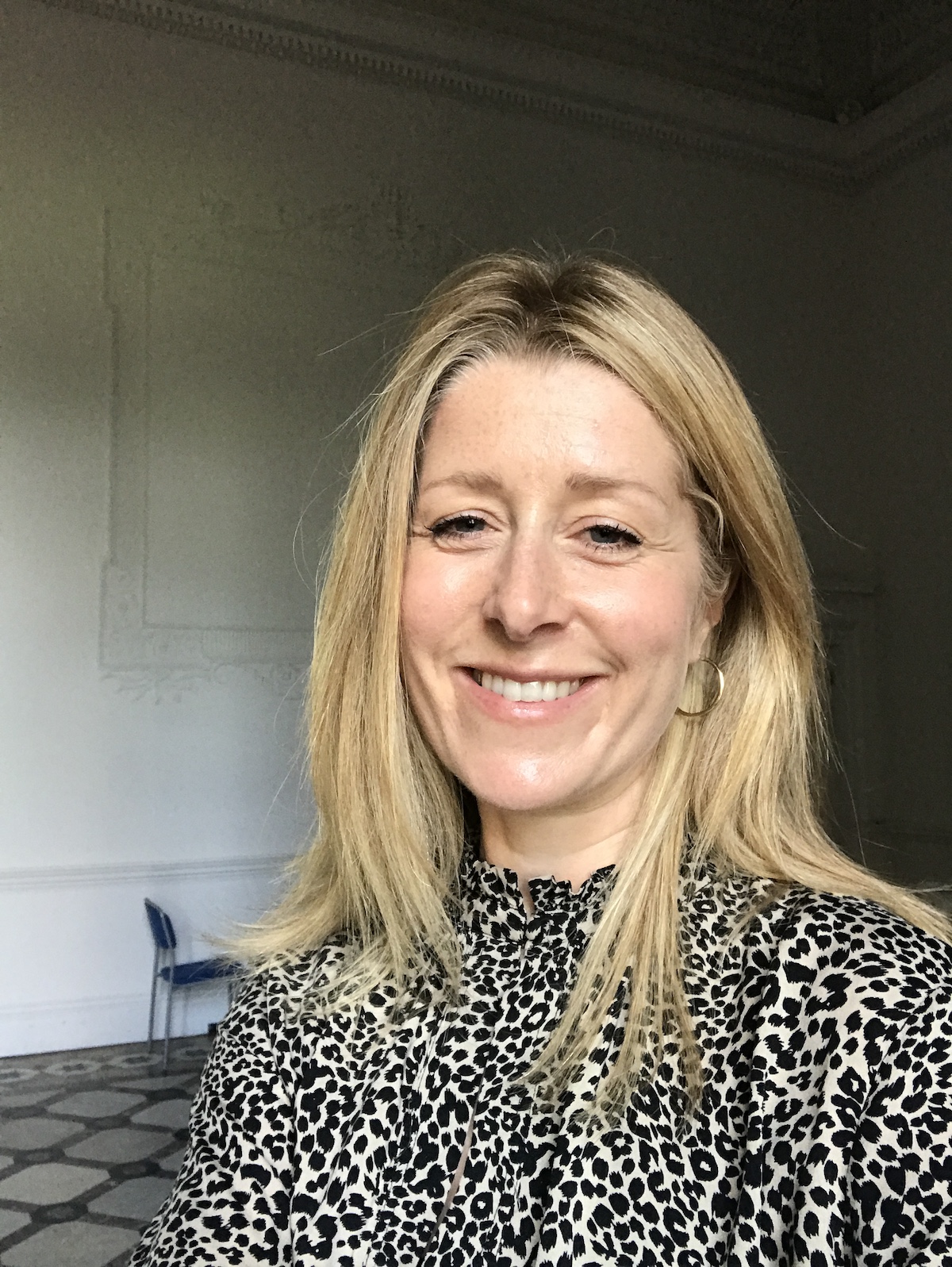 Amy Orrock
is a curator, art historian and Arts Society Lecturer who has published and lectured widely on Northern European art of the 16th and 17th centuries. She has curated numerous exhibitions, including Tudor Mystery: A Master Painter Revealed (Compton Verney, 2023), Cranach: Artist and Innovator (Compton Verney, 2020), Painting Childhood: From Holbein to Freud (Compton Verney, 2019) and Bruegel: Defining a Dynasty (The Holburne Museum, 2017). Amy completed her PhD on Pieter Bruegel the Elder and is the co-curator of Rubens & Women. Among her talks for The Arts Society are Who was Bruegel? Discovering the Master through his Sons; Bruegel's Winter Scenes; Centuries of childhood: portraits of children from Holbein to Freud and Rubens & Women.
Become an instant expert!
Find out more about the arts by becoming a Supporter of The Arts Society.
For just £20 a year you will receive invitations to exclusive member events and courses, special offers and concessions, our regular newsletter and our beautiful arts magazine, full of news, views, events and artist profiles.
FIND YOUR NEAREST SOCIETY