Welcome to The Arts Society Welwyn Garden
The Arts Society that
welcomes new members & visitors.
"Sorry Folks - We are reliant on virtual lectures via ZOOM......Back to normality when Campus West opens we are planning to be back on the 15th September for our first live lecture.
"Don't leave just yet though. Take a look at the bottom of the page for our revised programme"
When Patricia Fay decided to turn her vision into reality by launching her "Chiltern Antiques Group" in the 1960's, which evolved into the National Association of Decorative and Fine Arts Societies (NADFAS) in 1968, who would have thought that 50 years later there would be over 91,000 members in over 360 local societies distributed world-wide in over 11 countries including the UK, Europe and Australasia. In 2017 NADFAS became The Arts Society, bringing together everyone through a shared curiosity for the arts and our artistic heritage. The Arts Society offers enjoyable opportunities to discover and support the arts of yesterday, today and tomorrow, wherever you are.
 
The Arts Society Welwyn Garden started life in 1979 as Welwyn Garden Decorative & Fine Arts Society under the auspices of NADFAS, and the first meeting was held the following year in March 1980. Originally its purpose was to promote and cultivate an interest in fine arts. In recent years the brief has widened considerably to include the promotion and appreciation, not only of fine arts but the artistic heritage of all cultures, and we regularly hold lectures on a diverse and truly cosmopolitan list of contents, including music and architecture.
 
We organise regular day trips by coach to interesting locations and impromptu "Pop-Up visits".   These have recently included the Royal Opera House and Shakespeare's Globe.  Periodically we organise cultural holidays both at home and abroad.
 
We have a varied programme of fascinating, illustrated lectures given by entertaining and knowledgeable professional speakers.
 
Lectures are held at the Campus West, normally, on the third Wednesday of the month at 10:30am.
Visitors are very welcome and may pay admission on the door.
LOCATION
The Hawthorne Theatre
Campus West
Welwyn Garden City
United Kingdom
MEETING TIMES
Wednesday's 10:30 am (Nine lectures per annum)
Please refer to your programme card or see below for lecture dates
Welcome to The Arts Society Welwyn Garden News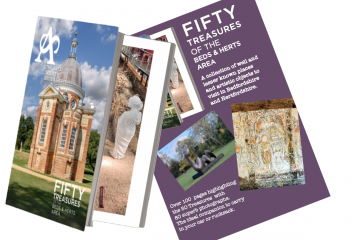 To celebrate its 50th anniversary The Arts Society, together with Arts Society Areas have published this range of guide books.
During lockdown we have been beavering away in the background.
Here are some of our activities.