This presentation features the art, anecdotes and recipes of famous artists who loved their food.  Artists considered include Renoir, Toulouse Lautrec, Monet, Picasso, Cezanne and many others.
How to book this event:
Doors open at 10:00hrs for registration and coffee.
Presentation 11:00-12:30hrs followed by complimentary refreshments.
Admission is free for members, €15 for guests.
THE ARTS SOCIETY ACCREDITED LECTURER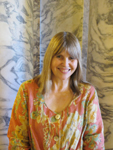 Mrs Ghislaine Howard
A painter of national reputation named as a Woman of The Year 2008 for her contribution to art and society. She has published and exhibited widely, has had work in the Royal Collection and has had solo exhibitions at many prestigious venues including Manchester Art Gallery, Canterbury Cathedral and Imperial War Museum North. An associate lecturer at Manchester Metropolitan University, she has lectured to a broad spectrum of people at her studio gallery or at more public venues such as cathedrals, art galleries and other institutions.
OTHER EVENTS
Salones Canor
Cami del Assagador de Canor
A truly Dickensian experience
Salones Canor
Cami del Assagador de Canor
Insightful presentation about Velazquez's time at the Court of Madrid