Writ in Water: a new site of pilgrimage?
Writ in Water: a new site of pilgrimage?
25 Jun 2018 - 15:53 BY The Arts Society
'There are already swallows nesting in the roof spaces,' says artist Mark Wallinger.

We're standing inside his new architectural artwork. It's a pure, monastic, circular building, 15.4m in diameter, on a low swell of land in ancient meadows at Runnymede.
---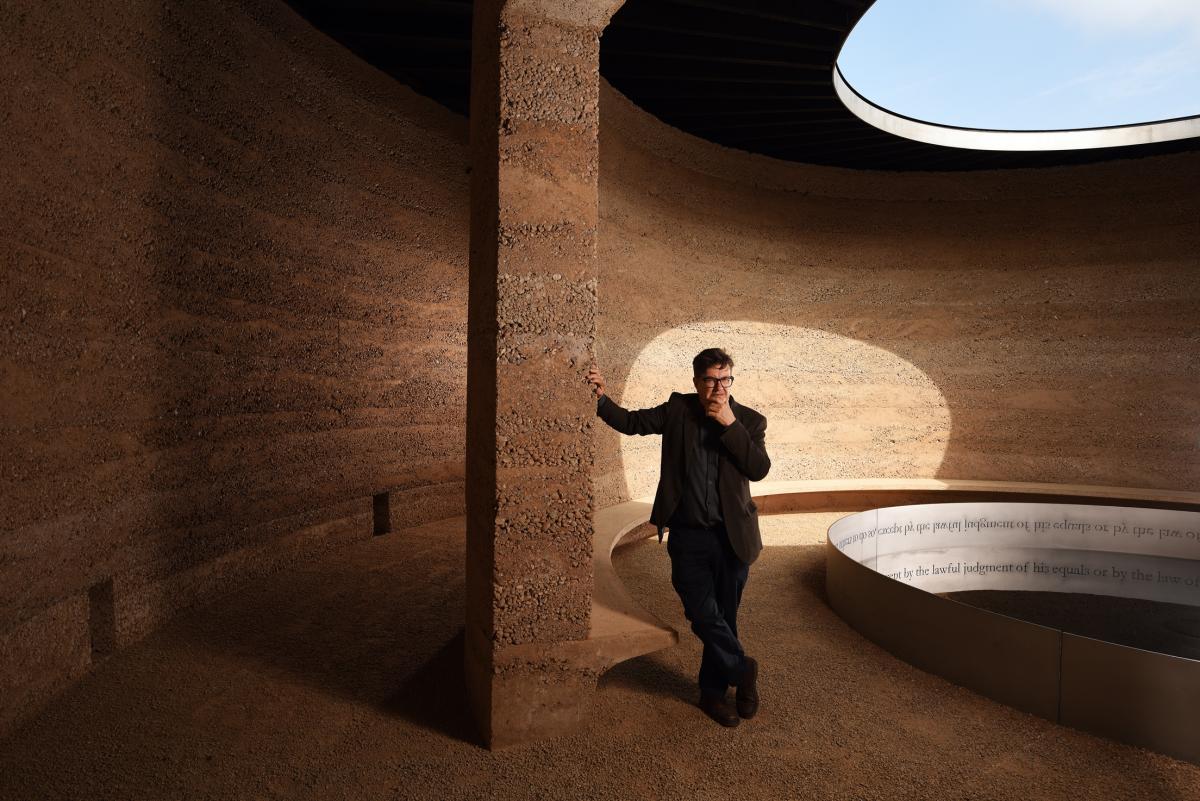 Mark Wallinger, Writ in Water. Courtesy National Trust Images. Photo: John Millar.​
---
The work is called Writ in Water. It has been commissioned by the National Trust, in association with arts producers Situations, to celebrate the legacy of Magna Carta, one of the world's most famous documents.
Somewhere close to this spot (no one is exactly sure where), over 800 years ago, feudal barons forced King John to apply his seal to 'The Great Charter'. The document established, for the first time, the principle that everyone, even the monarch, was subject to the law.

'Runnymede is where politics, in a modern sense, began,' says John Orna-Ornstein, the Trust's Director of Culture and Engagement, 'and Mark Wallinger has a political voice.'
---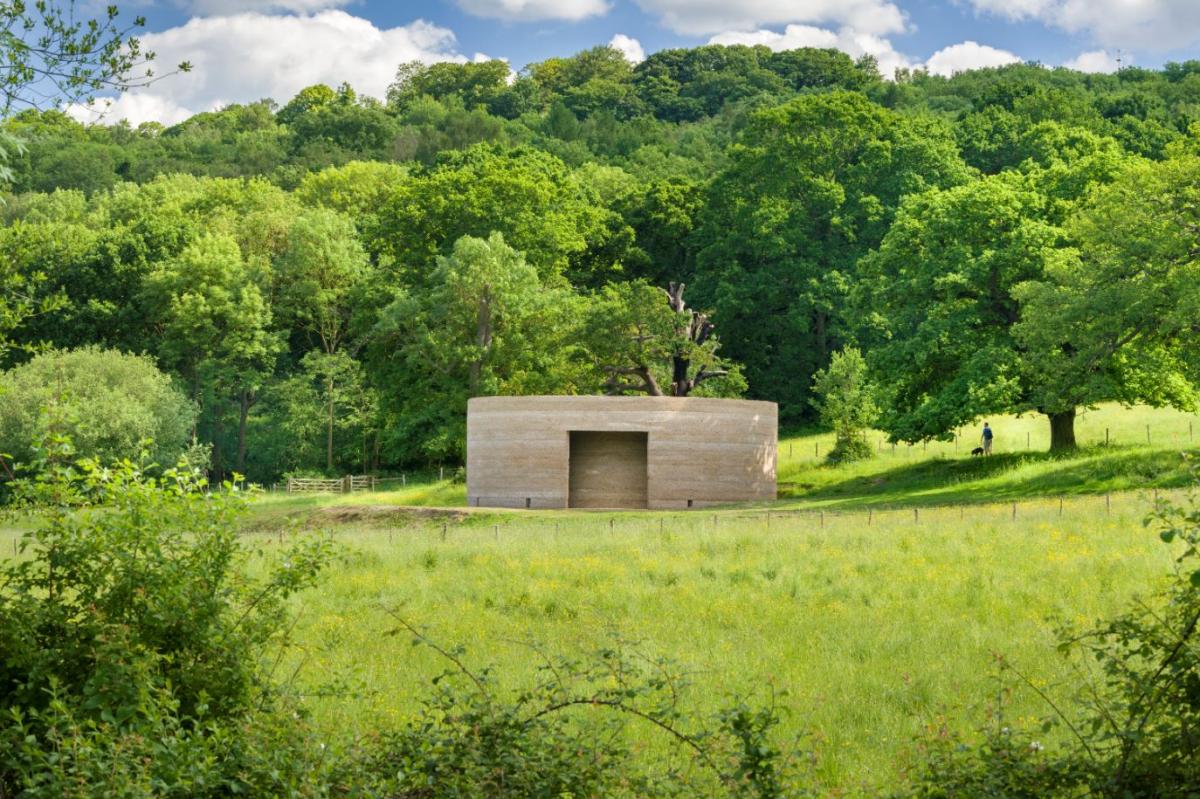 Writ in Water (exterior 3). Courtesy National Trust Images. Photo: Andrew Butler.
---
The artist has long been associated with exploring issues around individual and societal responsibilities. He won the 2007 Turner Prize for his State Britain, a representation of the late Brian Haw's anti-Iraq war protest camp, in London's Parliament Square.

In 1999 it was also his work that first occupied one of the most public art sites in the UK – Trafalgar Square's Fourth Plinth. This was his Ecce Homo, a life-size figure of Christ, hands bound, a crown of barbed wire circling his head. 'I wanted to have a look at Christianity – my religion, at least for census purposes,' he has said of this work, 'as I was interested in how much of our thinking and morality is a residue of it, whether we think we are atheists or not.'

For this new commission, Wallinger has worked in collaboration with the architects at Studio Octopi. It is his first building. Made from local, rammed earth, it is a soft dun colour that, when the sun shines, glows gold. So sturdy-looking is it that, although new, it appears to have forced roots deep into the earth already, like the oak trees that lead to it.

The entrance offers two choices: go left or right. Wallinger has long been fascinated by labyrinths since encountering the one in Chartres Cathedral. He has also created labyrinthine artworks for London's underground. Here, he says, with just the choice of two routes, he wanted to make 'a simple maze'.

Inside, along the inky, curving inner corridor, the drama builds.

A soaring opening reveals a hushed, inner circular space. At its centre is a round pool, mirrored by a circle in the roof, open to the sky – an oculus – through which the swallows swoop and the upper branches of an oak sway.

The pool's edging is steel and, laser-cut into its curves, are words from Clause 39 of Magna Carta. A clause that, says Wallinger, 'is so powerful, it cuts through time':

No free man shall be seized or imprisoned, or stripped of his rights or possessions, or outlawed or exiled, or deprived of his standing in any way, nor will we proceed with force against him, or send others to do so, except by the lawful judgement of his equals or by the law of the land.

The letters have been impressed onto the steel in mirror writing. You can only read them reflected in the water below.
---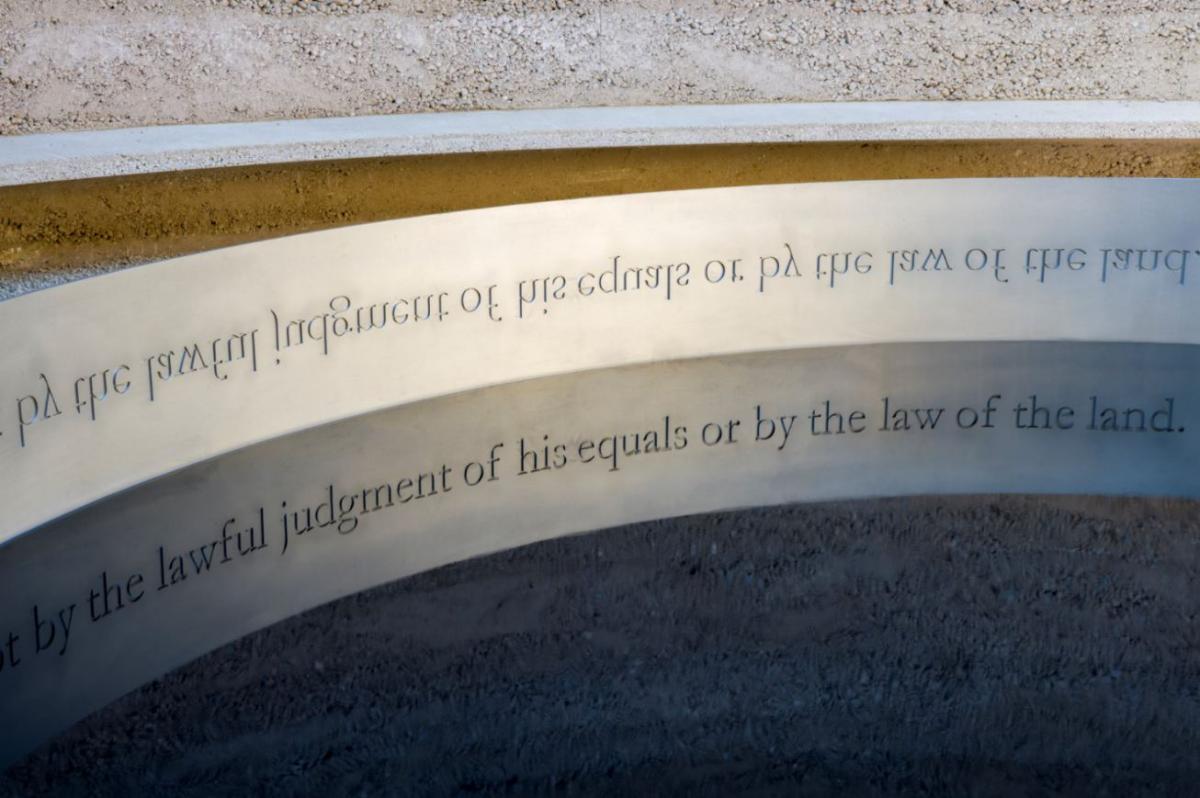 Writ in Water (interior 3). Courtesy National Trust Images. Photo: Andrew Butler.​
---
Wallinger tells me how he visited the poet John Keats' grave in 1998, upon which is written: 'Here lies one whose name was writ in water.'

The idea of reflections stayed with him. 'I wanted to suggest fragility,' he says. 'The use of reflection to make the text legible plays against the idea of a law written in stone. Keats' words live anew when learnt and repeated by each generation. Similarly, although Magna Carta established the law and the nascent principles of human rights, the United Kingdom has no written constitution. What seems like birthright has to be learned over and over and made sense of. Whether the words are ephemeral or everlasting is up to us.'

Drawing on this key event in our history, Writ in Water is full of allusions to time. The outer curve of corridor is lit by 12 medieval-like slits, rising from floor level. Above, there are 52 rafters, representing, respectively, the months and weeks in a year. The building will give a different experience depending on the time of day you are in it: 'Can you imagine being here on the night of a full moon?' the Studio Octopi architect on the project, James Lowe, asks me.

Sitting on the stone bench (its profile an elegant serif), which wraps around the pool, the eye is guided round and round. The layered, earthy walls coil like an ancient pot. As dragonflies skim the pool surface, circles bloom. 'The concentric circles of this building,' Wallinger says, 'reference castle keeps, forts and Neolithic places where people gathered. Circles have no secrets; they are inclusive. That is what I wanted for this building. It will always be open. It is non-hierarchical; non-adversarial. It is a safe place for reflection and immersion.'
---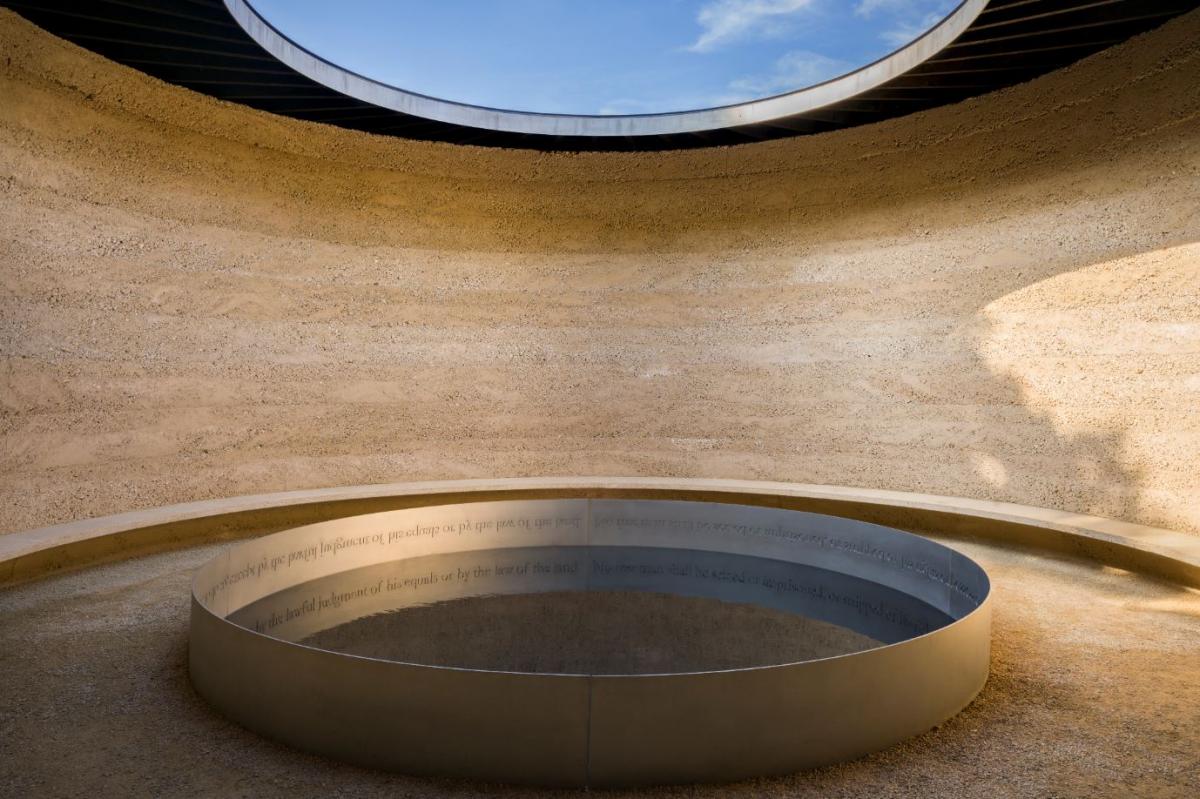 Writ in Water (interior 6). Courtesy National Trust Images. Photo: Andrew Butler.
---
Modest, yet sophisticated; pared down with the precision of a Corbusier design, this building has been made, says Lowe, using the ancient measurement of cubits (the distance between the tip of the middle finger and the crook of the elbow), just as Noah used for his ark.

The simplicity is deceptive. Details are everywhere. Gaze long enough at the walls and you will spy the oak leaves, caught in the stone when the build was in its autumn months – an apposite, accidental nod to the National Trust logo.

Writ in Water is a building that reveals itself slowly, asking only of its viewer that they take time within it to understand all they see – and what it says about the importance of Magna Carta.

'Sometimes,' says Wallinger, 'it takes something new to bring the past to life.'
---
Writ in Water is a commission from the National Trust's contemporary art programme, Trust New Art.

For more on Trust New Art's exhibition programme across the UK, see nationaltrust.org.uk/features/trust-new-art-exhibitions-and-events

The building is open every day and is free to enter; nationaltrust.org.uk/runnymede-and-ankerwycke
Become an instant expert!
Find out more about the arts by becoming a Supporter of The Arts Society.
For just £10 a year you will receive invitations to exclusive member events and courses, special offers and concessions, our regular newsletter and our beautiful quarterly arts magazine, full of news, views, events and artist profiles.
FIND YOUR NEAREST SOCIETY