Winner revealed: The Arts Society's Isolation Artwork Competition
Winner revealed: The Arts Society's Isolation Artwork Competition
6 Jul 2020 - 15:17 BY Elizabeth Oliver
Fine Art student Abigail McGourlay wins The Arts Society's lockdown competition for her painting Brewing.
---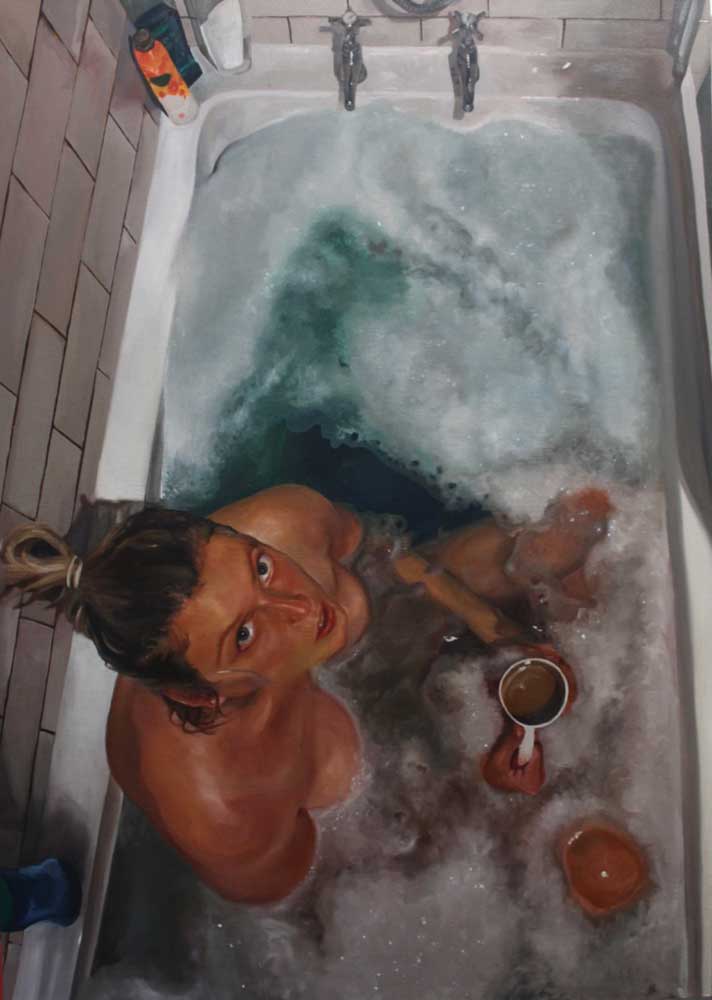 Abigail McGourlay, Brewing, 2020
---
When Abigail McGourlay discovered that she had won The Arts Society's Isolation Artwork Competition, she was 'taken aback.' A Fine Art student at the University of Leeds, Abigail explains that the uncertainty of lockdown had left her feeling stressed and anxious. Eager to take control of the situation, she 'jumped at the chance' to enter the competition. 'I wanted something to work towards,' she says.
The Arts Society's Isolation Artwork Competition was launched in response to the coronavirus crisis. Young artists and students across Britain were invited to submit pieces that captured their experiences of lockdown. Out of these, ten works were shortlisted by a panel of judges, including Cherry-Anne Russell, Volunteer Head of Arts Volunteering at The Arts Society, and Arts Society Accredited Lecturers Charlie Waite, Dan Evans and Rebecca Hossack. From a painting of the empty streets around Brighton and Hove to a figure painted on a tree stump, the shortlisted artworks drew on themes including resilience, loneliness and our relationship with nature.
Abigail's oil painting Brewing was chosen as the winning artwork, following a public vote by Members of The Arts Society. It depicts Abigail sitting in the bath, holding a cup of tea. For Abigail, the work was especially personal. 'I've never been the subject of my own work, and it felt quite uncomfortable at first to paint myself in such a vulnerable situation,' she explains, adding, 'however, as I continued, my comfort level increased. The experience became more freeing because I had this unrestrained flexibility to play with my style.'
The judges praised Abigail's precision and her use of perspective. 'It was her remarkable attention to the lighting and accompanying shadows that struck me,' landscape photographer Charlie Waite says, 'the result of which is a powerful three-dimensional image.' Art historian Dan Evans notes: 'the unusual viewing angle, from directly above, as well as the direct gaze of the sitter, all at a "social distance," is startling, and increases the work's sense of intimacy.'
As the winner of the competition, Abigail receives a £50 Cass Art voucher, and will have her artwork featured on The Arts Society's 2021 membership card. She explains that the competition has given her a confidence boost. 'Competitions like this are vital for people starting out in their art career,' she says, 'within the arts it's easy to feel like you're only a very small voice, so initiatives like this encourage you to keep going.' It has also reconnected her with her love of painting, which had been side-lined while focusing on her sculptural practice at university. 'Since submitting Brewing, I've not stopped painting,' she says.
With a year of her degree left, Abigail is keen to explore careers in art, and launch her own website. She's also eager to look into stage management. 'I've always helped out at the Sheffield theatres, creating props, and helping around the place,' she says. 'I would love to put my work towards a larger project.' For now, she hopes to continue painting and expand her portfolio. 'Winning has given me the motivation to create more work, and get more pieces out,' she says.
---
Elizabeth Oliver is a freelance writer
---
See Abigail's winning artwork and the other shortlisted pieces in a virtual exhibition on The Arts Society's digital platform, The Arts Society Connected. The other shortlisted artists include: Ella Sambrook, Emma Money, Sophie Meadows, Erin Hartnett, Annie Doron, Toby Richardson and Indigo Price.
---
Become an instant expert!
Find out more about the arts by becoming a Supporter of The Arts Society.
For just £20 a year you will receive invitations to exclusive member events and courses, special offers and concessions, our regular newsletter and our beautiful arts magazine, full of news, views, events and artist profiles.
FIND YOUR NEAREST SOCIETY