A whole new world: Heather Phillipson
A whole new world: Heather Phillipson
Holly Howe speaks to the artist about her new immersive Tate Britain commission
---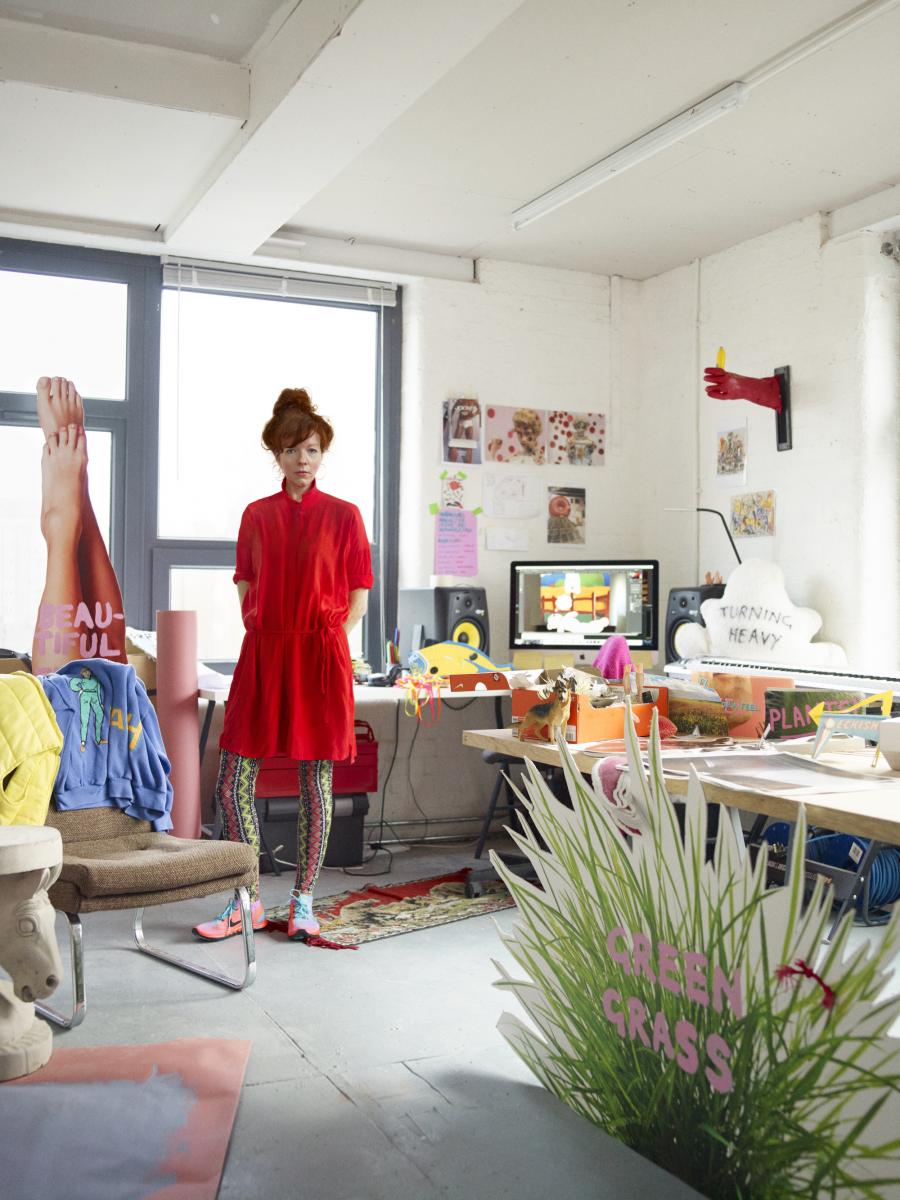 Heather Phillipson, photograph by Rory Van Millingen

---
TV screens embedded in mountains of salt, like tombstones; industrial bowsers resembling cattle, with petrol pumps for mouths, sipping water from a plastic pool; wind chimes made from gas canisters, disjointed animal sounds; a video of a peach rising and setting like the sun. These are just some of the elements that comprise RUPTURE NO 1: blowtorching the bitten peach, which sees Tate Britain's Duveen Galleries transformed into an immersive post-apocalyptic world by British artist Heather Phillipson.
Standing in the middle room, near the 'water hole', Phillipson and I chatted about this new project, which runs until 23 January 2022. In the exhibition text, she describes the work as a 'pre-post-historic environment'. She elaborates: 'I think of these creatures as some sort of mutants that have been born out of animal technological remains… and maybe an element of something, especially with the ram, that relates to some kind of ancient ritual? I guess it's really thinking about our current moment.'
---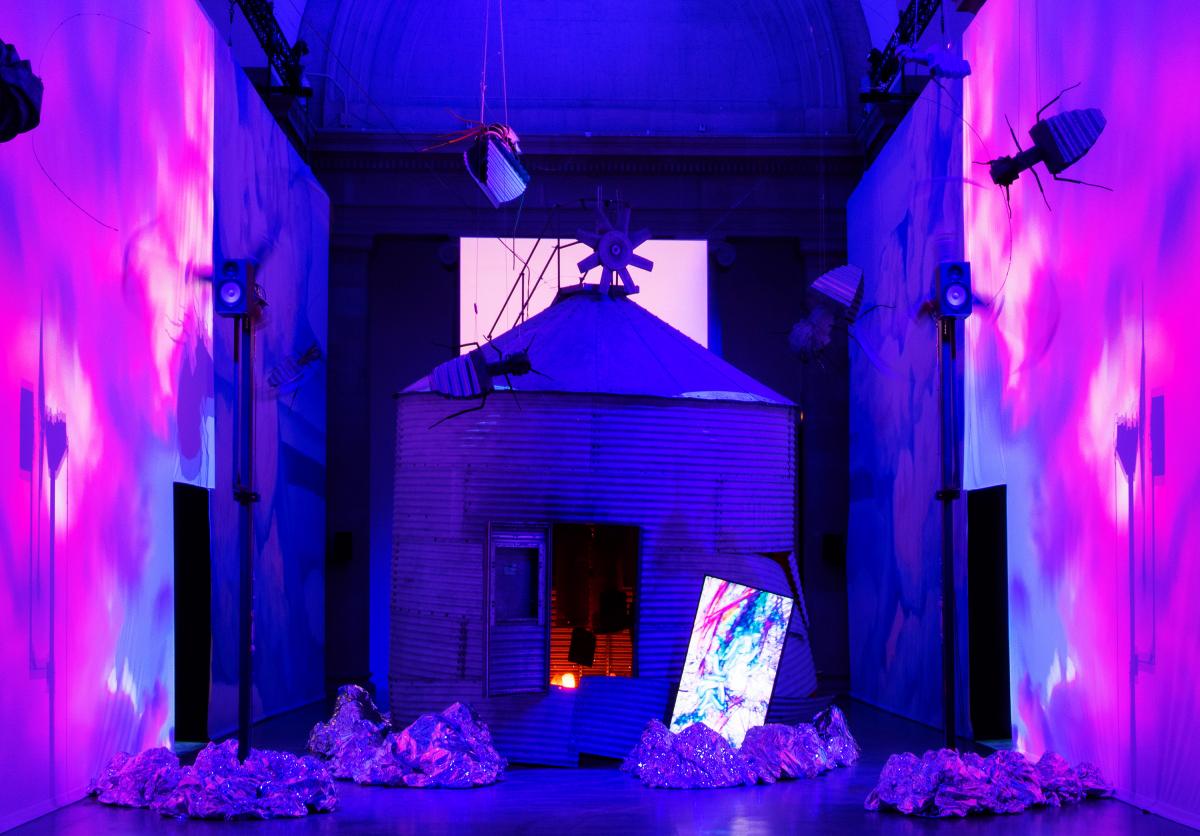 ---
The display is for the annual Tate Britain Commission, which has in recent years featured artists including Anthea Hamilton, Cerith Wyn Evans and Pablo Bronstein. While the use of industrial materials in this year's installation recalls Mike Nelson's 2019 The Asset Strippers, that is as far as the comparison goes. Phillipson has completely transformed the galleries into a new immersive space like no other, causing the visitor to completely forget they are in a traditional museum, as they plunge into this mutant world. 'The overriding trajectory was one of creating a particular kind of tone within this space. From there I worked it up and it began to evolve and become what it is now,' she explains.
The commission was originally scheduled to open in June 2020 but was delayed due to Covid-19. However, Phillipson didn't change the work in response to the pandemic, apart from ensuring people could socially distance within the space. 'I had already got it to a point where I knew what it fundamentally was, and so after that it was minor changes really because we couldn't work on it during lockdown. As soon as everything could resume, it was full throttle to try and get everything made!'
---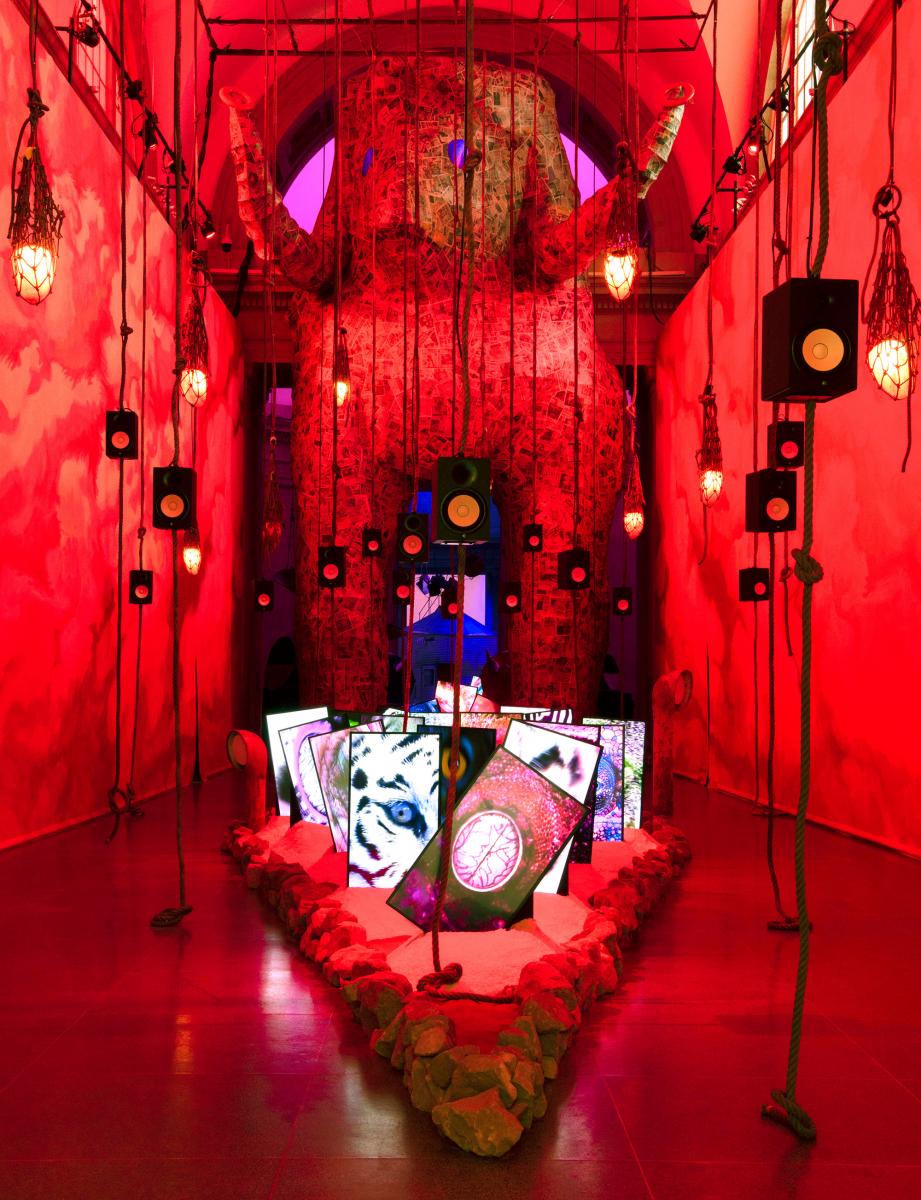 ---
As Phillipson began to develop her 'tone' for the exhibition, she found materials which attached to that. She explains, 'There were some very clear things that I knew I wanted in here, like the aggregate, but then things that worked against that, like the plastic pool. There's always this push/pull between different materials and textures – always shifting around between those things. Predominately I wanted to use things that (a) already had a life and (b) could be this form of recycling and rebirthing.'
---
'IT'S SO MUCH ABOUT YOUR RELATIONSHIP TO THE PHYSICAL OBJECTS AND HOW THEY TOWER OVER YOU, AND THE SOUNDS AND MAKING SOMETHING THAT FEELS ALIVE'.

---
As for the newspapers used to make the giant papier mâché ram, I wondered if the pages had been chosen specifically for the work after spotting a headline that screamed 'Turner blind eye to the rules' (sadly, the story was about Anthea Turner's party during lockdown and not some sort of exposé on the Tate's Turner collection) or if they were just random pages? 'It's a bit of both!' she says. 'Inevitably, when you work on something with newspapers on that scale, there is the element of expediency and finances – free newspapers were a clear solution to that. The outcome is that free newspapers speak very directly to a culture of how we might consume news moving through the world, especially in London.'
---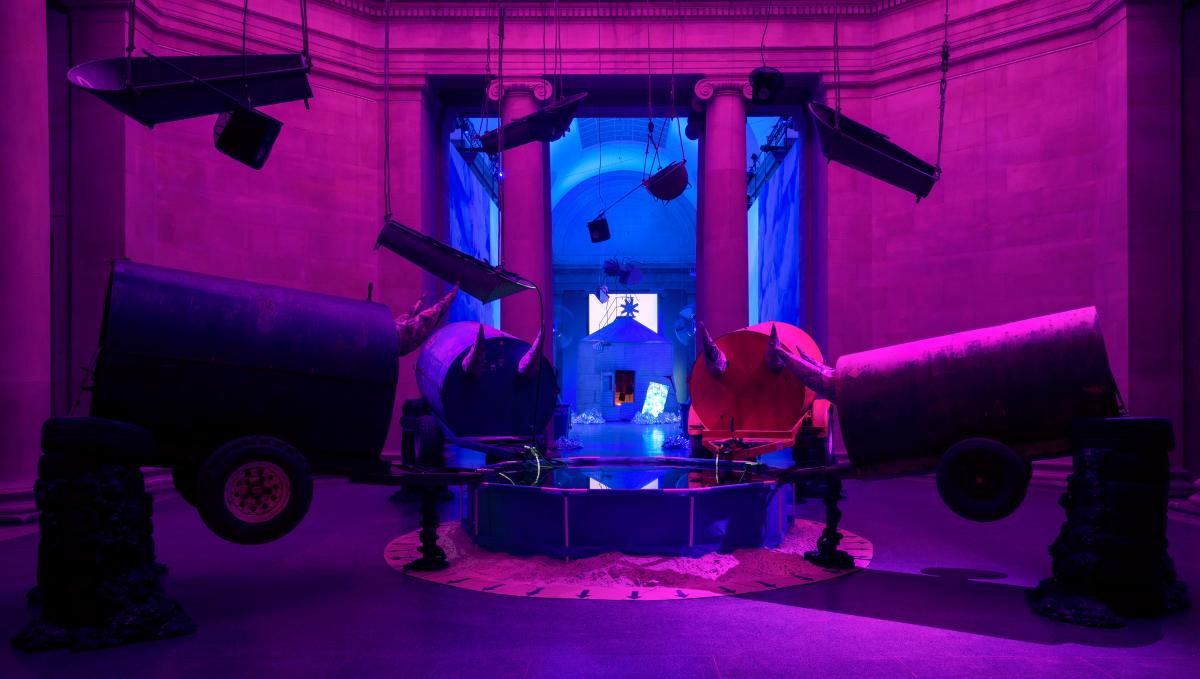 ---
The colours and visuals in the show will thrill the Instagram community as the installation photographs incredibly well. Yet Phillipson feels it's not something that can simply be captured in a photograph – it must be experienced in person as 'it's so much about your relationship to the physical objects and how they tower over you, and the sounds and making something that feels alive'.
Phillipson also has work on display on the Fourth Plinth in London's Trafalgar Square. Titled The End, a swirl of cream sits on top of the plinth, decorated with a cherry, a fly and a drone, which captures a live feed of what is happening below. Also delayed due to lockdown, this work opened last July and runs until mid-late 2022. She shared one of the more unexpected outcomes of the work: 'Because of Covid, people haven't been occupying Trafalgar Square, so what's probably been the most interesting thing is the fact that the drone feed, if you look at it online, has been generally capturing a square that is devoid of human life, which obviously was completely unanticipated when I first thought of it.'
---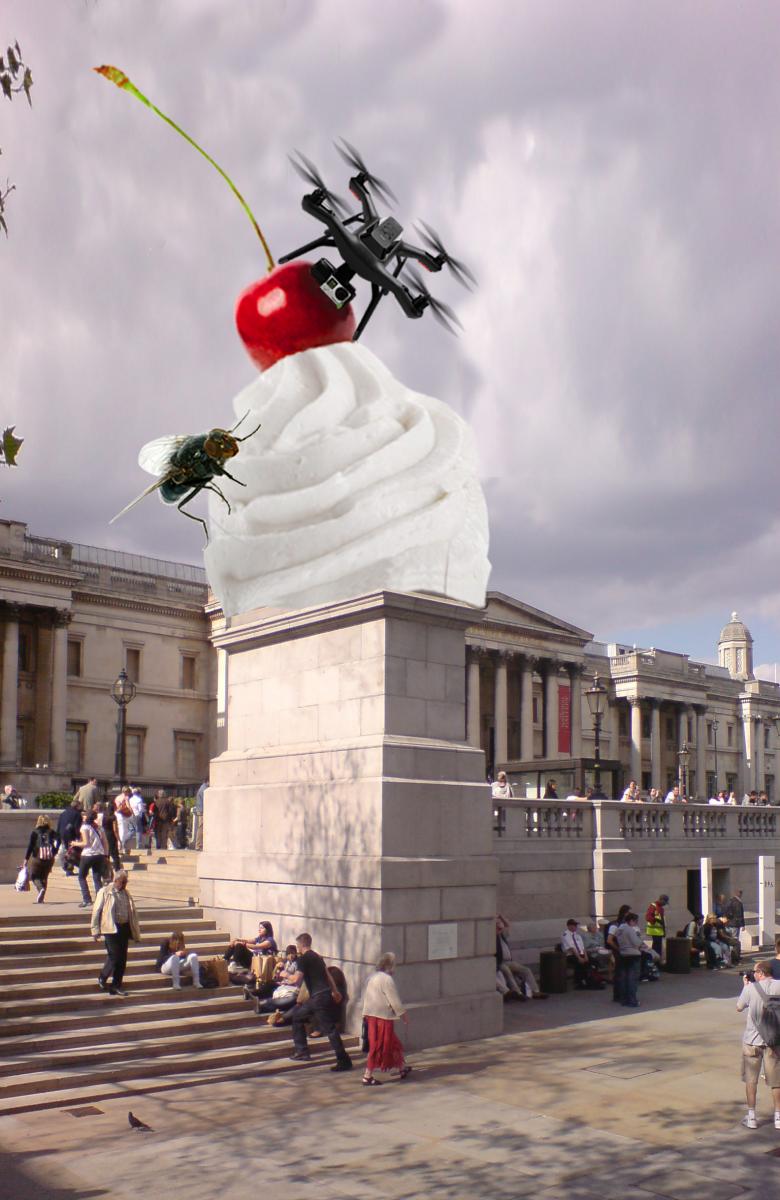 ---
Heather Phillipson, THE END collage, 2016

---
It is not surprising for an artist who is also a poet and a musician that Phillipson has many projects in the pipeline, including taking part in this year's Manchester International Festival: 'I'm in a show called Artist/poet. I'm going to be showing an existing work in HOME's gallery and they've commissioned everyone who's in it to make a poster to be put up in the city. So for a while Manchester will be filled with posters by artists in that show.'
---
SEE

Heather Phillipson, RUPTURE NO.1: BLOWTORCHING THE BITTEN PEACH
Tate Britain until 23 January 2020
---
Tate Britain Commission: Heather Phillipson: Rupture No.1: blowtorching the bitten peach
© Tate photography (Oliver Cowling)

About the Author
Holly Howe
Holly Howe is a freelance arts journalist
Become an instant expert!
Find out more about the arts by becoming a Supporter of The Arts Society.
For just £20 a year you will receive invitations to exclusive member events and courses, special offers and concessions, our regular newsletter and our beautiful arts magazine, full of news, views, events and artist profiles.
FIND YOUR NEAREST SOCIETY