When is a sculpture park not a sculpture park?
When is a sculpture park not a sculpture park?
Holly Howe picks her top five pieces from this year's Sculpture in the City, and speaks to the artists who created them
---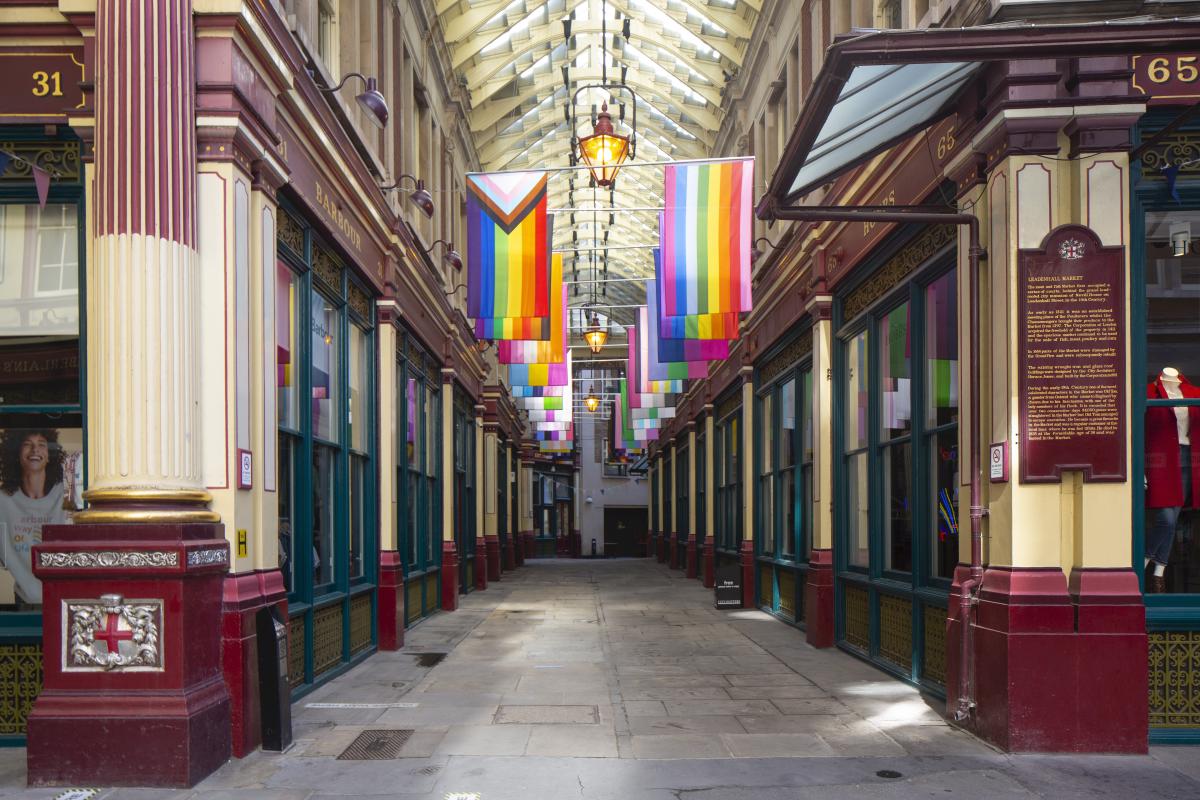 Guillaume Vandame, symbols, 2019-21, © the artist. Photo: © Nick Turpin

---
The UK is fortunate to have a number of outdoor sculpture centres, from Yorkshire Sculpture Park to Tremenheere Sculpture Gardens in Cornwall, but did you know that there is also one in the heart of the City of London, nestled between its skyscrapers? It may not feature plentiful amounts of grass, but it does showcase dazzling contemporary sculpture in a broad variety of materials, beyond the usual preferred bronze.
Following a one-year hiatus due to Covid-19, Sculpture in the City returns to mark its 10th anniversary, with 18 new works. Artistic director Stella Ioannou has been involved in the project since its inception, arranging for four sculptures to be exhibited in its inaugural year in 2010. Since then, it has grown year-on-year, showcasing 130 artworks from 113 artists, including Do Ho Suh, Sarah Lucas, the Chapman brothers, Marina Abramović, Damien Hirst, Paul McCarthy and many more.
---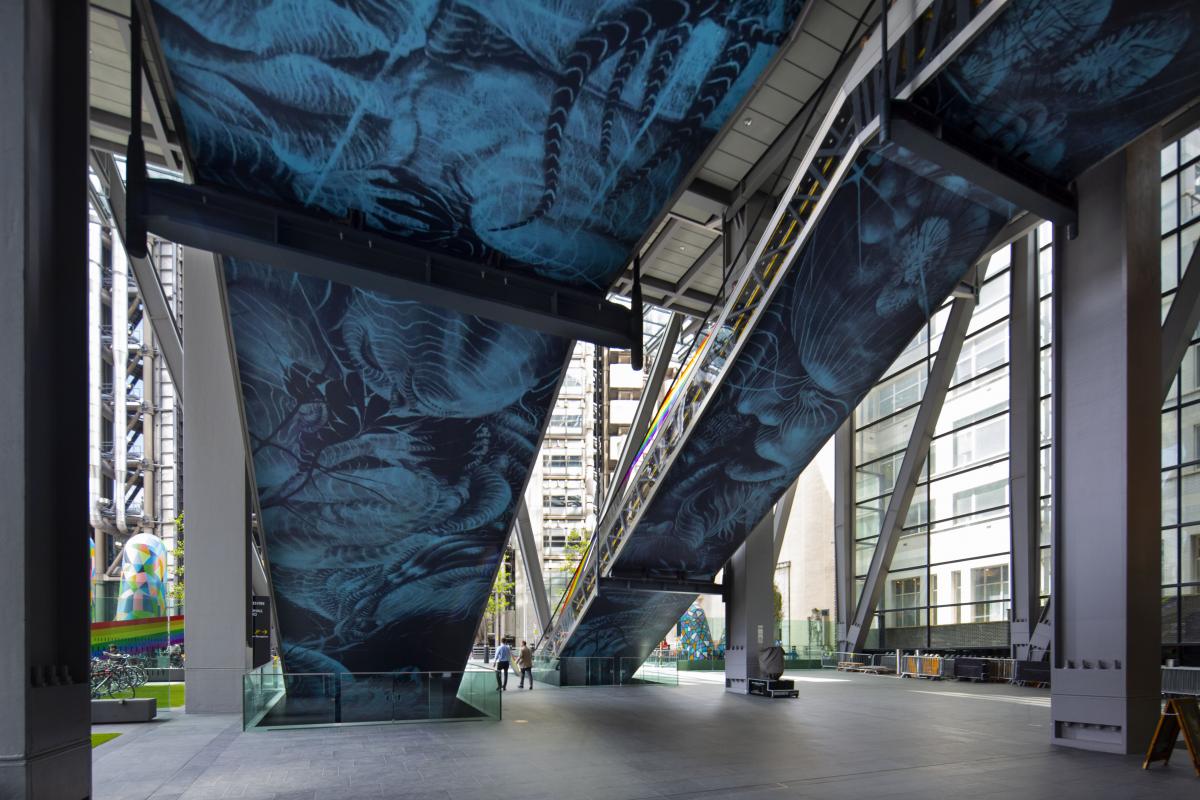 Laura Arminda Kingsley, Murmurs of the Deep, 2021. © the artist. Photo: © Nick Turpin

---


Working directly with the artists and landowners, Ioannou ensures that the chosen works complement the environment in which they are placed, as opposed to simply selecting sculptures and dropping them into her allocated spots. Hence why this year you can find Alice Channer's Burial situated within an actual burial ground, or Laura Arminda Kingsley's Murmurs of the Deep mounted on the underside of the Leadenhall Building's exterior escalators (the first time this space has been used). The works on show this year are all fantastic, and I highly recommend grabbing a map and exploring them all, but if you're incredibly pushed for time, these are my top five that you shouldn't miss.
---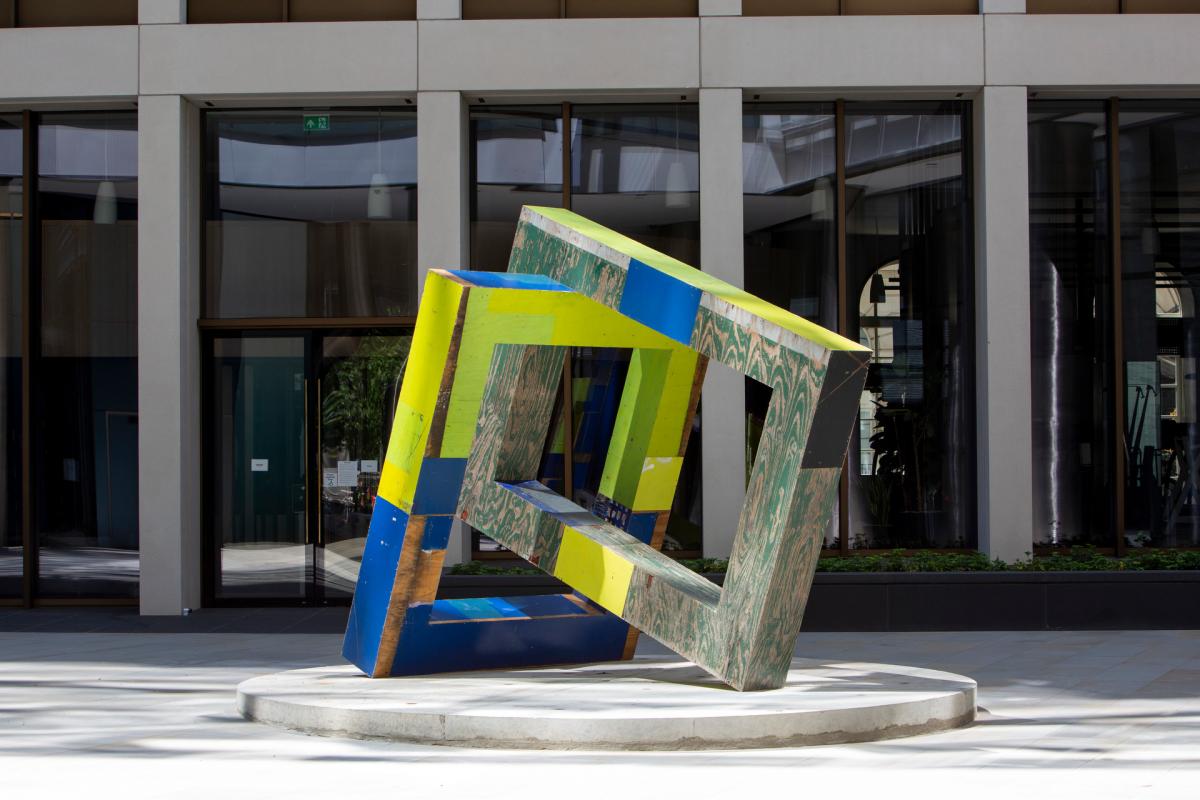 Mike Ballard, Rough Neck Business, 2019, © the artist. Photo: © Nick Turpin

---


Rough Neck Business by Mike Ballard, 2019
100 Bishopsgate, EC2M 1GT
It's not often you get to see a sculpture in London where the materials have been sourced from the city itself, but this work of two interlinked rectangles was built from hoardings coming from building sites including Hackney Wick and the Olympic Park. Ballard takes the materials that many of us walk past every day without ever actually looking at them and focuses on what is painted over or covered. He explains: 'I have always admired the accidental abstract paintings made by the removal of graffiti; it presents a new layer of painting that is dictated by what is being covered. I like to call it "utilitarian abstraction" as it's purely functional but offers up a really unique unpainterly gestural blocking out of unwanted painting, a dialogue almost.'
---
Oliver Bragg, In Loving Memory, 2020, © the artist. Photo: © Nick Turpin

---
In Loving Memory by Oliver Bragg, 2020
Numerous locations
This series of 10 plaques, displayed on seats across seven locations, is a playful take on brass signs that are affixed to benches, usually in memorial to someone who has passed. Bragg's plaques, however, encourage a giggle from the eagle-eyed viewers who spot the discrete displays. Messages include 'In loving memory of Stuart Spittle, who spouted preposterous piffle', and 'In loving memory of a loving memory'. Bragg comments: 'The bench plaques work on the premise of something that is at first seemingly quotidian being more fantastical and absurd, prescient or, perhaps, thought-provoking.'
---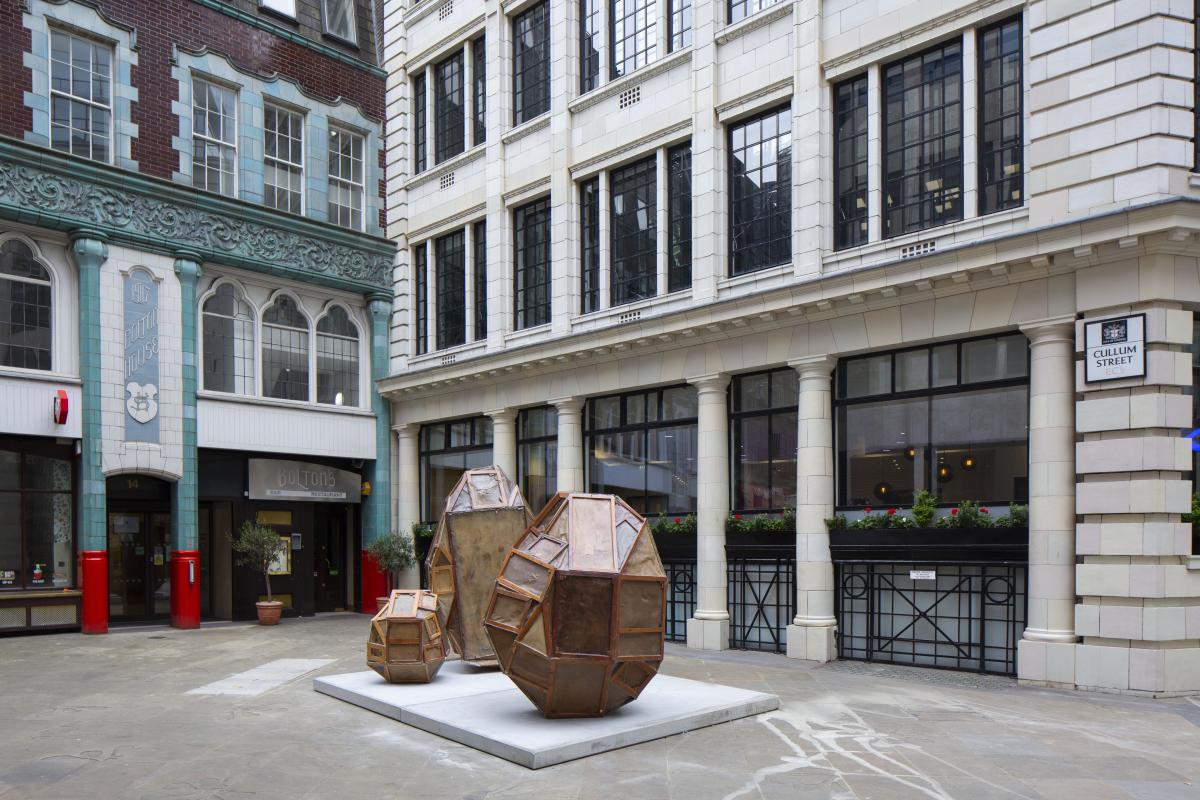 Bram Ellens, Orphans, 2018-20, © the artist. Photo: © Nick Turpin

---
Orphans by Bram Ellens, 2018–20
Cullum Street, EC3M 7JJ
These three 'orphan' sculptures are clustered into an almost family-like constellation. They are constructed from paintings belonging to people who have died – hence the name. They are the most fragile work in this year's selection, although Ellens filled their voids with expandable foam and coated them with resin to cope with their outdoor environment. He says: 'For me the materials are special because they contain the energy and love of both the artist as well as the previous deceased owner. The fact that they are pointed inwards gives the work an introvert feeling. I also like the irregularity of the impossibility of creating a sphere from squares.'
---
Ruth Ewan, Silent Agitator, 2019. A High Line Commission, Courtesy of the Artist and Rob Tufnell. Photo: © Nick Turpin

---
Silent Agitator by Ruth Ewan, 2019
Corner of Bishopsgate and Wormwood Street, EC2M 3XD
This clock sculpture is inspired by an illustration drawn by labour activist Ralph Chaplin (who campaigned for workers' rights in the United States), which stated 'What time is it? Time to organize'. Having previously been exhibited on the High Line in New York, it feels particularly fitting to be on display now, after a year when many have been working from home, and official 'work hours' have blurred into people's personal time. Ewan comments: 'It is a really great opportunity to show Silent Agitator in such a dense urban area, where it will be seen by such a huge cross section of people.' The clogs on the hands reference that they are also known as 'sabots', from which the term saboteur derived. At night, visitors can experience the work illuminated.
---
Eva Rothschild, Cosmos, 2018. © the artist. Courtesy Modern Art, London. Photo: Benjamin Westoby

---
Cosmos by Eva Rothschild, 2018
Undershaft EC3P 3DQ
While first impressions suggest Rothschild's sculpture is simply a three-sided black mesh aluminium structure, closer inspection is needed. As you walk around the work, which stands 3.5 metres tall, you slowly discover the interior gradient colours of turquoise, red and purple. The piece also responds to the changing light in the space as the day evolves – at certain times sunlight spotlights the entire plinth, lighting up this captivating monument.
---
SEE

Sculpture in the City, accessible 24 hours a day
---
About the Author
Holly Howe
Holly Howe is a freelance art journalist. Since 2004, she has run the Culture Vultures, a networking group for people in media and the arts in London
Become an instant expert!
Find out more about the arts by becoming a Supporter of The Arts Society.
For just £20 a year you will receive invitations to exclusive member events and courses, special offers and concessions, our regular newsletter and our beautiful arts magazine, full of news, views, events and artist profiles.
FIND YOUR NEAREST SOCIETY