Volunteer Stories: Q&A with Maggie Williams
Volunteer Stories: Q&A with Maggie Williams
Volunteer Stories is a new monthly series by The Arts Society, written to showcase and celebrate the work of our volunteers.
Our volunteers offer their time and energy to help us preserve and celebrate arts and heritage. This month, Trails Of Discovery Volunteer Maggie Williams shares her experiences.
What volunteering projects are you currently involved in?
Our little team of volunteers (6 in all) are just completing our third project, a walking trail around Blakeney Village on the North Norfolk coast. This is a pretty village with a long and interesting history. We had many interesting features to choose from in drawing up our trail. Although it now throngs with tourists, artists, birdwatchers and boats it was, for many centuries, a thriving port with an international trade. Many of the buildings bear witness to their interestinImage: Blakeney village signg and wealthy past and there are some fascinating legends too. The village sign shows a fiddler and his dog, who were reputed to have entered a tunnel under the village. The villagers listened to his fiddle until they heard it no more and neither dog nor man were ever seen again. Believe it if you like!
Previously we completed two church trails, one in Cley-next-the-Sea and one in
Glandford nearby. Both are fascinating churches and we learnt a great deal about the history and architecture of each. Part of the fun of doing trails is seeing or learning things you wouldn't otherwise observe. In the Cley church, for example, there is a (literally) cheeky minstrel lifting his shift to show his behind carved on one of the less seen pillars! We also discovered fascinating medieval graffiti but thought it better not to point it out to children who might be roaming the church with a pen!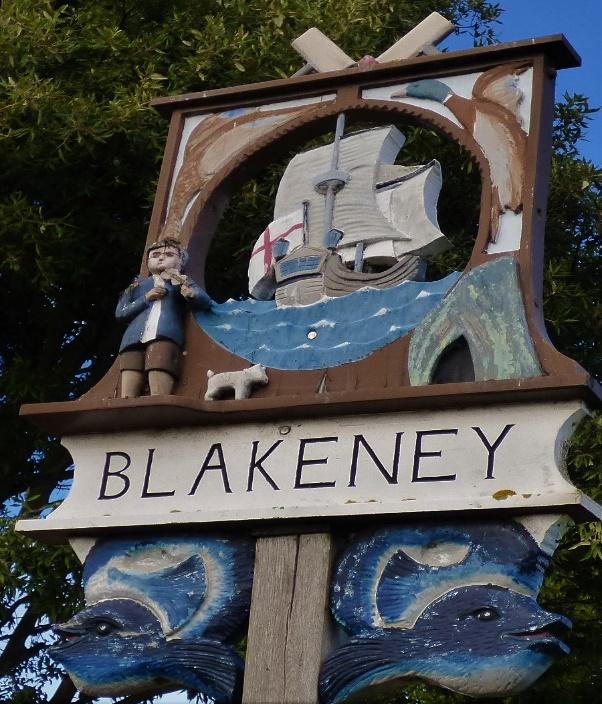 Image: Blakeney village sign
What does volunteering mean to you?
It's great to be part of a genuinely collaborative group and to discover so many new things about our local environment. Fortunately, we were able to put together a great group of members and we all bring different skills to the team. Working on a trail does not take up much time. We meet maybe five times over the course of a year and exchange emails in between.
The feedback we have had about the church trails suggests the children who have used it have enjoyed it and we are curious to know what visitors will make of the Blakeney Trail. Hopefully it will enhance the experience visitors have. Certainly it has been welcomed by the local businesses and Parish Council. Personally I have acquired a passing knowledge of Microsoft Publisher and increased my general IT skills significantly.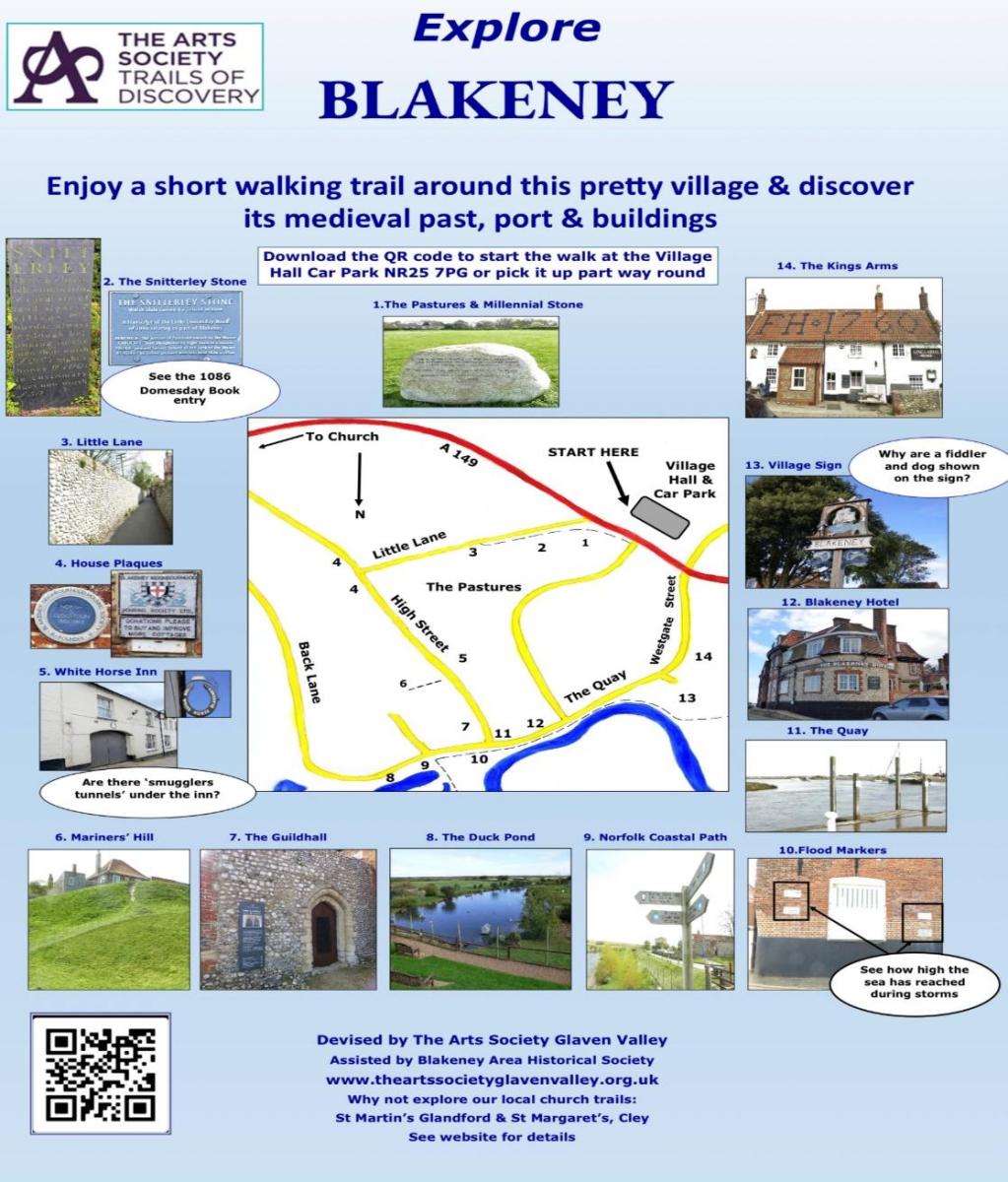 Image: Blakeney Walking Trail devised by The Arts Society Glaven Valley
What would you say to someone else, who is considering volunteering?
Give it a go! You will enjoy working with other members you might not know well to begin with and you will increase your knowledge and may learn new skills.
How do you think volunteering helps the arts and heritage sector?
Volunteering is part of our wider remit to enrich the lives of and educate the wider community, not just our own members. Trails draw attention in an enjoyable way to buildings, places and other features which the public may have little or no knowledge of and in so doing help to cherish and preserve them.
Find out more about volunteering with The Arts Society
Interested in volunteering with The Arts Society? Your local Society may already have some volunteering initiatives underway. Speak to them about the opportunities on offer. To find your nearest Society please click here.
For other volunteering queries, and if you have an idea for a new volunteering initiative, please email volunteering@theartssociety.org or view our other volunteering activities
About the Author
Become an instant expert!
Find out more about the arts by becoming a Supporter of The Arts Society.
For just £20 a year you will receive invitations to exclusive member events and courses, special offers and concessions, our regular newsletter and our beautiful arts magazine, full of news, views, events and artist profiles.
FIND YOUR NEAREST SOCIETY