Traces of the human touch: the imperative of craft in a digital society
Traces of the human touch: the imperative of craft in a digital society
22 May 2018 - 12:00 BY The Arts Society
Hot on the heels of London Craft Week 2018, and with potter Jennifer Lee having scooped the LOEWE Craft Prize, two Arts Society Lecturers tell us why 3D printing is not the beginning of the end for the handmade object.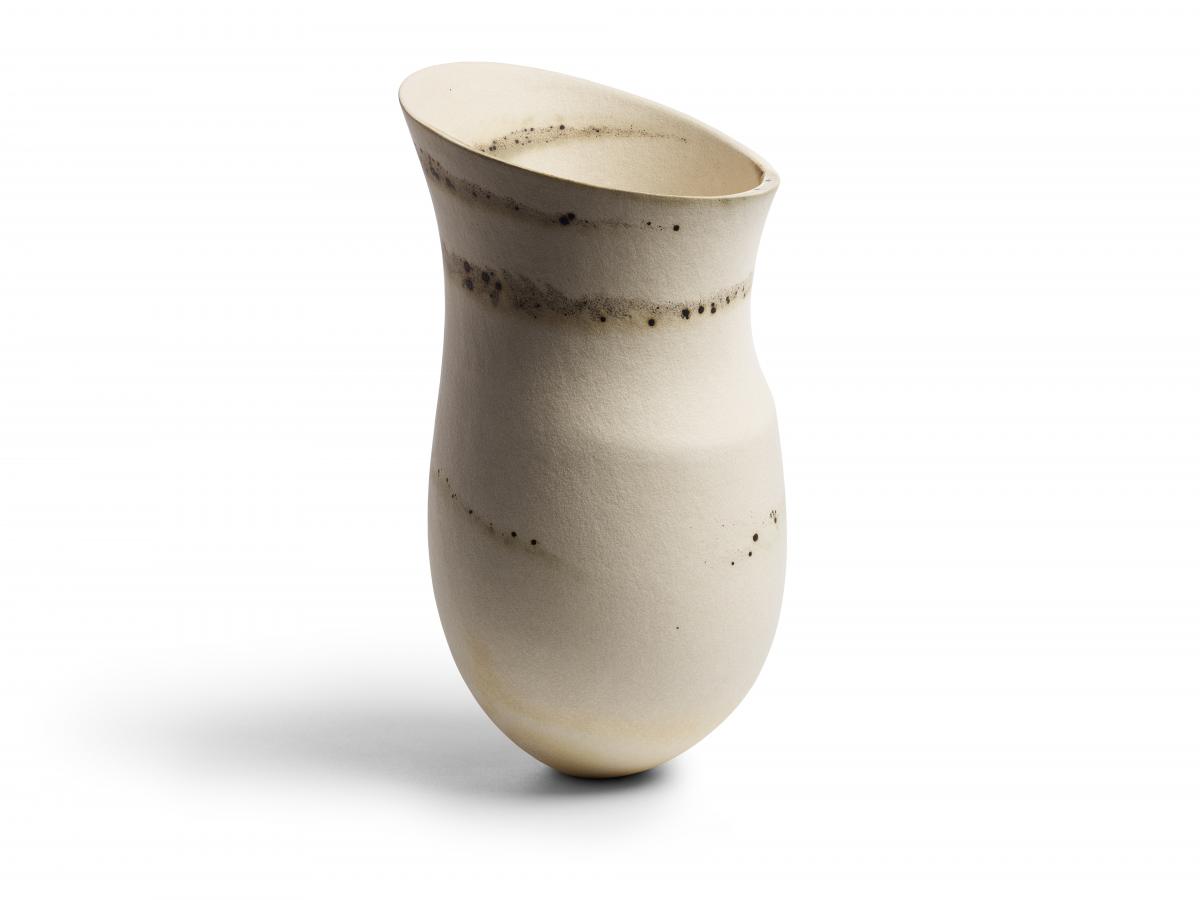 Image: Jennifer Lee, Pale, Shadowed Speckled Traces, Fading Elipse, Bronze Specks, Tilted Shelf (2017) Stoneware clay plus natural oxides mixed into the clay,174 x 160 x 310mm.

The pot is simple. Its form is unyielding; from a hidden base, it falls wide open to the air. Veins run through it, speckled as sparrows' eggs, breaking the earthen pallor. It's an ancient-looking thing. Only its tilt and the jut of its lip give it away as a contemporary design.

Jennifer Lee has just won the €50,000 LOEWE Craft Prize for her vessel, Pale, Shadowed Speckled Traces, Fading Ellipse, Bronze Specks, Tilted Shelf. The Scottish ceramicist does not use a wheel – instead, she hand-builds her pots, using the ancient techniques of pinching and coiling. Nor does she glaze the pieces – Lee colours them by mixing natural oxides into the clay. Some of these pigments are three decades old. Taking anywhere from three to five weeks to make, these vessels are taut miracles of earth, metal, water and patience.

In a fast-everything society reliant on mechanical and digital production, this most ancient act of making is a kind of alchemy.

'Craft is shaping materials,' says Arts Society Lecturer Jonathan Foyle, former curator at Hampton Court and author of six books on the subject. 'At its best, it transforms base materials into things of beauty and utility. The best craftspeople turn stuff out of lowliness and exalt it into objects that manifest their intelligence and skill.'

Of course, there has always been craft. Calligraphy, tapestry, silversmithing, bookbinding, leatherworking, glass-blowing… Our fascination with the skilfully handmade has never left us. But over the past 40 years, our relationship to craft has been tinged with a new urgency. 'There was a reaction to the middle of the 20th century,' Foyle tells us, 'which heralded the machine age and took technology as a new god.' Mass production, motorways and anonymous architecture chipped away at our identity. 'There was no cognisance of materials, landscape or tradition.' The globalised machine age left us nowhere to belong; 'a narrative is missing in the human world around us'.

We long for traces of human touch.

'Head, hand and heart' was the motto of the Arts and Crafts movement, which emerged in the late 19th century as a salve for the injuries of industrial capitalism. 'Making things, and making them well, was not only beneficial to the maker, but to society as a whole,' says Martin Ellis, curator, broadcaster and Arts Society Lecturer. Charles Robert Ashbee, in setting up the Guild of Handicraft, stated that he wished to recover 'the neglected power for creation in men's hands'.

And, while we still desire material goods, we delight in the handmade. 'There is an engagement with the maker, the artist – the thumb mark on a pot, the hammer mark on a silver bowl, the chisel mark on a wooden carving. We can know their name and see their mark,' says Ellis.

Which isn't to say that the digital world and the cult of craftsmanship are opposed. Craft has always evolved; it doesn't have to be a nostalgic adherence to traditions of the past. 'The worst thing that can happen to craft is that it ends up in stasis – the same old thing being made,' says Foyle. 'It becomes merely imitative, a cul-de-sac. But craft should be a renewing experience.'

The advent of the 3D printer has enriched, rather than substituted, the idea of the handmade. Scottish silversmith Ryan McClean designs pieces based on the study of nature and the geometry of the natural world, but that use 3D printing technologies. The results are breathtaking.

Image: A bowl made by silversmith Ryan McClean © Ryan McClean

Ceramicists Jonathan Keep and Michael Eden, both established potters, are now using 3D printing to create extraordinary new things, 'imagining and inventing form in a way which is wholly human and entirely skilful', says Ellis. 'Digital tools are just that. In the hands of a maker, they can be turned to creative ends, as long as they don't become an end in themselves.'

The means and ways may have changed, but the end is the same: base materials exalted into beauty – a perfect alchemy.

---

Jonathan Foyle is a former curator at Hampton Court, author of six books, a feature writer on architecture and craft for the Financial Times, and an Arts Society Lecturer.

Experienced curator, lecturer and broadcaster Martin Ellis is a regular contributor to BBC Radio 4's Making History.

The LOEWE Craft Prize exhibition is at London's Design Museum until 17 June 2018.
Become an instant expert!
Find out more about the arts by becoming a Supporter of The Arts Society.
For just £10 a year you will receive invitations to exclusive member events and courses, special offers and concessions, our regular newsletter and our beautiful quarterly arts magazine, full of news, views, events and artist profiles.
FIND YOUR NEAREST SOCIETY