These works of art celebrate the spectacular nature of fireworks
These works of art celebrate the spectacular nature of fireworks
As Bonfire Night approaches, we look at the many ways that artists have depicted fireworks and their audiences.
---
Firework display before Muhammad Shah, India, Mughal dynasty, c.1730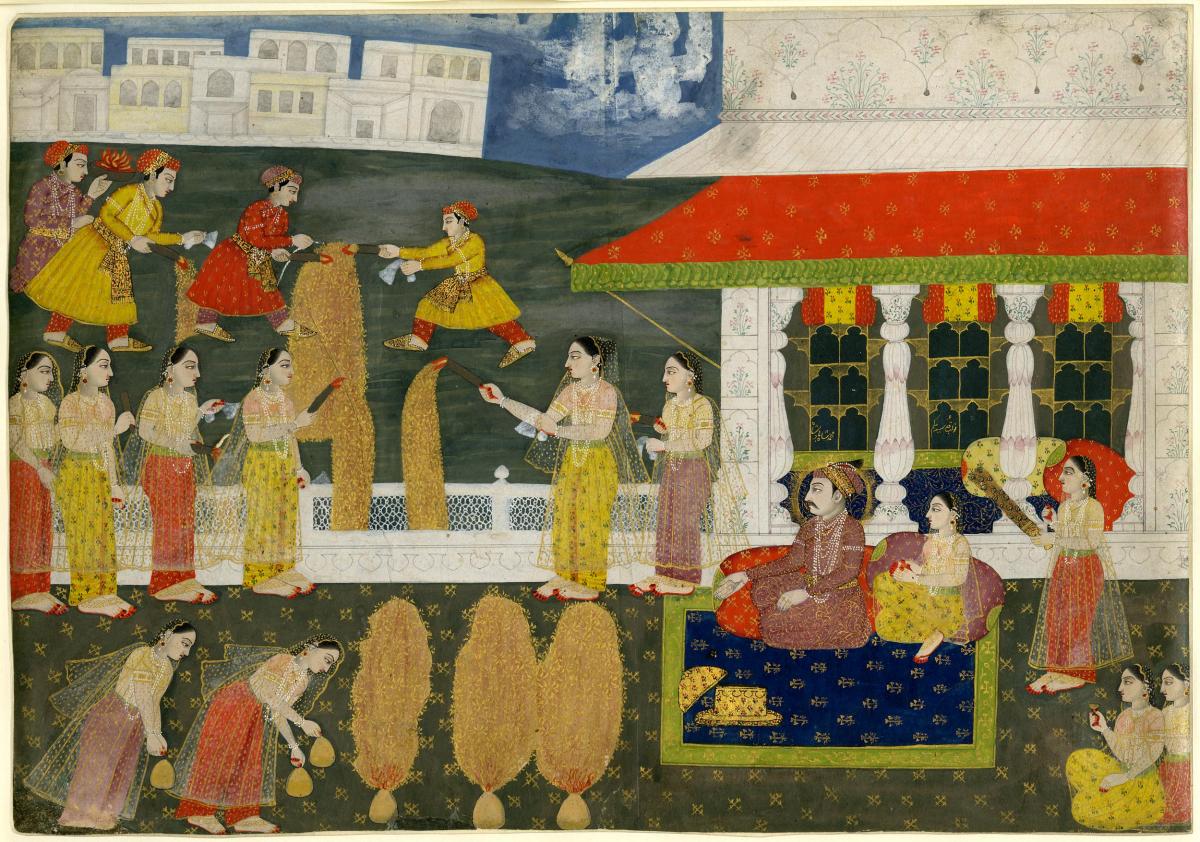 ---
This intricate watercolour depicts an elaborate night of entertainment for Muhammad Shah, who was known to prefer cultural pursuits as opposed to military affairs. Pyrotechnics had been a staple in royal entertainment, as well as in religious festivals and life events, across India since the 1400s, and here the explosive phenomenon is depicted as intricate waterfalls of sparkling light, which rival the intricate detailing of the court members' dazzling garments.
---
Louis Jean Desprez, The Girandola at the Castel Sant'Angelo, c.1781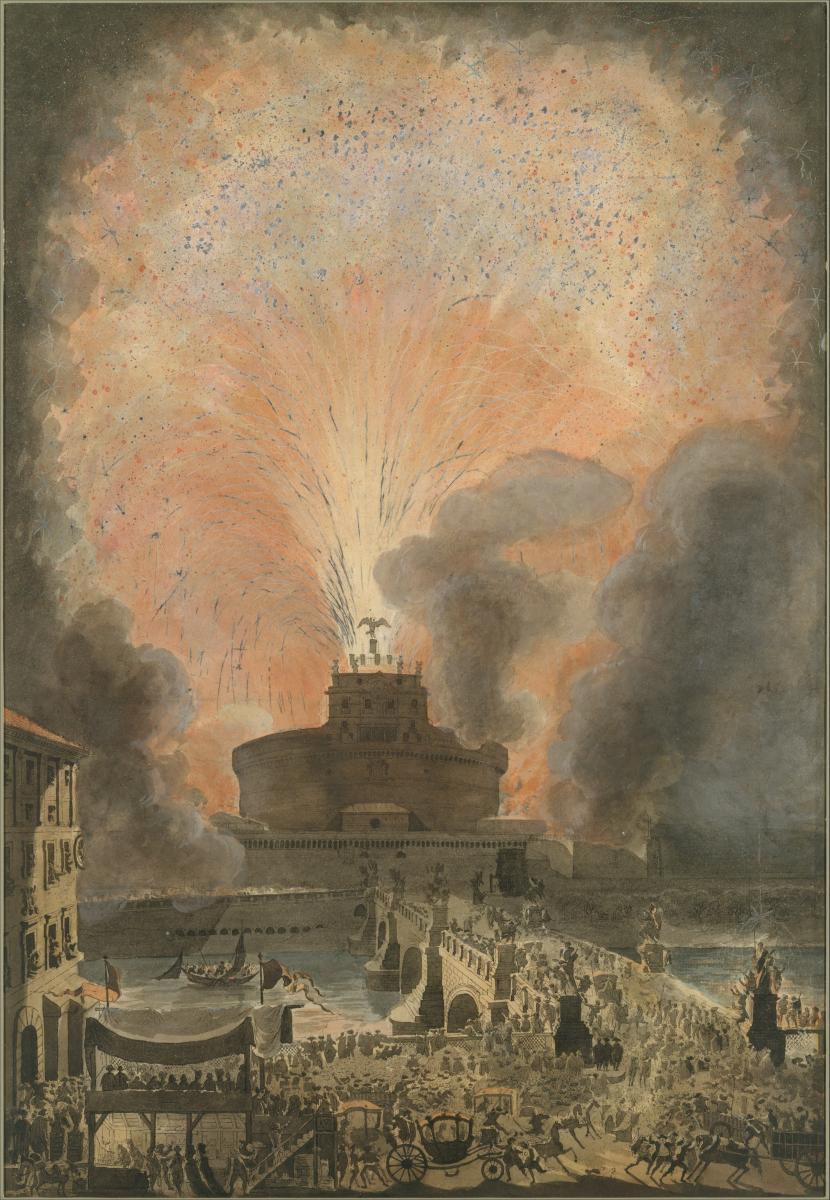 ---
Designed and hand-coloured by Louis Jean Desprez but etched by Francesco Piranesi (son of the more famous Giovanni Battista), this vivid scene depicts the Girandola at the Castel Sant'Angelo in Rome. The massive annual fireworks display took place every Easter thanks to papal sponsorship, and understandably attracted enormous crowds. Here, they are cast in dramatic shadow and dwarfed by the magnificent finale explosion overhead, which took the form of a fan-shaped shower of stars. It is made even more remarkable by the dark plumes of cloud and smoke that surround it.
---
Utagawa Toyokuni, Fireworks at Ryogoku Bridge, 1820–5
---
Despite its name, this ukiyo-e woodblock print barely features fireworks at all. Instead, the artist focuses on the glamorous crowds who used the summertime festivities in Edo (now Tokyo) to gather and socialise. Although a variety of sumptuary laws contained strict edicts referring to ostentatious garments, there were ways to circumvent them, as seen here by a woman who lifts the hem of her kimono to reveal a forbidden red dye. This would have been interpreted as a seductive display that alludes to the 'floating world', where the wealthy merchant class rubbed shoulders with entertainers, actors and sex workers.
---
James Abbott McNeill Whistler, Nocturne: Black and Gold – The Fire Wheel, 1875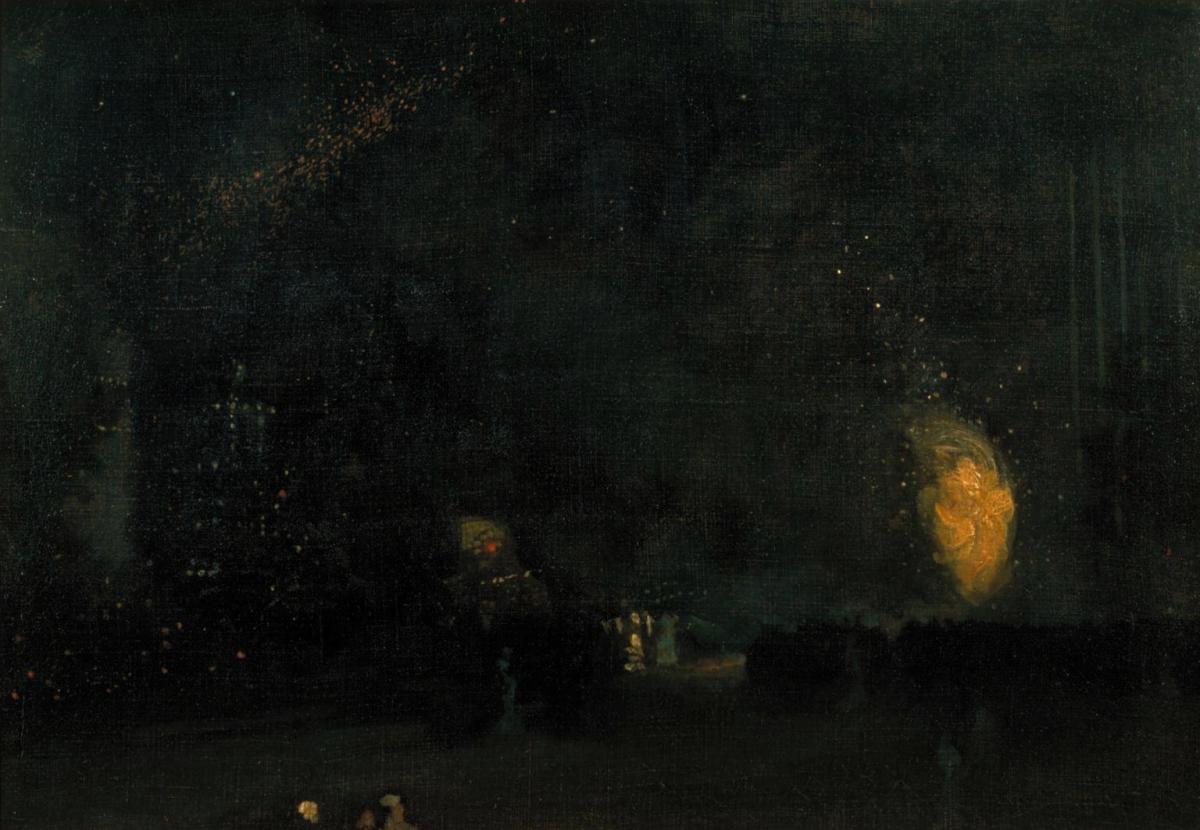 ---
This shadowy scene is one of six Nocturnes that Whistler painted of Cremorne Gardens, which was known for a range of entertainments, including music, dancing, bowling and nightly fireworks. Rather than focusing on the intense spectacle one usually associates with such a display, the artist captures the mysterious cloak of night, which envelops the revellers as they stand transfixed by a Catherine wheel.
---
Eric Ravilious, Fireworks, 1938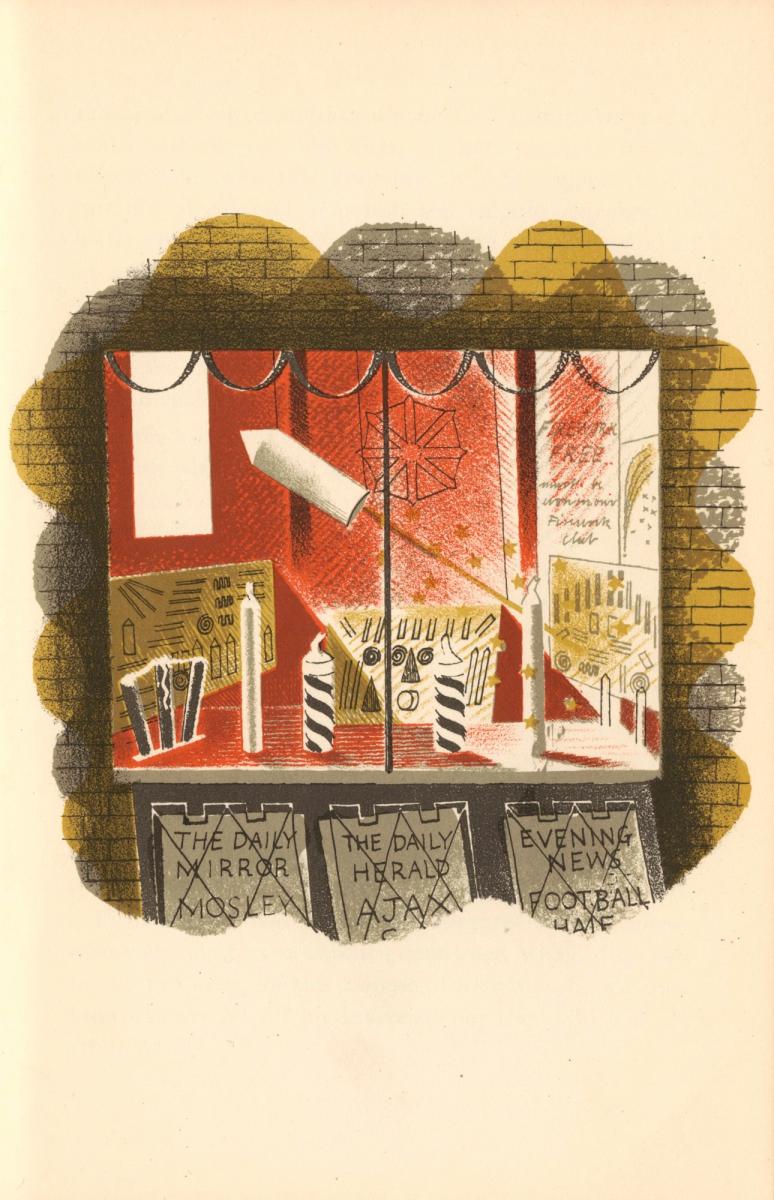 ---
This beautiful print forms part of Eric Ravilious's book High Street, which chronicles the distinctly familiar shopfronts that once typified every British town. While the cheesemonger and the butcher are instantly recognisable, Ravilious's interpretation of a firework purveyor verges on the abstract. The exact use of these festive rockets and candles is cannily alluded to with the addition of a few stars and sparkles, and the reddish colour palette is immediately evocative of dark November evenings.
---
Holly Black is The Arts Society's Digital Editor
About the Author
Become an instant expert!
Find out more about the arts by becoming a Supporter of The Arts Society.
For just £20 a year you will receive invitations to exclusive member events and courses, special offers and concessions, our regular newsletter and our beautiful arts magazine, full of news, views, events and artist profiles.
FIND YOUR NEAREST SOCIETY