SUNFLOWERS: THE SYMBOL OF SUMMER
SUNFLOWERS: THE SYMBOL OF SUMMER
9 Jul 2019 - 09:00 BY THE ARTS SOCIETY
Art critic Roger Fry said that Modern European art had mistreated flowers, until Vincent van Gogh saw 'the arrogant spirit that inhabits the sunflower'. Tate's Van Gogh and Britain show features one of his seminal sunflower works, with sunflower paintings by more artists. Why were they drawn to this flower and its stories? The Arts Society Lecturer Twigs Way investigates.
---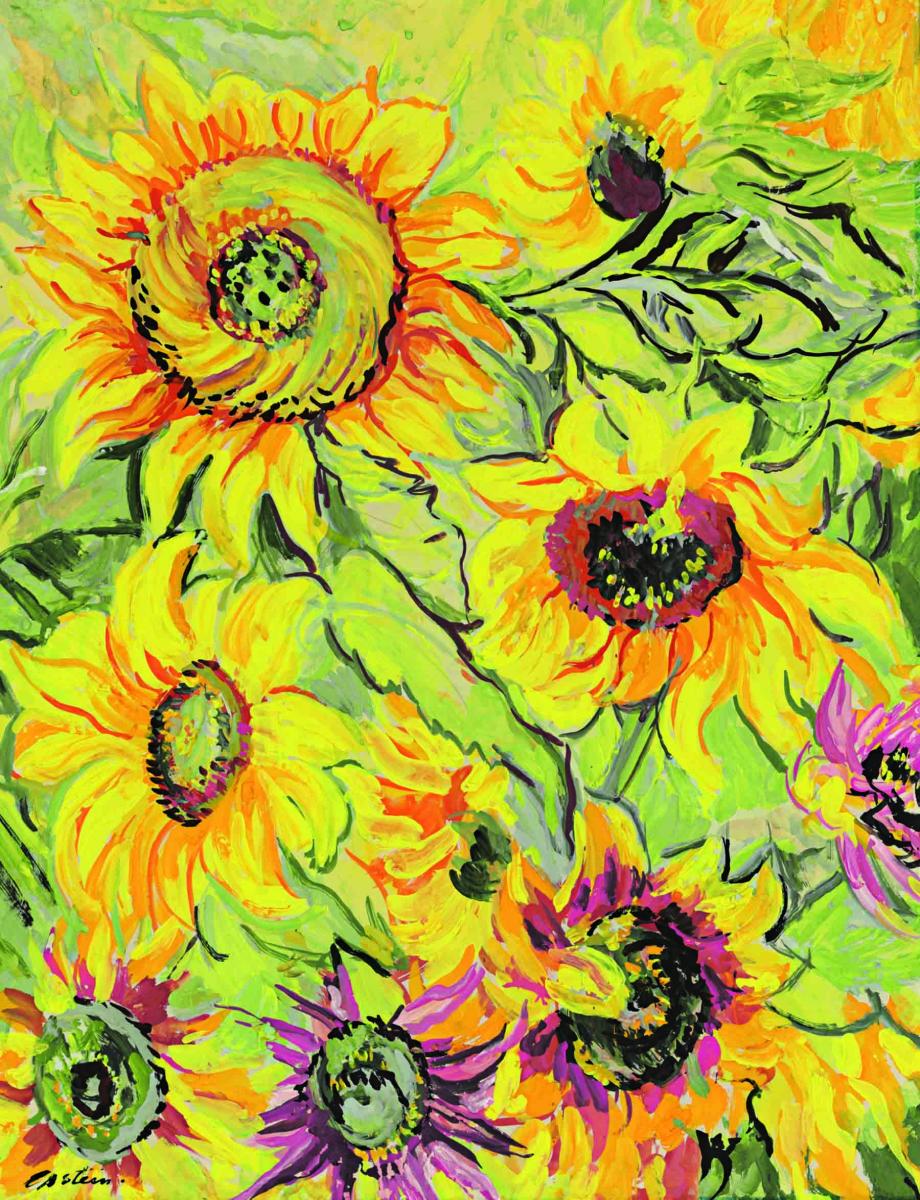 Jacob Epstein, Sunflowers, 1933. Private Collection © The Estate Of Sir Jacob Epstein
---
With its statuesque figure and face of gold, the sunflower lures its admirers into the heart of the sun. Revered by Aztecs in its native America, it was offered at the temple of Huitzilopochtli, the deity of war, sun and sacrifice. Presented to the Spanish conquistadores as a token of military alliance, they mistook it as a simple gift of flowers, more interested in the jewel-laden sunflower symbols worn by Aztec nobility.
The sunflower later made its appearance in Europe, in Madrid, where its stem 'thick as Hercules' club' was said to grow to 18ft. It became a prized specimen for the Italian Medici court, before then being gleaned for England. There it grew in the gardens of the botanist physician John Gerard, who was sceptical of its ability to turn towards the sun, noting, 'the which I could never observe', leaving us to wonder if 16th-century England had sunless summers.
BY OTHER NAMES

Europeans named the sunflower the Marigold of Peru, the Peruvian Chrysanthemum, Flos solis and eventually the Helios-anthos – the flower of the Greek sun god Helios. Always facing its divine master as it travelled through the heavens, the sunflower soon replaced the humble borage-like heliotrope in the myth of Helios (or Apollo) and Clytie. As told in Ovid's Metamorphoses, the water nymph Clytie is first courted by the sun god and then forsaken. Naked and forlorn she turns her face to her erstwhile lover, following his movements until the gods take pity on her and turn her into a sunflower.
---
Vincent van Gogh, Sunflowers, 1888. © The National Gallery London/Bought Courtauld Fund, 1924
---
The moment when flesh became flower was immortalised by Charles de la Fosse (1636–1716) in Clytie Transformed into a Sunflower. And George Frederick Watts' (1817–1904) sculpture, Dying Clytie (c.1868), depicts her with head twisting to catch a final glimpse of her departing lover. It was in the guise of the sun god Apollo, rather than a forlorn nymph, that the sunflower then became a symbol of divine right and the rule of kings.
In Anthony van Dyck's self-portrait of 1632–33, the artist is almost overwhelmed by a massive head of yellow-gold petals, representing both Charles I and the artist's faithfulness to his monarch. With one hand van Dyck points to the flower, while the other holds a gold chain from the king. The loyal sunflower was repeated in the artist's portrait of fellow courtier and Catholic Sir Kenelm Digby, and on the frame of another, later self-portrait.
'In the hope of living in a studio of our own with Gauguin, I'd like to do a decoration for the studio. Nothing but large sunflowers.' – Vincent van Gogh

We pick up the sunflower story again in the late 19th century, when it is rediscovered almost simultaneously by the movements of Arts and Crafts, Impressionists, and the Aesthetes clustered around Oscar Wilde. Each, it seems, were suddenly and independently struck by the colours and impressive form of the flower, which had been growing largely neglected in myriad cottage gardens in the intervening centuries.
The first to pay homage was Wilde (1854–1900). Whether he empathised with the sunflower's message of 'adoration' and 'haughtiness' in the then popular language of flowers, or found its colours reminiscent of the 'greenery yallery' of London's Grosvenor Gallery ('home' to the Aesthetes), he adopted it as an emblem and stage prop.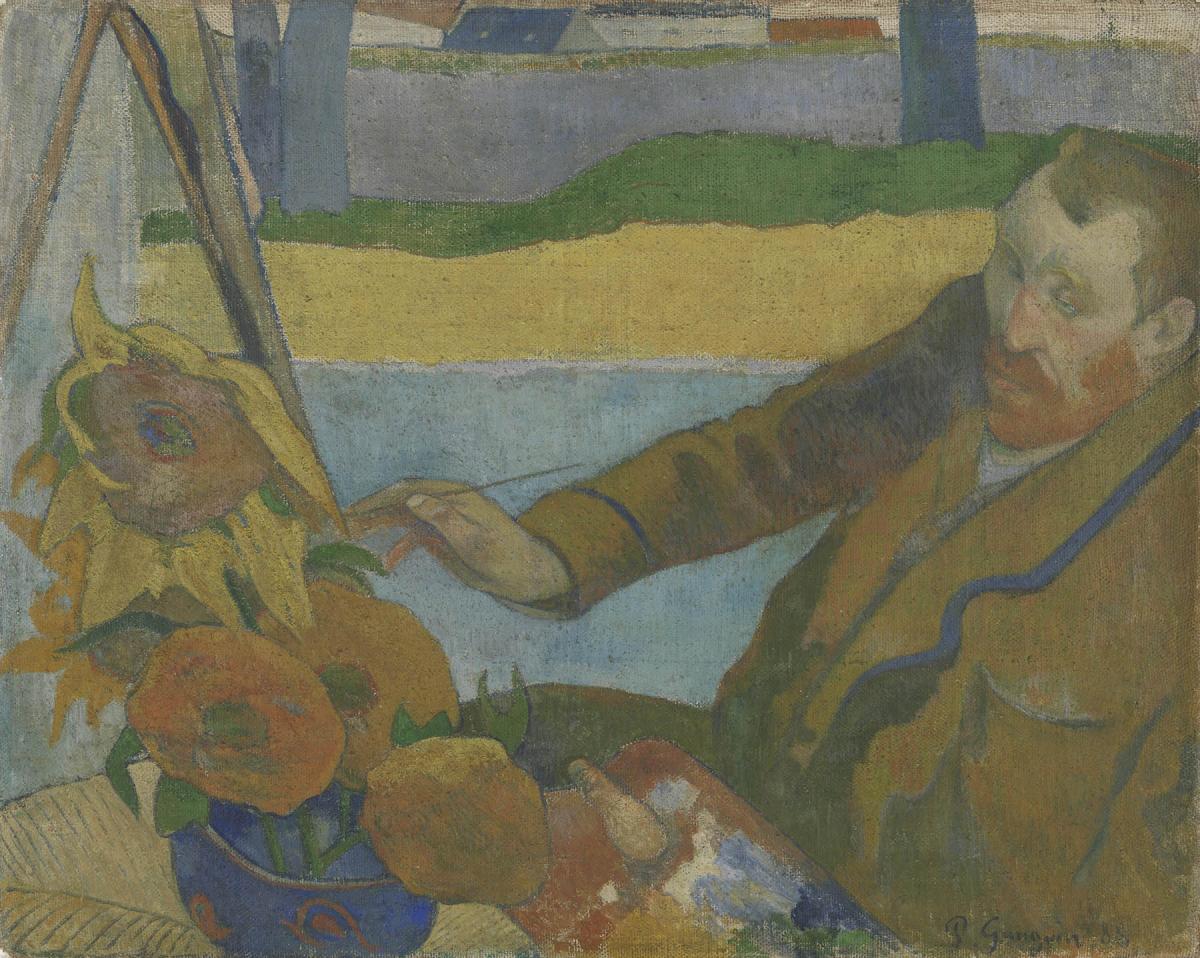 Vincent van Gogh, Self-portrait Painting Sunflowers. Van Gogh Museum, Amsterdam (Vincent van Gogh Foundation)
---
During Wilde's 1882 American tour, his head was often depicted peering out from sunflower petals, similar to those around the torso of Watts' Clytie statue. Stage backdrops of the tour also featured the flowers, and sunflower-shaped fans were available in case the audience became overheated. Most famously, the satirical Keller cartoon of The Modern Messiah showed sunflowers held aloft by the San Francisco elite who had arranged Wilde's visit.
MELLOW YELLOW

From Wilde to Van Gogh (1853–90) may seem a cultural gulf, but it can be bridged by a shared love of absinthe and sunflowers. Whether or not it was absinthe poisoning that inspired Van Gogh's startling yellow canvases, his sunflower paintings are some of the
most famous in European art. There are two series. The first, painted in Paris in 1887, features heavy, dead flower heads; the second, created a year later in Arles, painted during a period of high optimism, shows bouquets of sunflowers in vases.
Tate's show features one of these in the centre of a space, holding court among other sunflower paintings by William Nicholson, Jacob Epstein, Frank Brangwyn and Matthew Smith. Paul Gauguin (1848–1903), fellow painter and friend, acquired two of the Paris series and Van Gogh hoped to impress him with the more vibrant Arles versions. As he explained to his brother, Theo: 'In the hope of living in a studio of our own with Gauguin, I'd like to do a decoration for the studio. Nothing but large sunflowers.'
Frank Brangwyn, Sunflowers, Lent by the Royal Academy of Arts, London. © The Estate of Frank Brangwyn / Bridgeman Images
---
Van Gogh records Gauguin comparing his stricken Parisian sunflowers with a painting Gauguin had seen by Claude Monet (1840–1926). Lauded by critics for its brio and daring, Monet's painting of the gold flowers in a Japanese vase linked his fascination with Japanois with the golden hues of sunflowers and chrysanthemums, which fascinated the Impressionists. The sunflowers may also have reminded Monet of his garden at Vétheuil, where they lined the path in blue and white ceramic pots. Sunflowers still inhabit Monet's gardens at Giverny.
Monet's friend and fellow horticulturalist and painter Gustave Caillebotte (1848–94) also grew the flowers en masse in his garden at Petit Gennevilliers and painted them there c.1885, and again by the banks of the Seine c.1886.Caillebotte's sunflowers are a mass of solid green leaves, while the flower heads appear confused as to which direction they should be looking.
Their massing echoes the cloaked shape of Gustav Klimt's sunflower of 20 years later. There is an anthropomorphic quality to Klimt's solitary flower, with its great hanging head, reminiscent of his painting The Kiss, although he also included a multi-headed flower in his painting of a farm garden. And, finally, Diego Rivera (1886–1957) used the naïve flower heads and bright golden yellow of the sunflower as a vivid evocation of his native Mexico, bringing us full circle, back to the Aztecs and the cultural homeland of the sunflower.
---
SEE

The sunflowers at The EY Exhibition: Van Gogh and Britain at Tate Britain; until 11 August; tate.org.uk
Van Gogh and the Sunflowers at the Van Gogh Museum, Amsterdam; 21 June–1 September; vangoghmuseum.nl/en/whats-on/exhibitions
---
Twigs Way offers a talk on the sunflower in art, while other lecturers cover things botanical with topics as diverse as Jane Goodson's talk on artist Sydney Parkinson, working on Captain Cook's Endeavour; and Timothy Walker's revelation of theories used by artists and gardeners to achieve exciting effects.
Become an instant expert!
Find out more about the arts by becoming a Supporter of The Arts Society.
For just £10 a year you will receive invitations to exclusive member events and courses, special offers and concessions, our regular newsletter and our beautiful quarterly arts magazine, full of news, views, events and artist profiles.
FIND YOUR NEAREST SOCIETY