Solitude, the land and the elements: the beautiful world of artist Julie Brook
Solitude, the land and the elements: the beautiful world of artist Julie Brook
On reopening after two years of restoration, Abbot Hall in Kendal's first show features the haunting work of Julie Brook. How do we define her art? Arts Society Lecturer Simon Seligman meets her to drill down for answers
---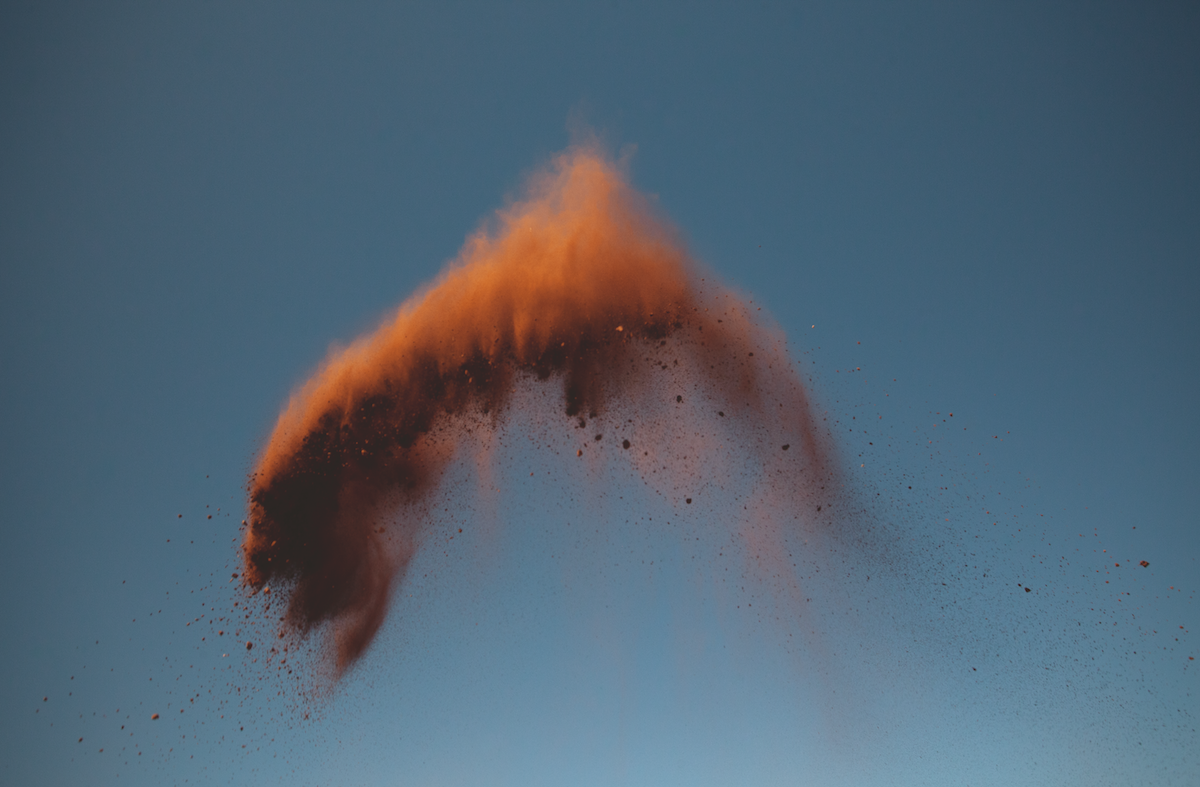 Earth Drawing, Thrown, Otjize, north-west Namibia, 2011, red ochre earth. Image: courtesy of the artist
---
Julie Brook's new exhibition, What is it That Will Last?, is a multimedia experience featuring film, photographs and drawing spanning three decades of her land and tidal art, with work made in the Hebrides and Japan.
A selection of artworks from Abbot Hall's permanent collection will also be on display, chosen by the artist, with works – including those by John Ruskin, Frank Auerbach, JMW Turner and John Piper – that further explore the timeless relationship between artist and landscape.
In conjunction with the exhibition, Brook has unveiled a site-specific outdoor commission, using Cumbrian slate, in the grounds of Holker Hall in Cark-in-Cartmel. And a new book, published by Lund Humphries, with essays by Robert Macfarlane and Alexandra Harris, accompanies the exhibition.
Arts Society Lecturer Simon Seligman also offers a new lecture on Julie Brook's work, to quiz the artist about her work and its meanings. Here he asks her about her work.
---
The artist Julie Brook. Image: Robin Zahler
---
Why do you make the art you do, and how did it come to be so?
I had formal training at the Ruskin School of Art in Oxford, but from my earliest years as an artist I have always been drawn to working outside, in solitude.
From 1991 I spent three periods of six months or more living and working alone on the remote west coast of the Isle of Jura, making shelter under a natural rock arch, seeking to understand my own artistic language better.
The experience marked a profound shift in my practice.
Since that time, I have been making art with and about the materials of the land and the elements. Working in remote, undomesticated, sometimes industrial landscapes, most recently in Scotland, Italy, Japan and Namibia, my work is in its material sense likely to be ephemeral, but in that moment of creation I am seeking to distil something about the essence of that place.
I see my work as being both a response to my environment and the expression of that environment's effect on me.
---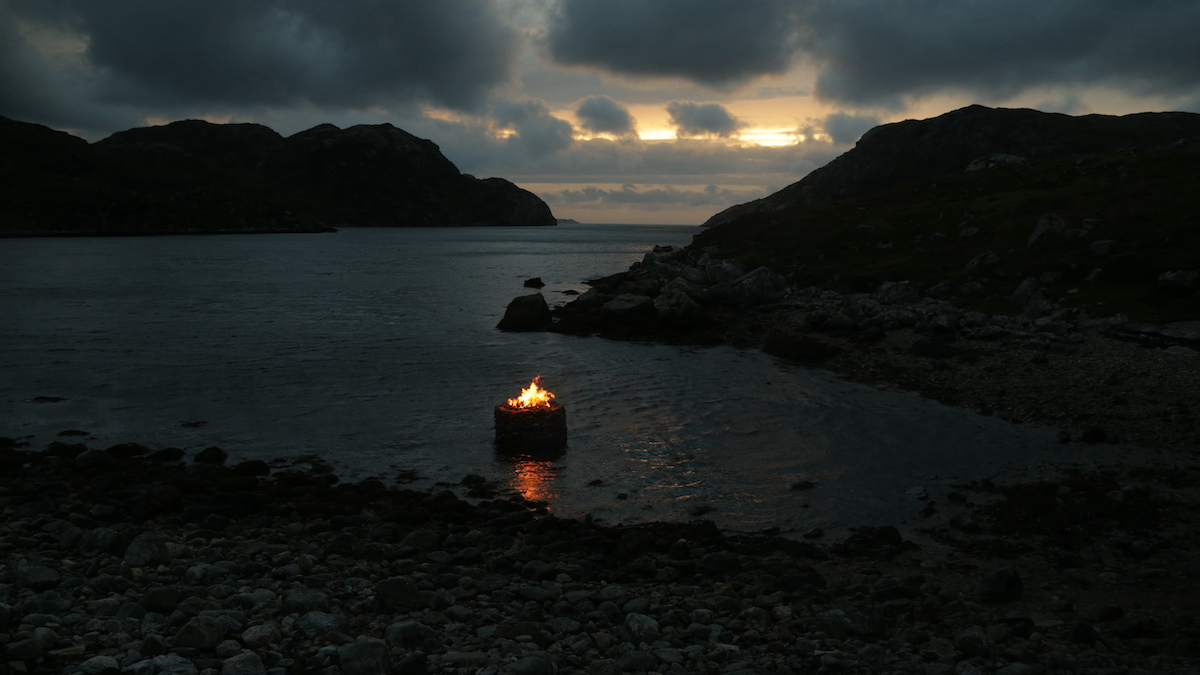 Firestack, Autumn, Aird Bheag, Hebrides, 2016, made of stone, wood and fire. Image: courtesy of the artist
---
The term 'land artist' has had very particular connotations since the 1960s, powerfully associated with figures like Robert Smithson, Richard Long and David Nash. Is that your lineage as an artist?
I am certainly an artist who works outside in landscapes, both solid and of water, so in that sense I am a land artist; and I know and admire those artists you mention, but it's not a lineage I would necessarily claim for myself.
If I think of the artists who inspire me most, alongside a lifelong fascination with Seurat and Cezanne, I think of Nancy Holt, Agnes Denes – whose 1982 Wheatfield in New York was a supreme fusion of aesthetics and politics in landscape – Doris Salcedo, Cecilia Vicuña and Katie Paterson, whose extraordinary current Future Libraryproject (katiepaterson.org/artwork/future-library) shows how profoundly she understands time, both cosmic and human.
My work is, in a sense, durational, governed by time; in my case that's the time I spend in a particular place, the time it takes to absorb and respond, to build, to find an accommodation with the elements at play.
When I lift a stone to add to a wall, whether in Namibia or on Lewis, I am in that moment holding geological time in my hands. When an opening contained within a built structure receives and directs light at a specific moment in the day or the seasons, I am using both the solid container and the empty space to invite you to notice anew that our lives are governed by this eternal planetary cycle.
When I build a Firestack at the ocean's edge, working with the tides, with gravity, fire, water and stone, I am, in a sense, choreographing time, drawing your attention to the ceaseless rhythm of nature.
---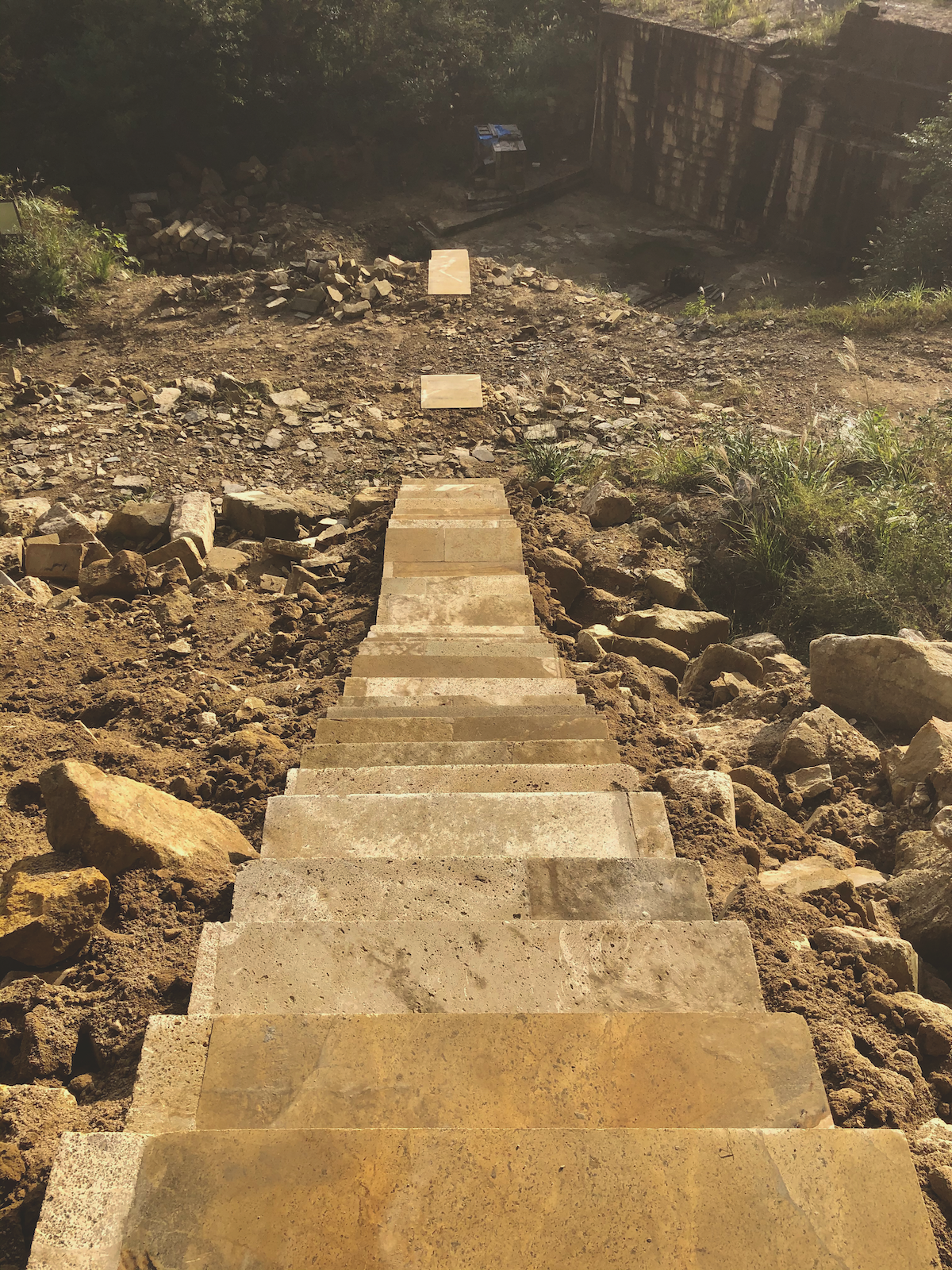 Ascending, Kanagaso Quarry, Komatsu, Japan, 2019, rhyolitic tuff, 58 steps. Image: courtesy of the artist
---
Tell us about the exhibition at Abbot Hall.
Naturally, I can't bring site-specific work made in Namibia, Japan or even the Hebrides into the gallery itself. So I record and bear witness to that work in still and moving images, and in drawings, and all of these will feature in the exhibition, standing in their own right as works of art and reflection.
The films, in both image and sound, invite you into the physicality of the work, to try and create a sense of what I'd call visceral inclusion. I want to give viewers some bodily sense of the time I spent working and living in those places, the interplay of the elements, the durational sense of the making of the sculptural pieces.
The still images are more contemplative, distilled moments that allow you to move or be still within the gallery spaces. And then the drawings, varied in scale, are my reflective response to the sculptural work, usually made after that work is complete. I've also been given free rein to choose works from Abbot Hall's exceptional permanent collection to display, and so visitors will also see really astonishing works by Turner, Ruskin and Auerbach, among many others.
---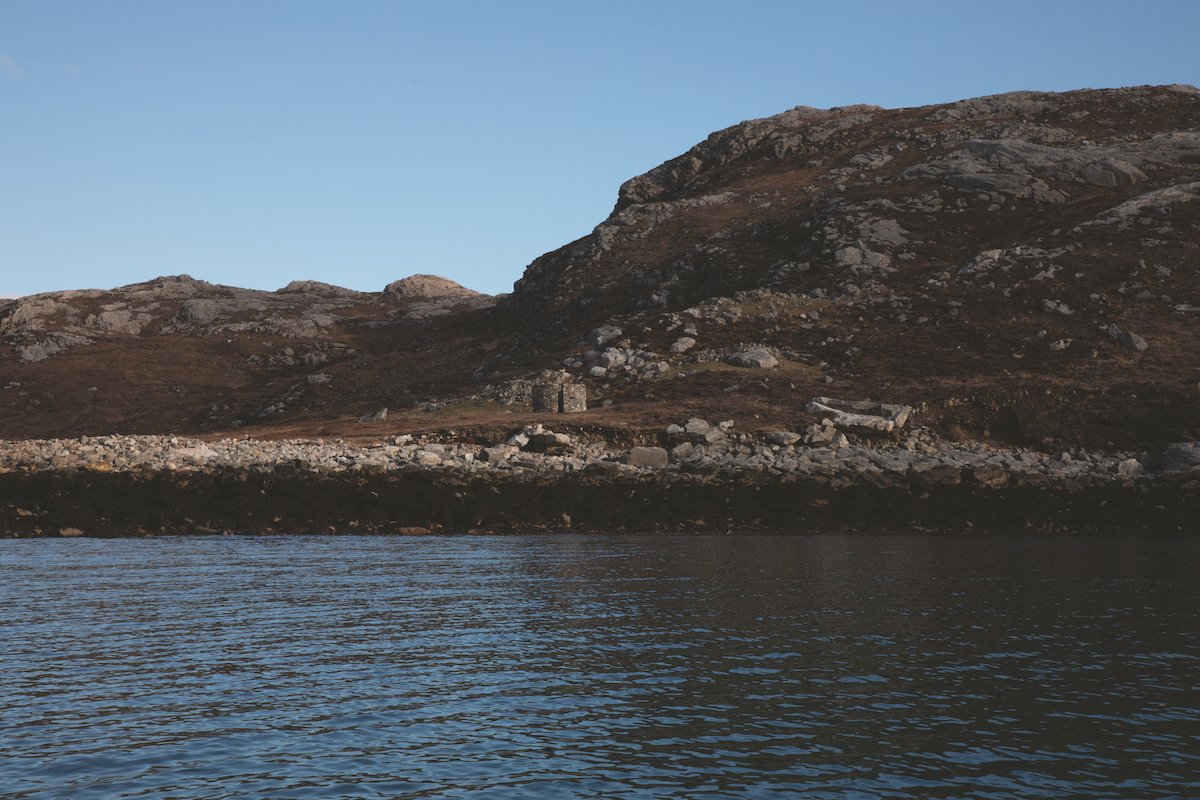 Winter Wall, Aird Mhòr, Hebrides, 2019, Lewisian Gneiss. Image: courtesy of the artist
---
Where are you working now?
I live and often work in the Western Isles of Scotland, but this spring, ahead of the exhibition's opening, I was building a site-specific piece, using Cumbrian slate, in the landscape of Holker Hall, about half-an-hour's drive from Abbot Hall.
I have had productive visits to local quarries not only to source and trial the material but also to take stock of what this material requires of me. Unusually for me, the finished work will be seen within a human-designed and managed landscape.
My most recent work in Italy and Japan has also derived its materials from quarries, but in both those cases the work itself has then been made in very different human-made landscapes – the quarries themselves.
By contrast, the Firestacks are built on Lewis, many hours' walk, or a journey by boat, away from any evidence of modern life. And the work in the desert landscapes of Libya and Namibia is an encounter with a vastness of scale, a depth of wonder and an immersion in larger spans of geological time than anywhere else I have been. There I am particularly confronted with the tiny human scale of what I do, and the indifference of the landscape and the weather to it all.
That is one of the things I hope to convey in the exhibition – that push and pull between me and my environment.
---
What is it That Will Last?
20 May–30 December
Abbot Hall, Lakeland Arts, Kendal, Cumbria; lakelandarts.org.uk/abbot-hall
For more on Julie Brook's work, see juliebrook.com
About the Author
Simon Seligman
Arts Society Lecturer Simon Seligman offers a new lecture about Julie Brook's work: Making & Unmaking: The Elemental Land Art of Julie Brook. He also lectures on Chatsworth House, 'Debo' Devonshire, John Ruskin and Joseph Paxton. To become a member of The Arts Society, see theartssociety.org/member-benefits
Become an instant expert!
Find out more about the arts by becoming a Supporter of The Arts Society.
For just £20 a year you will receive invitations to exclusive member events and courses, special offers and concessions, our regular newsletter and our beautiful arts magazine, full of news, views, events and artist profiles.
FIND YOUR NEAREST SOCIETY