Six ceramic artists to spot at Ceramic Art London
Six ceramic artists to spot at Ceramic Art London
13 Mar 2019 - 10:54 BY The Arts Society
Ceramic Art London is one of the key annual events in the ceramics world. Held at Central Saint Martins in London, it offers a unique chance to see the work of some the best current ceramic artists at one time. Ahead of the show, Sue Herdman, Editor-in-Chief of our magazine, singles out six diverse artists whose work will be on display.
---
Sculptural form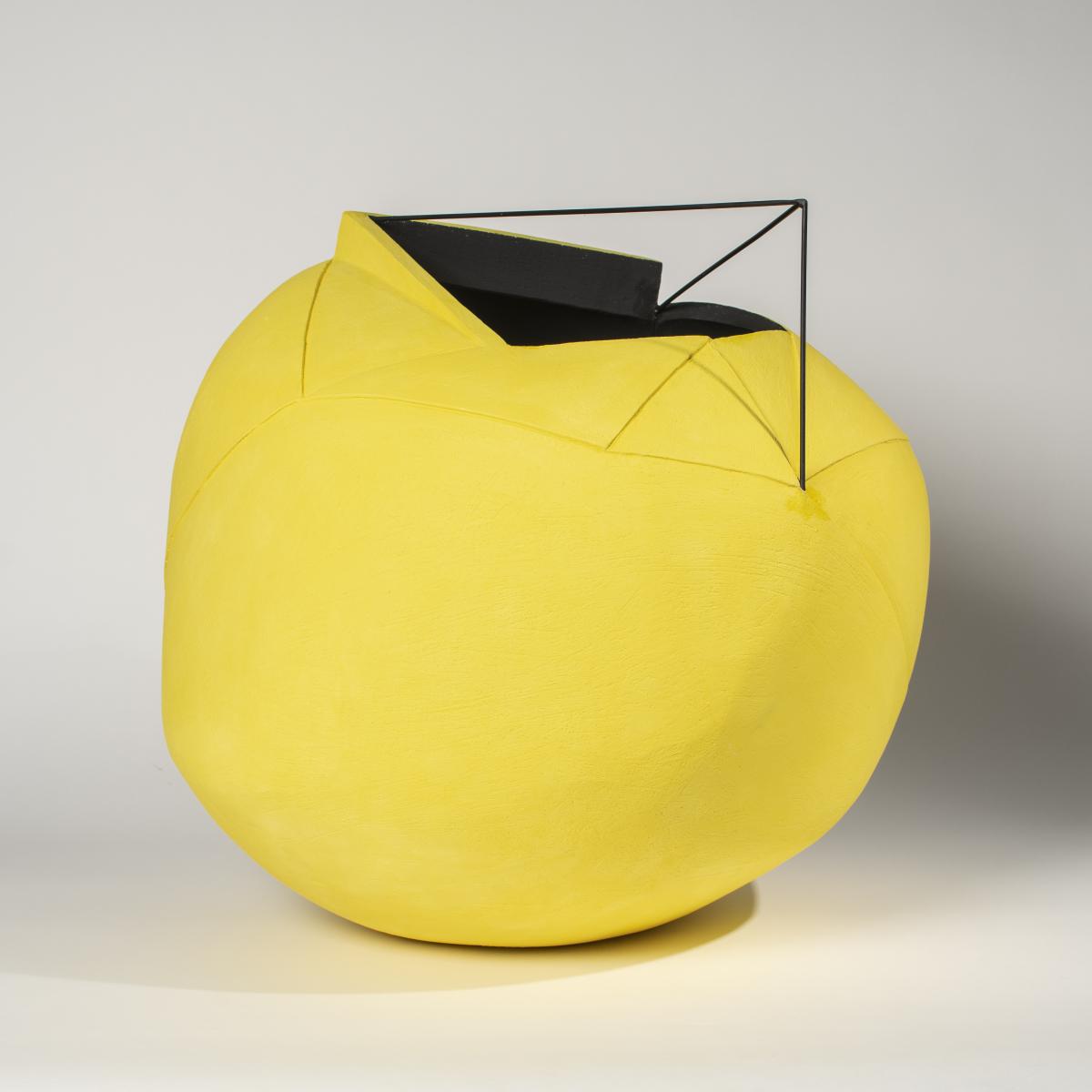 Courtesy of the artist
In 2016, in the face of fierce competition, Rebecca Appleby was the winner of Ceramic Review's Newcomer to Ceramic Art London Award. An artist and sculptor who works in clay, she is fascinated by the crossover betwixt urban and organic. As one of the judges on that award, I recall how we were drawn to the confident forms of her curved slab pieces, which were decorated, judiciously, with oxides, pencils, stains and ceramic chalks. Appleby is an artist who knows, instinctively, just how far to go with such markings. Now she is adding powerful colour and linear steel additions to her works, bringing a fresh dynamic. The pieces are textured and intriguing. Bodies such as York Art Gallery's Centre of Ceramic Art has Appleby's work in its collection. A current project is a public art commission for the East Street Arts initiative 'A City Less Grey' in Leeds. She is an artist whose work constantly evolves, and her followers are always alert to the direction she will take next.
---
Wafer-thin layers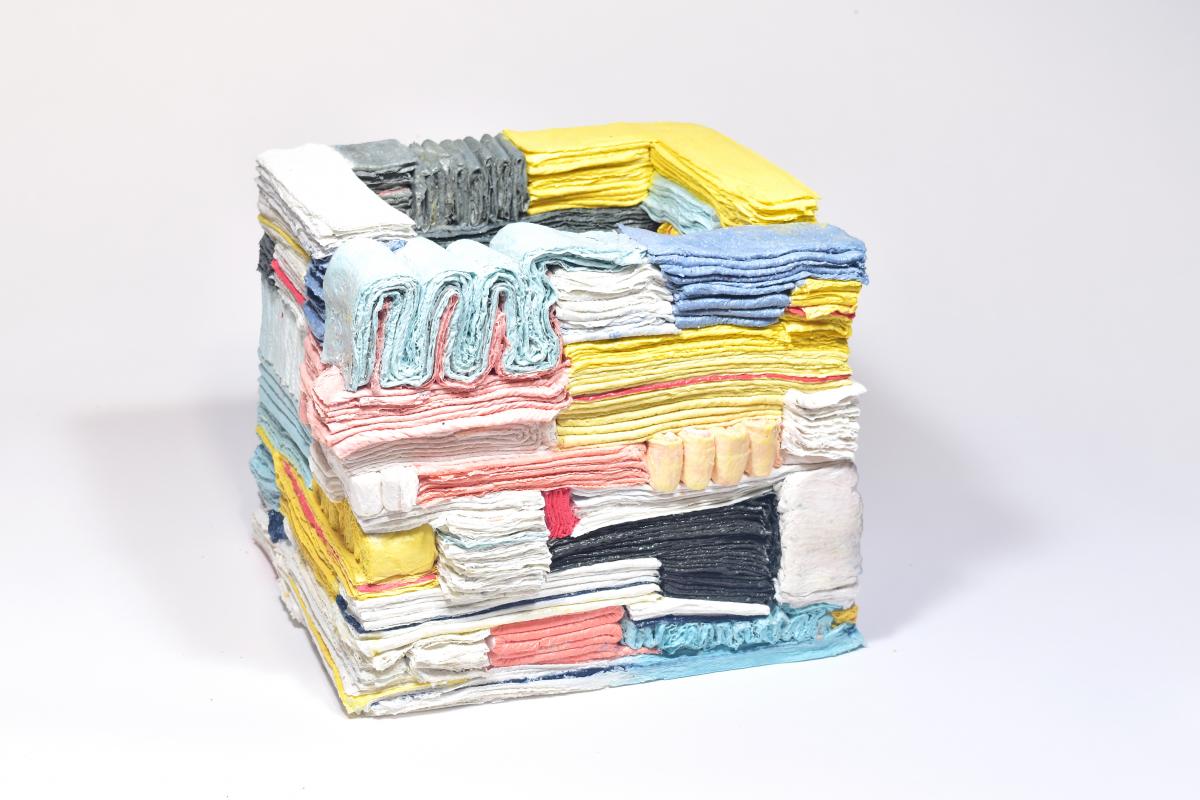 Courtesy of the artist
Hailing originally from South Korea, Jongjin Park is an experimental ceramic artist who references age-old Korean techniques in his work, with a twist. His layered, tactile pieces combine the unlikely duo of kitchen paper towels and porcelain, in a series that he calls Artistic Stratum. The result, visually, is a little like a millefeuille pastry, with multiple, exceptionally thin layers. Each filigree-like piece – delicate to view, defying its true sturdiness – is the result of patient, meditative focus. Every sheet of paper is painted with porcelain slip. Power tools are brought into play to aid the final shape prior to firing. What Park is seeking, at completion of each piece, is a work that has harmony. At any art show, it's always interesting to observe the reactions that an artist's work draws from those viewing it. I defy anyone passing Park's stand not to be compelled to reach out and touch the pieces they see there.
---
Beautiful and useful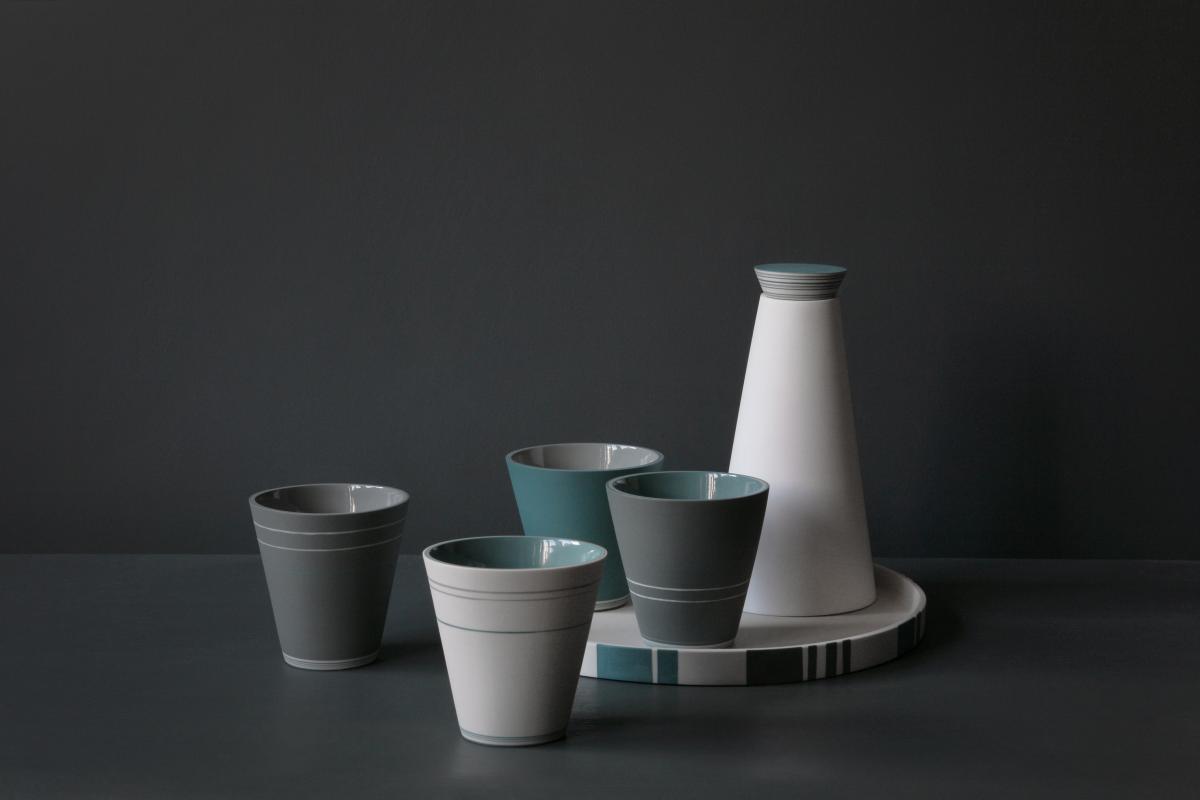 Courtesy of the artist
Whenever I have spied Jill Shaddock's stand at an event, it is buzzing. Her fine slip-cast work is for people who want pieces in their homes that they can use every day, and that bring a pared-down, elegant aesthetic with them. Her pieces have heft. They are a joy to hold. They will last a lifetime and longer – the type of works that a family might hand down from one generation to the next. Shaddock's choice of colours – soft greys, blues, creams and maybe an occasional pop of pale yellow – is calm and muted. She relishes time spent mixing hues to realise palettes that she has observed when out and about, or on her travels. She mixes the matt and the gloss, sometimes combining the two on one vessel: its exterior chalky-soft to the eye and feel, its glossy interior shiny. When a table setting needs to be beautiful, it is work by artist potters such as Shaddock that you should reach for.
---
Drawing the eye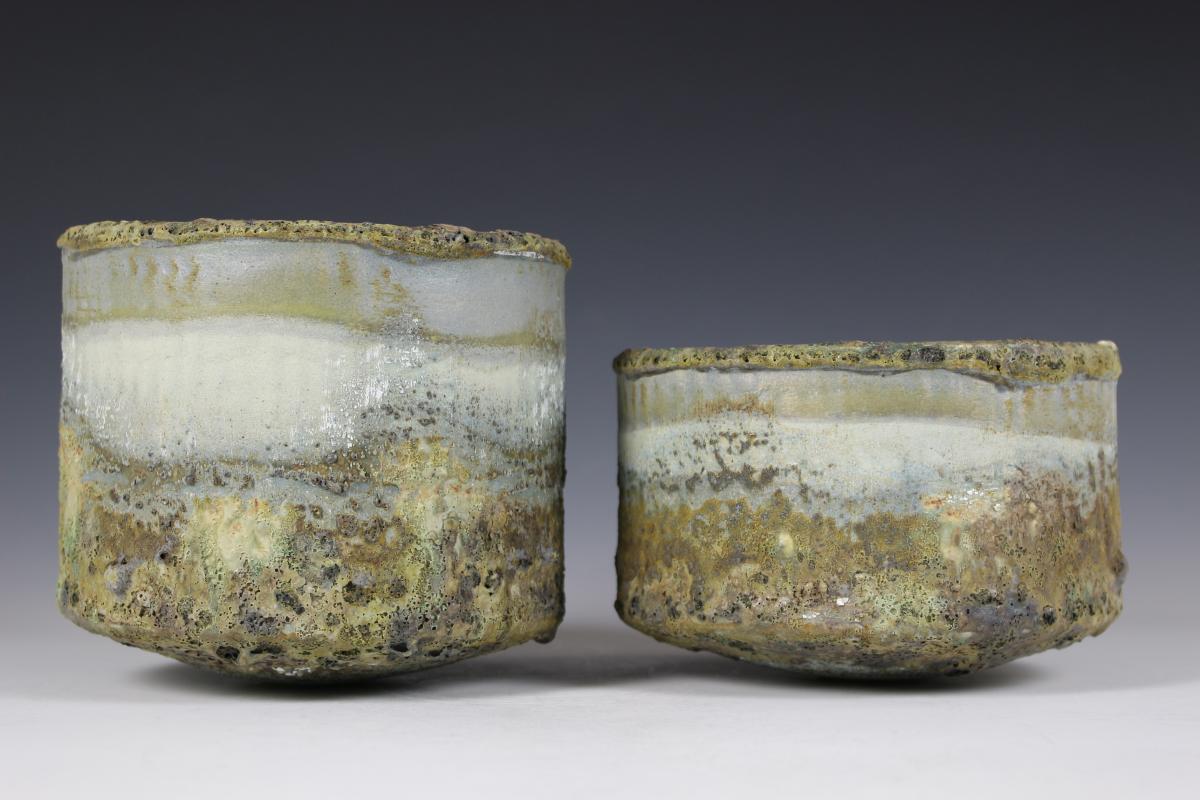 Courtesy of the artist
Based in a studio in Cardiff, Paul Wearing's work is all about texture or, in his own words, 'textures that manifest naturally on surfaces within diverse urban and rural landscapes'. He favours the millennia-old technique of coiling and creates strong, elegant vessels that, alone, would be beautiful to look at. But his work is about so much more than shape. The glazes that Wearing creates and then drips, pours or paints onto the surfaces ensure that each finished piece demands close inspection. They appear as if they've been left to age under the sea. They have a patina to them. Their surfaces bubble and they look pleasingly worn; the colours are a natural, gritty, earthy aquamarine, butterscotch, grey and green. Those surfaces are the result of the alchemy that happens in the kiln, when the fire reacts, often unpredictably, with the ingredients of those glazes. It makes for exciting work with a mix, as the artist puts it, 'of order and disorder'.
---
Fantasy figures

Courtesy of the artist
There aren't many ceramic artists like Japanese-born Midori Takaki. The curious works for which she has gained an international following allude to folklore, woodland spirits and fairy tales. Working with stoneware clay, it is Takaki's soaring imagination that fires each of her fantastical pieces. They are intricately detailed. They carry messages, perhaps on climate change, or on holding on to one's beliefs. There are Little Red Riding Hoods and angels; Alice in Wonderlands and fantastical animals. The work, much like its maker, comes with a sense of mischief, but can carry undertones of darkness too. On a lighter note, those that commission a piece from this artist may find it delivered with a little 'extra' – a hidden 'gift' in the work in the shape of an unexpected element (seek a hidden key or miniature bird). One can never second-guess quite what a Takaki stand will hold, but it will always carry surprises.
---
One to watch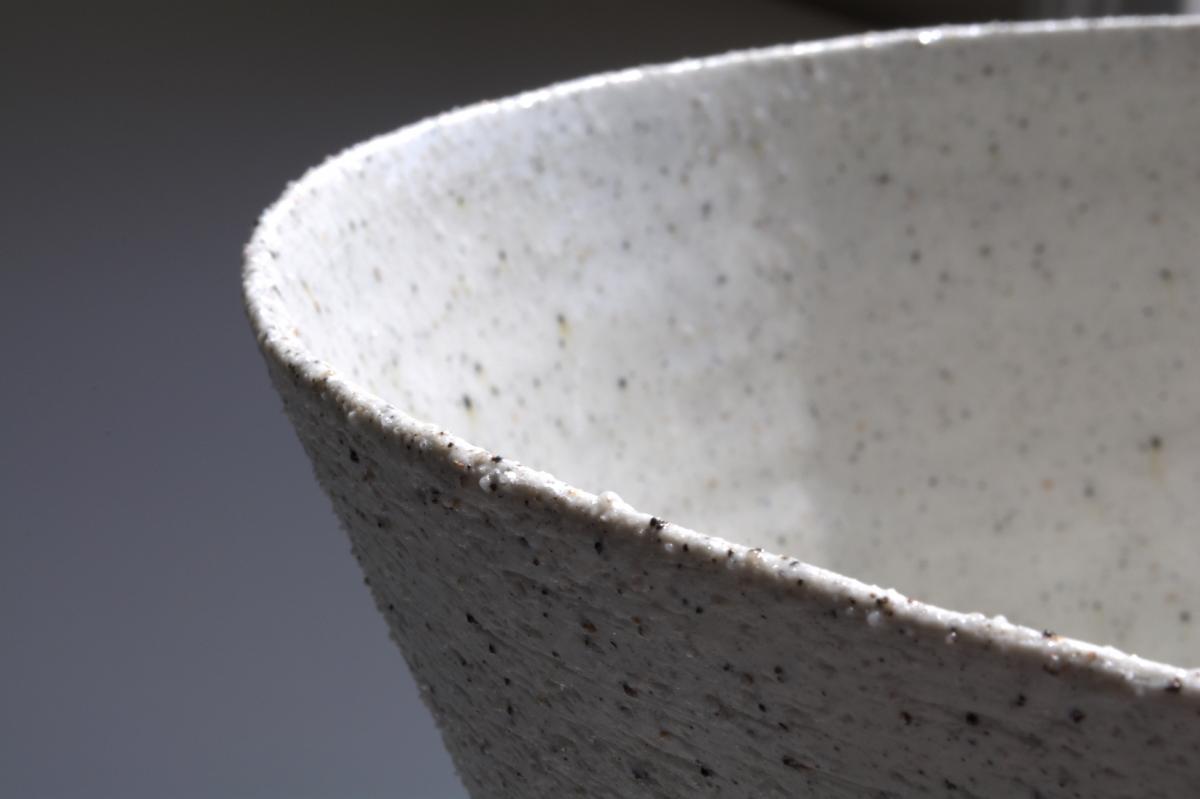 Courtesy of the artist
A recent graduate from Central Saint Martins, with a BA in Ceramic Design, Simon Kidd's work has a focus on sculptural and functional slip-cast and wheel-thrown ceramics. His making is influenced both by specific locations and their history, and exploring human experience. There is a rawness to his works. A chief influence is memories of his childhood in Northern Ireland, 'growing up in a country where peace was relatively new…' His pieces are made to 'evoke a sense of what it means to be Northern Irish', referencing both its beauty and its difficult past. Favouring a subdued palette, there are surprise additions that tie each piece to that land: a turf ash glaze, the incorporation of granite or a piece slip-cast in porcelain and packed in a sagger with turf from a bog. Still fresh to the scene, Kidd's work is one to follow; it'll be interesting to see how his practice, already gaining attention, now develops.
---
Ceramic Art London is at Central Saint Martins, King's Cross, London from 22–24 March. The show features talks by figures including Tristram Hunt, Director of the Victoria and Albert Museum, and ceramic artist Kate Malone. ceramicartlondon.com
Become an instant expert!
Find out more about the arts by becoming a Supporter of The Arts Society.
For just £10 a year you will receive invitations to exclusive member events and courses, special offers and concessions, our regular newsletter and our beautiful quarterly arts magazine, full of news, views, events and artist profiles.
FIND YOUR NEAREST SOCIETY