SILVER LININGS: MEET JEWELLER Meron Wolde
SILVER LININGS: MEET JEWELLER Meron Wolde
Jeweller Meron Wolde is the 2018 recipient of The Arts Society's Patricia Fay Memorial Fund Award, enabling her to work in a funded Cockpit Arts studio and to take a big step in launching her business.
---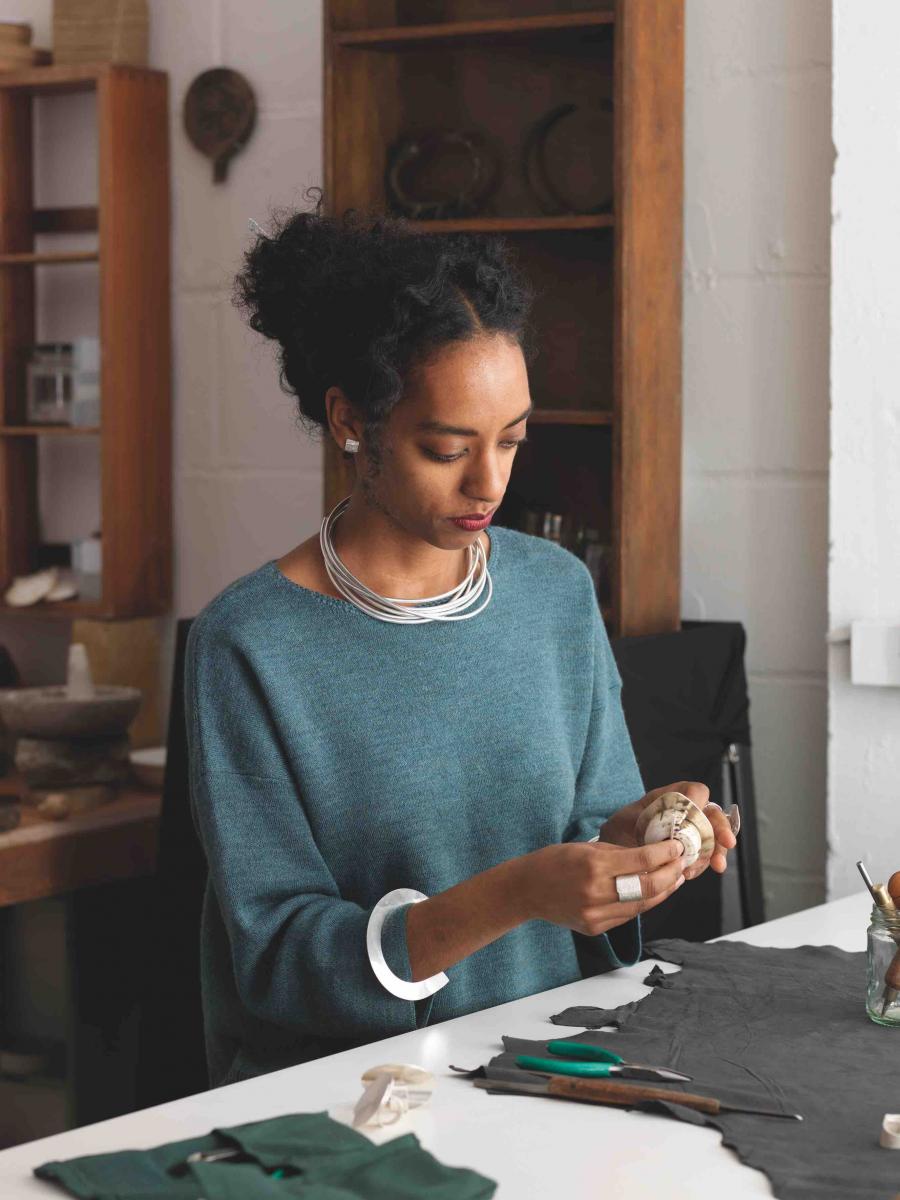 All images: Cristian Barnett

---
My interest in jewellery began in childhood.
My parents fled war in East Africa in the 1970s and I was born in Sweden. My uncle is a goldsmith who makes filigree jewellery and, since I was nine, my family has been going back to visit him in Eritrea. From that early age I began to develop a passion for the craft and for the antique metal pieces that he also collected. When I was a teenager, he made me a set of traditional filigree jewellery in silver, which I treasure above everything else.
London is a hub of creativity, and that's what drew me.
I came to London to study an arts and humanities degree at Birkbeck, University of London. While I was there, I took a course on Japanese culture and language at SOAS. Japan was the first place I travelled to on my own, and I feel a strong connection to Japanese aesthetic style, where simple things are done with a great deal of focus and attention.
After university, I worked in art galleries.
My first experience working in such an environment was in a contemporary African and tribal art gallery in Mayfair, involving work with Ozwald Boateng and projects with the Sierra Leone government. Then, in 2015, I got a job with Joss Graham, the tribal art dealer who sources ethnographic textiles and works of art. Joss encouraged me in my work and built my confidence. He's since become one of my most important mentors.
---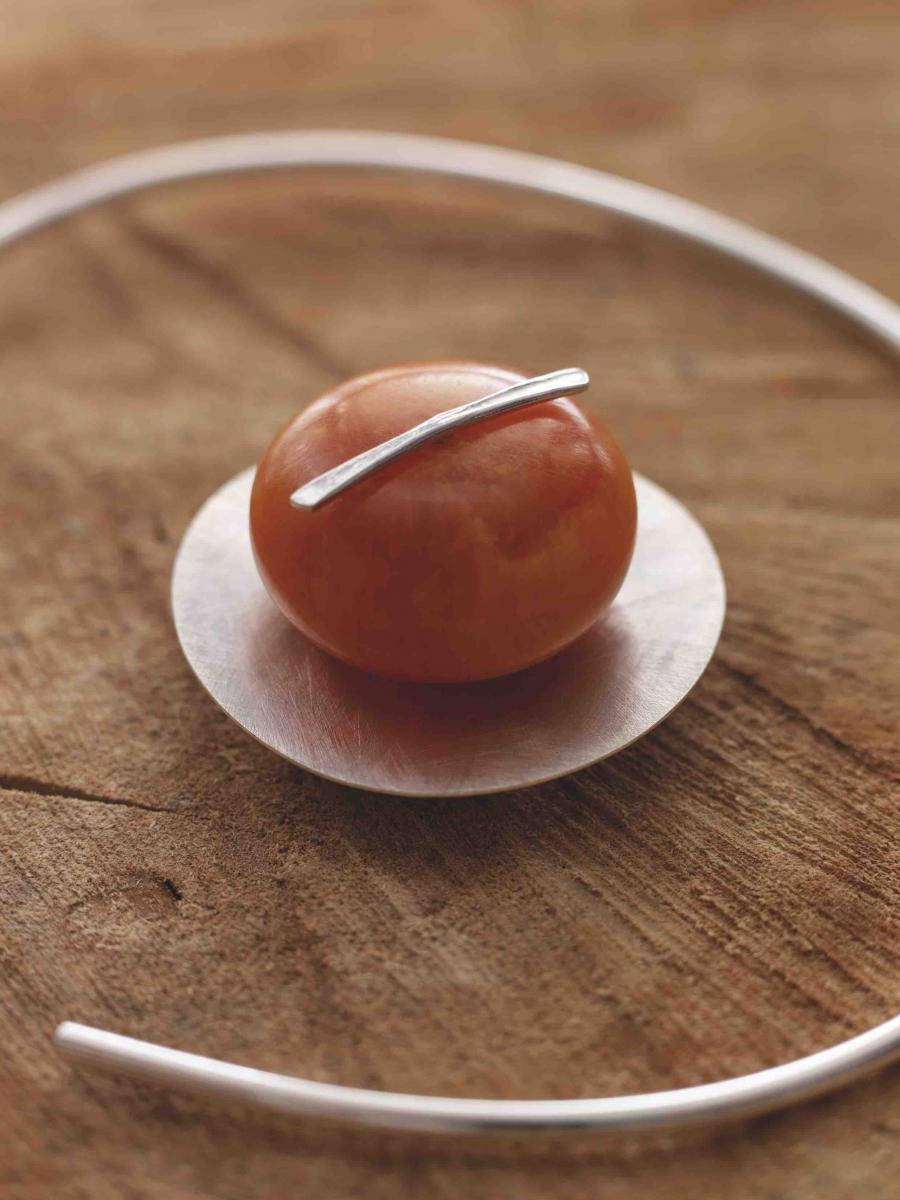 ---
I got hands-on experience working with antique tribal jewellery.
Joss introduced me to Pierre Marchand, his master silversmith, who did the jewellery repair and redesign work for the gallery. Pierre started life as a painter and is a skilled classic car mechanic too, and has consequently built his own language of silversmithing through influences that only he can bring to the table – an organic process that echoes my own life. Pierre taught me silversmithing techniques – the craft is about problem-solving and understanding how things are made. I got the chance to work by his side, eventually becoming the gallery's in-house silversmith.
In time I started making my own jewellery.
With beautiful tribal artefacts passing through my hands, I felt inspired by the power of the adornments. Their rich, bold lines subconsciously seeped into my designs. My first pieces were for myself, but in this past year my work has formed into a collection – versatile neck rings, curved bracelets, textured earrings and sculptural statement rings, all made in recycled sterling silver or gold. I sometimes incorporate antique pieces of curiosity, such as rare shell beads and mineral stones. I design new pieces by folding a paper model first to achieve a desired shape, as it has a similar weight to silver.
---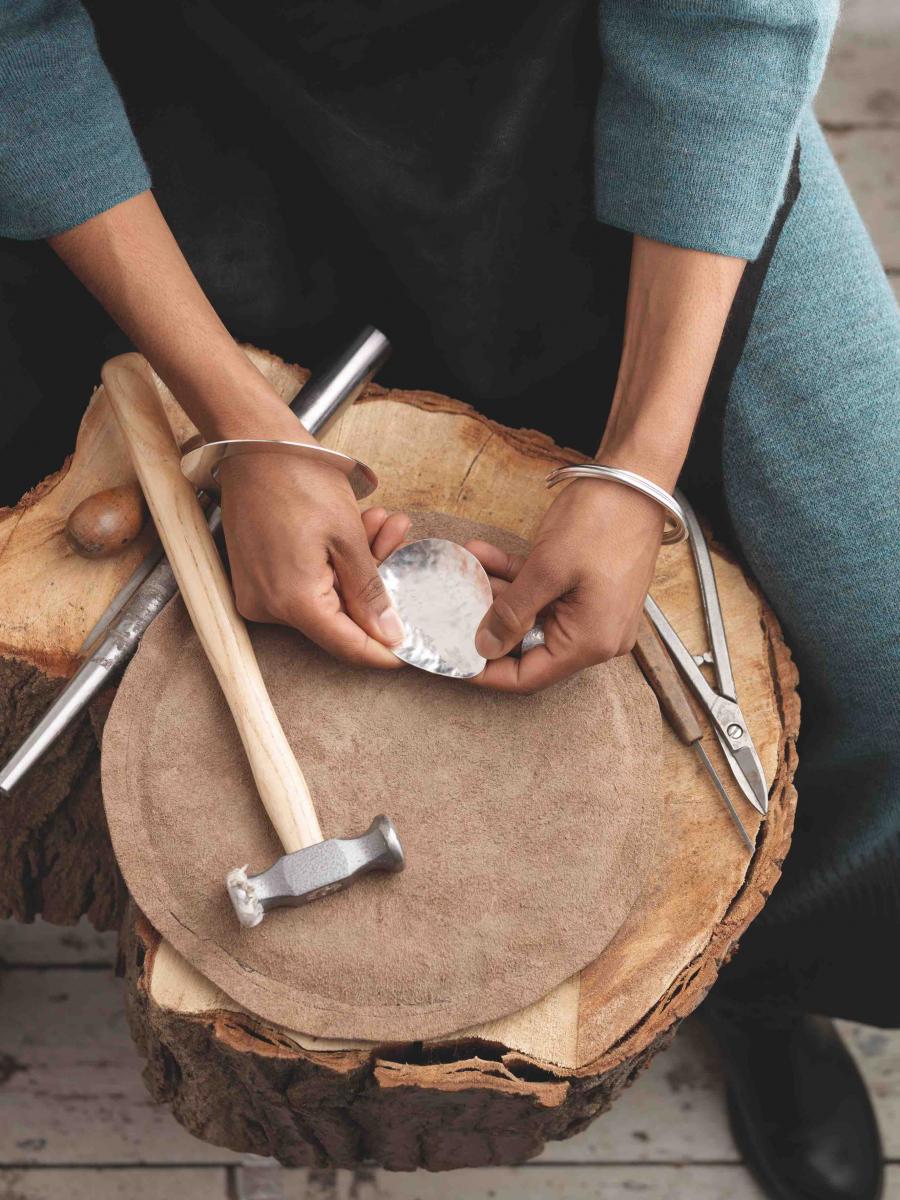 ---
I like what silver can do.
It has extraordinary properties. It's antiseptic and is the most conductive metal of all. When you work with silver it heats up in your hand, almost as if it's alive – it's responsive and, to me, magical. I use recycled silver and gold as an environmentally friendly choice. The metal I use has a story, whether it may have been a teapot or a piece of a Maria Theresa thaler silver bullion coin. I think we should be working with our waste.
The finish is as organic as possible.
I'm still exploring silversmithing, and perhaps will be doing so forever, but I like to keep my work free and informal. With my tactile, textured pieces, I play with heat, bringing the fine silver to the surface in ripples and bubbles, like an erupting Earth causing a landscape of volcanic mountains. I don't polish the surfaces, but let the texture catch the eye, and I burnish edges in contrast.
---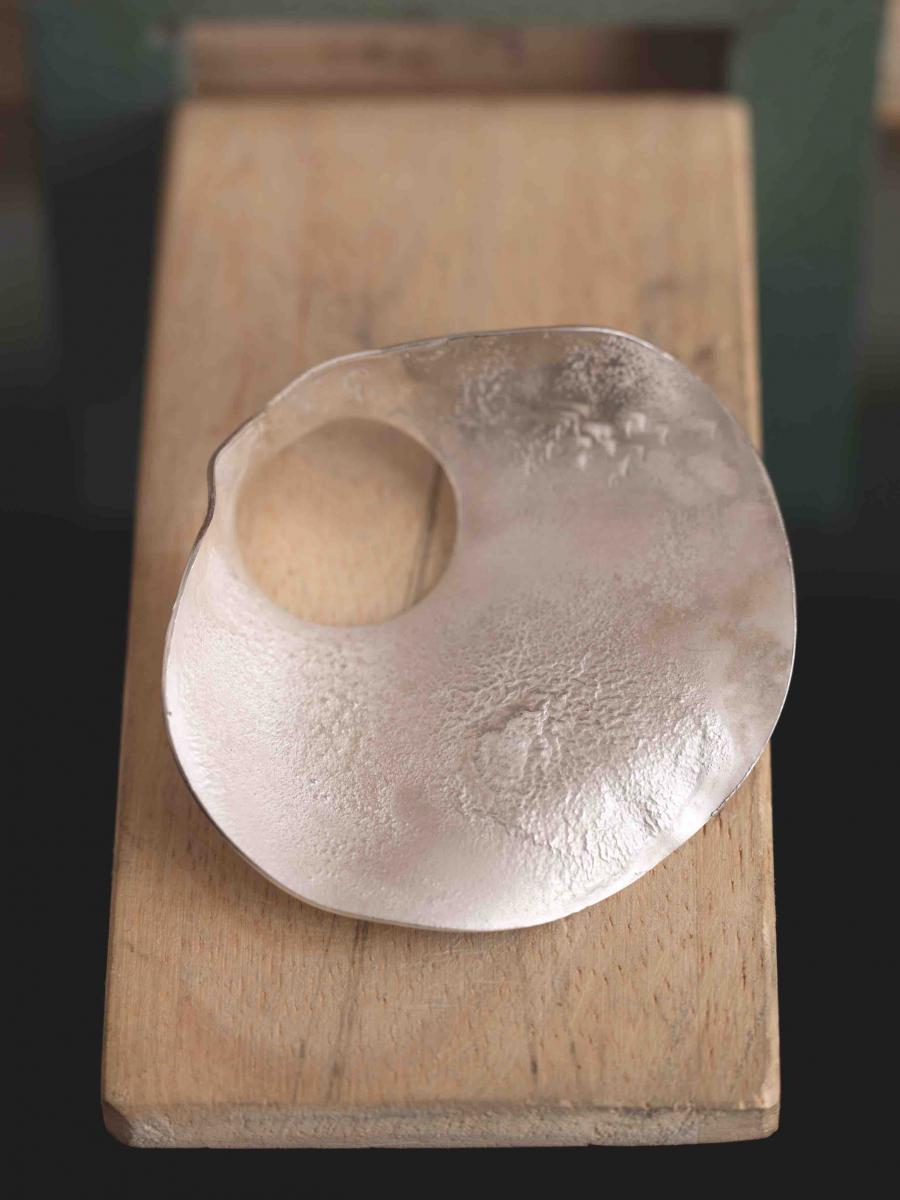 ---
Last year I took a leap of faith.
I'd got to the point where I wanted to go forward with my own designs, so I applied for The Arts Society's Patricia Fay Memorial Fund Award. I thought that perhaps my route into jewellery was too unconventional, but to my surprise I was invited for interview. It was nerve-racking, but the panel – Pat Wood from The Arts Society, Vanessa Swan, former CEO of Cockpit Arts, and David Crump, Cockpit's head of business incubation – made me feel very relaxed. I was thrilled when I found out I'd won. It has ensured me a year's workshop space at Cockpit Arts, worth £4,000.
I moved into Cockpit Arts Holborn last September.
It was a big step and an opportunity to build a foundation for my business. Having somewhere to discuss bespoke commissions with clients is great – I love meeting people from different backgrounds, with stories and journeys, and it becomes a partnership, a co-creating experience. Two Open Studio selling events a year also give you a focus, and Cockpit is very strong on business advice, such as marketing and finance. As my space is part of a workshop shared with five others, it was daunting to begin with – but it is incredible to be part of a community of talented artist-makers.
---
See

See Meron's jewellery at meronwolde.com or cockpitarts.com. Her workspace will be open to the public at Cockpit Arts' Holborn Summer Open Studios, and she will be collaborating with the Joss Graham Gallery too: jossgraham.com
---
GRANTS FROM THE ARTS SOCIETY

The Arts Society believes in 'arts for all' and, over the past few decades, we have awarded millions of pounds to the arts and heritage sectors. For more information on grants, see theartssociety.org/grants
Funding priorities for 2018–2021 are threefold:
• To support a range of arts programmes for young people, including supplying equipment and helping to mount practical workshops.
• To help fund skills development for those working in the arts, crafts and heritage sectors.
• To give financial support to regional museums, galleries and arts organisations.
About the Author
Become an instant expert!
Find out more about the arts by becoming a Supporter of The Arts Society.
For just £20 a year you will receive invitations to exclusive member events and courses, special offers and concessions, our regular newsletter and our beautiful arts magazine, full of news, views, events and artist profiles.
FIND YOUR NEAREST SOCIETY