19 Aug 2019 - 12:13 BY James Russell
As the UK navigates the difficulties around Brexit, never has the phrase 'the personal is political' had greater resonance. In such times, asks Arts Society Lecturer and curator James Russell, can art help us reflect on questions of identity and belonging?
---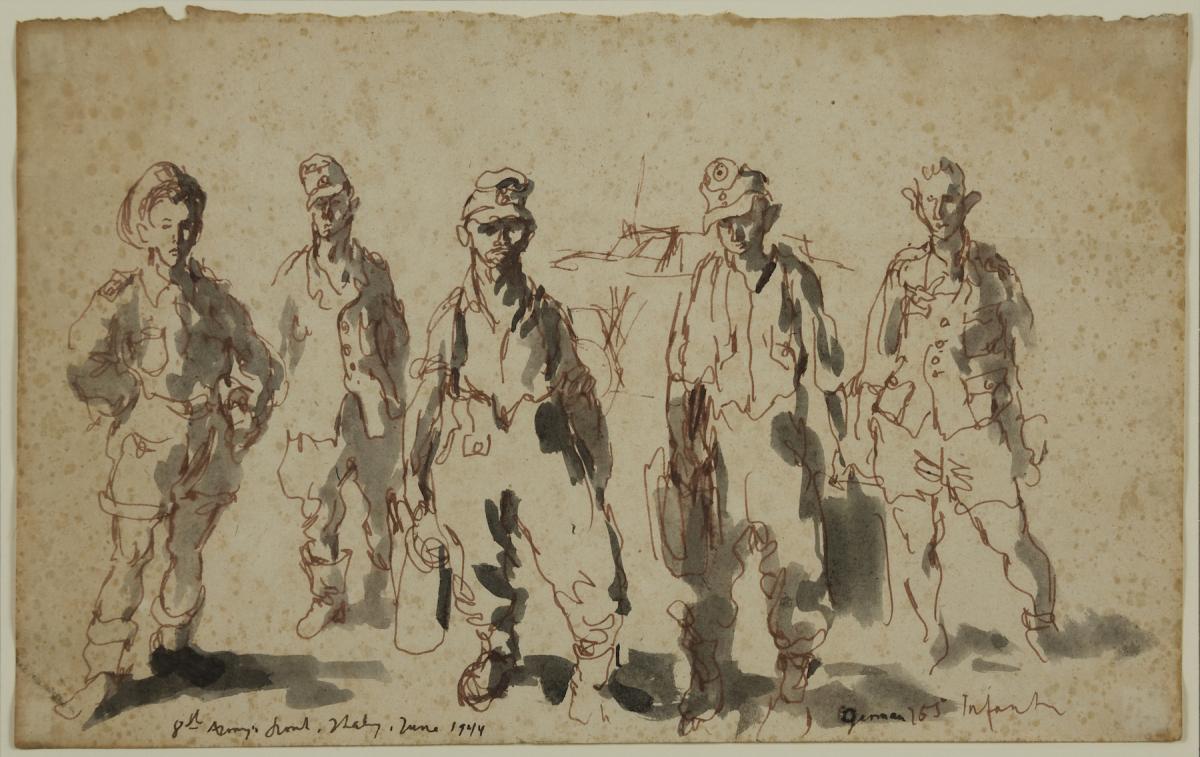 Feliks Topolski, 8th Army's Front, Italy 1944. Image courtesy of The Ingram Collection of Modern British Art
---
We live in challenging times. The acrimonious debate over Brexit has left us confused and divided, and it isn't easy to see where we go from here. We need to rediscover common ground with people of different views, but this requires a level of empathy and understanding lacking in the past couple of years. And it isn't just Brexit. All over the world people are questioning the status quo, challenging fundamental ideas in ways that would have been unimaginable a generation ago.
You could say that we are experiencing a mass identity crisis, one that is both personal and political. We're struggling with emotional issues that are difficult to express in words. Who am I? Where do I belong? What is my role in life? Most of us aren't used to thinking about such questions of identity and belonging, but artists are.
---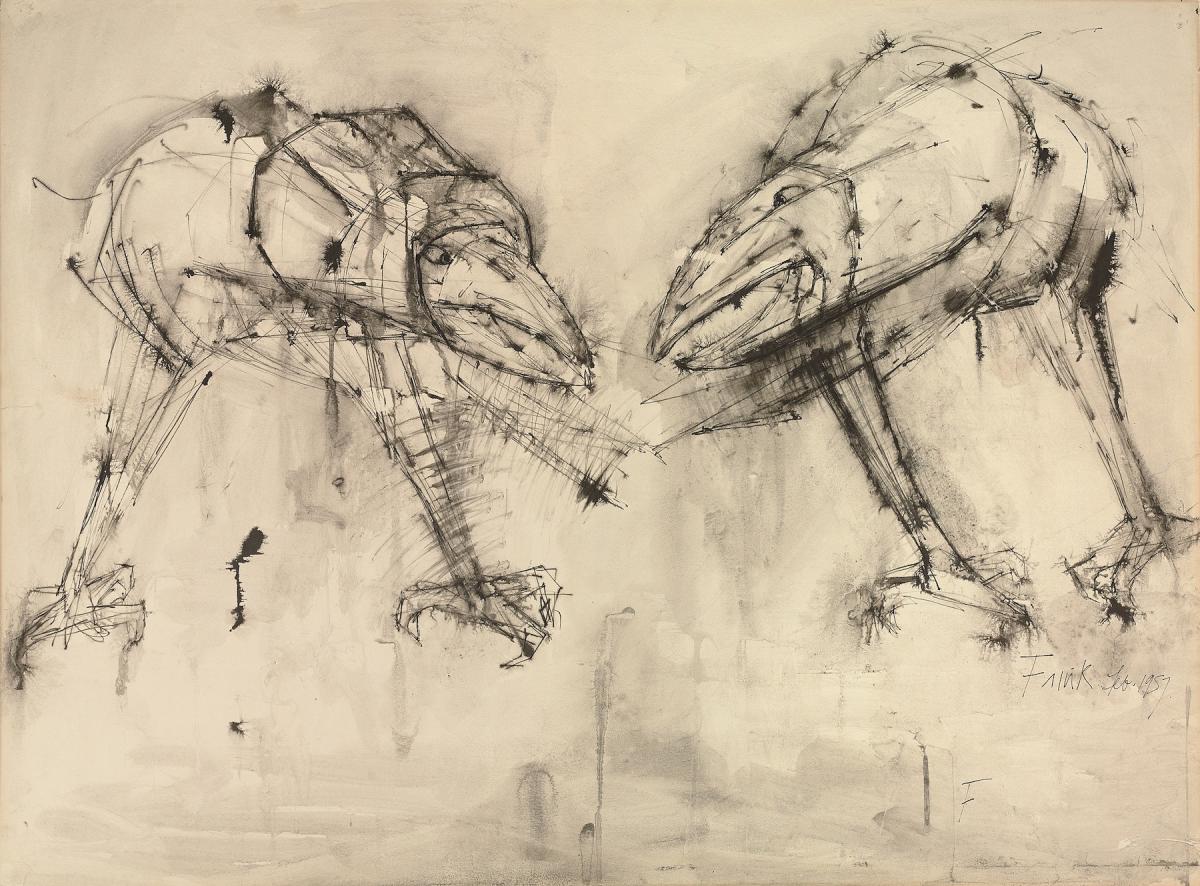 Elisabeth Frink, Warrior Birds, 1957. © The Executors of the Frink Estate and Archive. All Rights Reserved, DACS 2019
---
Artists have long wrestled with problems similar to those we face, responding in intelligent and thought-provoking ways. David Hockney may be best known for his landscapes and society portraits, but his paintings and prints of the 1960s show us a young man who was learning to embrace his sexual identity. Go back a few more years and we find two Polish artists, Josef Herman and Feliks Topolski, exploring their wartime circumstances, the former painting members of a Welsh mining community; the latter serving overseas as a war artist with the RAF. Both have valuable things to tell us about life in exile from your homeland, but not in words. That is the beauty of paintings. An artist may use words on their canvas, but more often we are given a composition and asked simply to look. How we interpret it is up to us.
---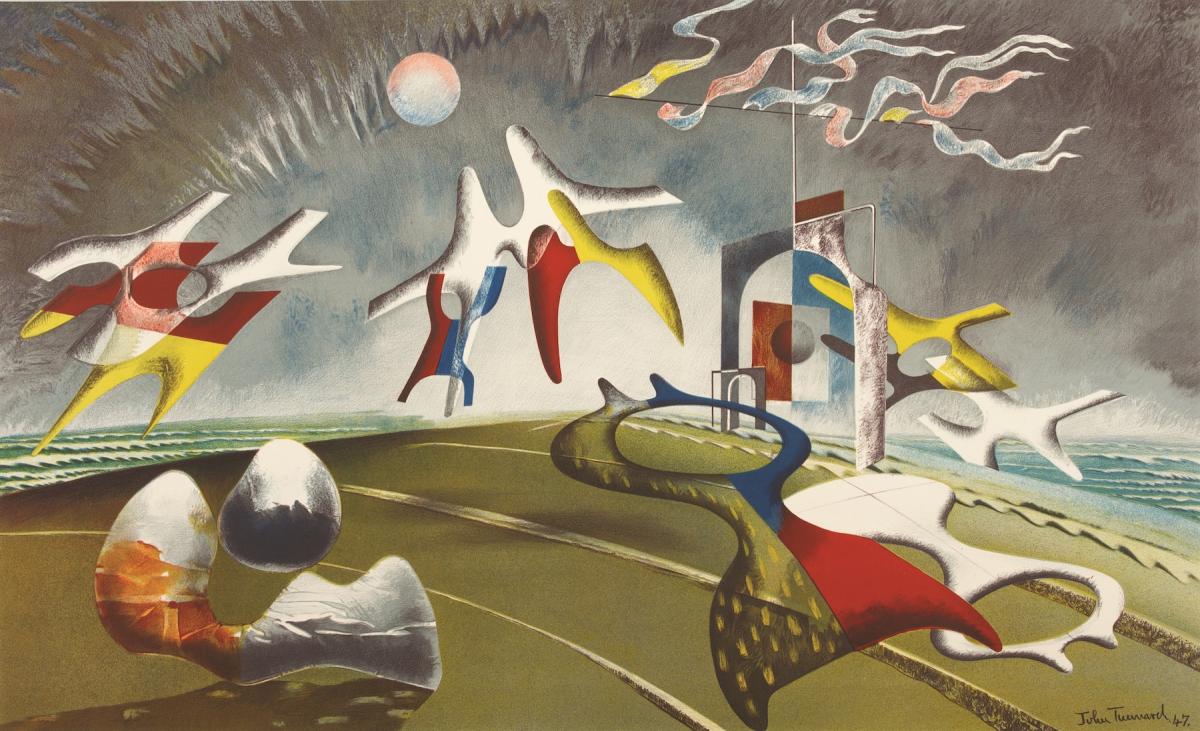 John Tunnard, Holiday, 1940s, © The Estate of John Tunnard. All rights reserved. DACS 2019
---
Of course, paintings can and do communicate, both with us and with one another. As a curator, the most exciting part of preparing a group exhibition is when the moment comes to arrange the paintings in the gallery. You've already done this in your head, and on paper, and probably on a computer screen. But a painting in real life has personality. When you encounter one of Peter Howson's huge, belligerent portraits you do not come away unaffected. Hang an Elisabeth Frink drawing of fighting crows nearby and the sparks begin to fly. Here is the fury of human conflict, but it is silent fury. We can look, then look away.
---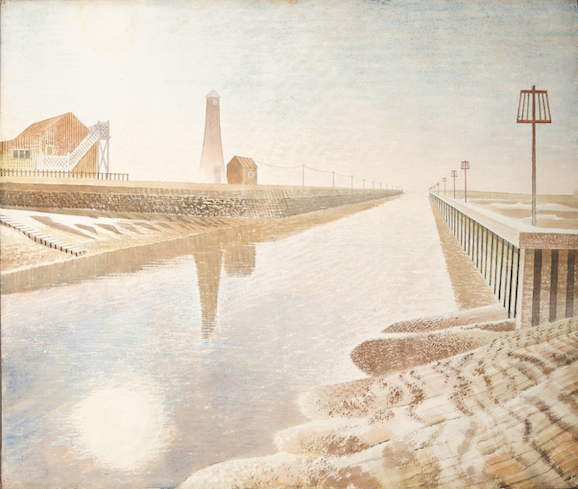 Eric Ravilious, Rye Harbour, 1938. Image courtesy of The Ingram Collection of Modern British Art
---
We can feel the anger that others feel, maybe even reflect on our own irritations, then turn away and perhaps see across the room a watercolour by Eric Ravilious: a serene, luminous landscape. Here is an artist who experienced turmoil, who knew how it felt to have people trying to kill him, but who never lost his optimistic spirit or his sense of humour. To look at one of his watercolours in the present climate may reassure us that all will be well, but we have also to face the darker works and the more difficult emotions. To empathise. To share the dreams and fears of other people. This is our task now and art can help. Who knows? Perhaps looking at paintings can help us understand our own feelings about the world and our place in it. It doesn't matter whether the artist was at work in 1910 or 2010, because we haven't changed that much – we still doubt and fear and love and laugh. In this instance the past really can illuminate the present.
---
SEE

Reflection: British Art in an Age of Change

Ferens Art Gallery, Hull, 17 August–5 January,

www.hcandl.co.uk/ferens
---
James Russell is curator of the exhibition and gives Arts Society talks on 20th-century artists and artworks.
Become an instant expert!
Find out more about the arts by becoming a Supporter of The Arts Society.
For just £20 a year you will receive invitations to exclusive member events and courses, special offers and concessions, our regular newsletter and our beautiful arts magazine, full of news, views, events and artist profiles.
FIND YOUR NEAREST SOCIETY