Dame Paula Rego's fierce, uncompromising approach has redefined figurative work and changed the way women are represented in art. As a retrospective of her work prepares to open, curator Dr Elena Crippa reveals the thinking behind choice works.
---
Museu Nacional de Arte Contemporanea do Chiado (Lisbon, Portugal) © Paula Rego

---
Self-portrait in Red, 1966
This is the first, and one of very few self-portraits Rego has made. As with most of her 1960s work, it was made by collaging cut-out drawings and overlaying them with paint and other drawings in graphite and ink. By putting herself in the picture as a little girl, Rego locates her sense of self in the imaginative age of childhood. The presence of a mannequin, combined with biomorphic elements that seem to merge organic and inorganic matter, is reminiscent of the tropes and aesthetics of Surrealism.
---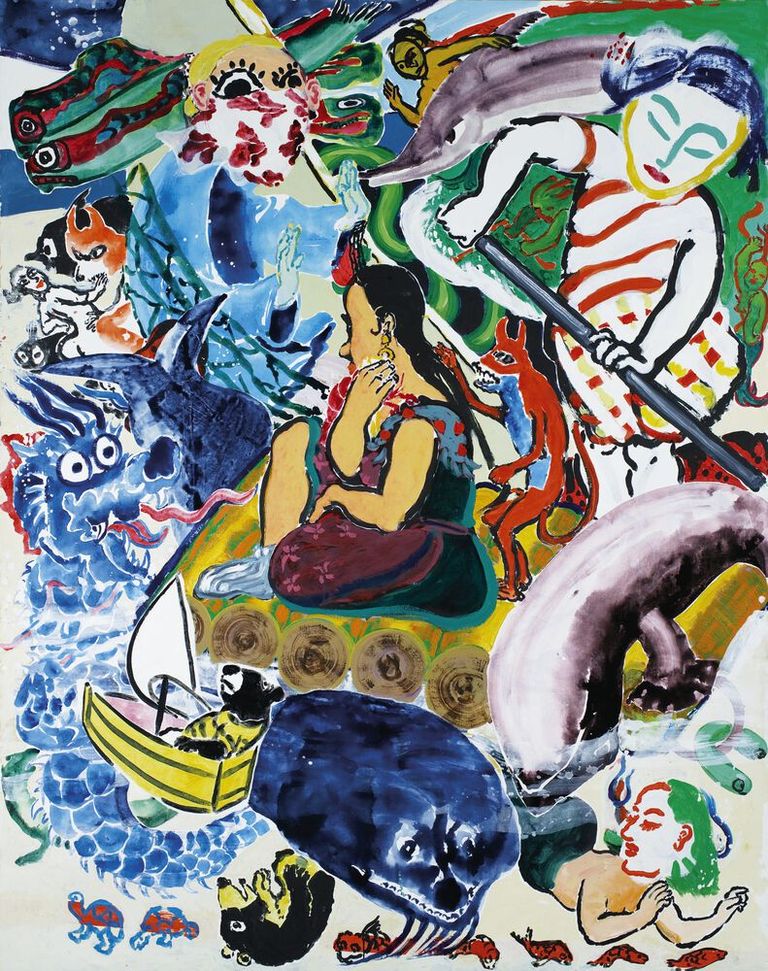 Private Collection, London © Paula Rego

---
The Raft, 1985
The significant development in Rego's work throughout the 1980s is clear. She abandoned collage and began to make bold, richly coloured acrylic paintings with fluid outlines. From 1984, fiercely independent, rebellious girls become the main protagonists. The Raft, with its imposing size (242 x 192cm), stark motifs and vivid colours, is unapologetically bold. Two young girls set off on a raft, confident and pensive, fending off real and imaginary perils and dreams. Small, cartoonish characters, such as the bear on a sailing boat, contribute playfulness and humour to the picture.
---
Leeds Museums and Galleries (Leeds Art Gallery) U.K. / Bridgeman Images © Paula Rego

---
The Artist in Her Studio, 1993
In paintings such as this, Rego (born in Lisbon in 1935) is exploring women's struggle and journey towards emancipation. This work borrows from different traditional genres: vanitas, still lives that include artefacts exploring the passing of time, and portraiture, in which clothing, accessories and setting speak of the portrayed person's status, occupation and character. The central figure of the artist was inspired by French novelist George Sand, one of the most popular writers in Europe in the Romantic era. The figure confronts the viewer with wide-open legs, smoking a pipe, as Sand did, while seemingly performing the subversion of conventions and gender binary
---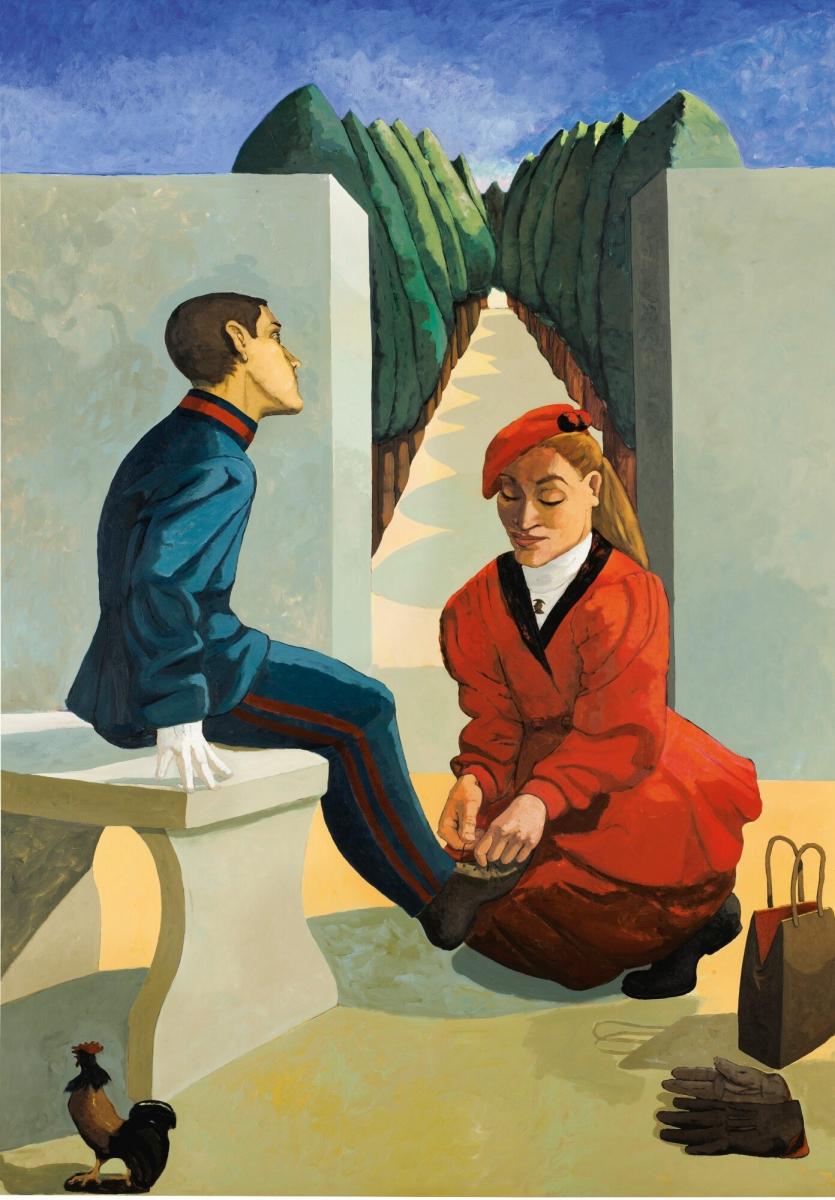 Private collection © Paula Rego

---
The Cadet and His Sister, 1988
Imbued with a sense of longing and imminent loss, this work shows a young soldier being sent to war, pictured pensively looking into the distance, while his older sister tends to him, seeing that everything is in order. Tenderness is combined with the menacing prospect of the war. Compositionally, the work represents a crucial turning point in Rego's practice, as she started introducing three- dimensional space into her pictures.
---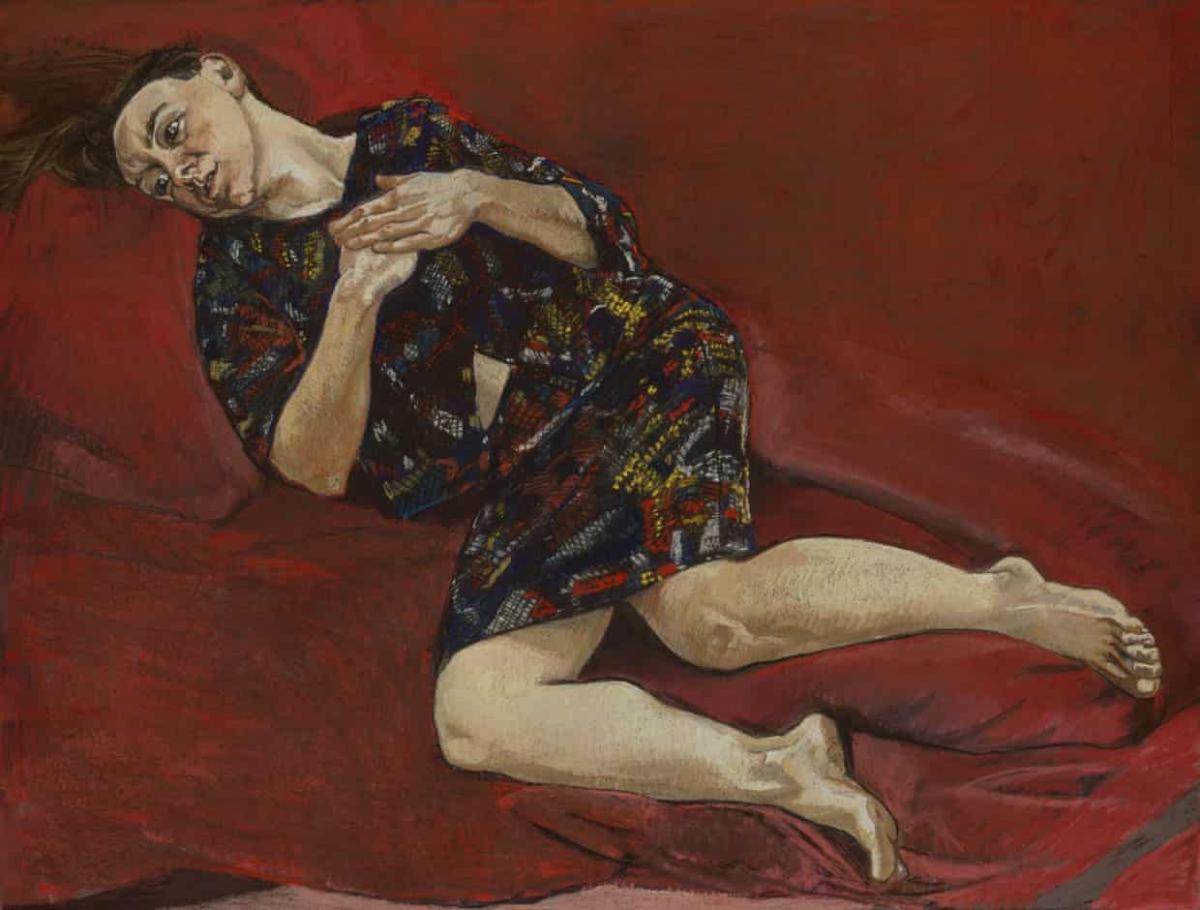 © Paula Rego

---
Love, 1995
The model for this is the artist's second child, Victoria, who sat for the work wearing Rego's dress from her marriage to artist Victor Willing (who died in 1988). The painting is one in a series of large pastels of single, female figures, which Rego embarked on in 1994. It is typical of her approach to her subjects, where nothing is idealised or stereotypical. Her women are physically strong and charged with emotions; In this case, the comfort and pain associated with love and its loss.
---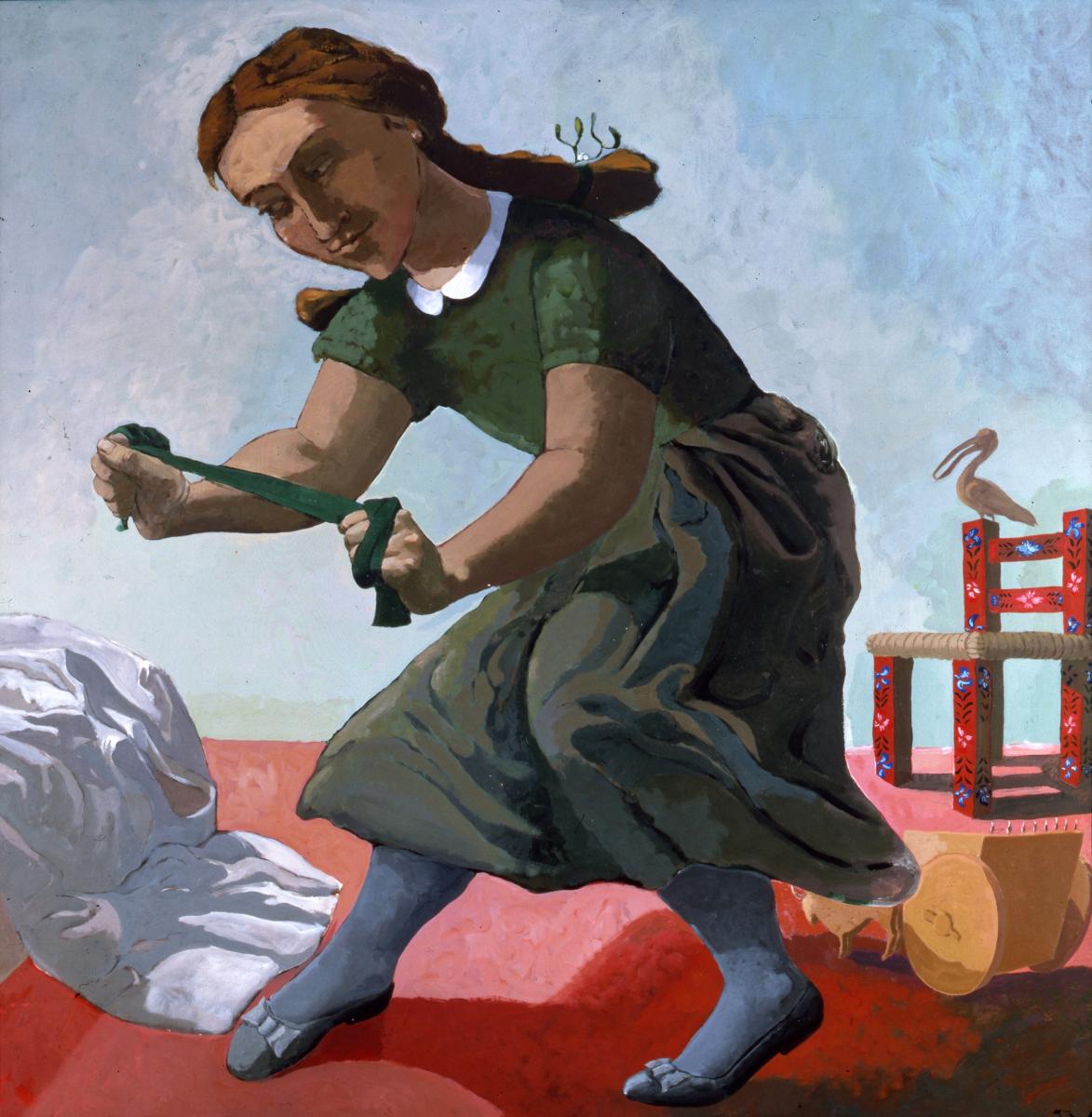 Private Collection, England © Paula Rego

---
The Little Murderess, 1987
This is the last picture in a sequence of large, square-format paintings representing girls playing with dogs. There is no dog in the picture frame, but while the desire to murder has been interpreted allegorically, there is little room left for ambiguity. The artist was at the time preparing herself psychologically for the loss of her husband, who suffered for years from multiple sclerosis. This painting expresses the artist's need to extinguish her emotional dependency.
---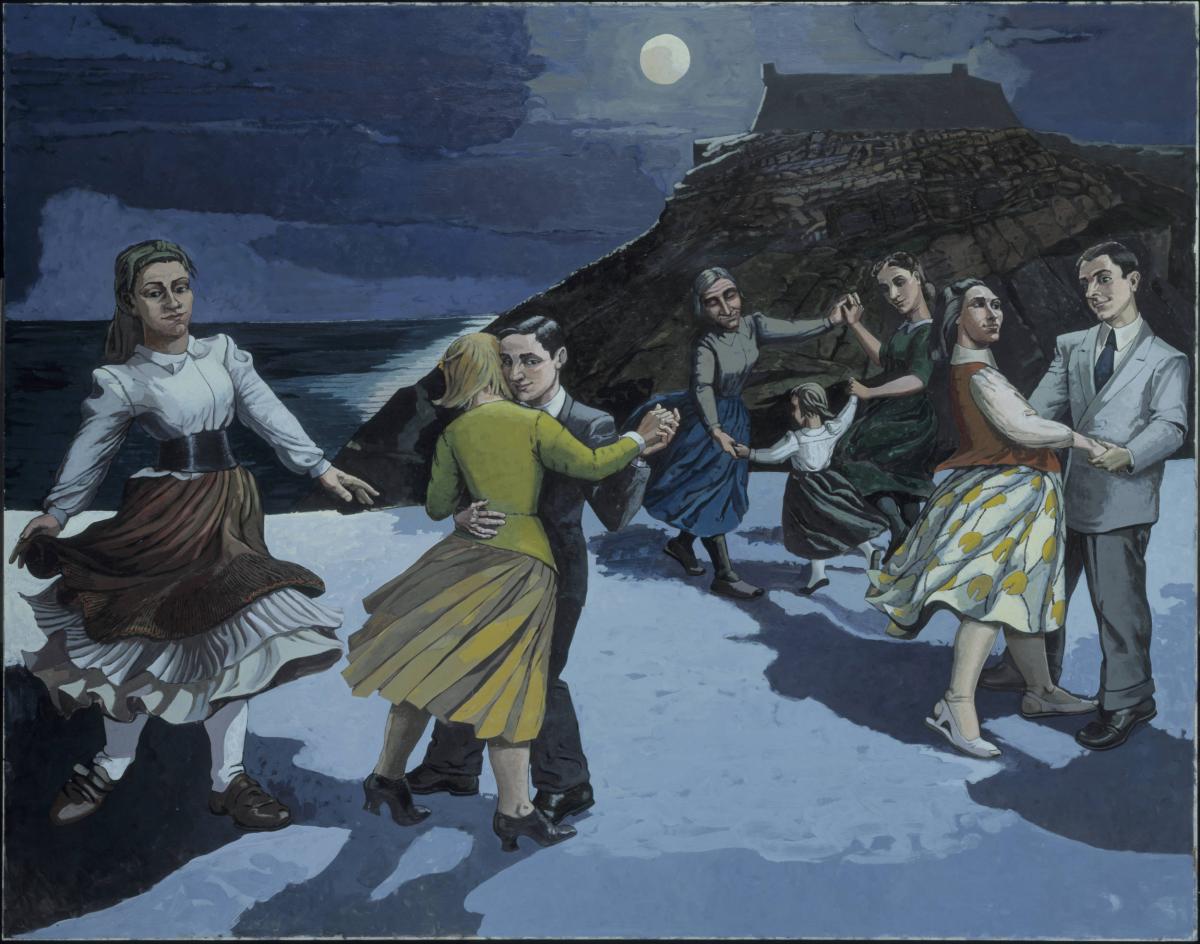 Tate © Paula Rego

---
The Dance, 1988
The Dance is a piece about mourning. The figures dancing on a Portuguese beach represent real people in Rego's life. A child dances with her mother and grandmother, and a male figure, who appears twice, stands for Willing. He is shown dancing with Rego and a blonde lover. Solitary and larger than life, the figure on the left represents the artist, who will soon have to stand on her own. The work took six months to paint and was completed after Willing's death.
SEE

---
Paula Rego
7 July–24 October, Tate Britain; tate.org.uk
---
About the Author
Dr Elena Crippa
Dr Elena Crippa is curator of modern and contemporary British art at Tate Britain
Become an instant expert!
Find out more about the arts by becoming a Supporter of The Arts Society.
For just £20 a year you will receive invitations to exclusive member events and courses, special offers and concessions, our regular newsletter and our beautiful arts magazine, full of news, views, events and artist profiles.
FIND YOUR NEAREST SOCIETY