Remembering Sir Terence Conran
Remembering Sir Terence Conran
1 Nov 2020 - 11:15 BY Caroline MacDonald-Haig
Lecturer Caroline MacDonald-Haig shares her experience of working for the trailblazing designer.
---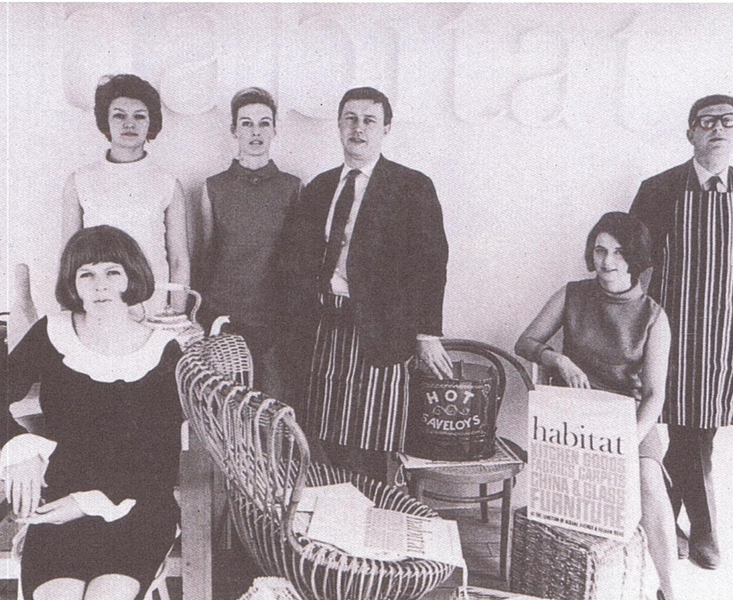 May 1964 Habitat Staff line up. Terence centre stage in authentic butcher's apron From Smithfield Meat Market wholesalers
---
In May 1964 Terence Conran opened the first Habitat in London's Fulham Road. The press was ecstatic. 'What the smart chicks are buying', headlined The Sunday Times, quoting photographer Terence Donovan: 'It's the sort of shop where you go in to buy a skewer and come out with a butcher's block under your arm.'
Terence's vision – a passionate belief in the democratisation of design and that intelligent design could improve everyone's quality of life – was consolidated in Habitat's first 10 years, displayed in all 22 stores and the annual Habitat catalogues, which are now collectors' items. In the early 1970s I was there at Conran Associates in Neal Street, Covent Garden.
---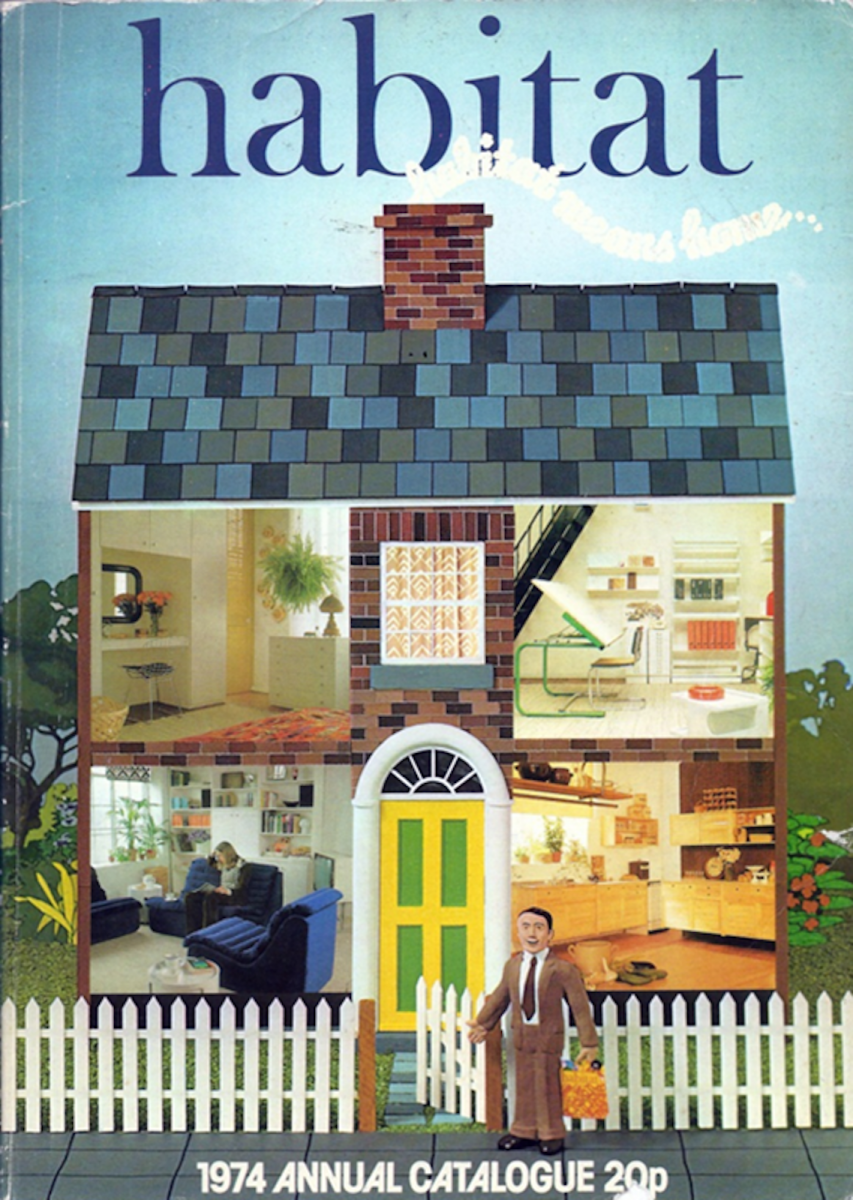 The cleverest cover of all: 1974
---
I first met Terence in 1966. Heady days, Swinging London, an editorial assistant on The Ambassador, the British export magazine. I was 21. My qualifications for the job? Only a consuming interest in the arts, an A level in Art History and a carefully curated image of contemporary chic, honed at finishing school in Paris.
I found myself sitting next to him on a flight to Stockholm, on a government-sponsored initiative to promote British design. He spoke of his hopes for Habitat – to become the Marks & Spencer of home furnishings. And would I like to go shopping with him that day? Yes. At the bottom of the cabin steps a large, black limousine sent by IKEA (as yet unheard of here) was waiting on the tarmac. The company had been following Terence's star for many years and we were swept off to visit an enormous warehouse the size of an aircraft hanger, furniture in stacks as far as the eye could see.
---
The Design Unit moves to converted fruit and veg warehouse on Neal Street, Covent Garden 1971
---
Five years later, Habitat advertised for a'merchandise assistant… with an ability to write copy an advantage'. I got the job and was immediately plunged into the maelstrom of the 1973 catalogue, with a group of brilliant, edgy, sometimes tempestuous, often temperamental group of designers and photographers. Never dull, but incredibly hard work, our base was a Victorian paper warehouse opposite the Neal Street offices, its vast floors ideal for room sets. Budgets were tight and models, at no cost, were called on from the staff.
---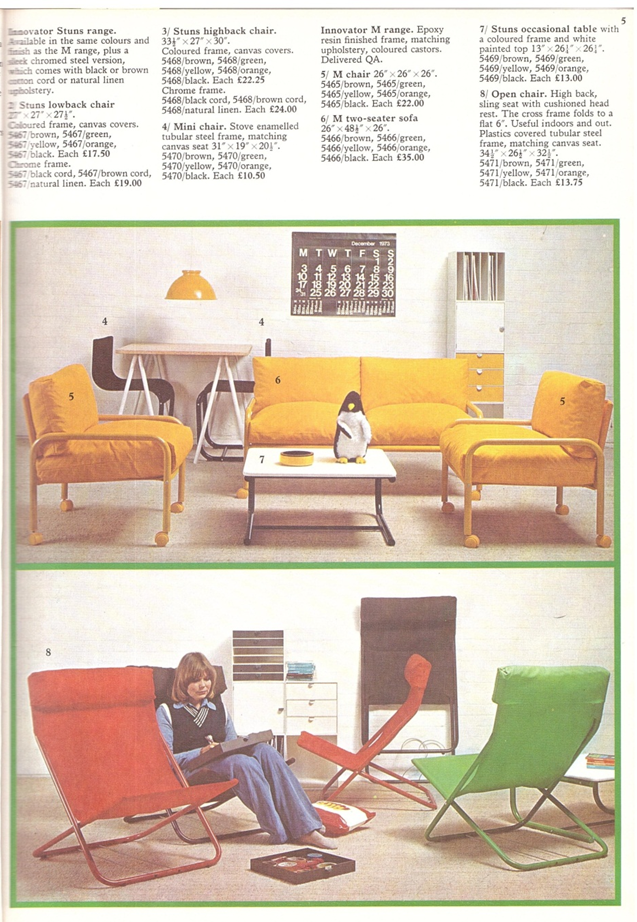 Budget model Caroline Shaw (MacDonald-Haig) with sharp Ginger Group haircut, 1974
---
'I think I would have to agree with those who say Habitat has been my greatest success... The magic ingredient was our passionate belief in what we were doing.'– Sir Terence Conran

---
Art direction was under the perfectionist eye of Stafford Cliff. When photography for the new Habitat Bakehouse range, autumn 1974, stalled for want of brown speckled eggs to give an authentic country feel, I dashed off to Mayfair grocers Robert Jackson; every egg was laid out on the countertop, and from this beauty pageant the 24 with the finest speckles were selected.
---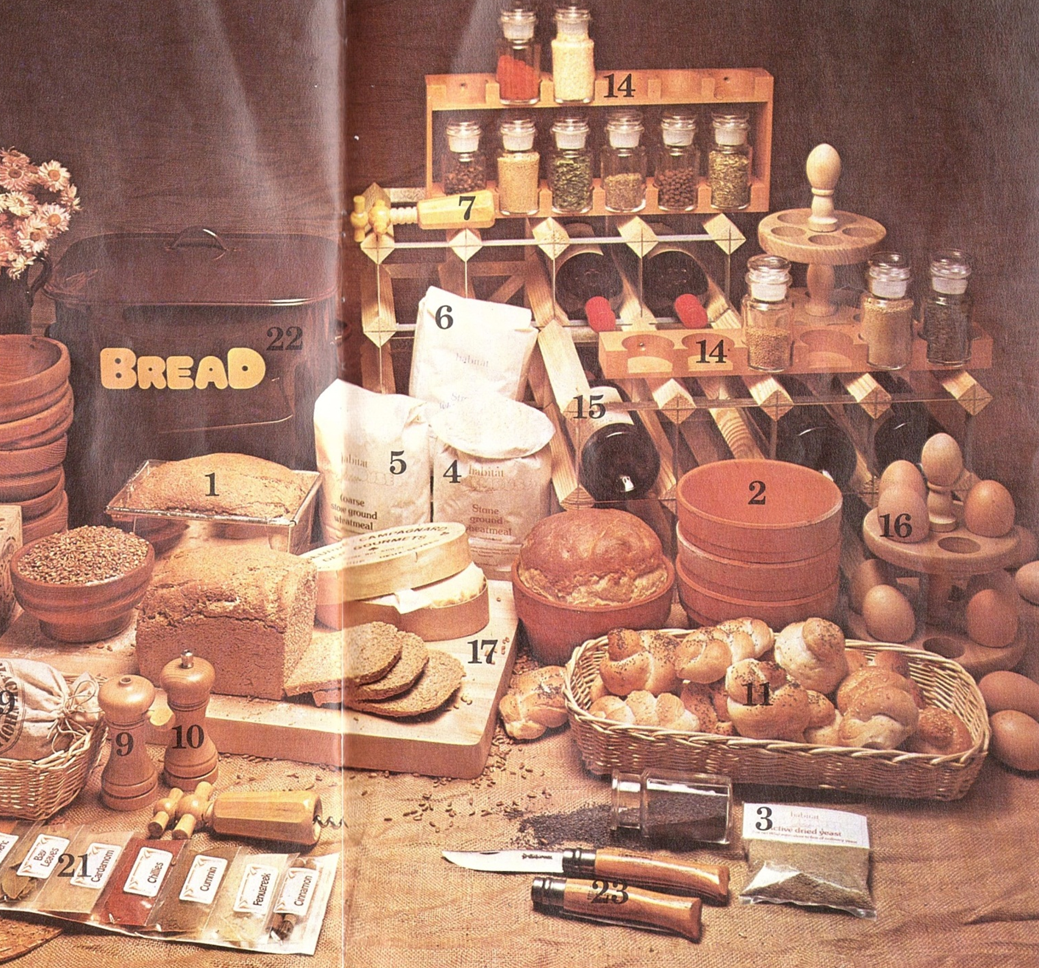 Habitat Bakehouse and the speckled brown eggs, far right, 1974
---
Every two weeks Terence reviewed the transparencies and copywriting began, toiling evenings and weekends, each page as polished as a haiku, but he always had the last word, marking in soft, blue pencil questionable spelling, punctuation and split infinitives.
Finally, after four months from beginning to end, the catalogue was out. On 21 February 1973 The Daily Telegraph noted, 'The photography is good and the admirably written captions are free of gushing adjectives and cute jokes.'We missed the cute jokes – they were the speciality of classical scholar and merchandise director David Phillips.
Interviewed for his 80th birthday, the dynamic of those early years was best summarised by Terence: 'I think I would have to agree with those who say Habitat has been my greatest success. All of it was selected and presented as if by one pair of eyes. Much of what we sold was designed by me and the Habitat design team. The magic ingredient was our passionate belief in what we were doing.'
---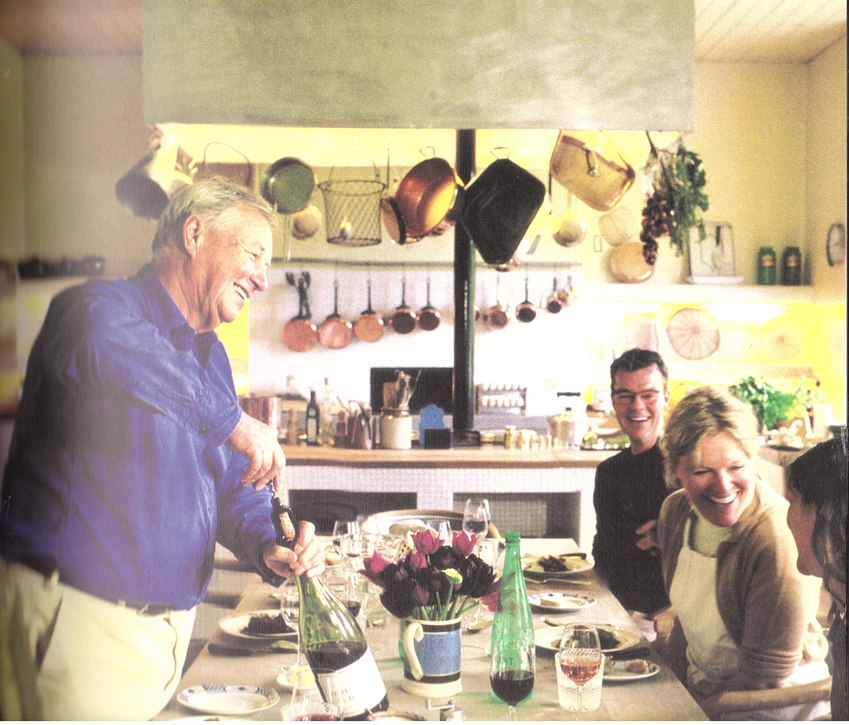 Terence at home, his favourite time of day, lunch time. May 2004, page 83, Inspiration
Vastly intelligent, cultured, energetic, entrepreneurial and no sufferer of fools or slackers, but always encouraging, Terence was always pressing on to what lay ahead. Whether opening restaurants, designing hotels, publishing, gardening or cooking, he was a born enthusiast. When asked if he got any leisure time, he replied: 'I don't think I do. But on the other hand, yes, because most of the things I do are what I do for pleasure.'
And the best record of his legendary enthusiasm? Terence Conran's Inspiration (published by Conran Octopus, 2008). It is a matchless visual biography co-created by Stafford Cliff, who reminded me a few weeks ago of those early years: 'We were as committed and passionate about what Terence did as he was.I was never not thankful to him.'
Farewell Sir Terence Orby Conran, Companion of Honour. Thank you for your life-enhancing legacy and your hopes for designers of the future enshrined in your gift to the nation, the Design Museum.
---
Caroline MacDonald-Haig worked at Conran Associates, Neal Street, Covent Garden from 1972-75. She is an Arts Society Lecturer who introduced her lecture Habitat Catalogued: An Insider's Story in 2012.
Become an instant expert!
Find out more about the arts by becoming a Supporter of The Arts Society.
For just £20 a year you will receive invitations to exclusive member events and courses, special offers and concessions, our regular newsletter and our beautiful arts magazine, full of news, views, events and artist profiles.
FIND YOUR NEAREST SOCIETY