30 Nov 2018 - 11:00 BY The Arts Society
The art world marks the 350th anniversary of the death of Rembrandt next year and the first exhibition to do so has just opened in the Netherlands. Rembrandt & Saskia: Love in the Dutch Golden Age reveals the story of Rembrandt and his wife, Saskia, against the backdrop of life, love and loss in society of their time. The Arts Society Magazine's editor, Sue Herdman, takes a look.
---
---
Rembrandt Harmenszoon van Rijn and his wife, Saskia Uylenburgh, were one of the golden couples of the Dutch Golden Age.
She was the daughter of a prosperous Frisian judge and he, of course, was the portraitist of the Dutch elite. This exhibition, at the Fries Museum, just 600 metres from the street where Saskia was born in Leeuwarden, the Netherlands, explores their life together.
Rembrandt met Saskia in Amsterdam in 1633, when she was visiting her nephew, Hendrick Uylenburgh, Rembrandt's art dealer at the time. The two married the following year. Just eight years later Saskia died, possibly from tuberculosis, at the age of 29 on 14 June 1642, the year Rembrandt was completing The Night Watch.
Their time together mirrored the experiences of those of their class, and this show, as curator Marlies Stoter explains, 'lifts the veil on love and married life in 17th-century Netherlands'. Rembrandt and Saskia's story is the thread that runs through this exhibition, as it follows courtship, weddings, married life, the arrival – and loss – of children and on to the death of a spouse.
'Rembrandt worked from home, his life and business entwined, so sketches such as this of Saskia were easy to capture'

There are some 250 works on display, 23 by Rembrandt. The works include marriage portraits, sketches and personal objects that touch on both love and suffering. It has fragments of social history (such as the register of Saskia's birth) and a formal wedding poem for a society couple (and raunchier examples – look out for Bedstead Joy). There are also one-of-a-kind pieces, including a rare survival: a tiny gold-and-silver-thread bridal crown.
---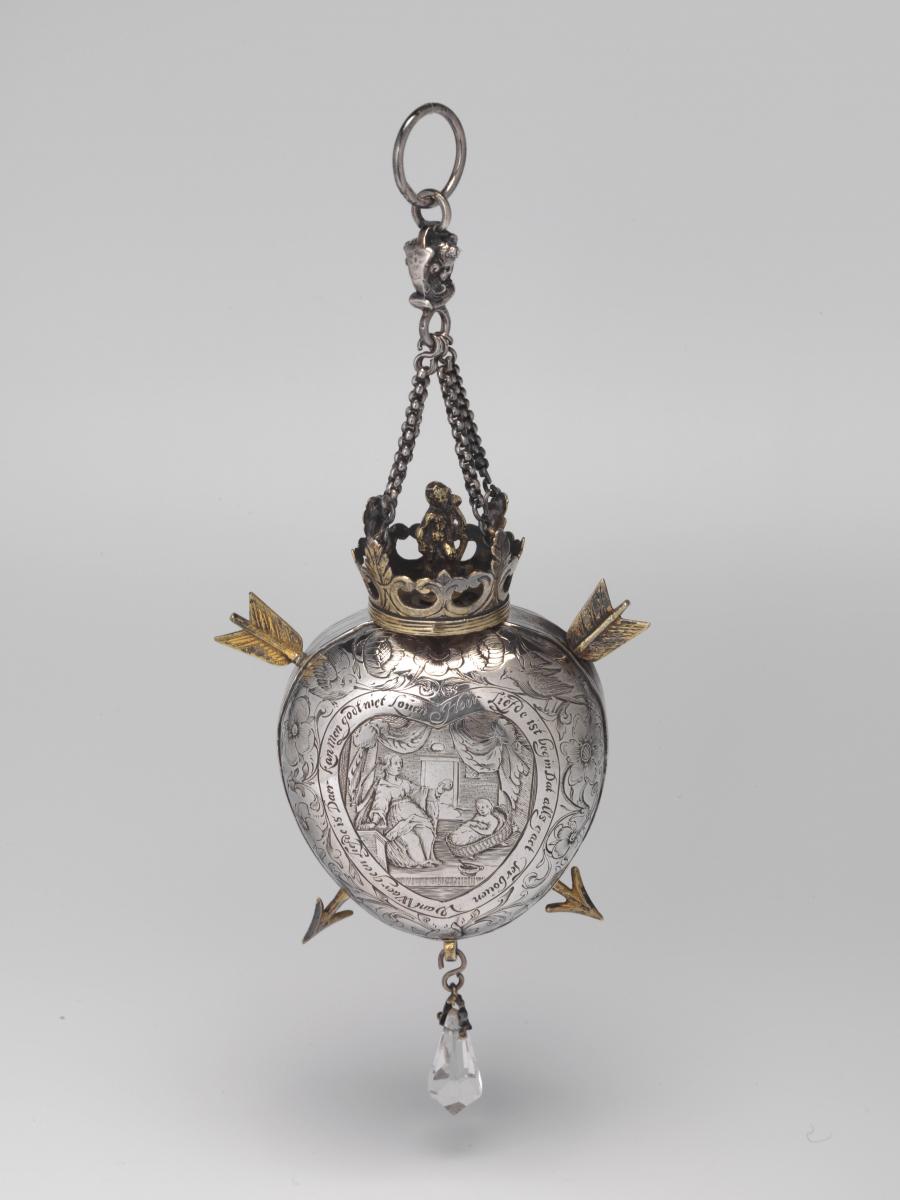 ---
The exhibition opens with one of several engraved silver love lockets. Seventeenth-century Dutch courtship often featured these, particularly if the suitor was wealthy. Those with less money would present their intended with a beautifully embroidered cloth – a knottedoek – with coins loosely knotted into a gathered corner of the material. If the approach from the suitor was welcome, the woman would tighten the knot.
'Married life,' Stoter says, 'represented, for the woman, obedience, careful, chaste behaviour and prudence.' The section of marriage portraits makes arresting viewing. 'Note how the women are always shown to the left: the inferior side.' comments Stoter. Balancing the formal works are the more intimate. Rembrandt, a master at capturing fleeting, intimate real moments in domestic life, shows us a couple making love, and Saskia, in her rumpled warm bed, relaxed and reading.
After his death, Rembrandt left a folder of such drawings. He worked from home, his life and business entwined, so sketches such as this of Saskia were swift to capture. They include later, poignant sketches, such as those studies of 1641–42, including one of a gaunt Saskia, again in bed, in the final stages of her life.
---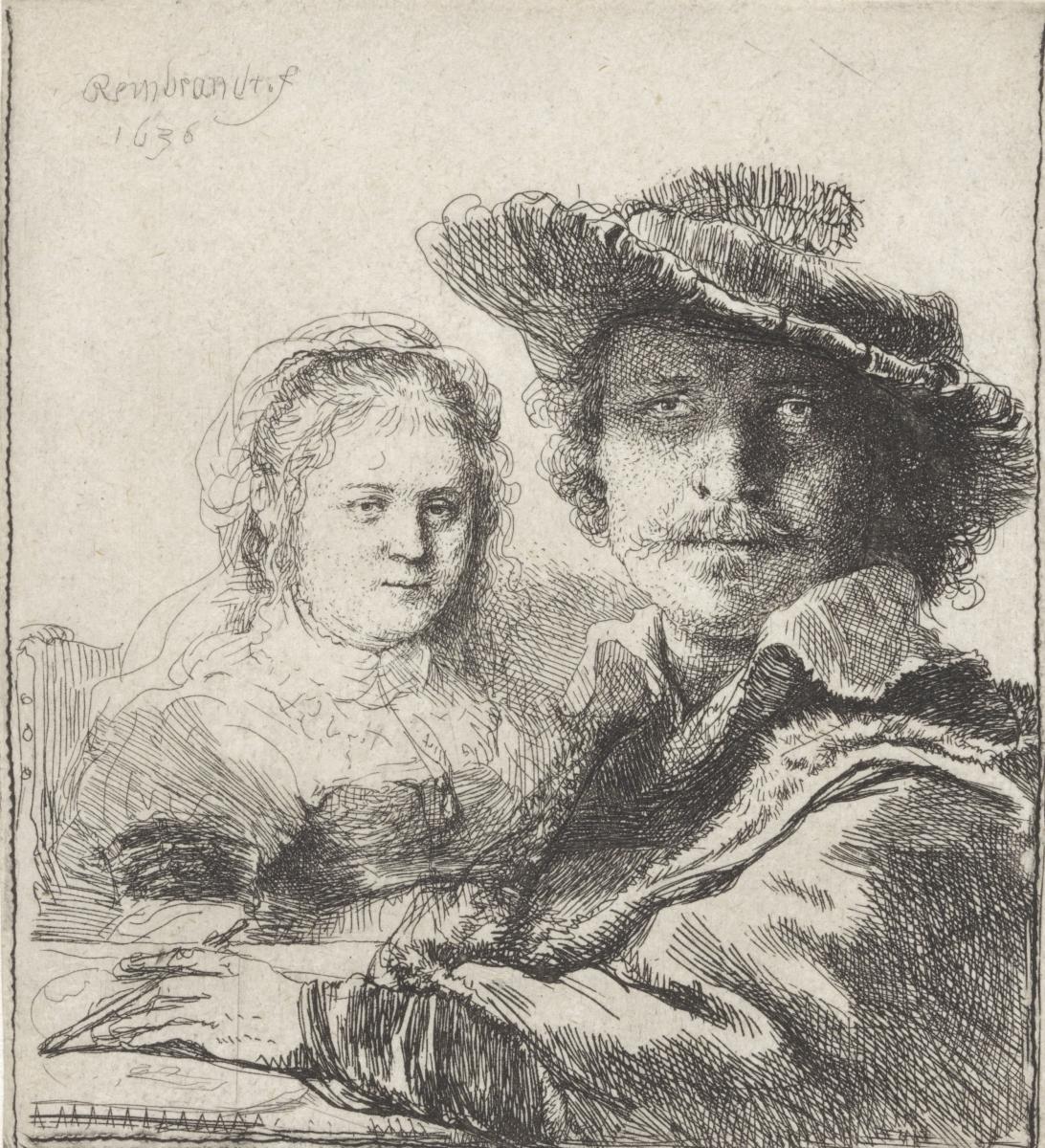 ---
Children were, of course, a key element in unions that represented power and wealth. This show's 'Go forth and multiply' section reveals soaring walls of portraits of children of wealthy families, captured on canvas before anything should happen to them. Occasionally, regretfully, a child that had died is featured to the side, within portraits of those that still lived. The section 'Fragile life' deals with child mortality. Rembrandt and Saskia had four children. The first three lived to be only a few weeks old. In 1641 they had Titus; Saskia died nine months after his birth.
'After Saskia's death Rembrandt made a number of changes to the portrait. He added an ostrich feather to her hat, as a symbol of transience'

Saskia had been Rembrandt's muse and one of the highlights of this exhibition, in the section 'Til death do us part', is the artist's portrait, Half-length Figure of Saskia Uylenburgh in Rich Apparel (1633–42). This work is back in the Netherlands for the first time in more than 250 years. Begun when they were newly married and completed after Saskia's death, it shows her in rich, red colours. 'Rembrandt had a large art collection,' says Stoter, 'and here, through her clothes and her hat, he is referencing the German Renaissance. Unusually for him, he has painted Saskia in profile. She is close to the viewer, yet distant. After her death Rembrandt made a number of changes to the portrait. He added an ostrich feather to her hat, as a symbol of transience. And the sprig in her hand could be rosemary, for memories. This portrait was his most personal work.'
Do we know for sure that it is Saskia? 'It is well documented,' Stoter counters, 'that having kept the work for 10 years, Rembrandt had to sell it for financial reasons. It was bought by his friend, the playwright Jan Six, in 1652, and the artist described it clearly at the time of transaction as 'the likeness of my wife'.
This exhibition could have come adrift from the anchor of its tale of the artist and his wife, taking in, as it does, the societal backdrop of the politics and power of marriage and procreation in the Dutch Golden Age. But Rembrandt and Saskia's story proves a strong leitmotiv; it glues this show together.
With more than 70 works from across Europe on loan, it also gives visitors the chance to see compelling works rarely seen in the context of others. These include the first portrait of a young Saskia by a pupil of Rembrandt, alongside a 1632 self-portrait of the artist that bristles with the confidence of what was to come, on loan from Glasgow's Burrell Collection.
---
Visit

Rembrandt & Saskia: Love in the Dutch Golden Age until 17 March at the Fries Museum, Leeuwarden; friesmuseum.nl
From 12 April–11 August the show will be at Museumslandschaft Hessen Kassel under the title Kassel… verliebt in Saskia: Liebe und Ehe in Rembrandts Zeit; museum-kassel.de
Leeuwarden-Friesland has been European Capital of Culture throughout 2018. It was once home to Mata Hari and the artists Lawrence Alma-Tadema and MC Escher. For more, see friesland.nl and holland.com (tap in 'Leeuwarden')
---
Looking ahead

Our spring issue of The Arts Society Magazine, published in the first week of March, will have a special Rembrandt feature and news of key Rembrandt exhibitions throughout the Netherlands and across the world in 2019.
---
Sign up

For our monthly free newsletter, full of more stories and news on latest exhibitions, at theartssociety.org/signup
---
Images:
Rembrandt van Rijn, Half-length Figure of Saskia Uylenburgh in Rich Apparel, 1633-1642, oil on panel. Museumslandschaft Hessen Kassel, Gemäldegalerie Alte Meister
Wedding heart on a chain, 1600-1700, silver | Fries Museum
Rembrandt, Self-portrait with Saskia, 1629-1633. Rijksmuseum, Amsterdam | Bequest of Mr and Mrs De Bruijn-van der Leeuw, Muri, Switzerland
Leeuwarden by night
Become an instant expert!
Find out more about the arts by becoming a Supporter of The Arts Society.
For just £10 a year you will receive invitations to exclusive member events and courses, special offers and concessions, our regular newsletter and our beautiful arts magazine, full of news, views, events and artist profiles.
FIND YOUR NEAREST SOCIETY