15 Jan 2020 - 14:55 BY The Arts Society
The Holburne Museum's new exhibition puts early works by Grayson Perry in the spotlight. We explore the story behind one: Childhood Trauma Manifesting Itself in Later Life (1992).
---


Grayson Perry's early vessel, Childhood Trauma Manifesting Itself in Later Life, 1992 Collection of Mark DD Wilson © The Artist/Photography by Luke Unsworth
---
Early Experimentation

When the call went out for early Perry pieces for this show, this was one that surfaced, with its owner contacting the museum directly. 'It's a work that Perry has identified as an important piece in his artistic development,' says curator Catrin Jones, 'and it was bought shortly after it was made.' As with all the works, this piece has the potential to be shocking, while reflecting, too, an honesty. It charts Perry's experiences growing up in Essex and discovering that he was a transvestite.
DESIGN AND COMMENTARY

The piece combines decorative design with commentary, and carries essential Perry elements. 'It has bright colours. And while it presents as a traditional coiled vase, the closer you look, the more you discover,' Jones says. 'There's always a hidden message; it has been described as a "stealth bomb". With this piece, it initially looks appealing and "folksy", but the title is a clue that there is something darker going on.'
---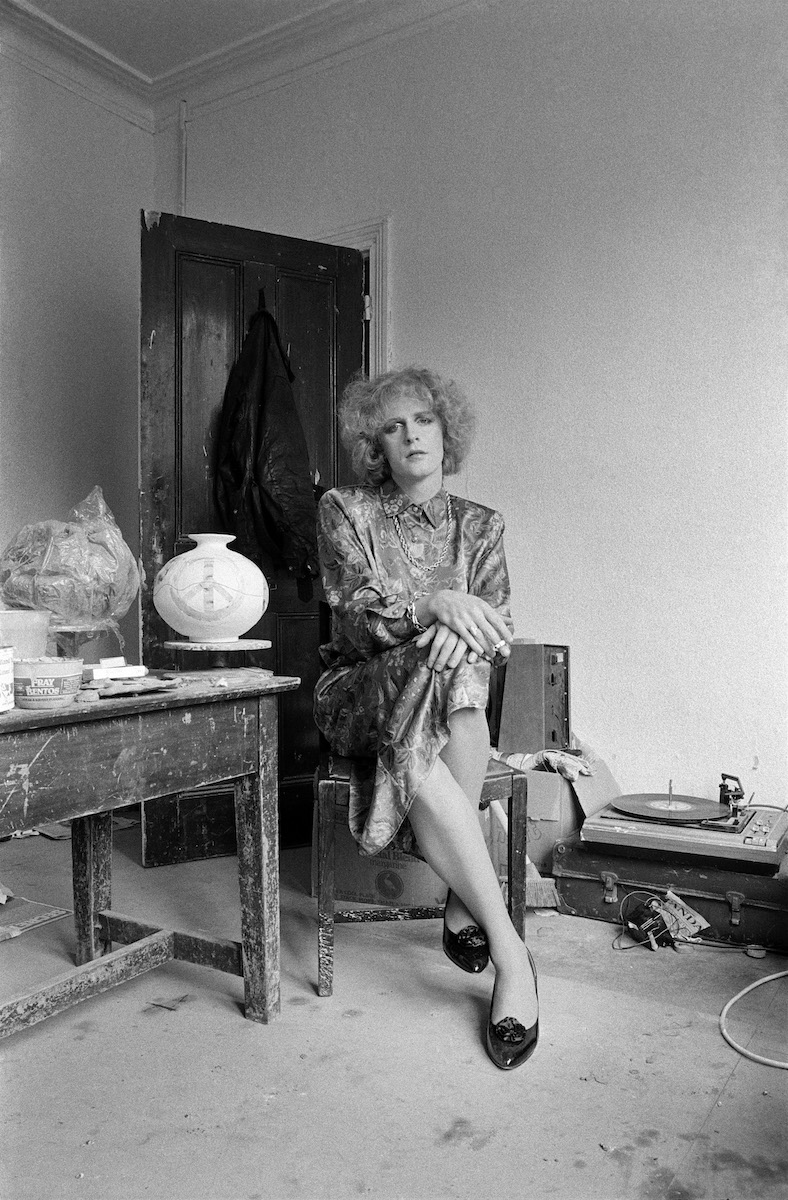 Grayson Perry as his alter-ego Claire, 1988
© MATTHEWRLEWIS/MATTHEWLEWISPORTRAITS.CO.UK
---
MATERIAL INNOVATION

As a poor artist Perry didnt have access to expensive materials, so he improvised. 'In the 1980s, he acquired cheap transfers that are often used on pottery, but he used them in creative ways, like a collage,' Jones explains. 'He layered the transfer print imagery with pop culture, mixing figures from the era with figures from art history. He features Raphael-like Madonna and Child imagery on the dress of one of the figures, for example.'
COMBINING TECHNIQUES

Perry's skill as a potter comes through in his ability to combine complex techniques. 'To create the horseshoe,' Jones explains, 'Perry would have pressed the clay into a mould before fixing the shape to the surface. The whole piece is an example of how he incorporated multiple decorative layers into a pot. It was a technical feat to combine elements such as the horseshoe sprig mould, the prints and the glazes, all coming to life once the piece was fired in the kiln.'
---
SEE

Grayson Perry: The Pre-Therapy Years, 24 January–25 May 2020,
The Holburne Museum, Bath; holburne.org
---
SIGN UP

Read more about Grayson Perry's exhibition in the winter issue of The Arts Society Magazine, available exclusively to Members. Find out more at theartssociety.org/membership-benefits
Arts Society Lecturers giving talks on Grayson Perry include Frank Woodgate, Colin Pink, Helen Ritchie, Ian Swankie and Val Woodgate
Become an instant expert!
Find out more about the arts by becoming a Supporter of The Arts Society.
For just £10 a year you will receive invitations to exclusive member events and courses, special offers and concessions, our regular newsletter and our beautiful arts magazine, full of news, views, events and artist profiles.
FIND YOUR NEAREST SOCIETY