Favoured by pharaohs and current fashionistas, the fan has doubled as a cooling tool and miniature artwork for centuries. Jacob Moss, curator of The Fan Museum, shares a few of his favourites
---
It exercises the office of the zephyrs, and cools the glowing breast... It hides bad teeth, malicious smiles and frowns of discontent... in a word, it has a thousand admirable qualities and may justly be entitled one of the noblest inventions of the human mind.' I like this description of the handheld fan, from The Grand Magazine in 1760.
Functionality aside, fans touch on themes as broad as social history, art, design, fashion, ethnography and religion. The better-quality examples are genuine (although unheralded) works of art. Their history crosses the globe, extending thousands of years.
---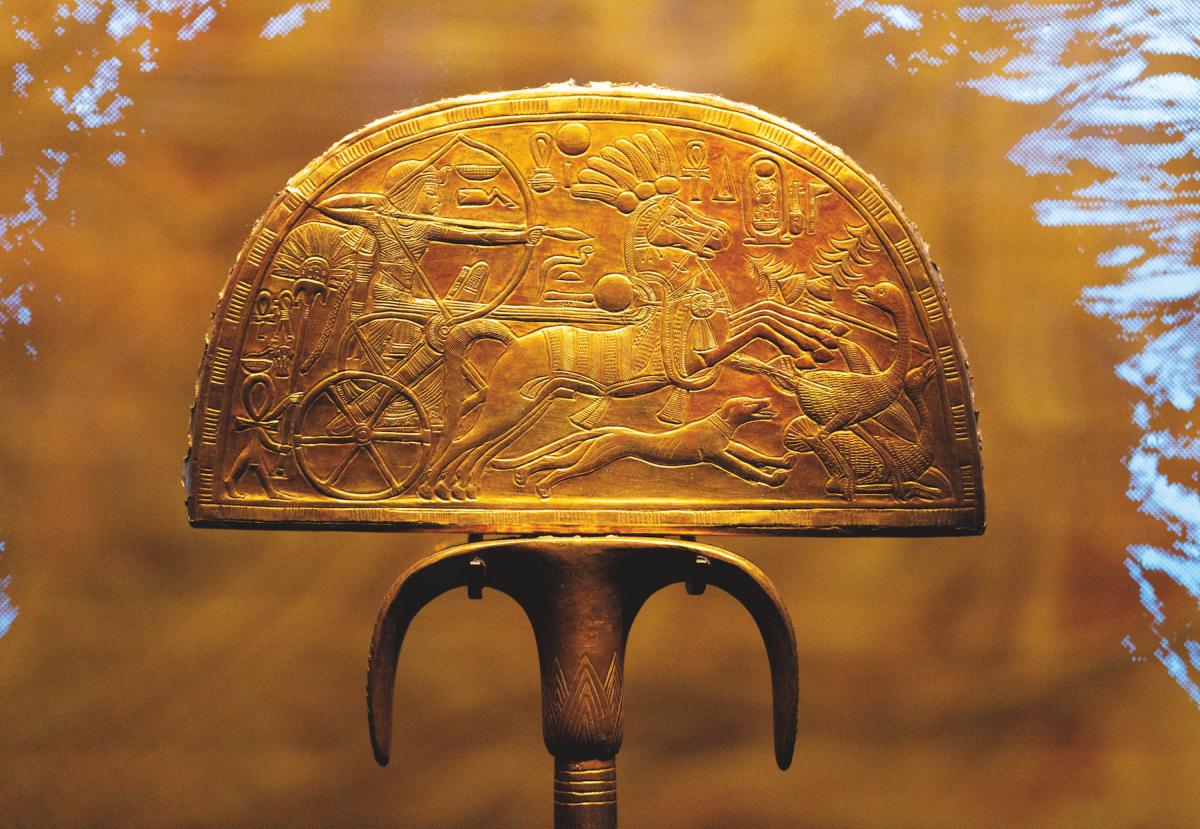 ---
The 'Golden Fan', found in Tutankhamen's tomb
Some of the earliest surviving examples were discovered in 1922, in Tutankhamen's tomb. Of the eight beautifully crafted fans found alongside the pharaoh, it's the so-called 'golden fan' that I find most alluring, despite its original crest of ostrich feathers having disintegrated. Richly coated in gold foil, the upper part depicts the pharaoh hunting ostrich. The discovery suggests that from an early point, fans functioned as potent symbols of status, prosperity and taste.
---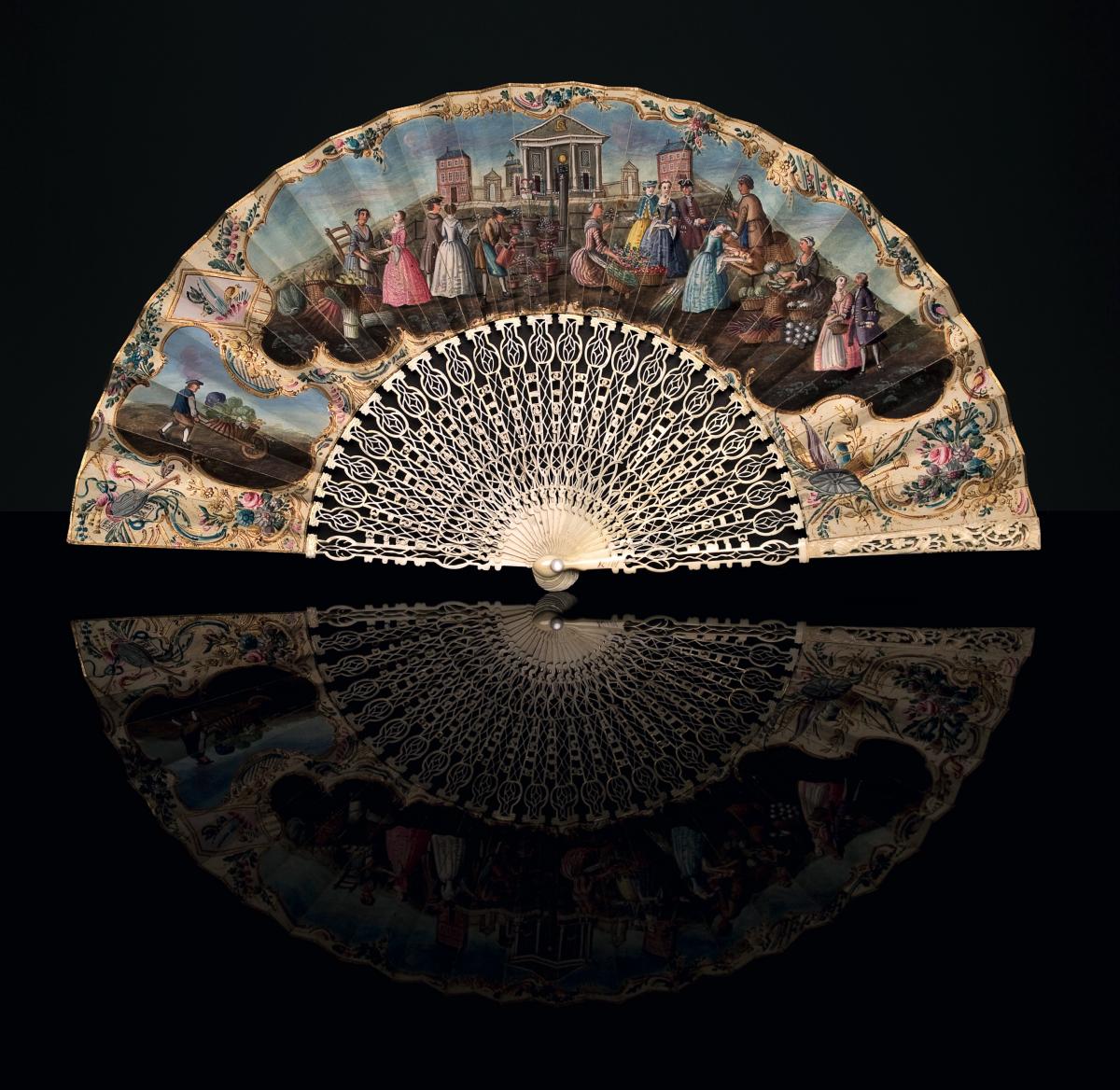 ---
An English example with ivory sticks, c1760, painted with a view of Covent Garden market

It's the story of the folding fan, thought to be a Japanese invention, that we connect with best. Introduced in Europe in the second half of the 16th century, folding fans combine practicality, showmanship and frivolity. Portraits of Elizabeth I feature them, either in the hand or attached to a ribbon suspended from the waistline of her wheel farthingale.

The fan's journey from rarity to ubiquity reaches completion in the 18th century – when the craft of fan making in Europe attained brilliance. The sticks were made by specialist carvers, jewellers and metalworkers, whose workmanship displays finesse and ingenuity, sometimes incorporating intricate silverwork, articulated figures and miniature timepieces.
---
'Women are armed with fans as men with swords, and sometimes do more execution with them.' – social commentator Joseph Addison
---

The pleated leaves were by other artisans, including fan painters, whose talents and status varied from journeymen (and women) to highly skilled professionals. Working in relative anonymity, these painters rarely signed or dated their work and were unjustly derided. The London Tradesman of 1747, for example, dismisses fan painting as a 'trifling branch of the arts, which requires not great skill nor fancy to make a workman'.
---
---
An Art Nouveau-style French fan, with mother of pearl sticks and painted silk leaf, c1900–10
The notion of clandestine communication based solely on the positioning of a fan infers forbidden liaisons. There is, however, little evidence to suggest the language of fans was anything more than a mild amusement and, if practised at all, then only by a small number. What is certain is that women throughout history have artfully manipulated fans to display character and convey emotion. As the social commentator Joseph Addison said in 1711, 'Women are armed with fans as men with swords, and sometimes do more execution with them.'

In the West, the popularity of fans declined post the French Revolution and Napoleonic Wars. They did not return to fashion until the 1850s, and then in spectacular manner. The era marked prosperity in Europe, particularly in France, where a revived aristocracy and rising class of aspirational entrepreneurs displayed position and wealth through material means. As fans reflect the tastes of their period, the best examples incorporated the finest Belgian lace, paintings by renowned artists and monogrammed sticks enriched with goldwork, guilloché enamelling and gemstones.
---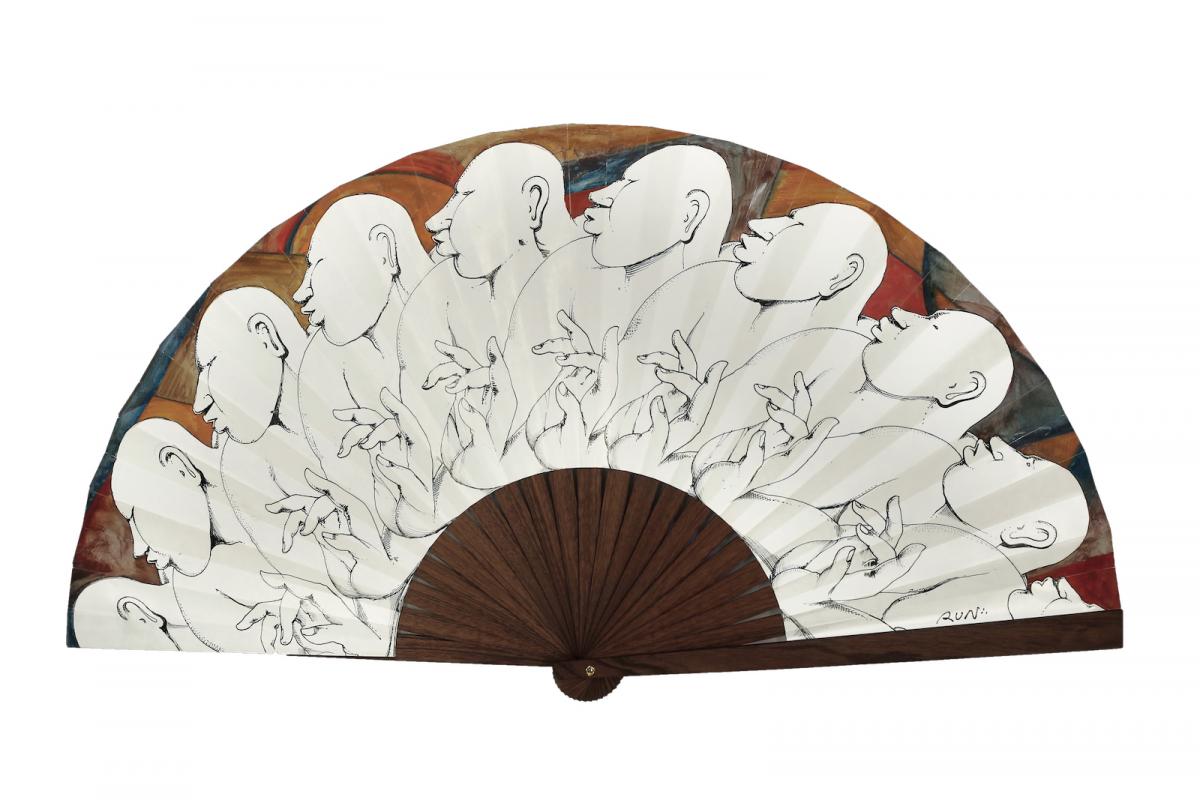 ---
A 2017 fan by street artist Giacomo Bufarini/ RUN and Sylvain Le Guen
Fashion is capricious; the decline of the fan gathered pace in the early 20th century. In 2017, the Heritage Crafts Association categorised fan making as a critically endangered craft, at risk of no longer being practised in the UK. That same year The Fan Museum launched 'Street Fans', a pioneering project linking two disparate fields: street art and fan making. Working with fan maker Sylvain Le Guen, artists decorated fans with the same rebellious energy they devoted to making art in the streets. The results – 60 handcrafted folding fans – were exhibited, attracting record audiences.

Fans are quietly returning to fashion, carried by models of all genders walking runways for top fashion houses. Makers such as Maison Duvelleroy (founded in 1827, relaunched in 2010) and Le Guen are spearheading the revival. Although the fan's status has been usurped by other items – the handbag and sunglasses, which go for extravagant sums – could it be that a greater appreciation of the exquisite craft of fan making is coming?
---
SEE

---
An extended version of this article appears in the summer issue of The Arts Society magazine, available exclusively to Members and Supporters
---
All images courtesy The Fan Museum

---
About the Author
Jacob Moss
Jacob Moss gained a BA in fashion at Reading School of Art, then studied fashion curation at the London College of Fashion. As curator at The Fan Museum, he is involved in its 30th anniversary this year. Among his talks for The Arts Society are 'Seduced! Fans and the art of advertising and Painted pleats: a history of European fan painting'.
Become an instant expert!
Find out more about the arts by becoming a Supporter of The Arts Society.
For just £20 a year you will receive invitations to exclusive member events and courses, special offers and concessions, our regular newsletter and our beautiful arts magazine, full of news, views, events and artist profiles.
FIND YOUR NEAREST SOCIETY