MY LIFE IN ART: ARTS SOCIETY LECTURER JACOB MOSS
MY LIFE IN ART: ARTS SOCIETY LECTURER JACOB MOSS
9 Oct 2019 - 15:54 BY The Arts Society
Jacob Moss is curator at The Fan Museum, London, where he has worked for almost a decade following the completion of a master's degree in fashion curation at London College of Fashion. He became an Arts Society Lecturer earlier this year.
---
Could you tell me how you came to your current position as curator at The Fan Museum?
After what you might call a 'diverse' career history, which included stints as a DJ, fashion studio assistant and graphic designer, I decided in 2009 to return to formal education. I studied MA Fashion Curation at London College of Fashion, at that time led by practising fashion curators Amy de la Haye and Judith Clarke. I was delighted to graduate with a Distinction. Whilst on the course, I was fortunate to gain experience working voluntarily at the Victoria and Albert Museum, Somerset House and all sorts of other interesting cultural organisations – 'internships' that undoubtedly strengthened my chance of securing employment within the museum sector.
Just weeks before graduating, I applied for a position at The Fan Museum. I was admittedly surprised to gain an interview, not knowing anything about fans at that point in time. The museum's founder, Helene Alexander, was brave enough to take a chance on me, and much to my delight she offered me the position. And so, with a sense of relief and trepidation, I jumped immediately from MA to employment. Nine years later – I can hardly believe it's almost a decade – I remain at The Fan Museum, curating its remarkable collections that date from the 10th century to present day and include fans from almost every corner of the globe. With every passing year, I feel evermore rooted to the place.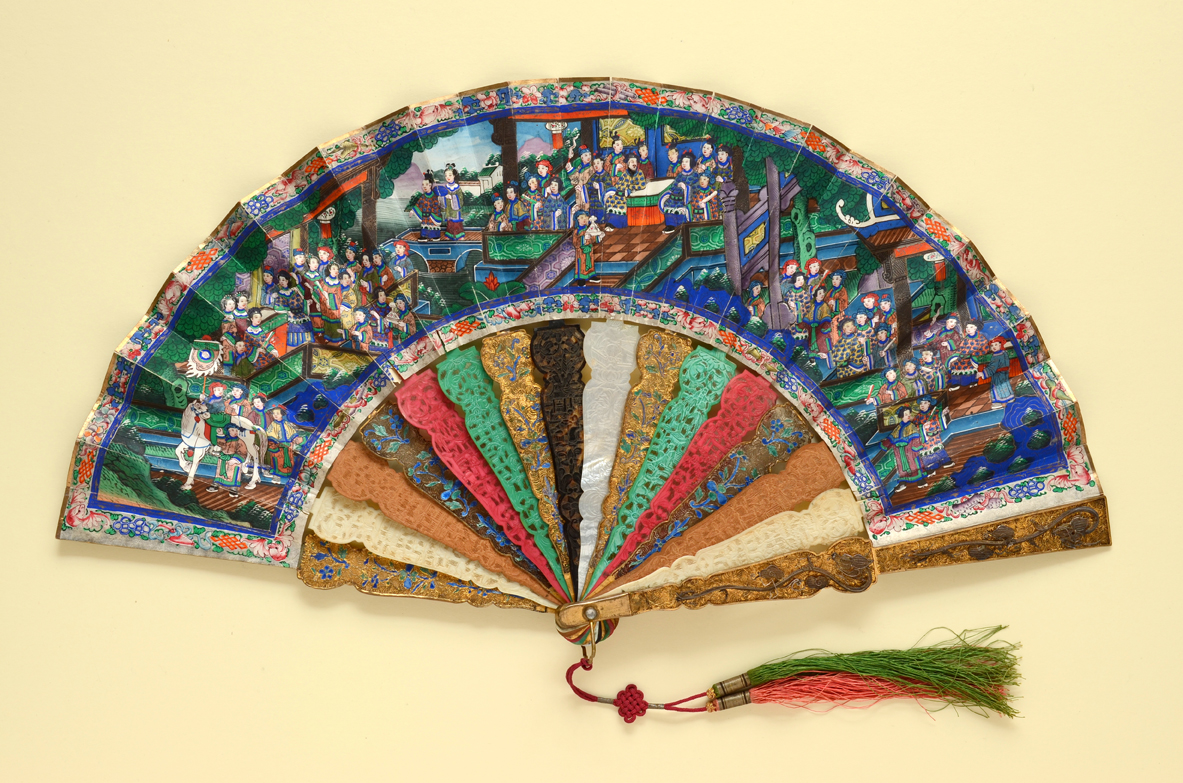 'Applied Faces' folding fan with lavish sticks of alternating materials. The double paper leaf is painted similarly on both sides with bustling scenes populated by Chinese officials and other figures with ivory faces and robes fashioned from fragments of silk. Chinese (for export), ca.1880s, The Fan Museum
---
How would you summarise the cultural significance of the fan? It is an object that seems to be imbued with symbolism the world over.
The fan is a curious and complicated article combining utility with artistry. It is a weapon of seduction; it is portable art; it is a fashion statement – hard to categorise, but perfectly described by one particularly enthusiastic 18th-century writer as 'the noblest invention of the human mind'! From a historical and cultural perspective, it's significance cannot be underestimated. In East Asia, for example, where both men and women continue to use fans, they function in all sorts of ways beyond practical: given as celebratory gifts at weddings and births; used in Noh Theatre and Chinese Opera; even Samurai warriors and Sumo officials used fans. Today, in the West, fans no longer retain the sort of popularity achieved in the 18th century. They are generally thought of in terms of their functionality, whereas in the past they operated as lavish symbols of status, of wealth, refined taste, learnedness, even political leanings. There is so much we can learn from these objects; when we open an antique fan, we are literally unfurling history.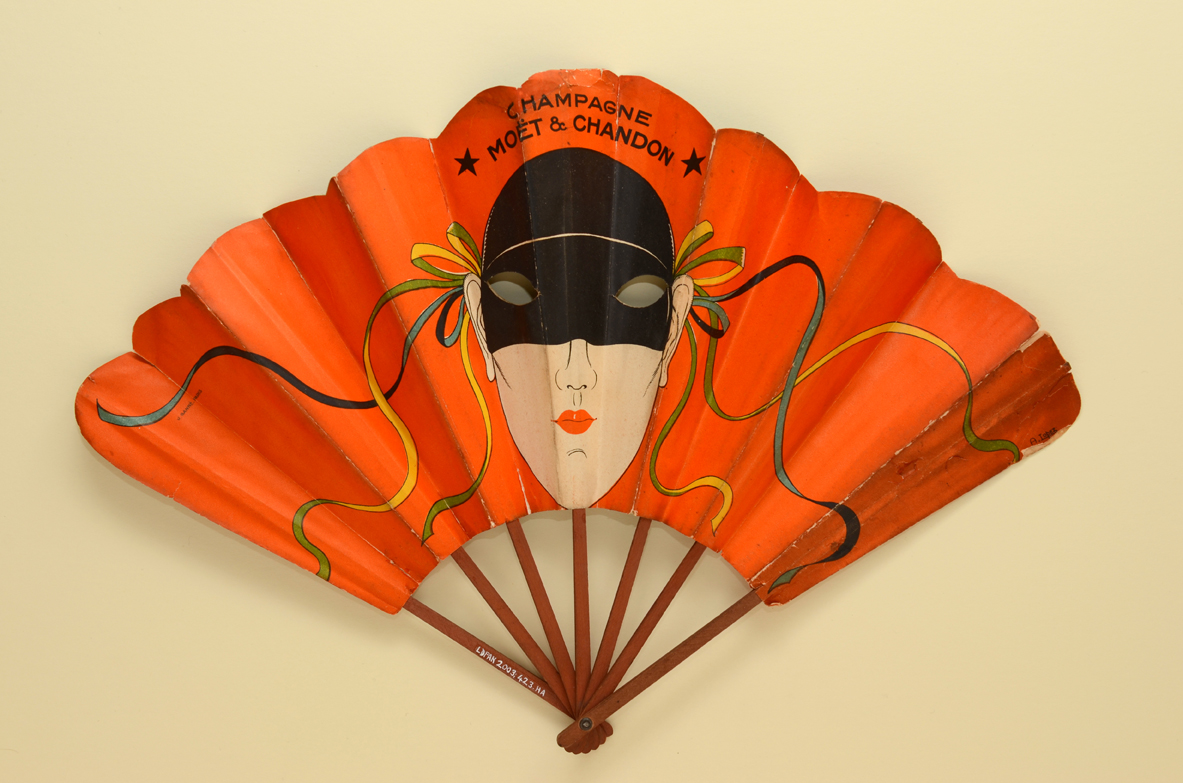 Advertising fan for Möet & Chandon Champagne. Double paper leaf printed on both sides with stylised masked female faces, signed A. LOPEZ. French, ca. 1930, The Fan Museum
---
What are the challenges in exhibiting fans and telling their stories?
Just days ago, we installed new autumn/winter displays at the museum, and I was reminded of some of the challenges that go along with exhibiting fans. Generally speaking, fans are moving objects that open and close – that in itself presents all manner of concerns. They are made of contrasting materials such as heavy precious metals, gossamer light feathers, animal skins, brittle paper and delicate lace, each requiring different approaches to care and conservation. By default, they are linked to the body and so we are always mindful of creating displays that reference that. We will often include an antique costume to give scale and context. It's also important to look beyond materiality and 'read between the pleats'. What, for example, does an 18th-century fan printed with figures captioned 'Heroic Women' tell us about the person who once carried it?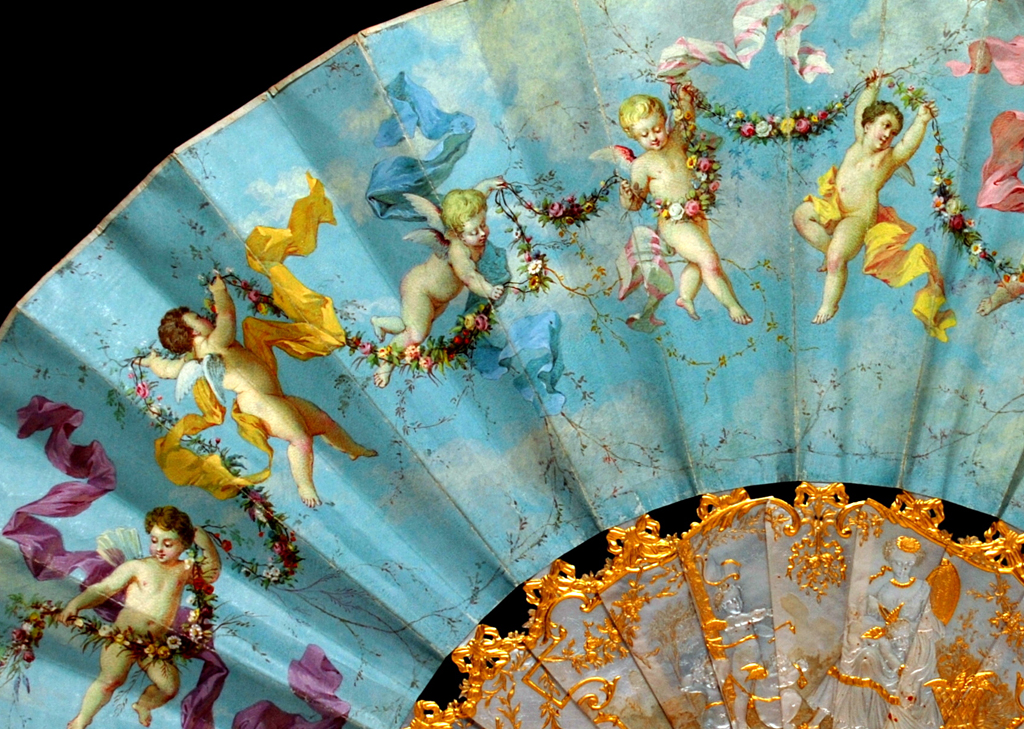 Folding fan, the leaf painted by E. Parmentier. Also signed by the maker, Alexandre. France, ca. 1860s
---
Could you share one surprising fact about fans, either a specific object or more generally?
It often surprises visitors to the museum to learn that a Guild of Fan Makers, of which I'm a Freeman, still exists. Granted its Royal Charter in 1709, many of its founding members were Huguenot craftspeople.
What compelled you to become an Arts Society Lecturer?
I've been working exclusively with fans for the best part of a decade and in that time I've developed a great passion for their history, culture and craft. As The Fan Museum's curator, I give tours of the displays and have always enjoyed sharing my expertise and engaging people with my subject. Lecturing feels like an appropriate extension of the visitor-facing aspects of my role at the museum.
'There are fascinating stories to tell, which touch upon social history, fashion, decorative art, royalty and much more besides.'

Joining The Arts Society as a new lecturer is terribly exciting – an amazing opportunity through which I'm hoping to increase appreciation of fans and fan making. I would be thrilled too if some of the Societies I'm heading out to could then pay a visit to the museum. Dismissed at different points in time as 'ladies trifles' or 'baubles', I think audiences are going to be surprised to learn that beyond cooling, there are fascinating stories to tell, which touch upon social history, fashion, decorative art, royalty and much more besides.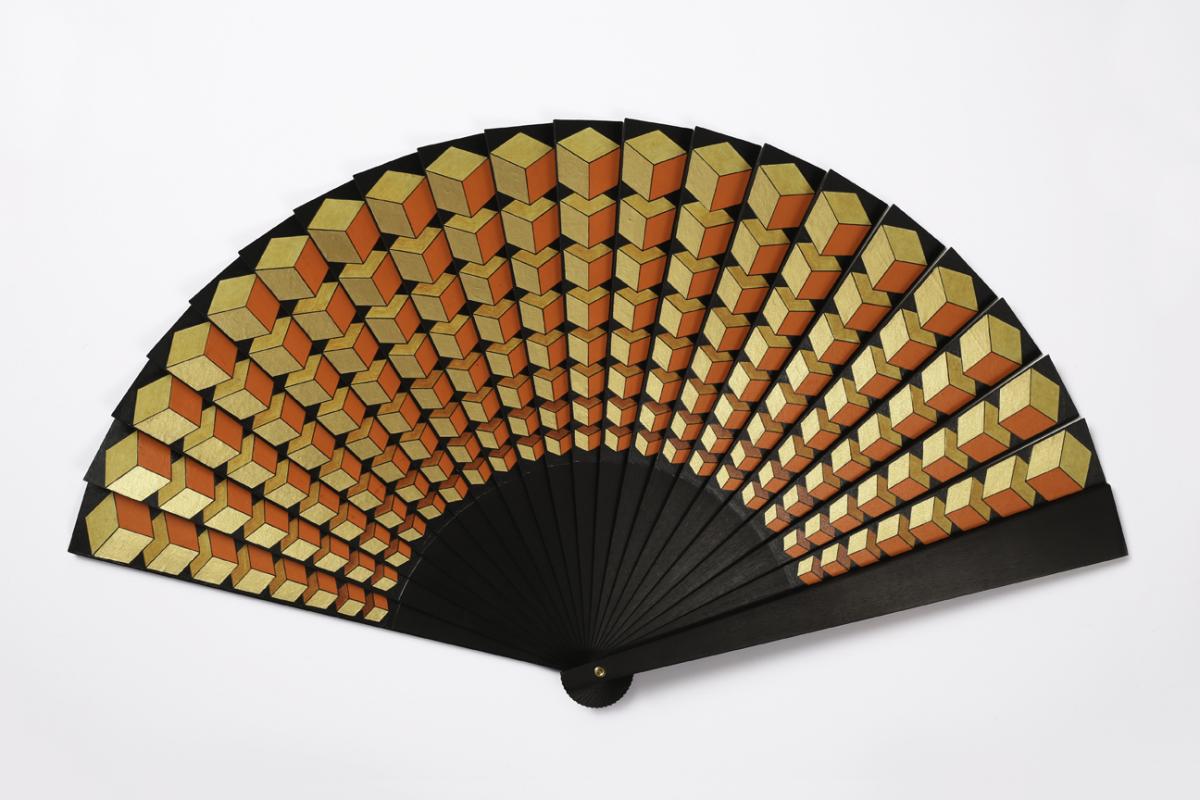 Geometric Pleats Sipo wood fan, the paper leaf painted with a bold geometric design. Annatomix / Sylvain Le Guen, 2017 The Fan Museum Trust Collection
---
Do you have any upcoming projects you'd like to share with our readers?
There are lots of interesting things coming up at The Fan Museum. In 2021 it will celebrate its 30th birthday, for which we're already working on a major exhibition with the National Trust. I'll also be curating an exhibition of the museum's treasures at SCAD FASH Museum of Fashion in Atlanta, USA next year, which I'm really excited about. Onwards and upwards as they say!
---
VISIT

The Fan Museum, London; thefanmuseum.org.uk
All images courtesy The Fan Museum, London
Become an instant expert!
Find out more about the arts by becoming a Supporter of The Arts Society.
For just £10 a year you will receive invitations to exclusive member events and courses, special offers and concessions, our regular newsletter and our beautiful arts magazine, full of news, views, events and artist profiles.
FIND YOUR NEAREST SOCIETY