My life in art: Arts Society Lecturer Helen Ritchie
My life in art: Arts Society Lecturer Helen Ritchie
22 Feb 2019 - 14:21 BY The Arts Society
Helen Ritchie is one of the newest Lecturers to join the Arts Society, having qualified in 2018. Her expertise spans fashion and textiles, metalwork and ceramics, and she recently celebrated three years at the Fitzwilliam Museum in Cambridge.
---
© The Fitzwilliam Museum
---
Why did you want to become an Arts Society Lecturer?
Fellow curators who were already Arts Society Lecturers had been telling me to think about it for ages! I looked into it and the application process was a little bit daunting, but the society was very helpful.
Lecturing is something I really enjoy doing, because you get such great feedback. People think of it as a one-way process, but in actual fact you're constantly getting responses from the audience, and I always find the questions at the end really interesting. It is a great way of getting the work you're doing out there.
Tell me about your career trajectory. How did you end up becoming Curator of Applied Arts at the Fitzwilliam?
I studied English Literature at Cambridge and did a Masters in Fashion Curation at London College of Fashion. I started my career working with textiles and dress in the museums sector, beginning at the Royal Ceremonial Dress Collection at Kensington Palace, and lots of volunteering in various places. My big curatorial break came when I was made the first decorative arts curatorial intern at the Royal Collection Trust. I was based at St James's Palace but worked at Windsor and Buckingham Palace too. It was a paid internship and then they kept me on as a cataloguer, so I was there for 18 months in all.
Following some volunteering at the British Museum, I got a job working on a large gift of new modern design, which meant working across metalwork, ceramics and glass – it was really varied. That led me to my current job at the Fitzwilliam. I've just had my three-year anniversary. It's not the most orthodox trajectory, but it has given me a brilliant grounding because now I work with such broad collections.
---
The exhibition Flux: Parian Unpacked with artist Matt Smith, at The Fitzwilliam Museum in 2018. Photograph courtesy of The Fitzwilliam Museum
---
Last year you had an extremely busy schedule, mounting several exhibitions. How did these projects differ?
Last year I did three exhibitions: Things of Beauty Growing, Flux: Parian Unpacked and Designers & Jewellery 1850–1940. It was a really broad set of objects and different styles of exhibition-making. For Flux, I was working directly with the artist Matt Smith, which was really exciting. It's definitely something I'd like to explore in the future.
The jewellery exhibition was much more about researching objects and telling the story of British design through them. It was a great opportunity to dig down into the collection and allocate the space and time to do that properly.
Here at the Fitzwilliam we have some amazing one-off pieces designed by Charles Ricketts for 'Michael Field', which was in fact a pseudonym used by two women, Katherine Bradley and Edith Cooper. They were aunt and niece but also in a lesbian relationship. They were very artistic people – poets and playwrights – and we have a small, yet incredible, collection of jewellery made for them by Ricketts. We brought together the jewellery sketches and Michael Field's diary entries, which creates a really full picture. As a curator that is ultimately what you're after.
---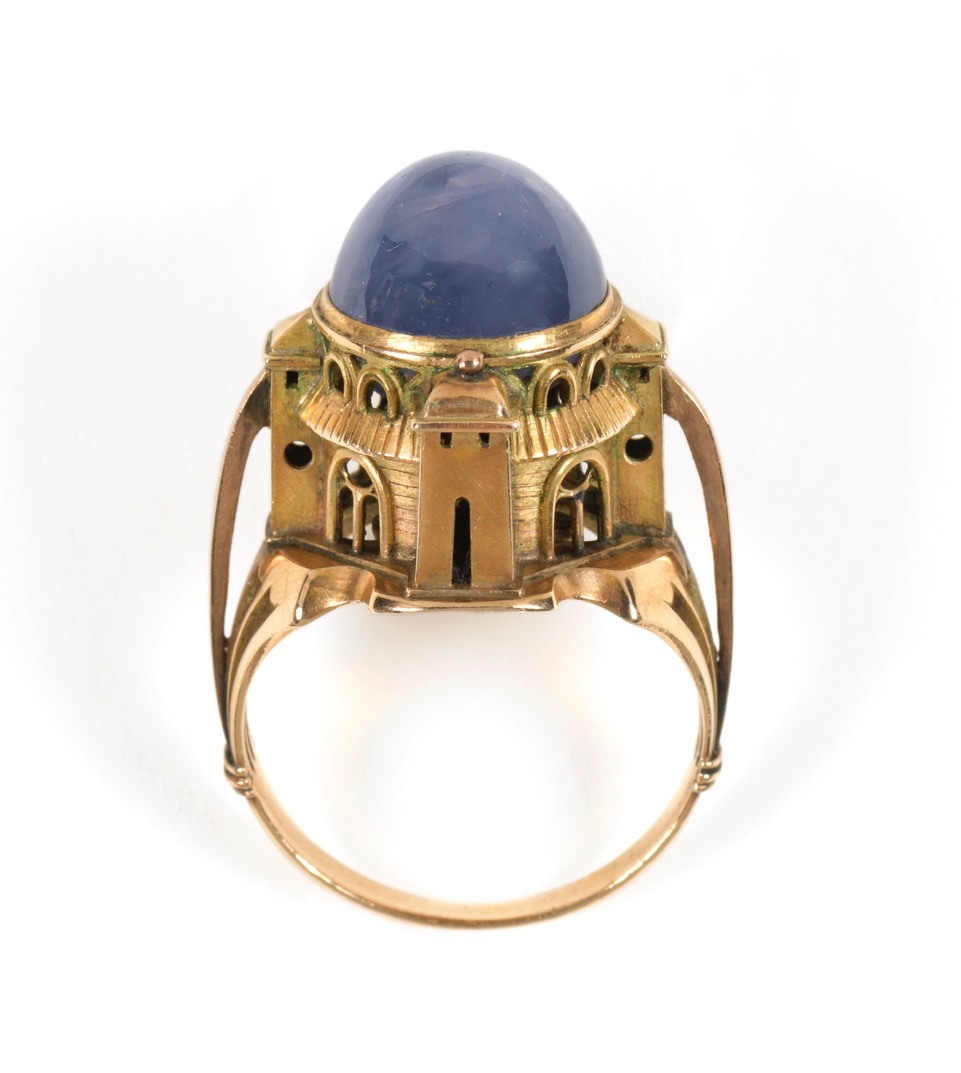 Sabbatai Ring, 1904, designed by Charles Ricketts (1866-1931). Photograph courtesy of The Fitzwilliam Museum
---
Those kinds of stories really capture people's imagination, because people have a natural affinity with jewellery and ceramics.
Yes, everyone understands a necklace or a teapot. These objects have an emotional place in people's lives. Even if you have a very unusual teapot, everyone understands how it works, what it is for and how one would handle it!
Do you have any advice for public speaking?
Enthusiasm can carry you through! It sounds silly, but one of the greatest forms of feedback I've had is: 'You can really tell that you love this subject.' An hour is a long time to sit and listen to someone, and even if the content is interesting you have to maximise it in your delivery to make the most of it.
Become an instant expert!
Find out more about the arts by becoming a Supporter of The Arts Society.
For just £10 a year you will receive invitations to exclusive member events and courses, special offers and concessions, our regular newsletter and our beautiful quarterly arts magazine, full of news, views, events and artist profiles.
FIND YOUR NEAREST SOCIETY