More than just eggs: the awe-inspiring art of Fabergé
More than just eggs: the awe-inspiring art of Fabergé
As a major new exhibition opens, Arts Society Lecturer Cynthia Coleman Sparke reveals the enduring influence of a goldsmith who became synonymous with Russian Imperial opulence and Edwardian elegance
---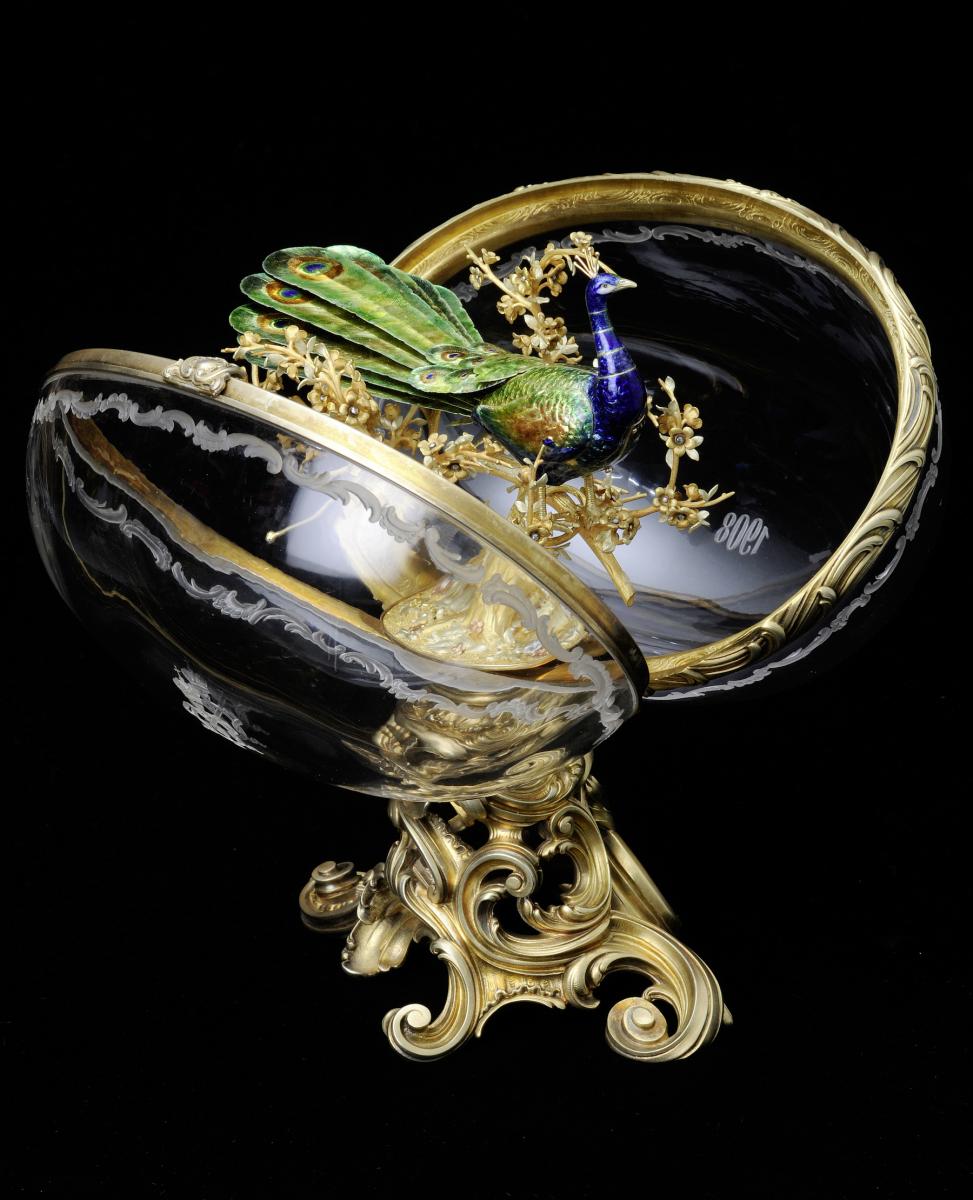 Peacock Egg, 1907–8

---
The V&A's glittering exhibition Fabergé in London: Romance to Revolution celebrates the Anglo-Russian relationship that resulted in the 1903 opening of a branch of Fabergé in London. It traces the meteoric career of the master goldsmith whose name became synonymous with the twinned strands of Russian imperial opulence and Edwardian elegance.
Peter 'Carl' Fabergé, of Huguenot descent, was born in St Petersburg in 1846. His father ran a modest jewellery firm in the Russian capital that Carl was destined to inherit following his studies abroad. Before returning to Russia, he embarked on a grand tour through a Europe steeped in historicism that he absorbed for later reference. This influenced Fabergé's first major triumph in 1882 when the firm presented an archaeological revival collection.
---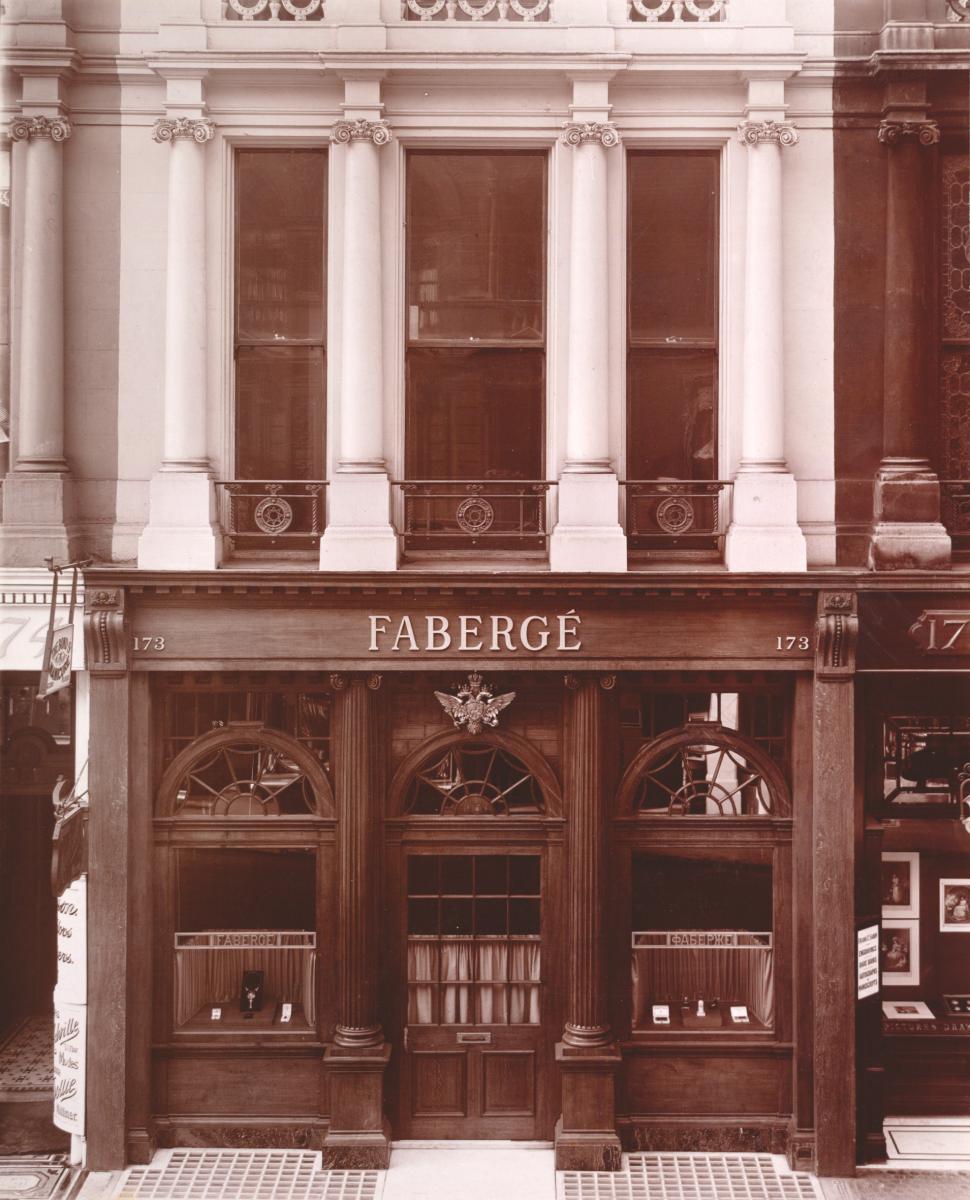 Fabergé's premises at 173 New Bond Street in 1911. Image Courtesy of The Fersman Mineralogical Museum, Moscow and Wartski, London

---
By the time Carl was 40, the House of Fabergé was appointed purveyor to the Russian court thanks to the patronage of Emperor Alexander III and his consort, Maria Feodorovna. To her delight, the first Imperial egg was delivered in 1885, launching a yearly commission for almost 30 years that became the most enduring of the firm's numerous achievements.
By steering the firm beyond the functional jewellery that had been the mainstay of his father's business, Carl concentrated production on exquisite objects of virtue to delight his fickle clientele. Bonbonnières, smoking accessories, photograph frames, stamp moisteners, clocks and letter openers combining beauty and function were sent from the flagship operations in St Petersburg, adapting existing product lines for audiences abroad.
---
Silver cigar cutter. Courtesy of the Woolf Family and Wartski, London

---
The materials and techniques favoured by Fabergé workmasters were often reinterpretations of earlier styles such as French 18th-century guilloché enamels that caught the light with moiré ribbons, vivacious sunbursts or glistening fish scales. Designs were filtered through the Russian prism, delivering red gold mounts, cabochon sapphire thumbpieces, wintery cracked-ice motifs or delicate hardstone wildflowers heralding spring.
The firm's headquarters in St Petersburg was uniquely placed to capitalise on the empire's vast supply of native hardstones. These inspired endearing carvings of animals modelled on those bred at Sandringham, or the figure of the Chelsea Pensioner attired in his traditional red tunic. Boxes in nephrite, a Siberian jade, were set with sepia renderings of English sights and prominent country houses, simulating photographs.
---
'Now that silly Fabergé has his shop in London, you have everything and I can't send you anything new, so I am furious' – Letter from Queen Alexandra to Empress Maria, 1906

---
The unquenchable demand for bibelots was intrinsically linked to patronage, as the taste for Fabergé spread from Empress Maria Feodorovna to her sister, Queen Alexandra, and to their royal parents in Denmark. Relatives across the ruling houses of Europe acquired Fabergé gifts, adding to Imperial awards and diplomatic presents commissioned from the firm.
---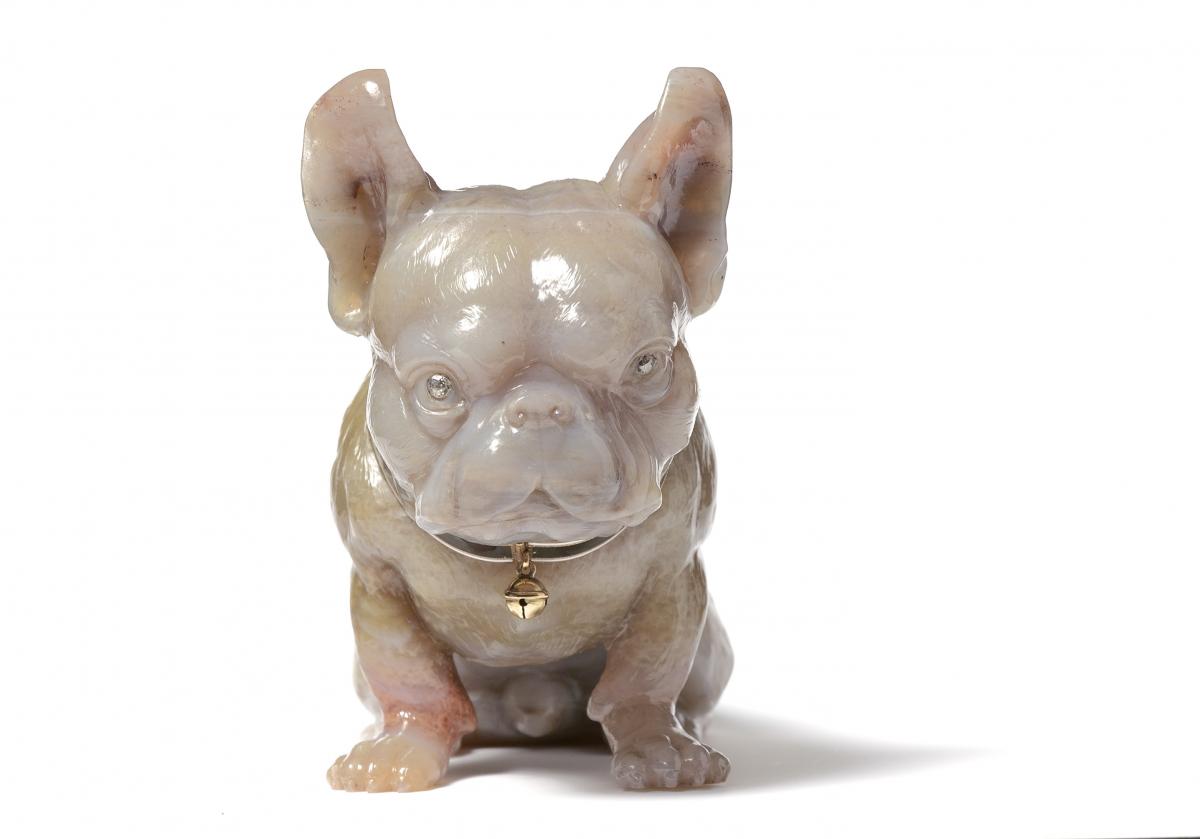 A French bulldog by Fabergé, carved from petrified wood, enamelled gold collar, diamond eyes, St. Petersburg, circa 1912. Private collection, images courtesy of Wartski, London

---
The taste for Fabergé outside of Russia, first acquired by visiting royalty to St Petersburg, trickled down through the aristocracy and rippled out towards financiers and American heiresses who shopped at the branch's premises after 1911 at 173 New Bond Street. The hedonistic Marlborough House set who had orbited around the Prince of Wales included a clique of fashionable personalities unsuited to Queen Victoria's austere court. His circle mingled across culture, class and creed at racing events, and embraced the sensuous Ballets Russes. Leopold de Rothschild, who'd studied at Cambridge with the future King Edward VII, became the most prominent non-royal client of the London branch.
---
Cigarette case, Fabergé. two colour gold, guilloché enamel, diamonds, 1908. Royal Collection Trust © Her Majesty Queen Elizabeth II 2021

---
The V&A exhibition spotlights Britain as the epicentre of a global empire as well as an enticing cosmopolitan destination for visitors who could travel with increasing ease by rail or ocean liner. When the London social season lay dormant, the branch could act as a strategic hub for sales trips to the continent and further afield to India and Siam. The British outlet was critical to the firm's survival, as Russia's workforce ricocheted from the Russo-Japanese War to the Revolution of 1905. With rising civil unrest in the streets at home, the firm's only branch abroad provided stabilising revenue.
---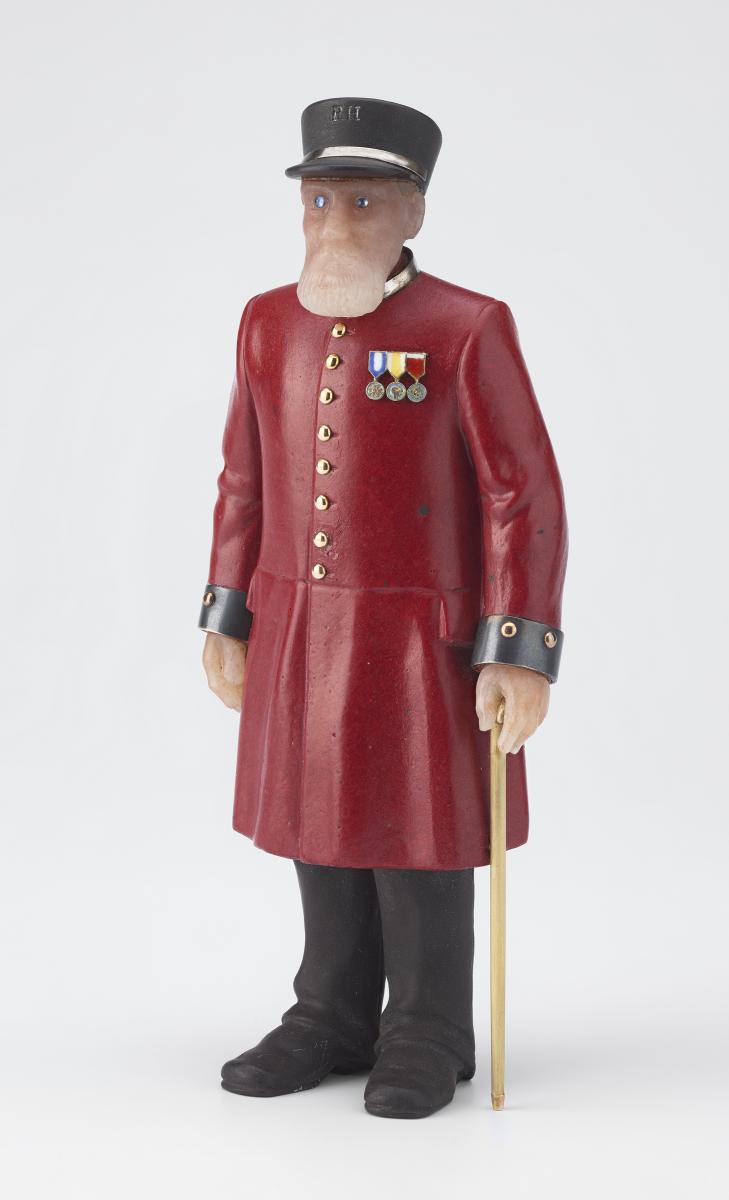 Chelsea Pensioner, Fabergé. Purpurine, aventurine quartz, jasper, gunmetal, gold, enamel, sapphires, 1909. Royal Collection Trust © Her Majesty Queen Elizabeth II 2021

---
The revolution of 1917 extinguished the Russian empire and closed the doors of a firm whose existence was curtailed but whose impact lives on. Unlike the missing sales ledgers of the Russian operations, those of the London branch survived the revolution to itemise the purchases and the clientele that frequented Fabergé. These records contextualise the loans that survived the tumultuous 20th century to travel to London from as far afield as Russia and the United States. Fabergé in London: Romance to Revolution fuses together souvenirs of the fallen house of the Romanovs and a golden age of Edwardian prosperity.
---
SEE

Fabergé in London: Romance to Revolution at the V&A, London, 20 November 2021–9 May 2022
---
About the Author
Cynthia Coleman Sparke
Cynthia is an independent researcher, author and lecturer on Russian pre-Revolutionary works of art, consulting regularly on Fabergé for auction houses. Previously, Cynthia ran the Russian Department for Christie's in New York and worked for Hillwood Estate, Museum and Gardens in Washington DC. This was followed by a restoration project at the Alexander Palace in Tsarskoe Selo, Nicholas II's last residence. Her book Russian Decorative Arts was published in 2014 by the Antique Collectors' Club.
Become an instant expert!
Find out more about the arts by becoming a Supporter of The Arts Society.
For just £20 a year you will receive invitations to exclusive member events and courses, special offers and concessions, our regular newsletter and our beautiful arts magazine, full of news, views, events and artist profiles.
FIND YOUR NEAREST SOCIETY