Manchester unleashes creativity across the city
Manchester unleashes creativity across the city
Manchester International Festival serves as a springboard for artistry that stretches far beyond the gallery walls
---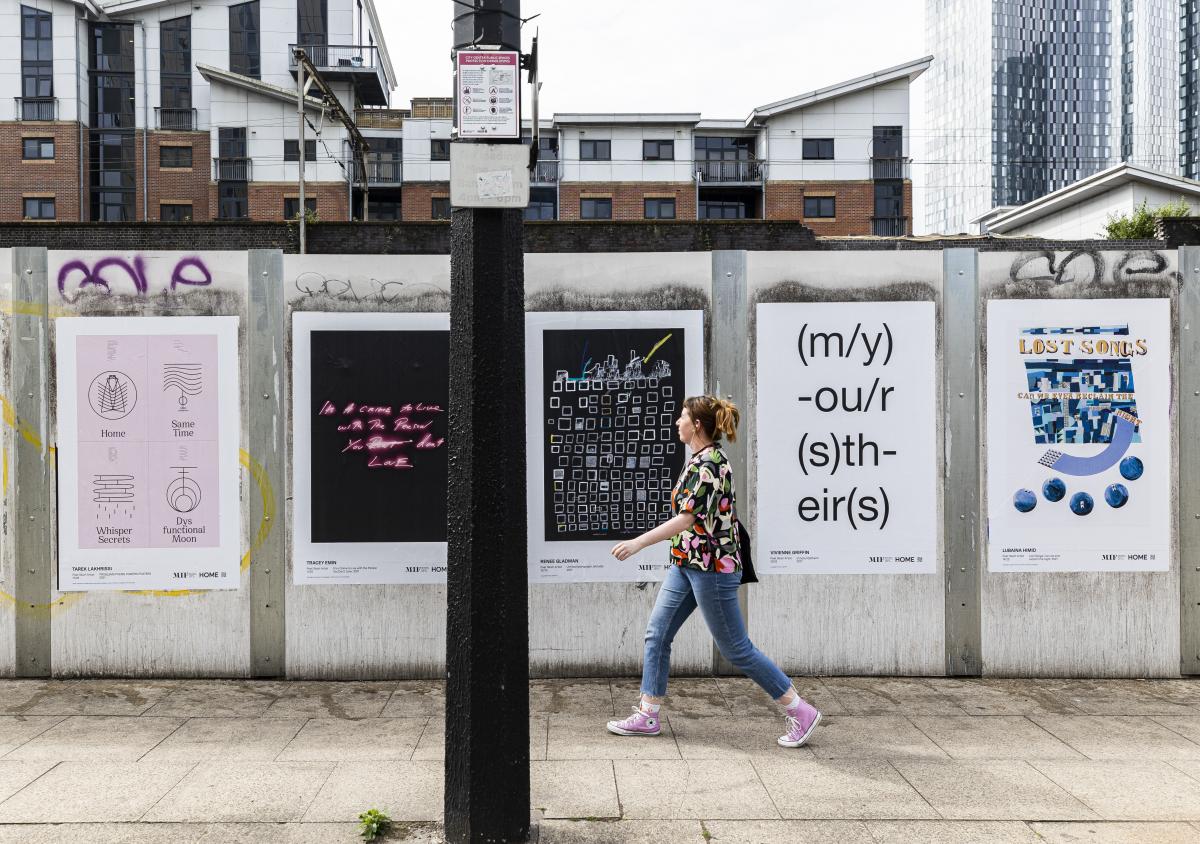 Tarek Lakhrissi, Tracey Emin, Renee Gladman, Vivienne Griffin, Lubaina Himid for Poet Slash Artist. Credit Fabio De Paola

---
A literature-laden Big Ben, an installation in a Sephardi synagogue, and a poster project that celebrates the power of poetry. These are just a few of the incredible cultural events that can be enjoyed across the city as part of Manchester International Festival, although many of the happenings are open for months to come (restrictions permitting). Here are some of our favourites.
---
Laure Prouvost, The long waited weighted gathering, image credit Michael Pollard

---
Laure Prouvost: The long waited, weighted, gathering
at Manchester Jewish Museum, until 3 October
Laure Prouvost is known for creating immersive, surreal environments, yet in this instance she already had the opulent surroundings of this newly refurbished synagogue to bring her work to life. Nestled within the Ladies' Gallery, her experimental video work (with a bespoke screen that opens and closes like a blooming flower) pays homage to the lives of local Jewish women. They appear having tea and wearing avant-garde feathered gowns, while reminiscing about the rituals and celebrations of days gone by. Look closely, and you might see their discarded cups and biscuits hiding among the building.
---


---
Poet Slash Artist
at HOME, until 30 August
'The relation between image and word has been happening since the hieroglyphics,' says Lemn Sissay, the acclaimed poet who has staged this exhibition at HOME, in collaboration with super-curator Hans Ulrich Obrist. Sissay believes that creativity is too often considered in terms of purely visual art, whereas the power of the written and spoken word is in fact inextricably intertwined. As such, the pair have highlighted a whole host of individuals who fit the 'poet/artist' mould, from Tracey Emin's neon scrawl and Lubaina Himid's meditation on reclaiming the night to Adonis's beautiful fusion of mixed-media abstraction and Islamic calligraphy. What's more, the exhibition extends out into the streets, with special posters designed by each artist. These creative expressions will hopefully catch some Mancunians unawares. As Himid puts it, 'It's hard to compete with adverts for burgers, but some of these posters could change your life.'
---
Christine Sun Kim, Captioning the City, credit Fabio De Paola

---
across Manchester city centre, until 18 July
Chiming perfectly with Sissay's statement, Christine Sun Kim uses the urban landscape as her poetic canvas, by emblazoning descriptive and cryptic phrases across various buildings. As a deaf artist, Sun Kim is interested in the concept of communication in terms of how we see, interact and form bonds with the world, as well as what actually constitutes a sensorial experience. In this instance, she expands the basic form of the caption, which usually demystifies language and audio by running along the bottom of our screens, and pastes it in gargantuan forms along escalators, entrances and facades.
---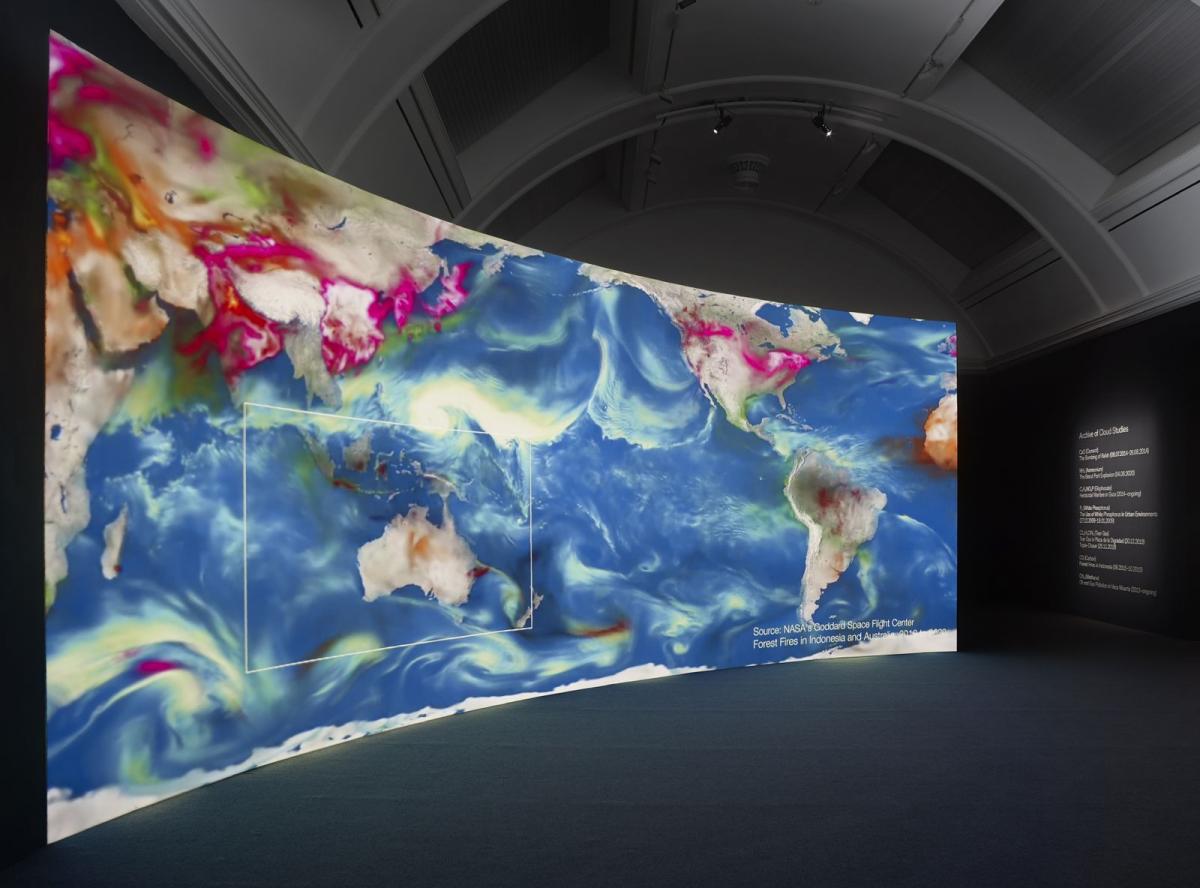 Forensic Architecture, Cloud Studies, image credit Michael Pollard

---
Forensic Architecture, Cloud Studies
at The Whitworth, until 17 October
Self-described as a 'multidisciplinary research group' as opposed to an art collective, Forensic Architecture's meticulous investigations into insidious forms of human rights violations, cyberweapons and more are mind-boggling in their scope. Through compelling films and carefully composed evidence, Cloud Studies shines a light on the ways that governments, military groups and powerful companies have used various noxious (yet often invisible) gases to displace communities from Gaza to Louisiana, causing crop failures, sickness and even death. It is an incredible example of how the parameters of art practice can inform and educate on complex global issues.
---
Marta Minujin, Big Ben Lying Down with Political Books. Credit Fabio De Paola

---
Big Ben Lying Down with Political Books
at Piccadilly Gardens, until 18 July
A colossal replica of London's famed clock tower has landed in Piccadilly Gardens. However, this version is formed of an array of 20,000 politically significant books that have shaped British culture, from Marcus Rashford's You are a Champion to the essay collection It's Not About the Burqa. This incredible installation was conceived by Argentine artist Marta Minujín, and features an interior that displays a film of Big Ben's imagined journey to Manchester, and a soundtrack of familiar political speeches by the likes of Margaret Thatcher and Theresa May. In the closing days of the festival, a 'book redistribution ceremony' will take place, where members of the public can take home the books for free.
---
SEE

Manchester International Festival
Various locations, until 18 July
About the Author
Holly Black
Holly Black is The Arts Society's Digital Editor
Become an instant expert!
Find out more about the arts by becoming a Supporter of The Arts Society.
For just £20 a year you will receive invitations to exclusive member events and courses, special offers and concessions, our regular newsletter and our beautiful arts magazine, full of news, views, events and artist profiles.
FIND YOUR NEAREST SOCIETY