Maggi Hambling talks death and painting
Maggi Hambling talks death and painting
29 Dec 2018 - 10:30 BY The Arts Society
Maev Kennedy visits the artist Maggi Hambling – Patron of The Arts Society Waveney Valley – at her studio to discuss how she deals with the critics, her interest in death and her show at Jerwood Gallery, Hastings.
---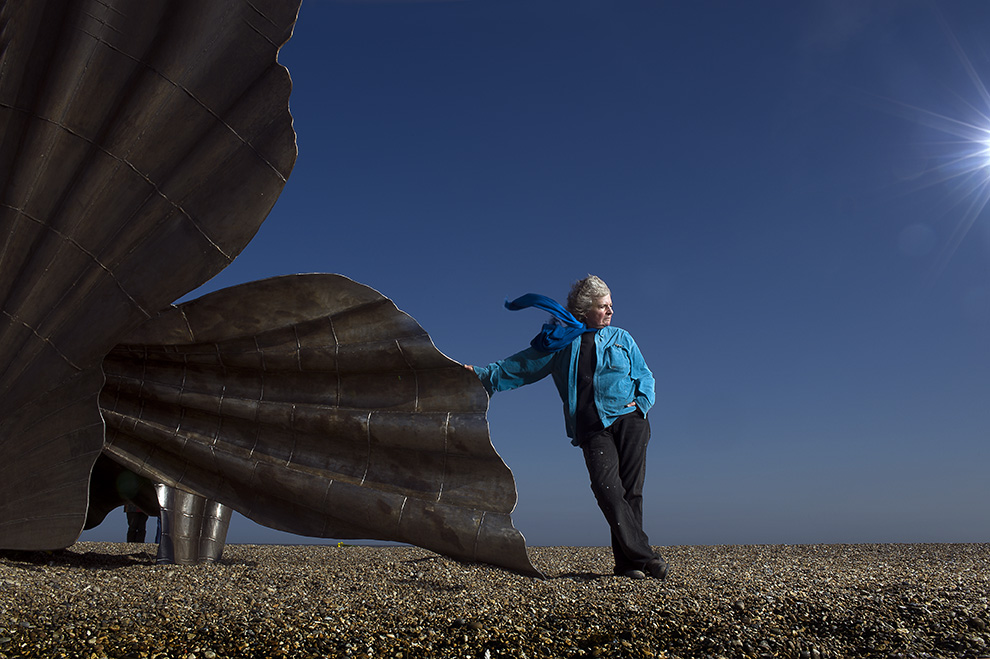 ---
'It was the only way to make a decent drawing of my mother; you could not get her to sit still when she was alive'

---
Maggi Hambling comes with a reputation as a swaggering smoker with an obsessive interest in death. She has drawn and painted cherished friends and family, including an elderly neighbour, her parents, her former muse and lover Henrietta Moraes, the jazz musician George Melly, and the famously dandy eccentric Sebastian Horsley, as mortal illness clawed at their last months. She painted them again while they lay on their deathbeds, or in their coffins, and for years after, from memory.
'If you love them why would you not?' she demands, baffled at anyone finding it remotely odd. 'It was the only way to make a decent drawing of my mother; you could not get her to sit still when she was alive. It's a way of remembering them and keeping them alive.' Hambling has a friend who has threatened to leave instructions in her will that the artist must not be allowed within 20 miles of her coffin.
---
'I'd have been a terrible mother'

---
Hambling lives with her friend and companion (she loathes the term partner) of 35 years, Victoria Dennistoun. Their relationship hit the headlines in the 1980s when Dennistoun, who paints as Tory Lawrence, left her husband, the jockey and racing commentator John Oaksey. Hambling is on warm terms with their children and grandchildren, but has never had children herself. 'I never met a man I fancied enough,' she says, 'and I'd have been a terrible mother; if there was a crying child in one room and a painting that needed attention in the other, there would have been no contest.'
---
'I was dependent on others to get the work done…'

---
Hambling's first work on leaving college, made with two colleagues, was unexpected: an audiovisual conceptual project involving film, recordings, newspaper cuttings, lighting and found objects. This all added up, she recalls with a snort, to a devastating critique of the contemporary world. 'The trouble was I had to get other people to do all the technical stuff, so I was dependent on others to get the work done and I didn't like that – so that got me back to painting, where I was in control of everything.'
---
'The best part of the work was a colour sketch…'

---
The artist's first portrait commission came from a wealthy young man whose face she recalls as 'not ideal': neither had a clue what the price should be, so she suggested he just bring 'a few tenners' to the sitting every week. The best part of the work, she says, was a colour sketch dashed off in the first hour, while wrestling with a monumental hangover. In an abstract age her largely figurative style found an audience from the start: she sold out an early exhibition made from furtive sketches of solitary drinkers in London pubs.
---
'Whatever anyone says about you, it's got to be water off a duck's back'

---
Instantly recognisable in her work and in person, Hambling is in danger of becoming a national treasure, but she is not universally beloved. Some locals loathed her giant sculpture Scallop, a celebration of Benjamin Britten, which rears up from the shingle beach at Aldeburgh. Yet it is now marketed as a tourist attraction and the serial vandalism has stopped: the graffiti writer left town, she suspects.
Professional critics have not always known what to make of her either. Jonathan Jones in The Guardian was particularly exercised by her exhibition of sea paintings at the National Gallery: 'She is a painter,' he wrote. 'Yeah, and I'm Rembrandt.' Brian Sewell, the late ferocious critic of the Evening Standard, gave two pages of bile to her Charing Cross sculpture A Conversation with Oscar Wilde. Sewell later became a good friend, and Hambling cherishes his view that in another exhibition, Waves and Waterfalls at the Marlborough, 'she succeeds where Leonardo fails'.
She recalls the words of her inspirational art teacher, more than half a century ago, when classmates laughed at her work. 'She just said it's got to be water off a duck's back. Whatever anyone says about you, it's got to be water off a duck's back. And so it is.'
---
See the exhibition

The Quick and The Dead: Hambling, Horsley, Lucas, Simmons, Teller is at Jerwood Gallery, Hastings, until 6 January 2019; jerwoodgallery.org
The exhibition features work by Maggi Hambling, Sebastian Horsley, Sarah Lucas, Julian Simmons and Juergen Teller, whose lives have intersected at points and who have radically different approaches to their art. It centres on work by Hambling over the past 10 years, in which she has portrayed all four; these works are in dialogue with portraits of Hambling made by the other artists.
Find out more about Maggi Hambling at maggihambling.com
---
Sign up

for our monthly free newsletter, full of more stories and news on latest exhibitions, at theartssociety.org/signup
---
Photograph: Johnny Millar johnnymillar.com
Become an instant expert!
Find out more about the arts by becoming a Supporter of The Arts Society.
For just £10 a year you will receive invitations to exclusive member events and courses, special offers and concessions, our regular newsletter and our beautiful quarterly arts magazine, full of news, views, events and artist profiles.
FIND YOUR NEAREST SOCIETY