A life in print: the incredible textiles of Althea McNish
A life in print: the incredible textiles of Althea McNish
Jane Audas reveals how a prolific designer is finally getting her dues at the William Morris Gallery
---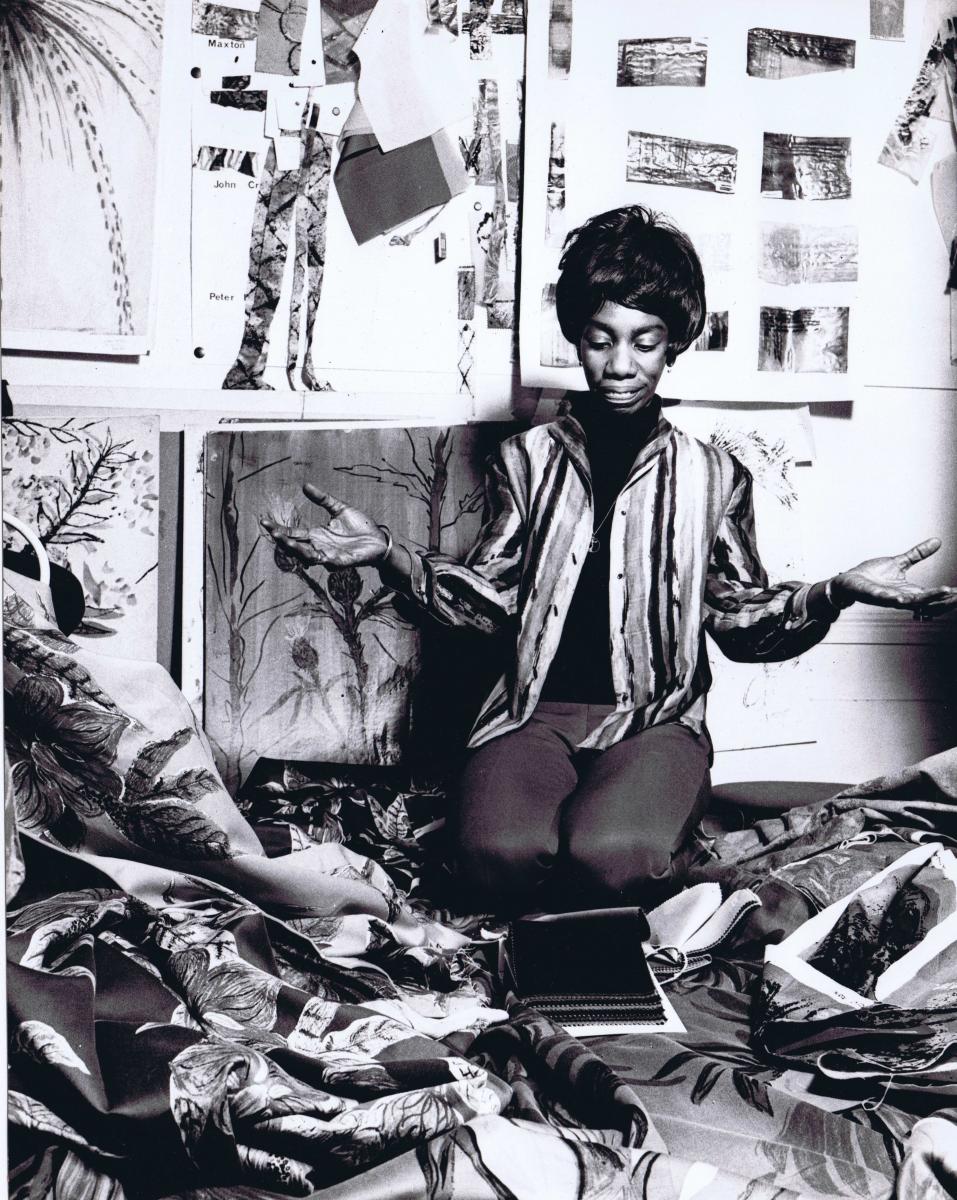 Althea McNish in her studio c1970, shown wearing a shirt made of Bezique, designed by Althea for Liberty in 1958 and lengths of Hibiscus, Liberty, 1959. Image: Bill Patterson

---
For a look at some tremendous textile designs, accompanied by the story of a really interesting woman, Althea McNish: Colour is Mine, at the William Morris Gallery in London, is bringing it. The role of textile designer is not often showcased in gallery spaces. And for the period McNish was working in (the second half of the 20th century), textiles are still relatively under-researched. We have mid-century picture books, of course. But we don't have much information about the role of the freelance designer in the textile industry.
McNish had quite a golden career from the start. She was commissioned by Liberty straight from her Royal College of Art degree show in 1957. Considering she had only been in England since 1950 – when she sailed over from Trinidad with her mother to join her father in England – she found her textile feet quickly. Her work for Liberty would eventually extend to designs for over 60 silk scarves, dress and furnishing fabrics. She went on to design textiles for Dior, Conran, Cavendish Textiles, Ascher Ltd, Heal's and Hull Traders, for whom she created its bestselling fabric Golden Harvest in 1959.
---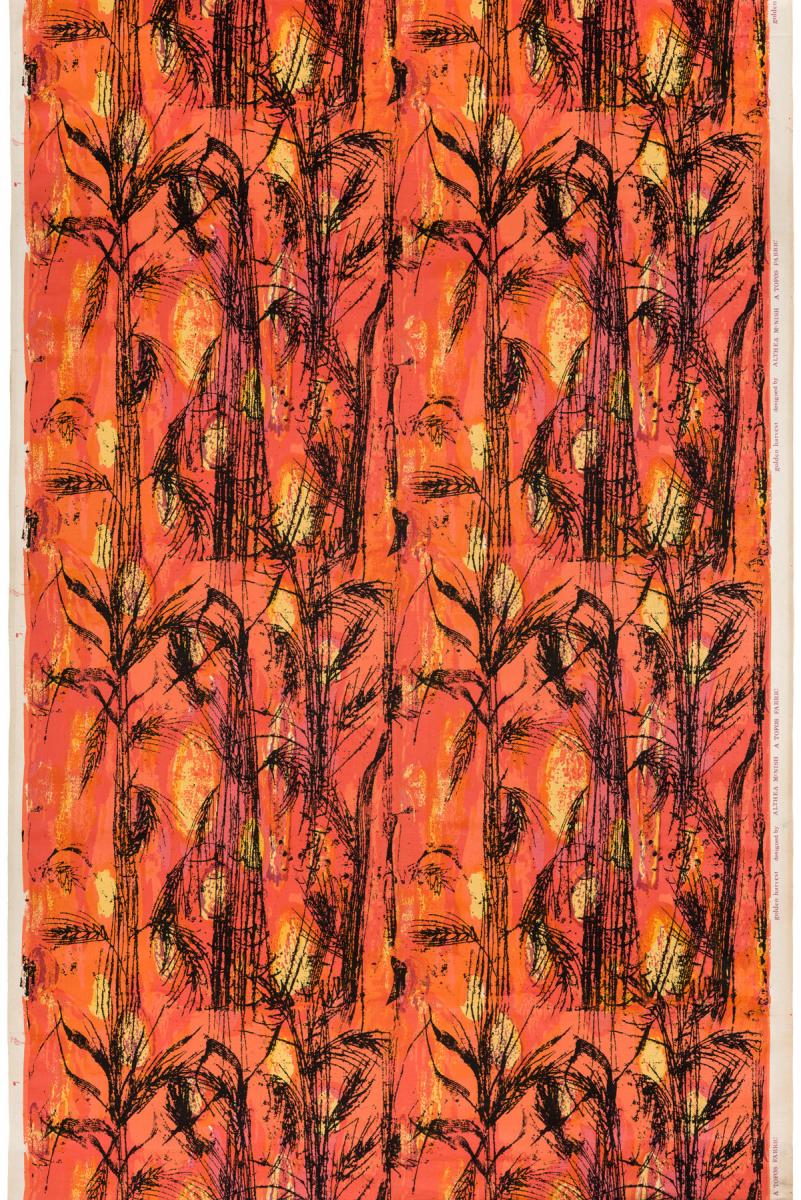 Golden Harvest, screen printed cotton, designed by Althea McNish for Hull Traders, c1960s. Image: Private Collection

---
Upstairs at the gallery there is a 'paper' dress (actually made from a disposable fibre developed for hospital uniforms) McNish designed for Dispo, a London boutique, in 1967, as well as a photo of the designer wearing the same dress, looking very much the thing. The pattern was based on an Art Nouveau textile McNish had seen in the V&A.
As well as being a cutting-edge creative, she was an academic researcher, spending time in museums looking for inspiration. She also employed an irresistible mix of influences drawn from her Trinidadian heritage as well as those from her life in Britain. Through this framework she was able to design commercial textiles that hit – if not defined – the surface design zeitgeist of the period.
---
Trinidad, screen printed on cotton, designed by Althea McNish for Heals, 1961. Image: © Goldsmith, University of London

---
Considering McNish was designing for a relatively conservative market, her work still zings. She referred to this as her use of a 'tropical eye'. She also knew her way around a silk screen, sometimes painting directly onto the screen, which gives her designs a flowing and lively line that is quite distinctive. Happily, this exhibition doesn't fill space comparing McNish to her contemporaries. It lets her stand on her own merit.
Throughout her career McNish also painted, which comes as no surprise seeing as her textile work might be characterised by the word 'painterly'. The only wonder is how she found the energy to be so prolific. There is a great compilation film in the exhibition, demonstrating how the designer gave good camera and was obviously comfortable promoting her own work.
---
"At 90 she was still chic and confident, revealing what a force of nature she must have been as a person and as a designer"

---
She always looked the part, too. A clip from 1965 shows McNish being shown her own dress designs at ICI, where she had been commissioned to design for its new fabric: Terylene Toile. She looks so chic and confident. In one of the other clips, we see McNish's last TV interview, from 2014. At 90 she was still chic and confident, revealing what a force of nature she must have been as a person and as a designer.
This is one of the best textile exhibitions I have seen in a long time. In many ways, it is McNish's homecoming. She moved to South Tottenham (not so very far from Walthamstow) in 1959 and stayed there for the rest of her life. It is somewhat bittersweet that she didn't live to see this retrospective of her work, mounted so close to her home. Luckily, we can celebrate her story and her designs at our leisure, and with real pleasure.
---
SEE

Althea McNish: Colour is Mine is at the William Morris Gallery, Walthamstow, London, until 11 September 2022
About the Author
Jane Audas
Jane Audas is a freelance writer, curator and digital producer. She holds an MPhil in History of Design at The Royal College of Art
Become an instant expert!
Find out more about the arts by becoming a Supporter of The Arts Society.
For just £20 a year you will receive invitations to exclusive member events and courses, special offers and concessions, our regular newsletter and our beautiful arts magazine, full of news, views, events and artist profiles.
FIND YOUR NEAREST SOCIETY