Join the #MyArtsSociety Campaign
Join the #MyArtsSociety Campaign
5 Aug 2020 - 12:18 BY Elizabeth Oliver
In good – and challenging – times, The Arts Society makes a difference to the lives of thousands. We believe that the arts are vital to our society, culture and economy. Now, as part of a new campaign, we call on you all to share your stories of your experiences of being a part of what we do.
---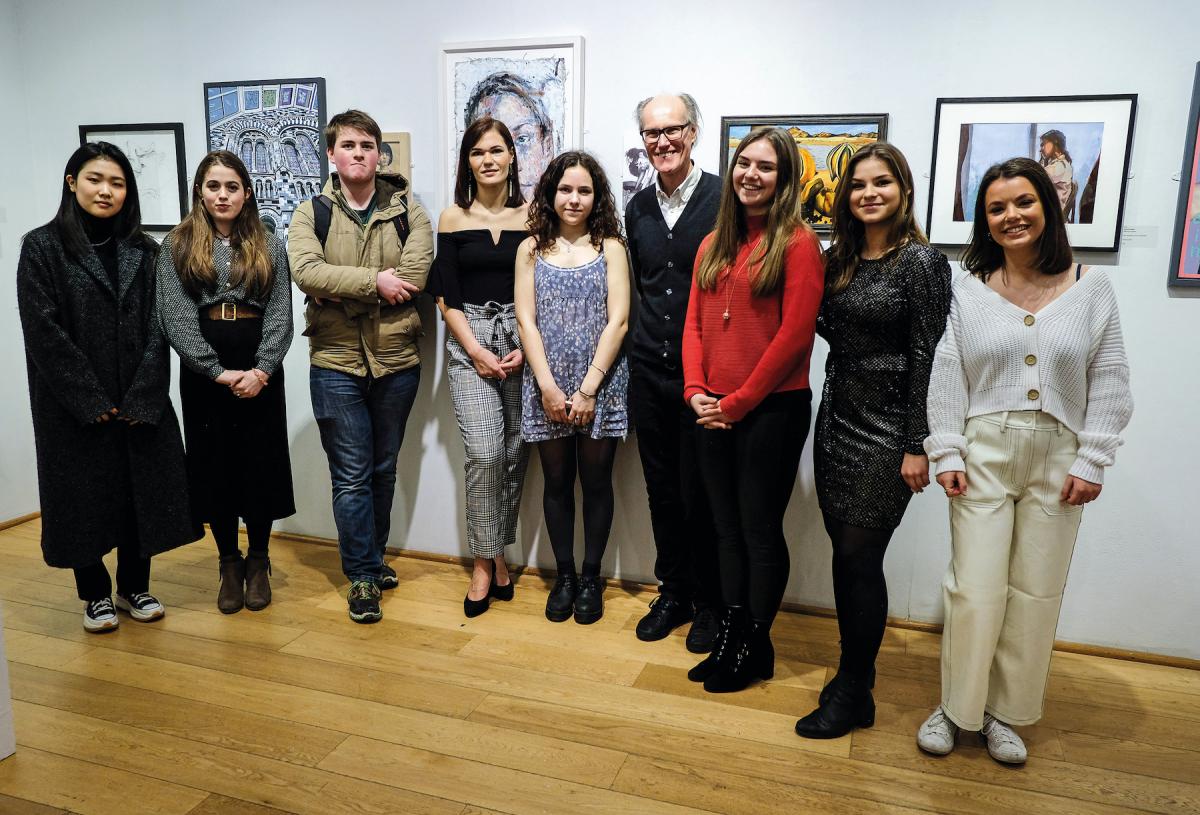 RBA Star Students, whose work was nominated by some of our Societies, with BBC arts editor Will Gompertz. Credit: Richard Eaton
---
What do you get out of your Arts Society membership? Perhaps it's the opportunity to draw on the expert insight of our lecturers, who give talks on subjects from Ice Age art to Indonesian dance, and the history of tattoos to fakes and forgeries. It might be the chance to meet like-minded people, connected by a shared love of the arts; or perhaps your membership represents a way to give something back to your community, through volunteering and grant giving?
When Patricia Fay founded The Arts Society in 1968, she set out to create an organisation that would promote learning and engagement with the arts, initially among women. While we have evolved over the decades, our ethos of enriching lives through the arts has remained constant.
In these past 52 years we have achieved so much. We've made museums and galleries accessible to young people. We've cared for historic houses and raised awareness of their cultural relevance. We've documented churches and worked to safeguard ancient library collections. We have invested in the arts at grass-roots level, and made arts education available in local communities – often to those who might not otherwise have had it. We've launched grants for conservation and craft skills; given young carers time off to enjoy art workshops; and we've run special days for refugee families. Today our work continues at a pace, as we strive harder than ever to ensure there is access to the arts for those who need it.
---
With more than 90,000 members worldwide and over 380 Societies, our membership brings all sorts of people together. During this year of global anxiety, we are calling on our community to support each other and spread positivity.
Using the hashtag #MyArtsSociety, write a Facebook status, post a Tweet, take a picture for Instagram or email magazine@theartssociety.org revealing just how The Arts Society has impacted your life for the better. To get us started, here is a selection of stories from people in different areas of our great organisation.
---


---
Julie Goldsmith: CHAIR OF THE ARTS SOCIETY

When Julie joined The Arts Society on retiring from a 30-year career in publishing, she hoped that it would 'feed her soul'. She was not disappointed. 'I am endlessly amazed that we have such access to world-class speakers,' she says. And, having retired from one world, her membership has brought new challenges, which she relishes. Starting as a founder member of Burghley DFAS, Julie became a committee member of The Arts Society Oundle, and then stood for election for the national Board of Trustees. Since 2017 she has been our Chair. 'I am inspired by the fact that we are run, in the main, by volunteers; people who care so passionately about the arts,' she says. A personal highlight came in our 50th anniversary year, 2018, when she walked through Westminster Abbey at our Golden Jubilee service. 'I never imagined I would do that,' she says. 'It was a great honour.'
---


---
Jacob Moss: ACCREDITED ARTS SOCIETY LECTURER

Jacob hadn't thought about becoming an Arts Society Lecturer until he was contacted by our Head Office, which always has its ear to the ground for talented expert talkers. Someone had heard a talk Jacob had given and the invitation came to apply. As curator of The Fan Museum in Greenwich – where he plans exhibitions and cares for 8,000 fans – he has a unique subject to offer. Since his first lecture last year, Jacob has shared his expertise with Societies around the country, giving talks including Seduced! Fans and the art of advertising. He has found the warmth and attentiveness shown at his talks touching. 'It's wonderful to meet enthusiastic people of all generations,' he says. The reaction to his talks has also enhanced his own appreciation of his subject. 'The experience has been eye-opening, and I'm delighted that it's led to so many Societies coming to visit the museum.'
---


---
Kath Bowen: HEAD OF HERITAGE VOLUNTEERING

Kath's journey with us began in 2004, when she joined The Arts Society Chester. On first registering interest in Heritage Volunteering, little did she know where it would lead. Now the National Head of Heritage Volunteering, Kath operates a hectic schedule, whether visiting projects or raising awareness of heritage initiatives among Societies. It's a role that brings rich experiences. A personal standout moment was seeing Turner's paint palette in the Tate Britain archives. For Kath, one of the key things about The Arts Society is our network of volunteers. 'We have achieved so much nationwide,' she says. 'Some of the projects couldn't have taken place if we hadn't been able to take them on. For example, three volunteers are currently archiving, cleaning and cataloguing the books of Britain's last working bell foundry, Taylor's Bell Foundry. Those archives are part of our nation's history.'
---


---
Laura Garratt: THE ARTS SOCIETY GREAT OUSE VALLEY

Laura has always loved the arts, but the demands of a full-time job in design meant that her passion had been sidelined. That is, until she came across us. Attracted by the prospect of listening to 'high-quality speakers', she went to a lecture and has never looked back. Today, Laura is on the committee for The Arts Society Great Ouse Valley, responsible for the website and social media channels, and for producing programme artwork and flyers. Before joining, she had never built a website or been on social media. While reconnecting her with the arts, her membership has helped to boost her confidence too. 'I'm not someone who wants to talk in front of people. To go to committee meetings and speak has really helped me, because people do want to hear what you think. I genuinely think that The Arts Society has brought more enrichment to my life than I could have ever dreamed.'
---
Share your stories of The Arts Society on social media, using the hashtag #MyArtsSociety
---
Elizabeth Oliver is a freelance writer
Become an instant expert!
Find out more about the arts by becoming a Supporter of The Arts Society.
For just £10 a year you will receive invitations to exclusive member events and courses, special offers and concessions, our regular newsletter and our beautiful arts magazine, full of news, views, events and artist profiles.
FIND YOUR NEAREST SOCIETY