Her own language: Dame Magdalene Odundo
Her own language: Dame Magdalene Odundo
Dame Magdalene Odundo is one of the greatest ceramicists working today. One of her sculptural works broke a world auction record in ceramic art last year, and she is a key figure in arts education. Arts Society Lecturer Helen Ritchie meets her to discuss the alchemy of making and what we must heed for the future of teaching art.
---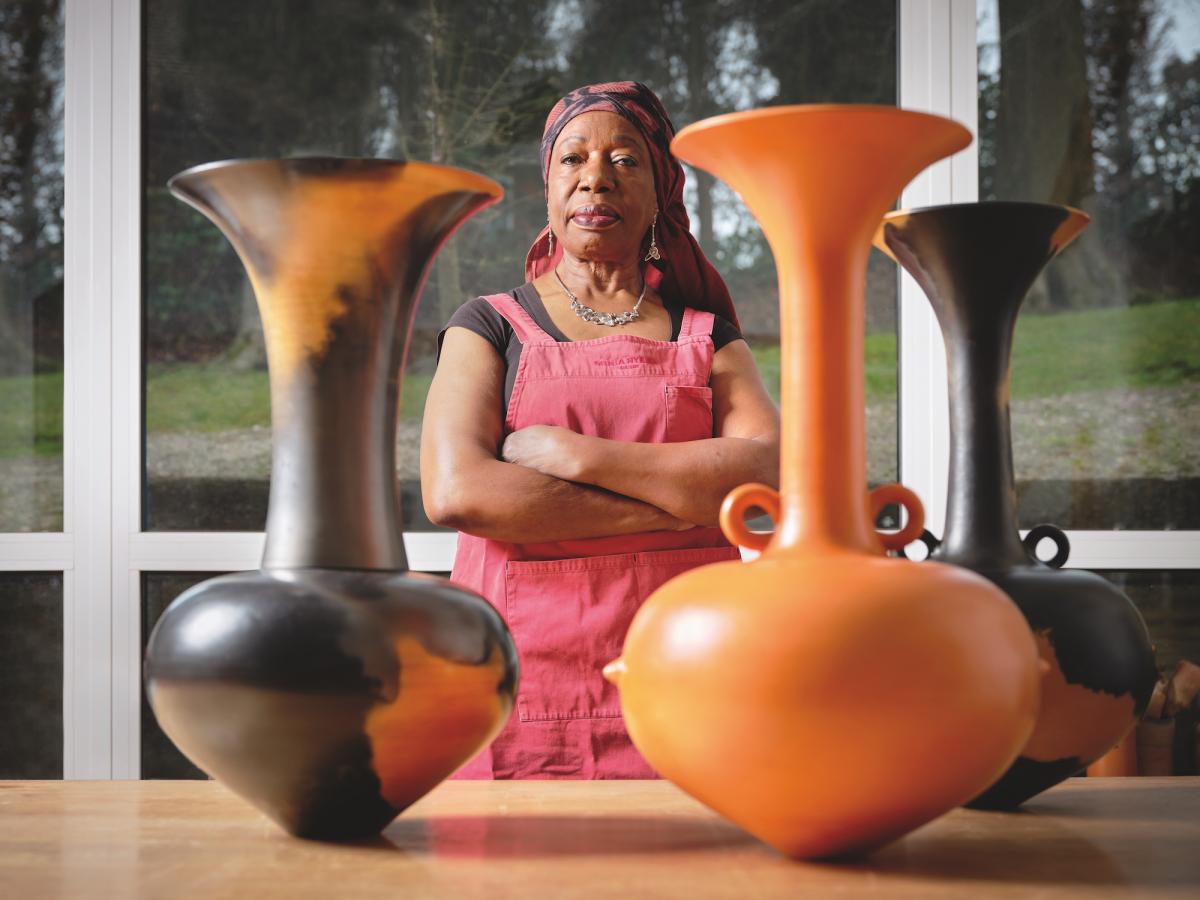 PHOTOGRAPHY: CRISTIAN BARNETT

---
The clay helps with healing. I think that all artists and creative people feel a lot better the minute they get back to the making.' Magdalene Odundo is in her studio in Surrey. She's at work on the first pots she has made since 2018 – a group of masterful new pieces about to be shipped to New York, to be shown at Salon 94. She's happy to be at work. A spell of serious illness has stopped her temporarily from making, but she has returned to it with gusto.
Her practice demands her attention. Her blockbuster exhibition, Magdalene Odundo: The Journey of Things, was exhibited to huge acclaim in 2019 at both The Hepworth Wakefield and Sainsbury Centre, Norwich.
---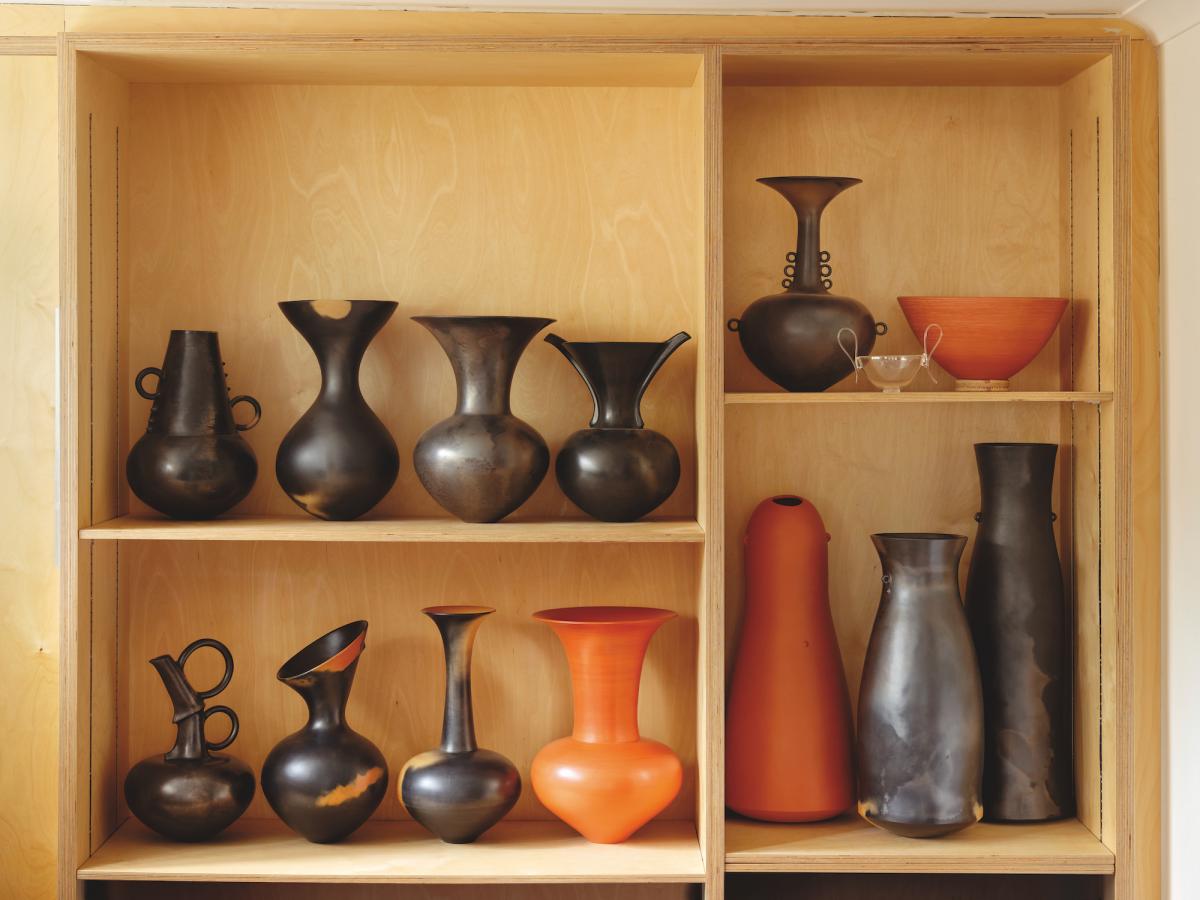 ---
It showcased her own pieces as well as myriad global references that have informed her work. These included vessels from ancient Greece and Egypt, Modernist sculpture, Elizabethan dress and ceramics from Africa, Asia and Central America. And last year, along with being awarded a damehood for her contribution to arts and art education, her Angled Mixed Coloured Vessel fetched a record price at auction for a work by a ceramic artist (£240,000). Exhibiting continuously since her graduation from the Royal College of Art in 1982, Odundo has followed her own trajectory, ignoring the fashions in ceramics that have come and gone.
Her instantly recognisable vessels feature worldwide and are hugely sought after by private collectors. Hand-built and burnished to a beautiful sheen, they are not glazed but instead showcase the natural colour of the fired clay (a rich terracotta) or, after multiple reduction firings, they turn an inky, mottled black. This beauty can be hard won, she confides, saying: 'As a material, clay is great, but it can also be stubborn – sometimes you have to fight with it.'
---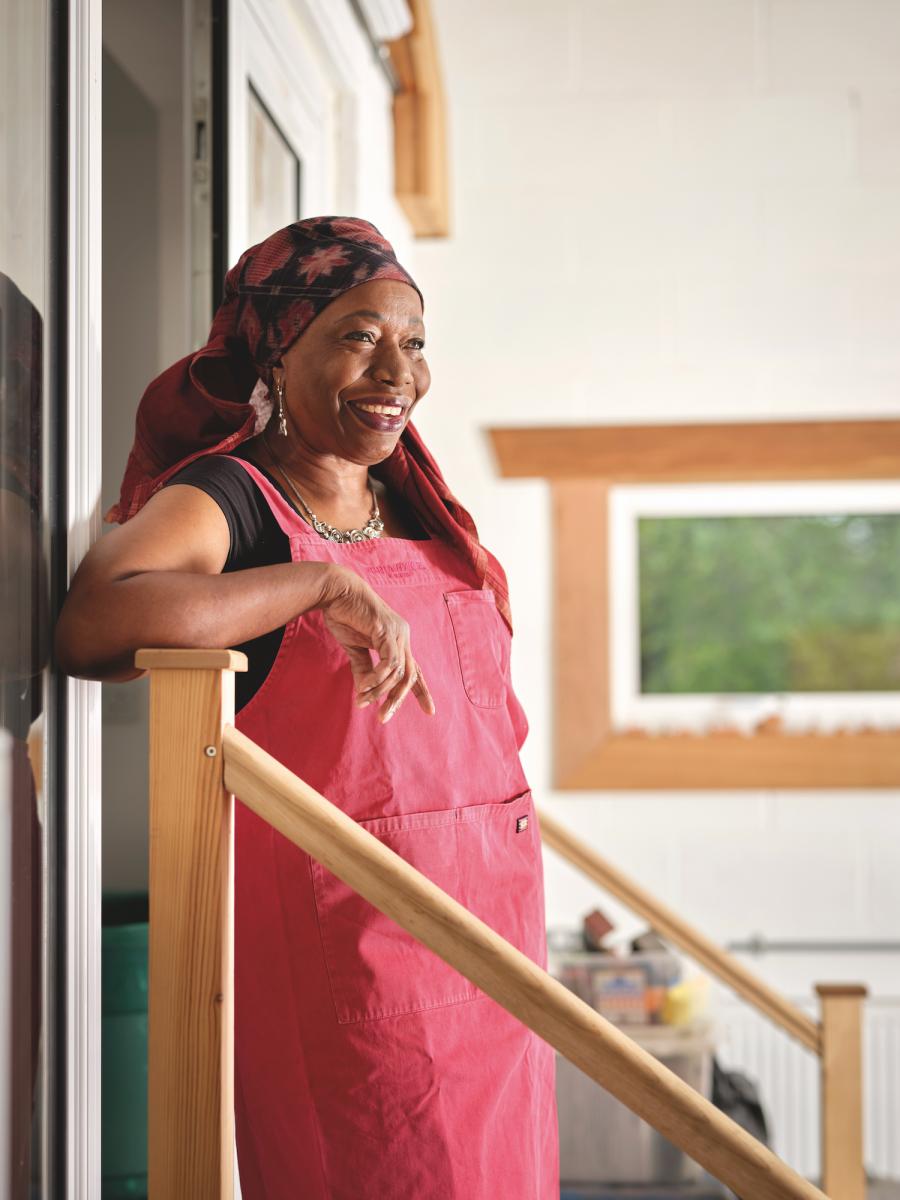 ---
FINDING THE BALANCE

Reminiscent of the human body, each of Odundo's works has its own distinctive features and character. She explains: 'I tend to refer to the work as children or as people.' Some are asymmetric and delicately balanced, while others, such as some of her newest pieces (pictured) embrace symmetry – 'they have the simplicity of a person growing tall on their heels and reaching out, or going to the market, carrying a pot or basket on their head, totally balanced, not holding onto it'. All of Odundo's work takes the form of non-functional vessels, central to which are notions of containment and emptiness, where the hidden interior of the pot is just as important as the exterior: 'When you are well inside, your exterior and poise show it. When you're not well, everyone looks at you and knows it. It's the same for pots.'
---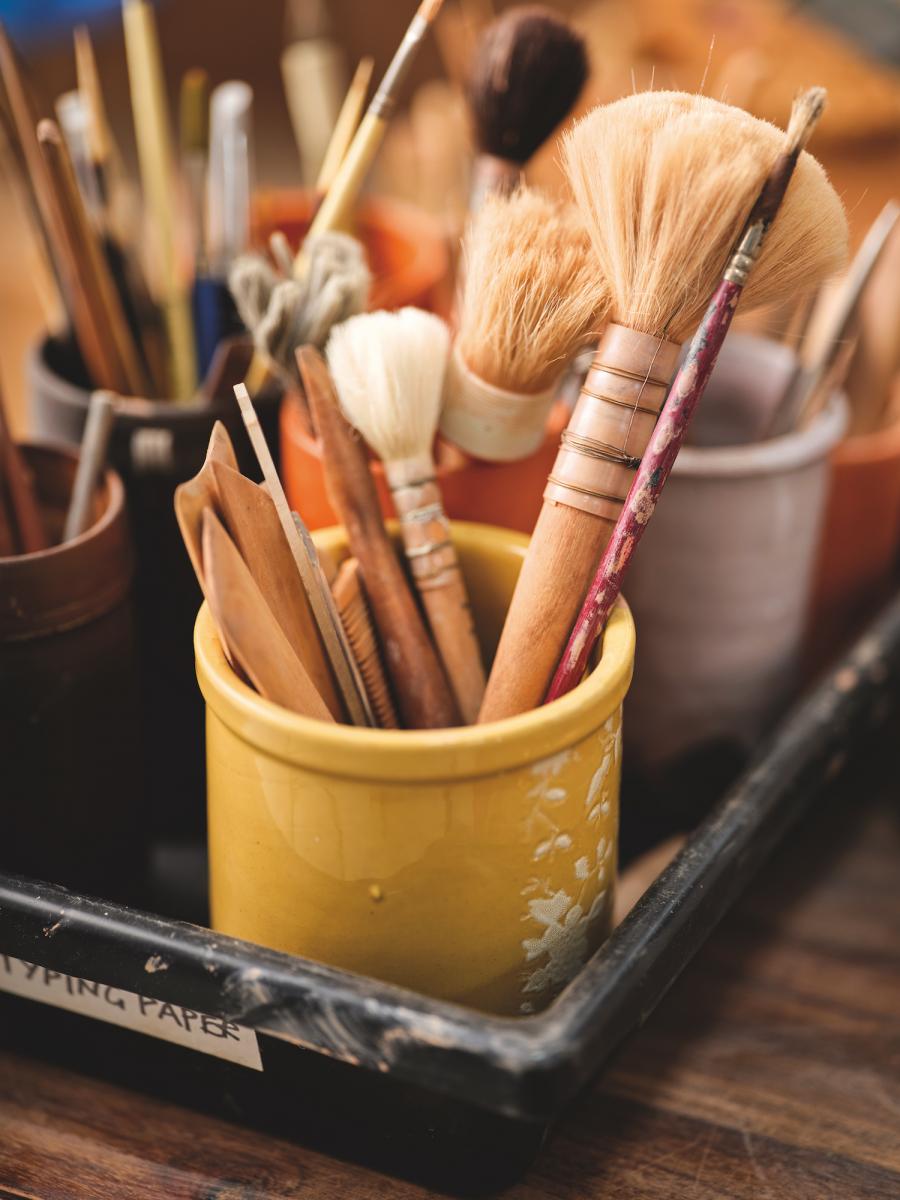 ---
Born in Nairobi in Kenya in 1950, Odundo initially trained in commercial art. She then travelled to England in 1971 to take an art foundation course at Cambridge School of Art. As Kenyan schools followed the English curriculum (Kenya being under British colonial rule until 1963), Odundo knew a huge amount about the history and culture of England before she arrived, but was surprised to find that many English people knew little about other parts of the world. Yet, when visiting Cambridge museums, she was able, for the first time, to study art from around the world. She was especially captivated by the versatility of clay and the many similarities between ceramics made in disparate parts of the world.
---
'TEACHERS NEED TO HAVE A VISION OF WHAT TO SAY TO PUPILS, AND PASSION COMES FROM THAT. YOU CAN BE TAUGHT TO TEACH, BUT YOU CAN'T BE TAUGHT TO BE INSPIRATIONAL'

---
Museums remain important to Odundo, bringing together in one place cultural material from around the globe, sparking curiosity of distant places and people. 'Museums hold the key to helping us to develop a visual literacy,' she says, 'enabling the eye and brain to relate to objects and to the people who made them.'
Odundo feels that visual literacy is sorely lacking in schools today. A passion for arts education has run parallel to her career as a maker; she taught museum education at the Commonwealth Institute, later teaching ceramics for 14 years at the University for the Creative Arts, an institution at which she is now both professor emerita and chancellor. Since 2011, she has also been a patron and trustee of the National Society for Education in Art and Design (NSEAD). A mentor to many young aspiring artists, for her, 'teaching is a process of learning, a dialogue between the students and myself. Every time I have tried to resolve someone else's practical issues, I have most likely been resolving them in my own studio.'
---
---
EQUALITY AND VISION

Odundo speaks eloquently, too, on the intersection between education and the racial disparities present in society – on why children from Black, Asian and ethnically diverse backgrounds need to see art and artists they can identify with. In light of the Freelands Foundation and Runnymede Trust recent commission on racial inequality in art education, she explains, 'role models matter. I think it's important in a society as diverse as ours and it's imperative in 2021 that the curriculum reflects society. We live in
a much more mobile world now. People don't see settling in one place as a major concern. Every society is constantly meeting other societies – we need to respect that.'
---
'ROLE MODELS MATTER. IT'S IMPORTANT IN A SOCIETY AS DIVERSE AS OURS. AND IT'S IMPERATIVE THAT THE CURRICULUM REFLECTS SOCIETY'

---
Ultimately, she says, teachers 'need to have a vision of what they want to say to their pupils, and passion comes from that. You can be taught to teach, but you can't be taught to be inspirational, you have to cultivate that.' Odundo speaks fondly of many of her own teachers, not least Zoë Ellison, the pottery teacher at Cambridge School of Art who encouraged her to begin to work in clay when she became disillusioned with commercial art. Later, she was taught by potter Henry Hammond and sculptor Sir Eduardo Paolozzi. She also trained in Abuja, Nigeria with renowned Nigerian potter Ladi Kwali (so renowned, Kwali now features on one of that country's banknotes).
'Good teachers don't necessarily teach,' says Odundo, 'but they have the ability to observe and to detect talent. Instead of giving you the answers, they help you to work out why you are questioning. The teachers who inspired me were creative themselves, a bit rebellious and eccentric and allowed you to be eccentric or different.' Reticent about the impact of her own role, Odundo remains an undeniably inspirational artist. Her new works, each with its own, human-like presence, are powerful and magnetic, both familiar and a little bit mysterious. Odundo has spoken previously about potters as magicians, able to transform clay. Her pots certainly seem magical to me.
---
SEE

Magdalene Odundo in Cambridge – a display at The Fitzwilliam Museum, Cambridge, to mark the 50 years since the artist moved from Kenya to the city. It brings together global ceramics from Cambridge collections chosen by Odundo, with examples of her own work; 5 October 2021–24 July 2022; fitzmuseum.cam.ac.uk
---
FIND OUT MORE

For more on Magdalene Odundo's work, see anthonyslayter-ralph.com
For more on the Freelands Foundation and Runnymede Trust report, see runnymedetrust.org/freelands.html
---
This interview features in the Summer 2021 edition of The Arts Society Magazine, available exclusively to Members and Supporters
---
About the Author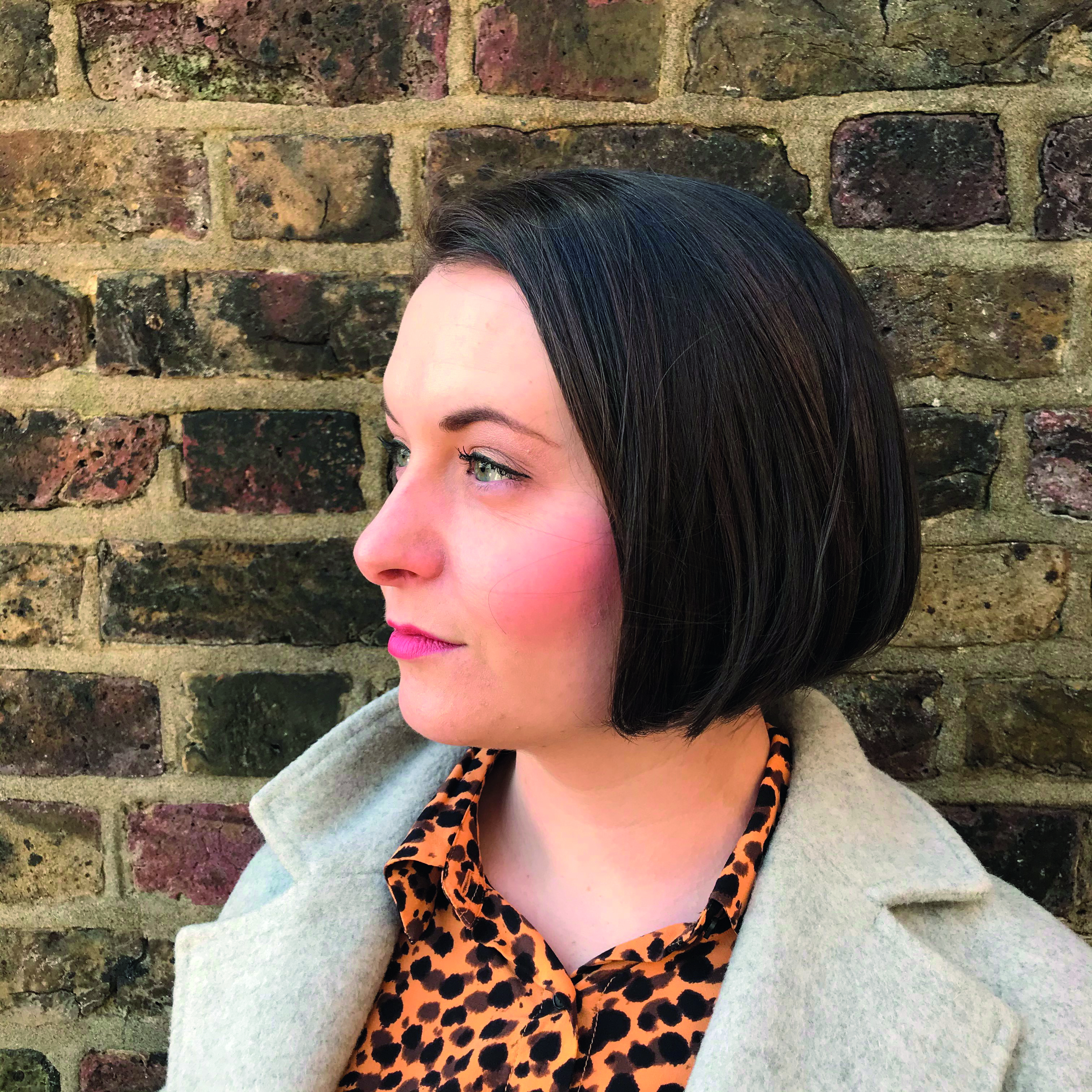 Helen Ritchie
Helen is a lecturer, writer and curator responsible for researching and interpreting the modern Applied Arts collection at The Fitzwilliam Museum, University of Cambridge
• Her interests include British studio pottery, contemporary crafts and artist/designer jewellery and metalwork. She is curating Magdalene Odundo in Cambridge at the museum, and one of her recent exhibitions there was Things of Beauty Growing: British Studio Pottery, in partnership with Yale Center for British Art
• She is the author of Designers and Jewellery 1850–1940: Jewellery and Metalwork from The Fitzwilliam Museum. Her Arts Society talks include British Studio Pottery: A Concise History and A Design Evolution: Jewellery and Metalwork 1850–1940
Become an instant expert!
Find out more about the arts by becoming a Supporter of The Arts Society.
For just £20 a year you will receive invitations to exclusive member events and courses, special offers and concessions, our regular newsletter and our beautiful arts magazine, full of news, views, events and artist profiles.
FIND YOUR NEAREST SOCIETY