Halima Cassell, her art and a beautiful house
Halima Cassell, her art and a beautiful house
Who has cast the spell? An artist on an extraordinary house, or vice versa? Jane Audas reviews Halima Cassell's new exhibition, staged in the luminous spaces of Blackwell – the Arts & Crafts house in the Lake District
---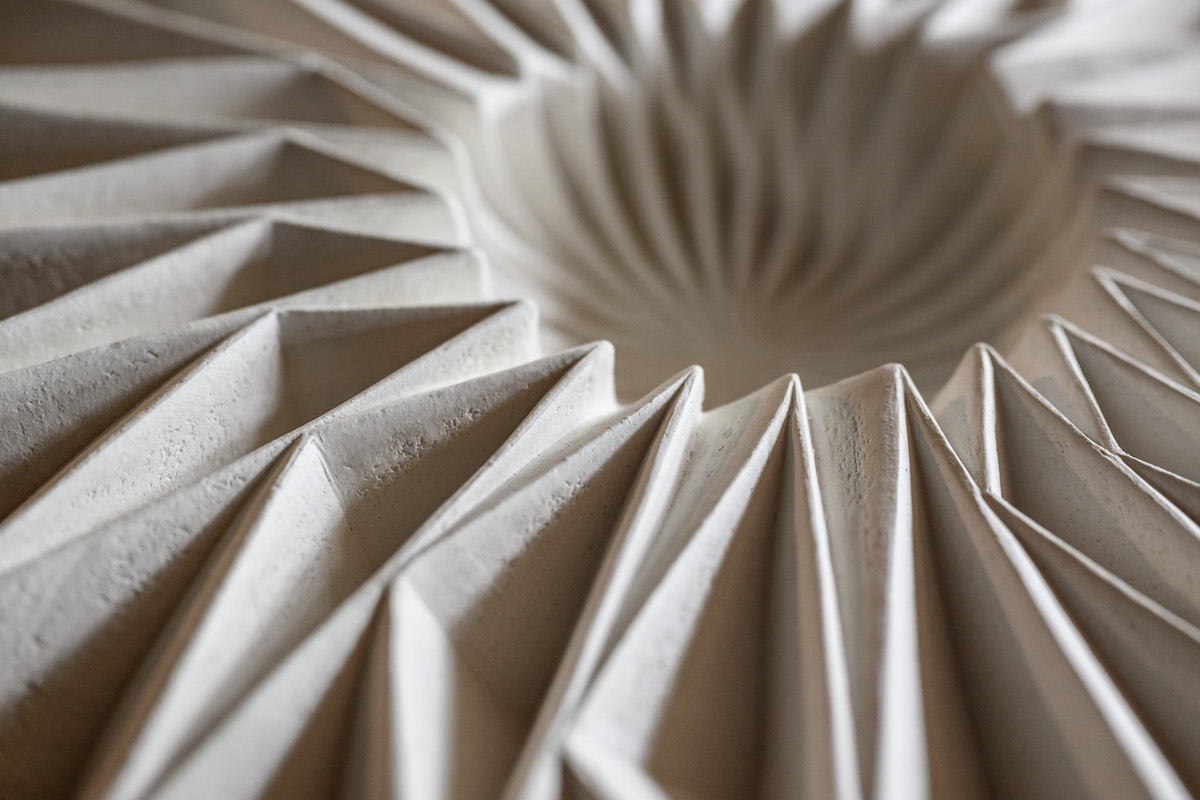 Trimotion (2020). Image: Lakeland Arts/Robin Zahler
---
As an artist and sculptor, Halima Cassell is a materialist.
She works with multiple materials, including clay, bronze, wood, paper, Jesmonite, marble and concrete. Hand carving each piece, she gradually feels out, then frees out, shape, pattern, shadow and light.
Born in Pakistan, CasselI grew up in Manchester, then Blackburn. She now lives and works in Shropshire. The Victorian houses and mills that formed the visual backdrop to her youth have stayed with her.
'As a child walking around Manchester and Liverpool I took in that richness of architecture. People often ask me if it is a cultural thing, my love of pattern. But it came from growing up in Manchester and seeing those beautifully intricate, carved, moulded, decorative Victorian buildings. The city looks amazing at night when the carved elements are illuminated by the sunset or streetlights. Those sights had a big impact on my work.'
---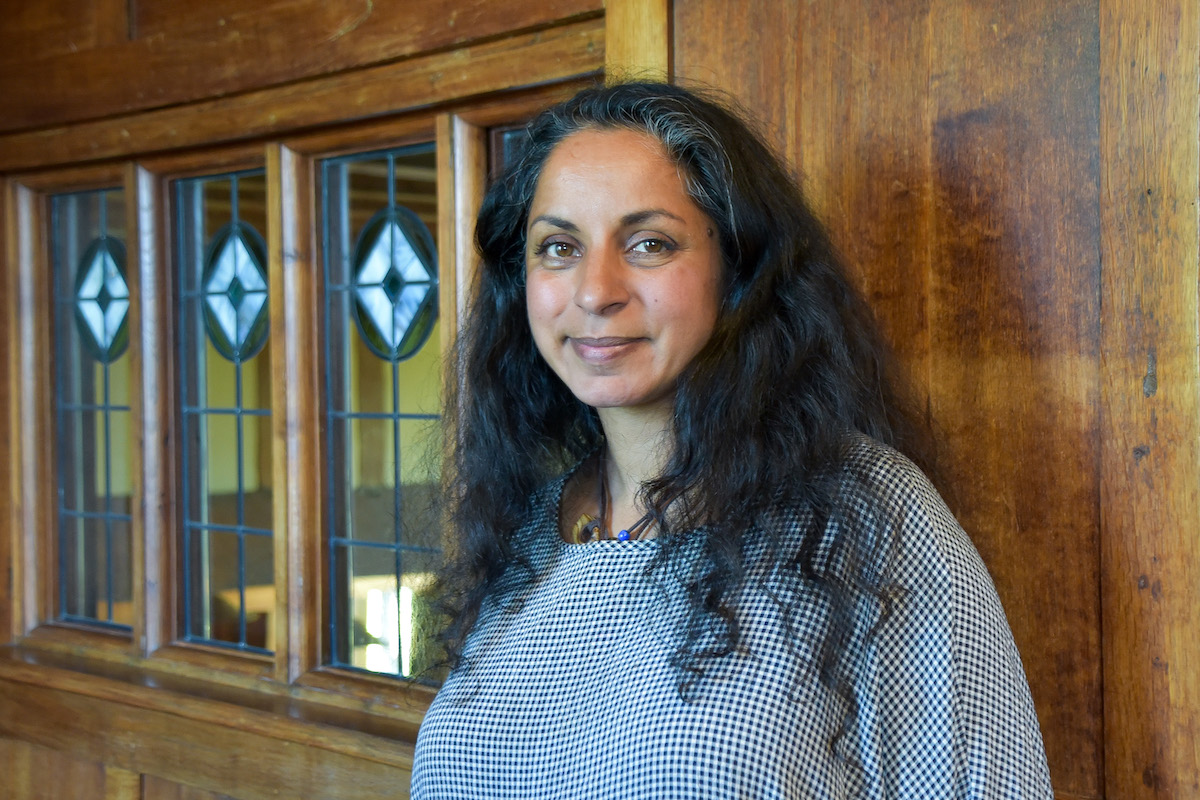 Halima Cassell pictured at Blackwell. Image: Lakeland Arts
---
More than 60 pieces of Cassell's work have been gathered for the exhibition Halima Cassell: Reflections at Blackwell – the Arts & Crafts house in the Lake District. It is 10 years since Cassell first had a solo exhibition there. Once again, the house forms a frame to hold her pieces, but the relationship is symbiotic: her sculptures represent the interiors at Blackwell, giving them fresh perspectives too.
Designed by architect Mackay Hugh Baillie Scott at the end of the 19th century, Blackwell was built on the shores of Lake Windermere and made in the Arts and Crafts Movement's nature-inspired manner.
For Cassell, Baillie Scott's attention to detail is what makes the house particularly special. 'There is a sense of visual appreciation. A lot of places are beautiful, but with the Arts and Crafts Movement there was that additional effort in the craftsmanship of the interior. Blackwell has that extra visual delight as you walk around. The building is a piece of art in itself.'
---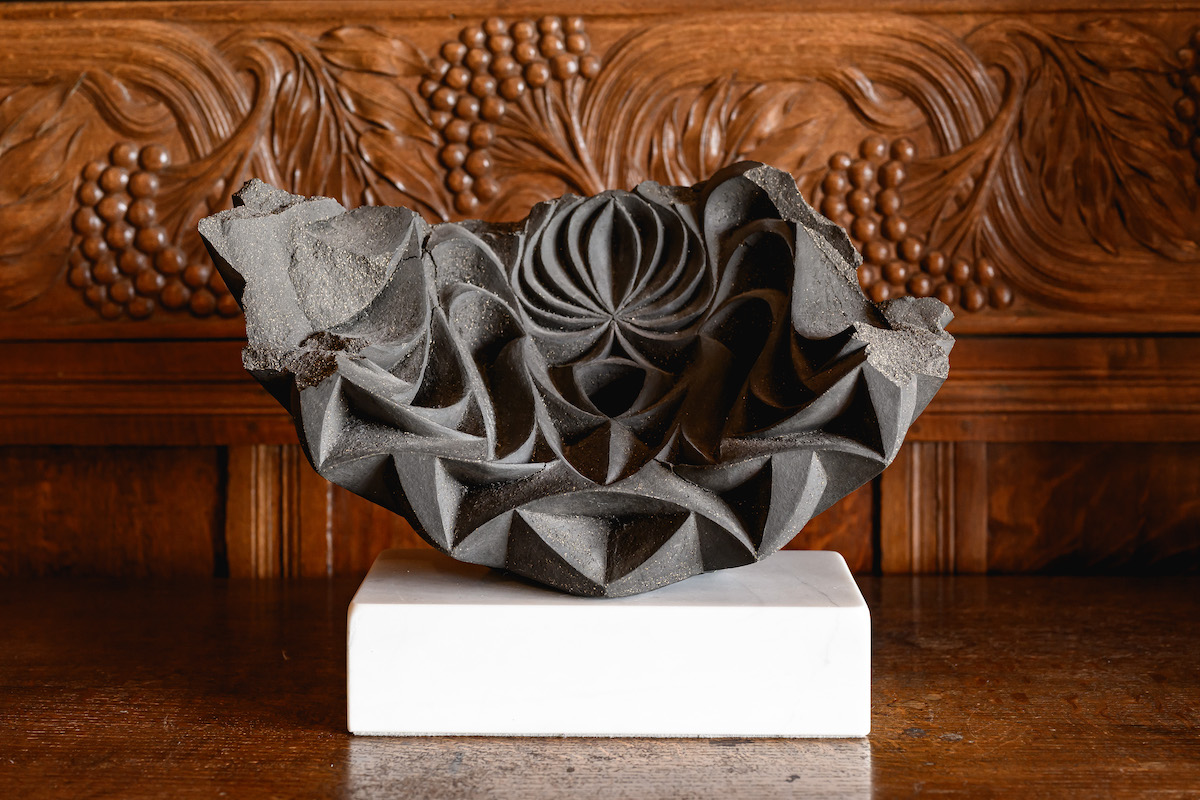 Torso, 2008. Image: Lakeland Arts/Robin Zahler
---
Working with Naomi Gariff, programme curator at Lakeland Arts, Cassell has placed her pieces throughout the house, working with different sensory intent depending on the room.
Sometimes the reason for placing a work is quite clear.
A new piece called Tulipan, inspired by the curls of tulip forms, sits in the hallway leading to the White Drawing Room. Close by is a stained-glass window depicting tulips, and there are doors with tulip-shaped handles; these all echo Cassell's visual metaphor. 'That's what is lovely about Blackwell and other Arts and Crafts Movement buildings,' she says. 'The architects worked closely with craftspeople and for that reason you have this wonderful interplay of visuals.'
Sometimes the object placements are more subtle.
In the White Drawing Room, full of carved decorations, is Flow, a swirling white marble sphere inspired by neoclassical drapery. From this room large windows look out onto Lake Windermere. 'Here,' says Cassell, 'you have the beautiful softness of the marble carving with the soft light and reflections from the lake coming through too.'
For an artist whose art relies on light to tell much of its story, Blackwell is a bit of a gift for Cassell.
---
Ki, 2016. Image: Lakeland Arts/Robin Zahler
---
My art is all about how the light impacts it, and the deep window sills at Blackwell that frame my work, such as Ki, are my favourite spots in the house.' Upstairs such sills hold her pieces Acapella, Nuages and Memento. 'The window sills are the perfect plinth, framing and lighting as the sun flows through the windows and down the dark corridors; then there is the stone around the window and the leaded glass within them. Everything works beautifully together.'
---
Nuages (Mackerel Skies), 2019. Image: Lakeland Arts/Robin Zahler
---
In the main hall, her shallow vessels Trefoil and Orchidea sit on a satisfyingly chunky wooden Arts and Crafts table, their shape mimicking the copper domed light shades above. 'The deep carving of these pieces picks up the play of carvings within the furniture and the surroundings. They harmonise and sing together.'
Under another light, Cassell's origami-like Tri-motive vessel sits on the grand table in the main dining room. It's placed directly beneath a 'frilly' lampshade, the geometric stoneware echoing back the movement along the edge of the highly polished wood table.
Such visual conversations carry on through the whole house, leaving visitors wondering if Cassell's work was commissioned for these spaces, rather than brought in for this exhibition. Yet all the pieces in this show are drawn from the past 25 years, with works from private and public collections, as well as the artist's own archive.
---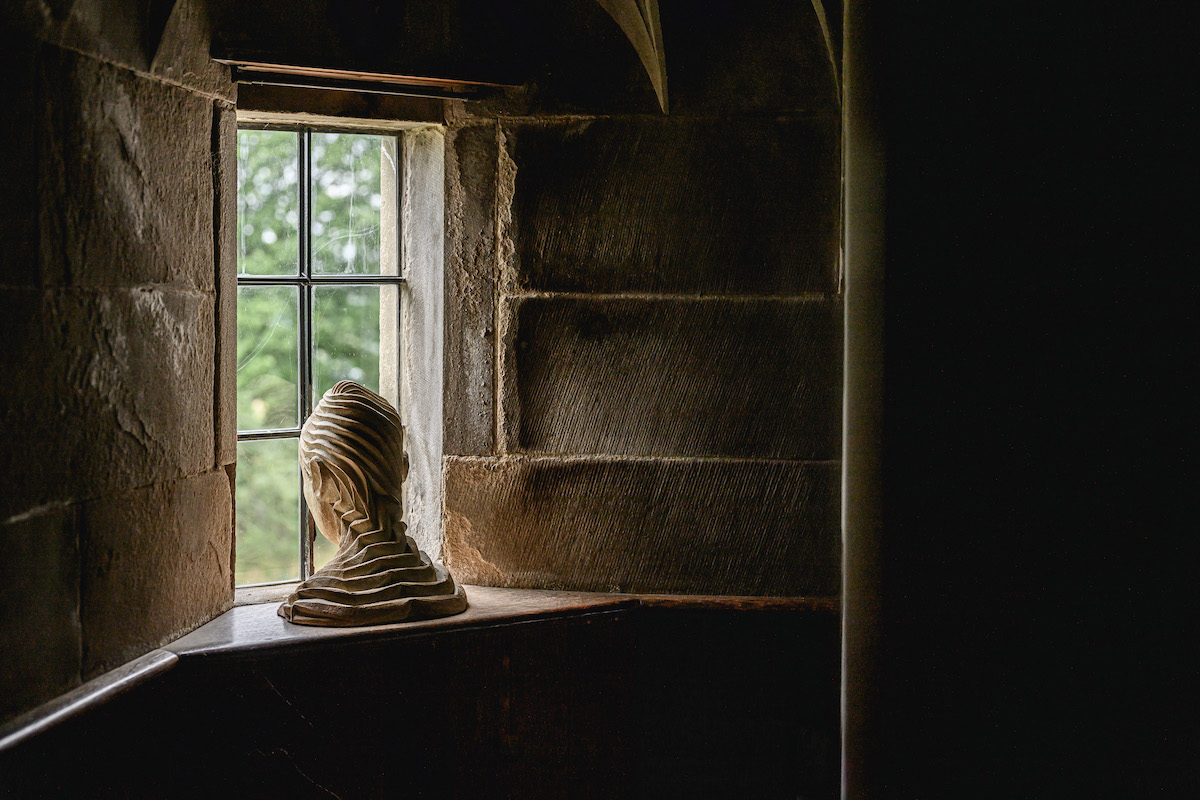 Self Portrait, 2007. Image: Lakeland Arts/Robin Zahler
---
Bringing Cassell's own presence into Blackwell, her stoneware head Self Portrait sits at a pause on the staircase (where once a band would play), its back to the house, peering out the window. It's a position, Cassell reveals, that speaks to her (shall we say) investigative nature. 'I have my hair in a French pleat and I am wearing an Issey Miyake top, which I really like because of its geometrical pressed design. My face is leaning forward, as if the piece is going to tip over. I am always pondering and curious – some might say nosey.'
Cassell is delighted to be back at Blackwell, a place she clearly feels a deep affinity for. Her works bring a new element of craftsmanship and joy to each room in this beautiful house. Working together, the art and Blackwell are bathed in a fascinating new light.
---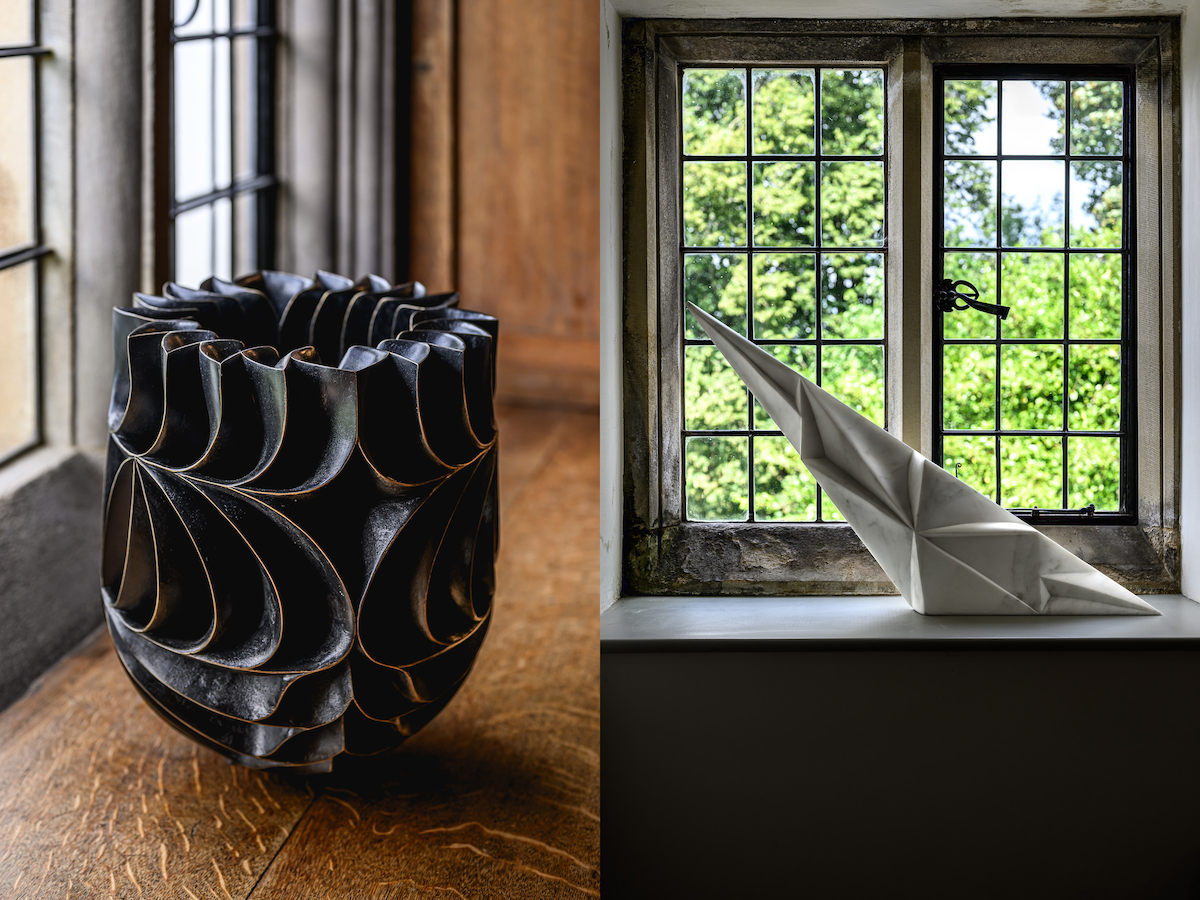 Left: Acapella, 2013. Right: Triangulation, 2012. Image: Lakeland Arts/Robin Zahler
---
See
Halima Cassell: Reflections
Until 1 January 2024
Blackwell – the Arts & Crafts house,
Bowness-on-Windermere, Cumbria
About the Author
Jane Audas
Is a writer and curator with a special interest in art, craft and design history
Become an instant expert!
Find out more about the arts by becoming a Supporter of The Arts Society.
For just £20 a year you will receive invitations to exclusive member events and courses, special offers and concessions, our regular newsletter and our beautiful arts magazine, full of news, views, events and artist profiles.
FIND YOUR NEAREST SOCIETY