Into the Frame: Six Intriguing Facts About Berthe Morisot
Into the Frame: Six Intriguing Facts About Berthe Morisot
20 Jun 2019 - 09:32 BY The Arts Society
Berthe Morisot was a trailblazer of the Impressionist Movement, yet her work has been overshadowed by that of her male counterparts. Now, against the backdrop of rising recognition for female artists, a show dedicated to her work opens in Paris. Arts Society Lecturer Dr Caroline Levisse reveals why it's time for Morisot to be in the spotlight.
---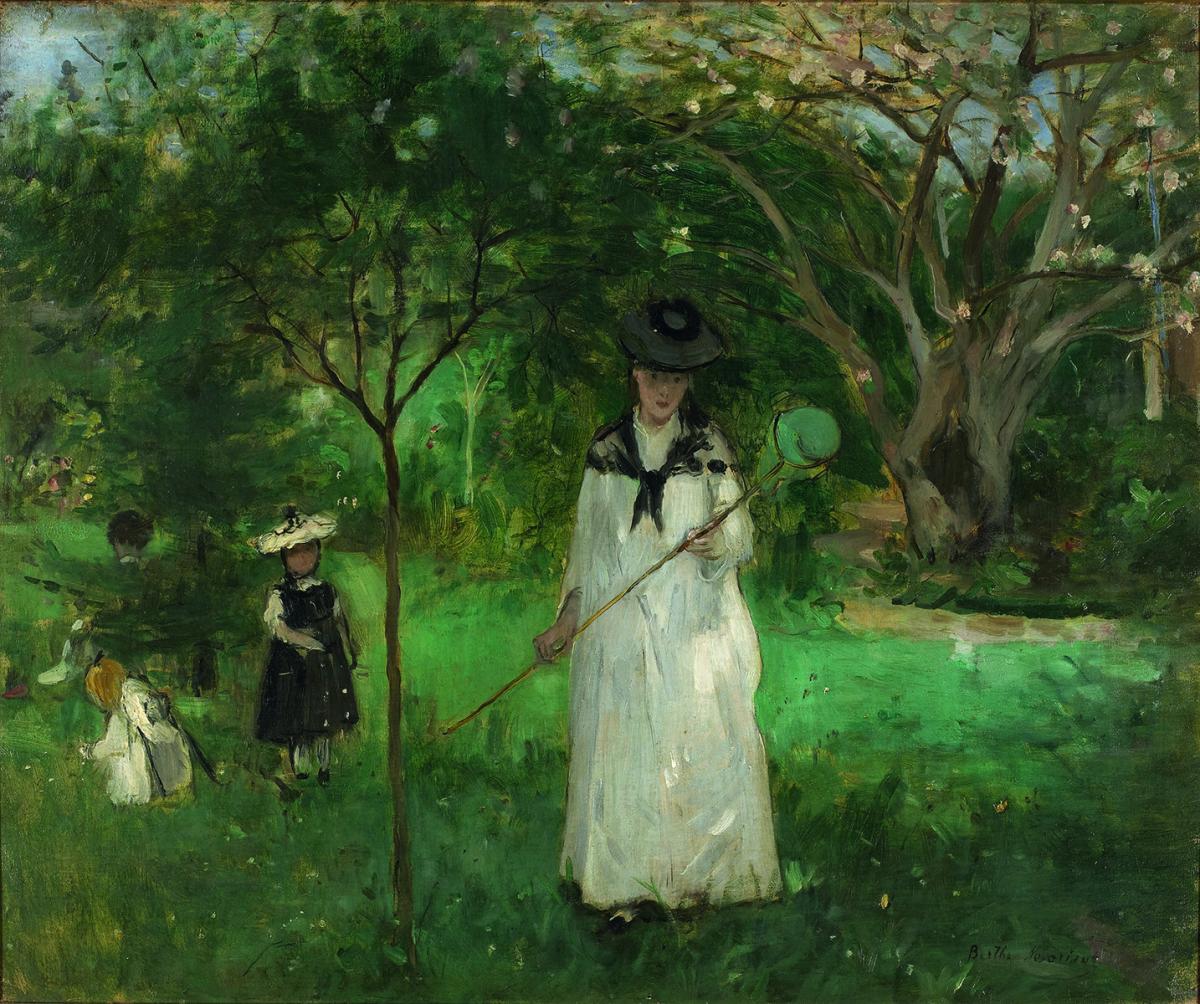 Berthe Morisot, Chasse aux papillons, 1874. Photo © Musée d'Orsay, Dist. RMN-Grand Palais / Patrice Schmidt
---
Her painting training was considered revolutionary

When Berthe Morisot (1841–95), along with her sisters, Edma and Yves, started drawing lessons in 1857, it was a revelation. Soon, Berthe and Edma were painting in oil and copying pictures at the Louvre. Responding to their enthusiasm and commitment, their private tutor, Joseph Guichard, is said to have warned their mother: 'Considering the characters of your daughters, my teaching will not endow them with minor drawing-room accomplishments, they will become painters. Do you realise what this means? In the upper-class milieu to which you belong, this will be revolutionary, I might say almost catastrophic.' The tone is a reminder of how unusual it would have been for one of them to become a professional painter. In their social setting, women were free to dabble in the arts but, once they were married and had children, other duties prevailed.
Her marriage reversed typical gender roles

Despite promising beginnings at the Salon in the 1860s, Edma stopped painting when she married in 1869. Berthe Morisot, on the other hand, had no interest in marriage and continued to work with determination. In a letter to Edma from March 1871 she affirmed: 'work is the sole purpose of my existence'. From the 1860s to her untimely death in 1895, aged 54, from pneumonia, she was devoted to art. Such single-mindedness was a trait of character usually deemed unbecoming in a woman. However immodest and unfeminine her ambition was, Morisot worked relentlessly. So when she married in 1874, she chose someone who respected her passion and recognised her talent, namely Eugène Manet – whose brother had painted Olympia and Le Déjeuner sur l'herbe a decade before. Eugène was the amateur painter, Morisot the professional. And, in another unusual reversal of roles, he even posed for a few of her paintings.
---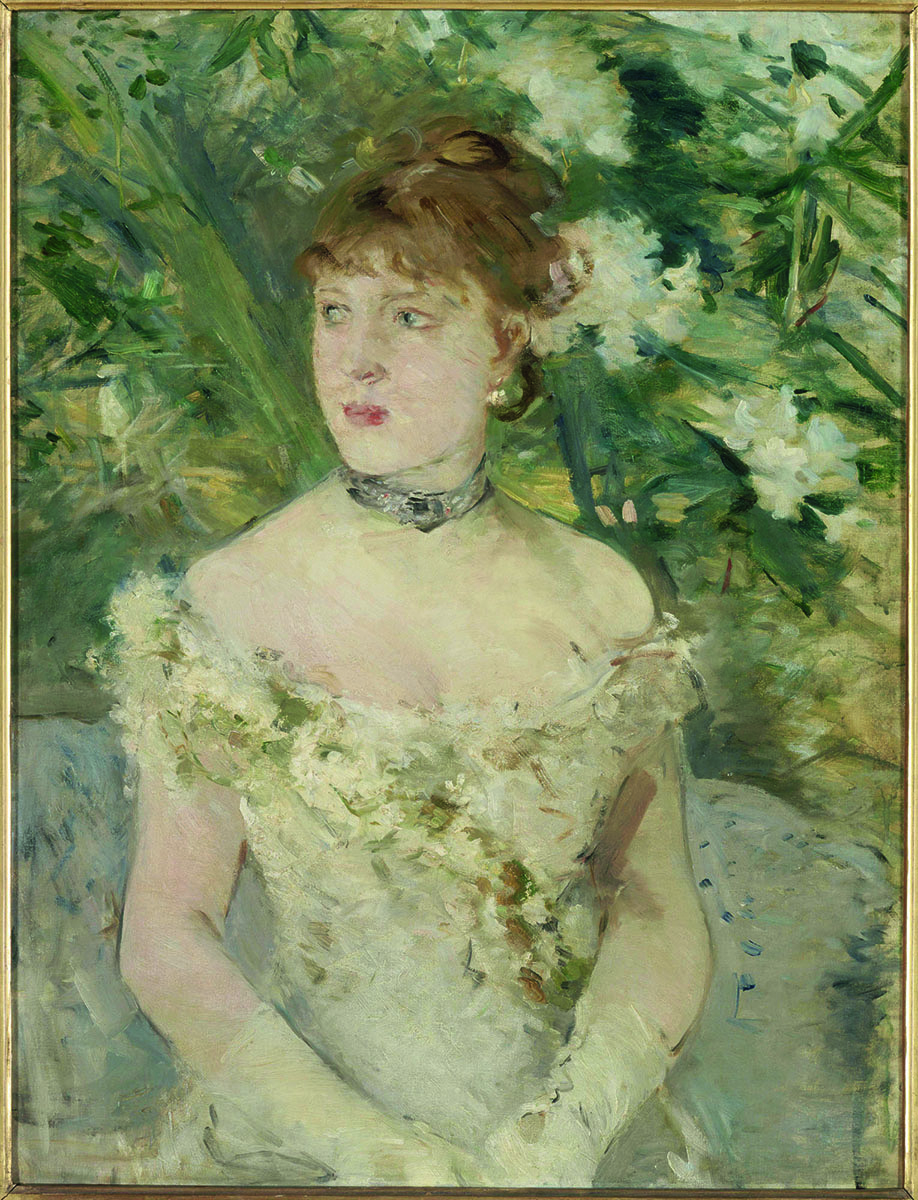 Berthe Morisot, Jeune femme en toilette de bal, 1879. Photo © Musée d'Orsay, Dist. RMN-Grand Palais / Patrice Schmidt
---
She gained recognition despite prejudice

Morisot struggled to be taken seriously and sought the recognition of the art world. She had first displayed her works at the Salon in 1864. But in the early 1870s, as her style became more unconventional, she was regularly rejected by the Salon's jury. The same happened to her Impressionist friends, who decided in 1874 to organise their own show. Writing to Morisot's mother to ask her to let her daughter join them, Degas argued: 'Mlle Berthe Morisot's name and talent are too well suited to our mission to pass up.' Morisot's innovative style shared key characteristics with her fellow Impressionists, such as the broken brushstrokes, the unfinished aspect, and the modern and ordinary subjects. As the years passed, Morisot became bolder in her manner of painting, with an even greater lack of finish, and an enhanced surface effect, in which the figures often seem to dissolve into their surroundings.
She was AN integral MEMBER OF the Impressionist Movement

She undeniably had a central place in the Impressionist Movement. Monet, Renoir, Degas and Pissarro all held her in high esteem. She participated in seven of the eight exhibitions of the group, some of which she helped organise. Her first solo exhibition took place in 1892 at Boussod, Valadon and Cie (nine years after Monet's), and two years later the state acquired one of her works, the 1879 Young Woman in a Ball Gown, for the Musée du Luxembourg. Selling these unconventional works was difficult and she struggled to find collectors. She was wealthy enough not to worry about this, but she wanted to sell her works. 'I am eager to earn a little money,' she wrote in a letter to Edma. Like exhibiting, it was a form of professionalisation.
---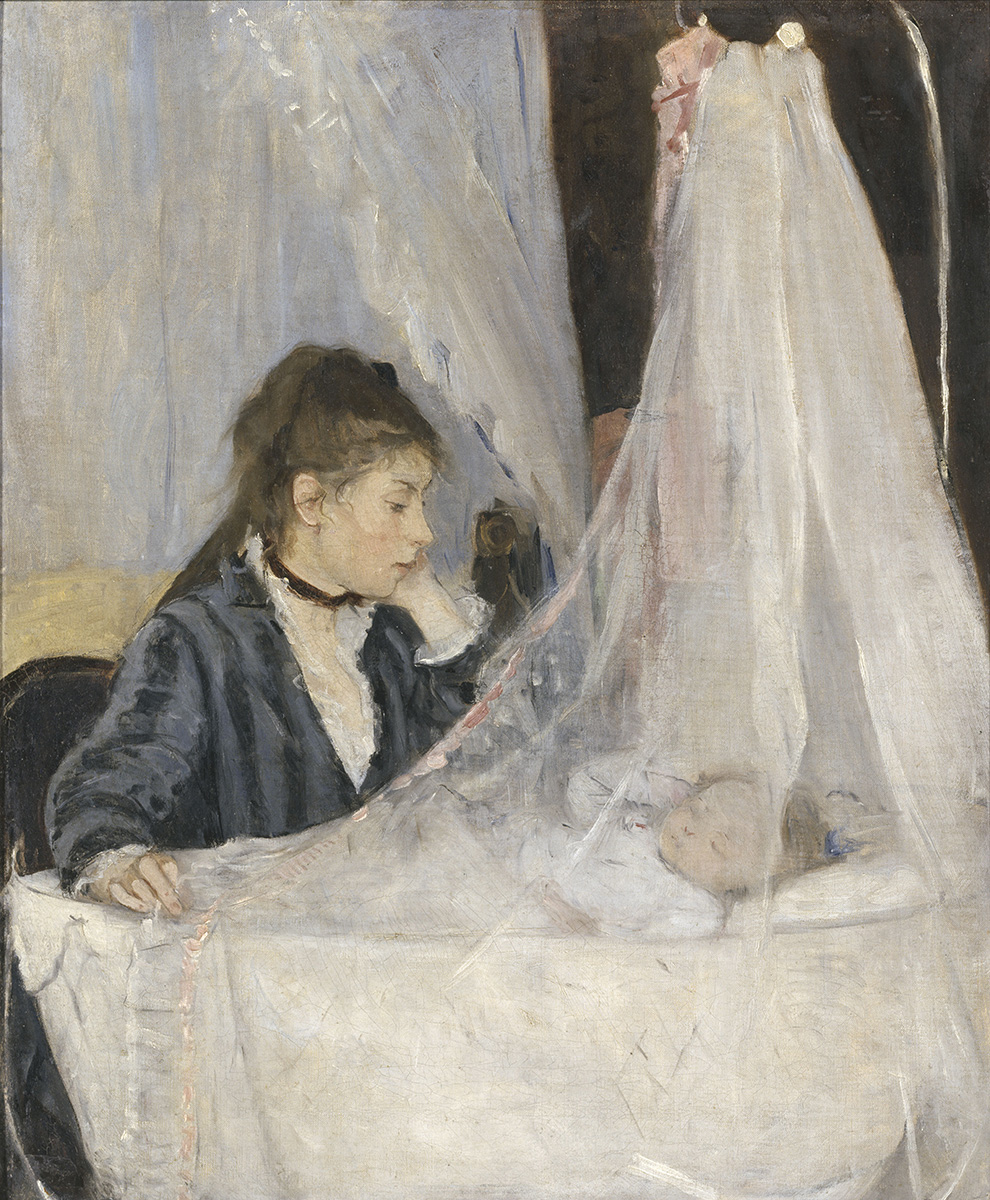 Berthe Morisot, Le Berceau, 1872. Photo © Musée d'Orsay, Dist. RMN-Grand Palais / Patrice Schmidt
---
SHE ORIGINALLY SOLD AS WELL AS HER PEERS – IF NOT BETTER

Morisot remained hesitant when it came to marketing her work. In the same letter she added that her 'situation [was] impossible from every point of view'. In 1873 she sold her View of Paris from the Trocadéro to the art dealer Durand-Ruel for 500 francs, which he immediately sold for 750 francs to Ernest Hoschedé. This is similar to what Monet made when he managed to sell paintings. For example, in May 1874, Hoschedé paid 800 francs for one of his landscapes. Two years later, during a sale of Impressionist paintings at the Hôtel Drouot, Morisot was the only one to sell all her works and they fetched slightly higher prices than her colleagues'. In 1892, Morisot's The Bowl of Milk was bought by Monet for 1,500 francs. The gap had started to widen. Monet now sold his landscapes easily and some of the Haystacks went for a few thousand francs apiece. In the end, Morisot's paintings mainly stayed in her family.
Her legacy is being reappraised

After her death, Morisot was gradually demoted to the rank of secondary figure in the history of Impressionism. But since the 2000s a series of exhibitions and publications has been reassessing her historical significance. The art market is following a similar trend and her works are selling at higher prices. In 2013, After Lunch (1881) sold for £6.9m ($10.9m) – it had previously been bought in 1997 for $3.25m. In 2005, Hide and Seek sold for $4.6m. Mary Cassatt and Eva Gonzalès, two of Morisot's contemporaries, are experiencing a similar increase. Today, even though they are still under-represented, women artists enjoy greater visibility in art history and cultural life, and on the art market. Examples quickly come to mind: Artemisia Gentileschi – her Self-Portrait as St Catherine was acquired by the National Gallery last year; or Sonia Delaunay, Georgia O'Keeffe and Barbara Hepworth, who all have had major solo shows. And Yayoi Kusama, Jenny Saville, Paula Rego, Bridget Riley and Cindy Sherman are among the most commercially successful living artists. Such recognition makes this all the more the right time for Morisot's work, once again, to be placed centre stage.
---
Dr Caroline Levisse is one of several lecturers who give talks on the Impressionists, among them Bernard Allen, who lectures onWomen Artists & Impressionism.
---
SEE

Berthe Morisot, Musée d'Orsay, Paris; 18 June–22 September
---
Upcoming exhibitions on female artists include:
Paula Rego: Obedience and Defiance, Milton Keynes Gallery, Buckinghamshire; 15 June–22 September; mkgallery.org
Cindy Sherman, National Portrait Gallery, London; 27 June–15 September; npg.org.uk
A Tale of Two Women Painters: Sofonisba Anguissola and Lavinia Fontana, Museo Nacional del Prado, Madrid; 22 October–2 February 2020; museodelprado.es
Radical Women: Jessica Dismorr and her Contemporaries, Pallant House, Chichester;
2 November–23 February 2020; pallant.org.uk
Dora Maar, Tate Modern, London; 20 November–15 March 2020; tate.org.uk
As part of the #5WomenArtists social media campaign, Tate has announced five solo exhibitions of women artists opening in 2020–21
Become an instant expert!
Find out more about the arts by becoming a Supporter of The Arts Society.
For just £10 a year you will receive invitations to exclusive member events and courses, special offers and concessions, our regular newsletter and our beautiful arts magazine, full of news, views, events and artist profiles.
FIND YOUR NEAREST SOCIETY