Five things we love about the artist Michael Rakowitz
Five things we love about the artist Michael Rakowitz
Artwork by Chicago-based Iraqi-American artist Michael Rakowitz has appeared worldwide – and this year, he created the piece for Trafalgar Square's Fourth Plinth, The invisible enemy should not exist. Here are five reasons we love his work.
He resurrected a 3,000-year-old winged bull
Behind the four lions of Trafalgar Square perches a stranger, older beast. Its face is human, its body a bull's and the bright wings of a bird stretch out from its back. It is the protective deity that stood sentry at the Nergal Gate in the ancient Mesopotamian city of Nineveh from 700BC. After surviving for nearly 3,000 years, it was destroyed by Islamic State in 2015. This year, the lamassu winged its way to the Fourth Plinth, courtesy of Michael Rakowitz, where it will remain until 2020 - facing southeast towards Nineveh, longing to return.
---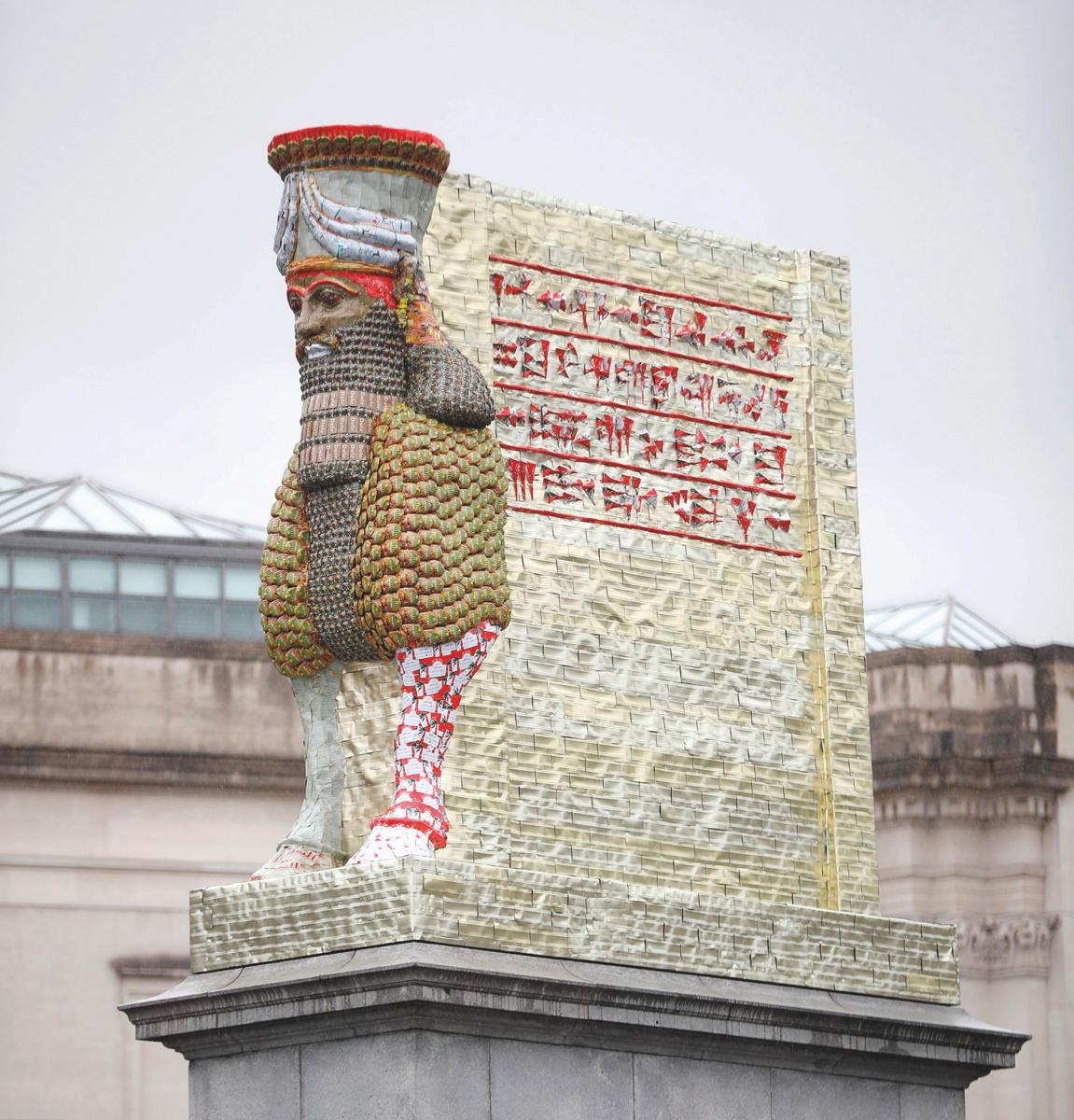 Rakowitz' work The invisible enemy should not exist, on the Fourth Plinth. Getty Images
---
He's on a mission to reconstruct lost histories
Rakowitz's Fourth Plinth offering is part of a much larger project. Since 2006, Rakowitz has sought to reconstruct more than 8,000 artefacts from the National Museum of Iraq in Baghdad that are missing, stolen, destroyed or 'of status unknown' following the 2003 invasion by the US-led coalition. The sacking of the museum was, he has said, the first event of the war about which there was a consensus – whether you were for or against the conflict, this was a tragedy.
---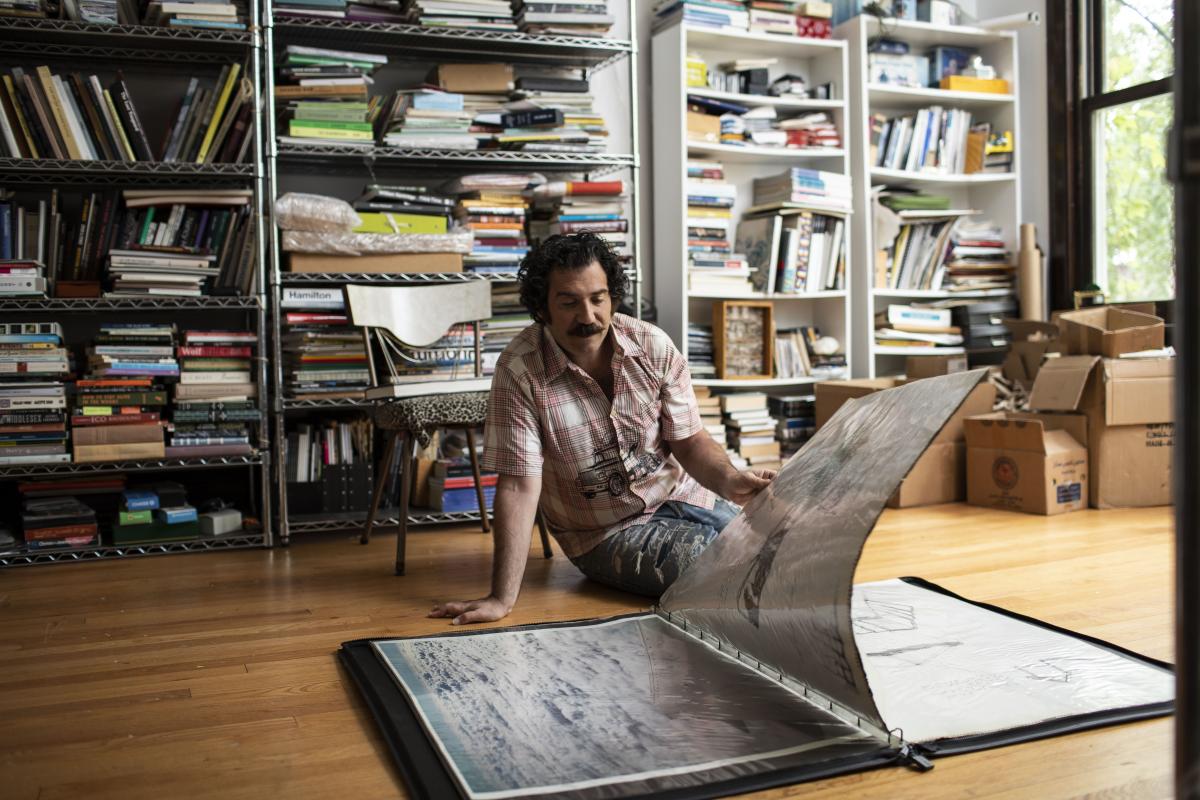 Rakowitz flicks through his preparatory sketches in his studio. Photo by Callie Lipkin
---
There's a mischievous glint in his eye
Rakowitz's work may be serious in intent, but playfulness abounds. In his 2010 show at the Tate, he displayed recreations of helmets worn by the Fedayeen, a paramilitary group spearheaded by Saddam Hussein's son, as Darth Vader helmets – gently prodding the Iraqi leader's fascination with Star Wars films. His 10-part radio series The Breakup charted the rise of pan-Arabism against the decline of The Beatles. In 2011, he collaborated with a New York restaurant, serving an Iraqi dish of venison on a set of Saddam Hussein's dinner plates – a piece he called Spoils. The plates were eventually confiscated and returned to Iraq.
---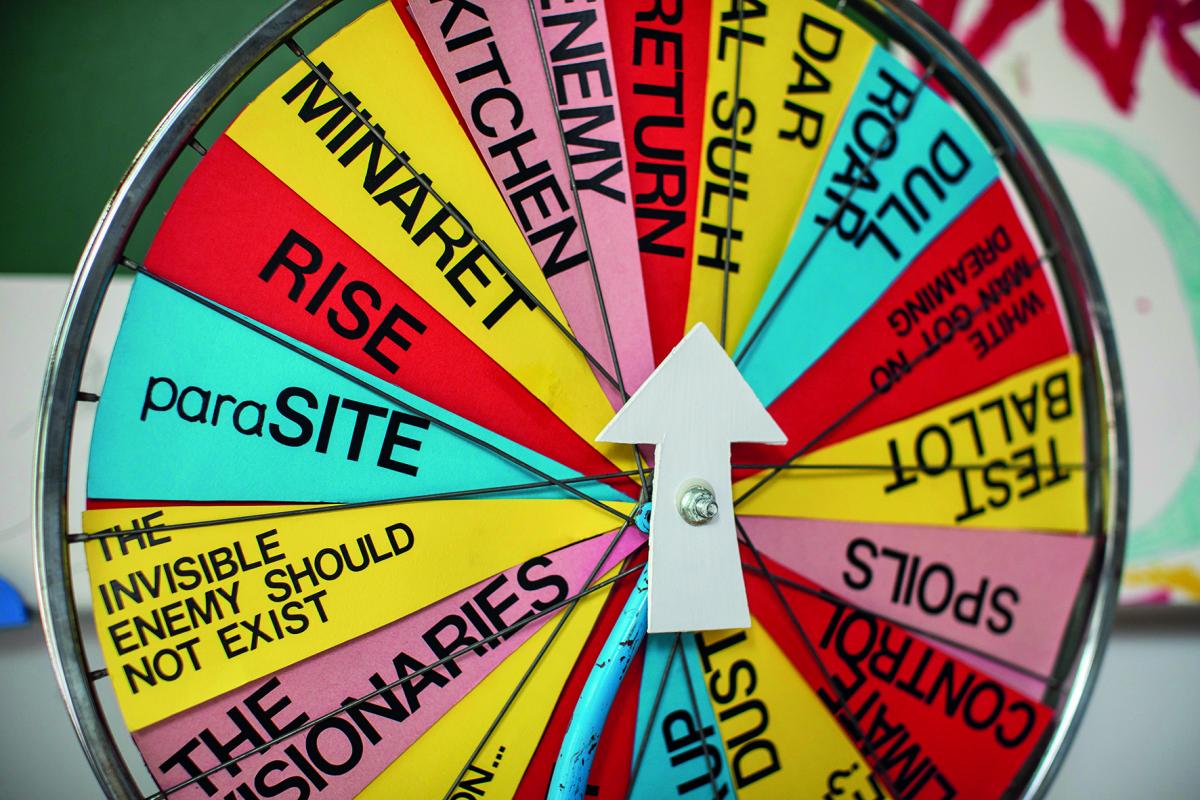 Michael Rakowitz's wheel refers to artworks he has made. Photo by Callie Lipkin
---
Food is central to his art
Rakowitz's Fourth Plinth lamassu is armoured with 10,500 date syrup cans – an evocative reminder of home for members of the Middle Eastern diaspora in the capital. In 2013, he served Dar Al Sulh recipes handed down by his grandmother for a series of communal dinners held in Dubai devised by culture organisation The Moving Museum. He recently cooked an Iraqi-Jewish meal for the mother of Tamir Rice, the 12-year-old killed by Cleveland police in 2014. Since 2003, his project Enemy Kitchen has taught Baghdadi recipes to audiences. 'Preparing and then consuming this food,' he says 'opens up a new route through which Iraq can be discussed – in this case, through that most familiar of cultural staples: nourishment.'
---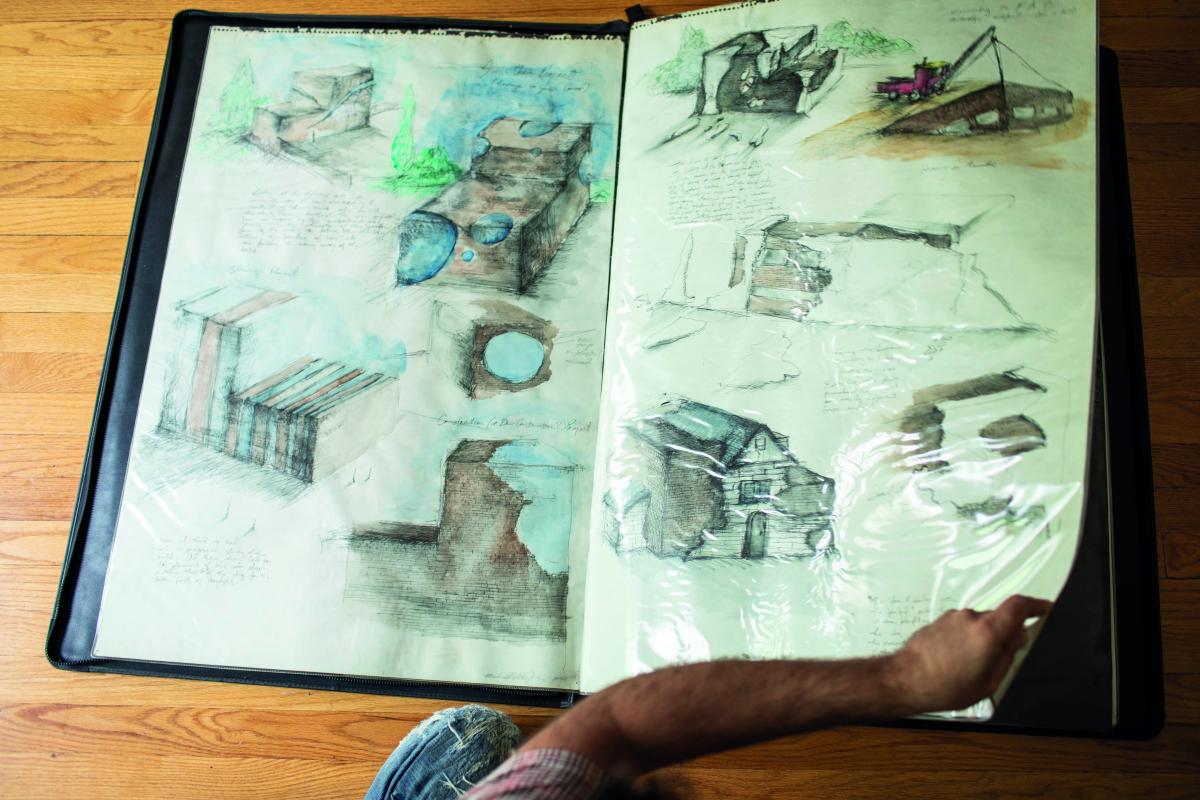 Preparatory sketches in the artist's studio. Photo by Callie Lipkin
---
But his hospitality doesn't end there
Since 1998, Rakowitz's project paraSITE has provided homeless people with a place to shelter – inflatable shelters, which can be heated via the air vents of existing buildings. Each shelter is custom-built for its inhabitant, meeting their individual sleeping and security needs. The artist has since recreated these nomadic dwellings, for homeless people in Massachusetts, New York City and Ljubljana in Slovenia.
---
Michael Rakowitz will be the subject of a major survey next year at the Castello di Rivoli Museum of Contemporary Art, Turin and the Whitechapel Gallery, London. See michaelrakowitz.com, castellodirivoli.org and whitechapelgallery.org
Click here for more news and features from The Arts Society
Header image: Michael Rakowitz in his studio. Photo by Callie Lipkin
About the Author
Become an instant expert!
Find out more about the arts by becoming a Supporter of The Arts Society.
For just £20 a year you will receive invitations to exclusive member events and courses, special offers and concessions, our regular newsletter and our beautiful arts magazine, full of news, views, events and artist profiles.
FIND YOUR NEAREST SOCIETY