Five Remarkable Works from the Souls Grown Deep Foundation
Five Remarkable Works from the Souls Grown Deep Foundation
26 Jan 2021 - 18:13 BY Raina Lampkins-Fielder
The Souls Grown Deep Foundation works to advance knowledge and appreciation of the art of African Americans from the South of the United States. Here curator Raina Lampkins-Fielder reveals five remarkable pieces from its collection.
---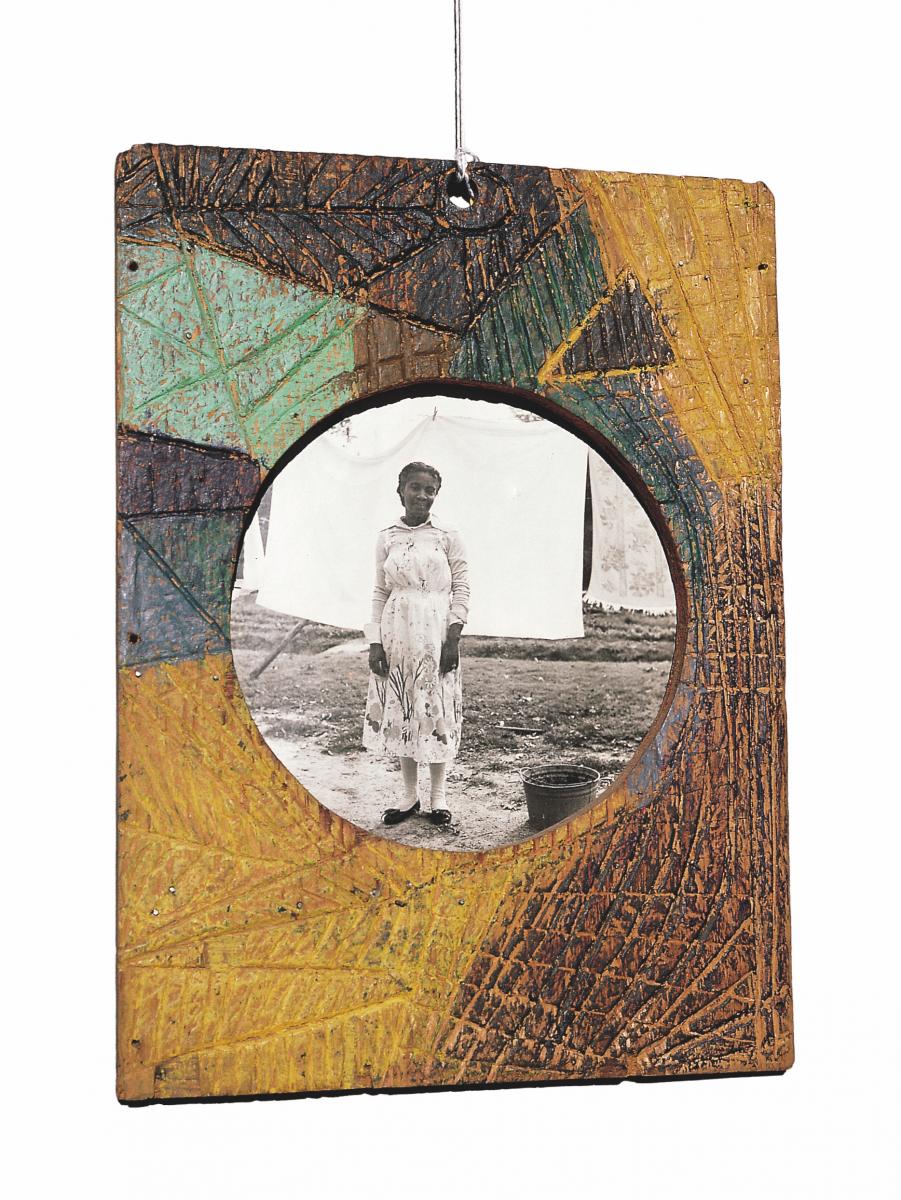 Untitled (framed photo of Rosemary Pearson), 1981, by artist Leroy Person who lived in the swampy Occhmecchee Neck. © Estate Of Leroy Person. Photo: Roger Manley
---
The mission of Souls Grown Deep is twofold. First, we have the foundation, established in 2010 to document, preserve and promote the work of African-American artists from the southern states of the USA. Second, the Community Partnership Programme, which focuses on supporting the communities that nurtured these artists, by fostering economic empowerment, racial and social justice and educational advancement.
We oversee 160 artists and have over 1,000 works, all of which are deemed museum quality, but are not necessarily well known to the larger landscape. These include those of the incredible quilting tradition of the women in the remote community of Gee's Bend in Alabama, including Mary Lee Bendolph and Lucy T Pettway, and the works of artists such as Joe Minter, Lonnie Holley and the late Purvis Young. All of these were gifted at transformation and making art out of ordinary things. A prime example is the 'yard show', where work is assembled from everyday items and shown in the yard outside the home. This was born out of necessity, because these artists were thinking: 'I might not be in a gallery, but I want to show my ideas and bear witness.'
---
'This is part of a wider issue of representation and is designed to evolve the conversation around this missing chapter of art history.'

---
It is important to remember that we are working with individuals who are disenfranchised because they were – and are – black, poor and living in the South of the United States, which is historically under-resourced. This is the reason why they weren't considered or seen in the art world before. In the period when these artists grew up, in the time of Jim Crow laws, declaring yourself an artist was an act of resistance and defiance. It was not looked upon with favour. That being said, places like Gee's Bend are rich with social and political activism, which has given rise to creative ingenuity.
Our goal is to disseminate this art broadly, as opposed to having a museum at our bases in New York, Atlanta and Paris. We have pieces in the collections of 21 museums, including the Metropolitan Museum of Art, the Fine Arts Museums of San Francisco and the Baltimore Museum of Art. Encouraging the inclusion of these artists, their artistic production and cultural traditions into the American art canon is done in a number of other ways, too, including exhibitions, education, publications and academic programmes, as well as a paid internship scheme, where we place three emerging curators of colour in a museum that has acquired work from our collection. This is part of a wider issue of representation and is designed to evolve the conversation around this missing chapter of art history.
---


Souls Grown Deep Foundation. Photo: Stephen Pitkin/Pitkin Studio
---
'STARS OF EVERYTHING' by Thornton Dial, 2004

Thornton Dial (1928–2016) is one of the best-known artists in the collection. He had his own universe of symbolically charged materials, most of which were gathered from a form of waste, from carpet scraps and paint cans to skulls. This is an enormous piece (98 x 101.5 x 20.5 inches), filled with markers of social oppression, including strands of rope. Some people have suggested that the downtrodden central figure of a bloated American eagle could be a self-portrait, but it also encompasses the idea of freedom, of turning scraps into stars, and what one can salvage from the landscape.
---


High Museum of Art. Museum Purchase and Gift of The Souls Grown Deep Foundation. Photo: Stephen Pitkin/Pitkin Studio
---
'BIRDS IN THE AIR' Lucy T Pettway, 1981

Rather than being restricted by any particular style, Lucy T Pettway (1921–2004), a quilt maker for seven decades, constantly observed the patterns and forms that surrounded her environment – no two quilts appear the same. Each one is a conversation, creating a visual call and response, which harks back to the singing that often takes place while quilting. The women of Gee's Bend always use a unique sense of controlled improvisation. Each quilt is like a family portrait, with ancestral echoes and a sense of the communal, because no one ever makes a quilt entirely on their own.
---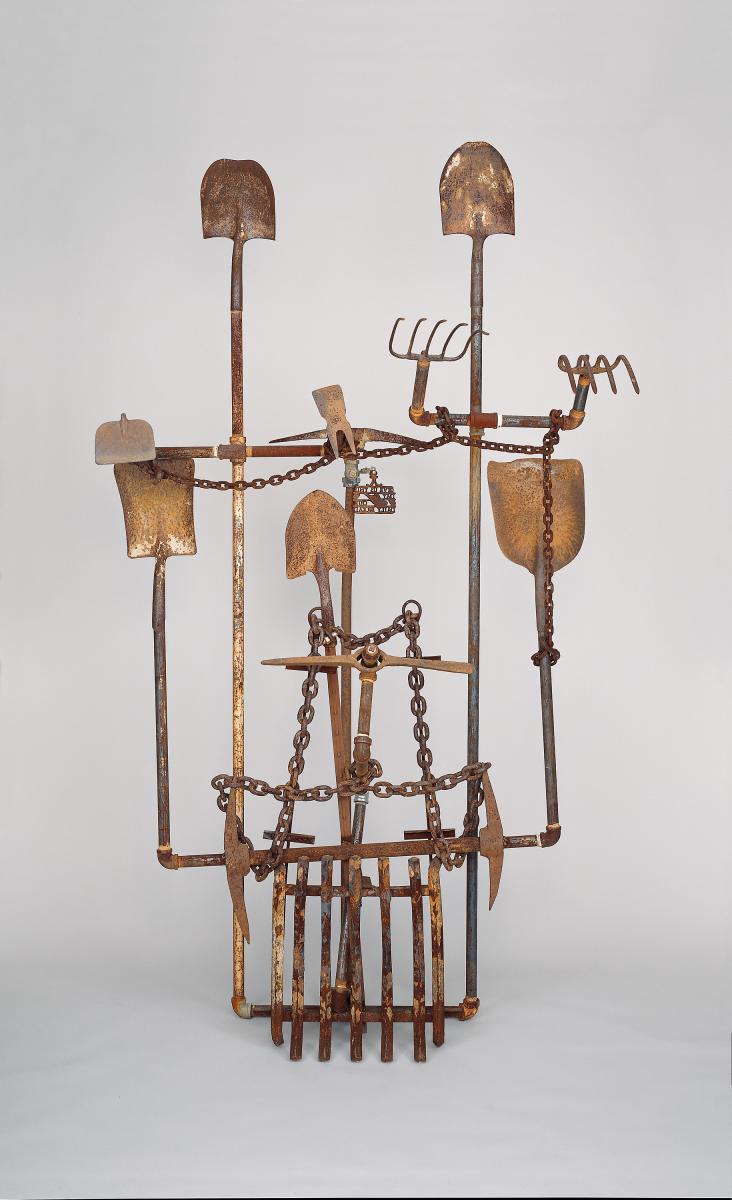 The Metropolitain Museum of Art. Museum Purchase and Gift of The Souls Grown Deep Foundation
---
'FOUR HUNDRED YEARS OF FREE LABOR' by Joe Minter, 1995

Joe Minter (born 1943) began creating a grand, sculptural installation around his house in Alabama in 1989. Called The African Village in America, it is part autobiographical, part strident social commentary. He started it because he believed that a significant part of the black experience in the US might never be told. This is the sort of piece you would expect to find there.It is composed of old, rusty metal tools, shovels and pitchforks, pickaxe heads and a hoe, welded together by pipes and bound by chains. The title refers to the enslavement of African people, and these objects acknowledge the phantoms of their former users, while also being able to shine.
---


Fine Arts Museums of San Francisco. Museum Purchase and Gift of The Souls Grown Deep Foundation
---
'HIM AND HER HOLD THE ROOT' by Lonnie B Holley, 1994

As well as being an artist, Lonnie Holley (born 1950) is something of a historian. He has connections with many of the other artists, including Dial, Minter and Bendolph, and is inspired by them. He draws the connections between their works. You can see those links in a piece like this. He is saying that all of his relatives are connected by this root and their spirit supports it. There is a connection to place, but at the same time they are not bound by it. His ability to invoke meaning within found organic materials is astonishing.
---


Minneapolis Institute of Art. Museum Purchase and Gift Of The Souls Grown. Deep Foundation. Photo: Stephen Pitkin/Pitkin Studio
---
'ROCKING CHAIR' by Nellie Mae Rowe, 1981

From a young age, Nellie Mae Rowe (1900–82) was always drawing and creating. After her second husband died she decorated her house and garden as a way of saying: 'I am an artist and I am marking my space.' There is recurring symbolism in her work, including fish, birds and even female reproductive organs. In 1981 she was diagnosed with cancer, and from that moment her work grappled with the idea of mortality. The rocking chair featured here is her symbol of death.
---
FIND OUT MORE

Souls Grown Deep Foundation, soulsgrowndeep.org
---
This feature originally appeared in the winter edition of The Arts Society Magazine, available exclusively to Members and Supporters.
Become an instant expert!
Find out more about the arts by becoming a Supporter of The Arts Society.
For just £20 a year you will receive invitations to exclusive member events and courses, special offers and concessions, our regular newsletter and our beautiful arts magazine, full of news, views, events and artist profiles.
FIND YOUR NEAREST SOCIETY