Five fantastic facts about Olafur Eliasson
Five fantastic facts about Olafur Eliasson
11 Jul 2019 - 10:30 BY The Arts Society
Danish-Icelandic artist Olafur Eliasson has often turned to the elements to question ideas of human perception, the environment and the threats of climate change. His manipulation of light, water, temperature and spatiality has earned him international acclaim, as have his forays into activism and charitable work. As his major new exhibition opens at Tate Modern, we take a look at five fascinating facts about the artist.
---
Din blinde passager, courtesy of the artist; neugerriemschneider, Berlin; Tanya Bonakdar Gallery, New York / Los Angeles© 2010 Olafur Eliasson
---
He brought the weather to Tate Modern's Turbine Hall
In what is perhaps his best-known work, Eliasson appeared to harness the sun itself and bring it into the museum. The Weather Project (2003) turned the Turbine Hall into a micro-environment, utilising mono-frequency lights to emulate the dazzling radiance of the sun, and haze machines to create a fine mist reminiscent of a dawn fog. The project was designed to let the audience consider the wonders of the weather and the world at large.
---
Stardust particle, photo: Jens Ziehe, 2017© 2014 Olafur Eliasson
---
He started a solar-power charity
Through a Kickstarter campaign the artist launched Little Sun, a solar-powered lamp that helps bring light to underprivileged, off-grid communities in Ethiopia. Since then it has become a global charitable foundation, with several models – including a solar-powered phone charger – and a commitment to help refugees, children and vulnerable communities. Little Sun products are available online and in stores around the UK, with every purchase matched by a locally affordable price for those in need.
---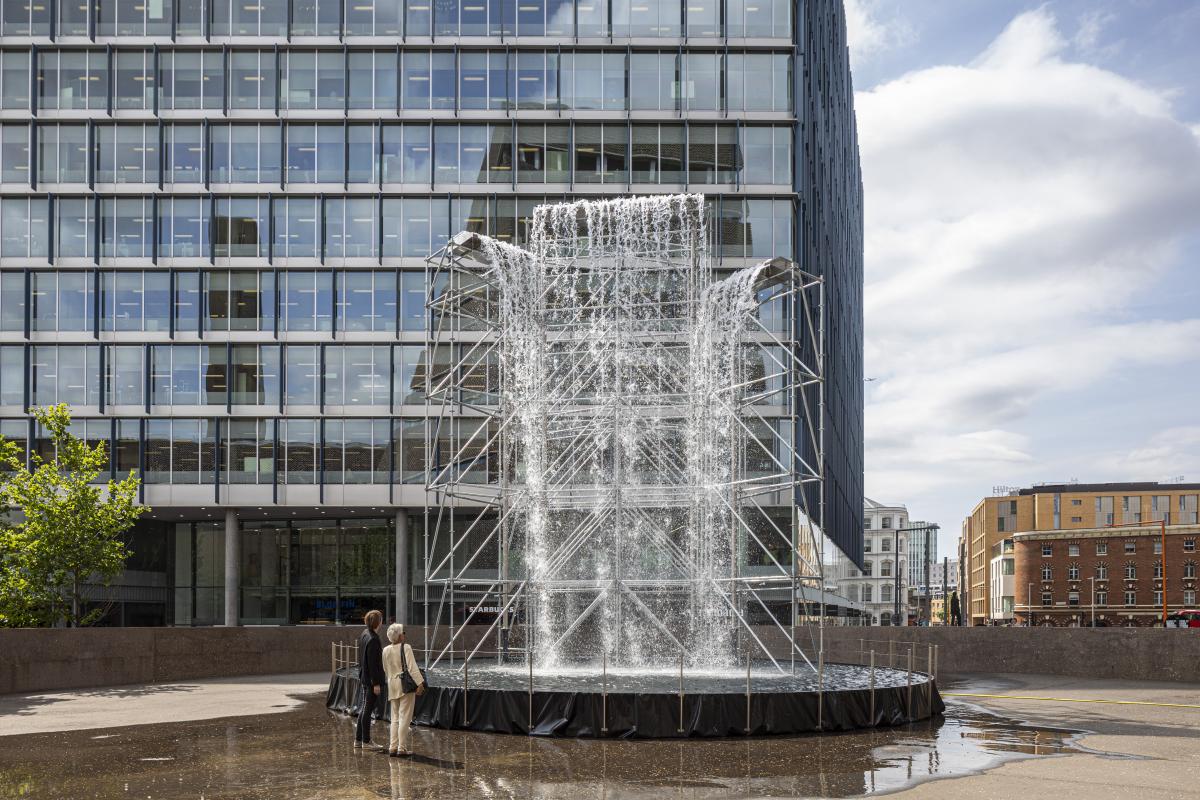 Waterfall, photo: Anders Sune Berg© 2019 Olafur Eliasson
---
He brought icebergs to London
Last winter, blocks of glacial ice appeared outside Tate Modern and the Bloomberg headquarters in London. These 30 ominous lumps were responsibly extracted from Greenland and deposited in the capital to raise concerns about climate change. They were left to melt naturally, as a way of bringing the physical impact of global warming to the people in a truly visceral way.
---
Your uncertain shadow (colour), courtesy of the artist; neugerriemschneider, Berlin; Tanya Bonakdar Gallery, New York / Los Angeles© 2010 Olafur Eliasson
---
He is passionate about food
In Eliasson's Berlin studio his commitment to eating fresh, locally sourced produce means that his entire workforce gets fed four days a week. The communal table has even welcomed special guests including Ai Weiwei and Meryl Streep. The artist released a cookery book titled Studio Olafur Eliasson: The Kitchen and will collaborate with Tate Eats during his new survey exhibition, to produce a special menu for the Terrace Bar.
---
Cold wind sphere, photo: Jens ZieheCentre Pompidou, Paris © 2012 Olafur Eliasson
---
He wants to Skype with you
As part of his Tate exhibition, Eliasson has announced that there will be weekly dial-ins between his studio and the gallery, offering the chance for audiences to see how "an idea gets bones and flesh and grows".
---
SEE

Olafur Eliasson: In real life
Tate Modern
11 July–5 January 2020
tate.org
Become an instant expert!
Find out more about the arts by becoming a Supporter of The Arts Society.
For just £10 a year you will receive invitations to exclusive member events and courses, special offers and concessions, our regular newsletter and our beautiful quarterly arts magazine, full of news, views, events and artist profiles.
FIND YOUR NEAREST SOCIETY