Expert picks from the Royal Society of Portrait Painters' Annual Exhibition
Expert picks from the Royal Society of Portrait Painters' Annual Exhibition
25 Apr 2019 - 11:37 BY THE ARTS SOCIETY
The latest Royal Society of Portrait Painters' Annual Exhibition brings together nearly 200 recent portraits by more than 100 artists. There are always a smattering of famous faces and it is fun to see if you can spot characters from music, theatre and politics among the rich variety on show.
---
PORTRAIT WITH CHINOISERIE WALLPAPER BY MIRIAM ESCOFET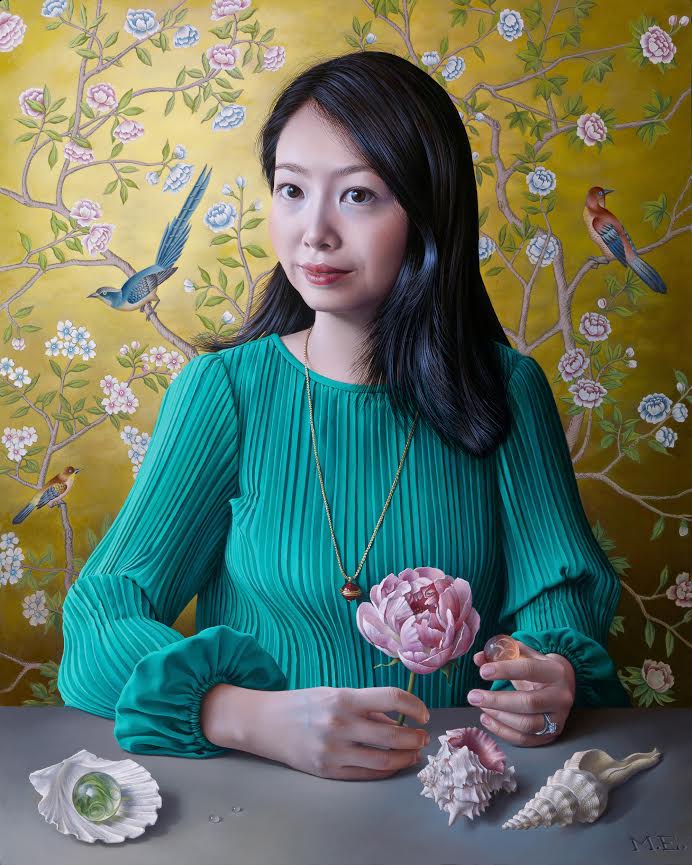 This work was commissioned to celebrate becoming a mother for the first time and is rich in symbolism. The peony at its heart, for example, is a symbol of spring, female beauty and reproduction. The exquisite seashells, which symbolise the new family, mother, husband and newborn child are echoed by the three birds in the background. The necklace is a link with previous generations, being a gift to the sitter from her mother. If you look closely you will see that the artist has included two delicate waterdrops – symbols of life and purity.
---
BIRD LA BIRD BY SARAH JANE MOON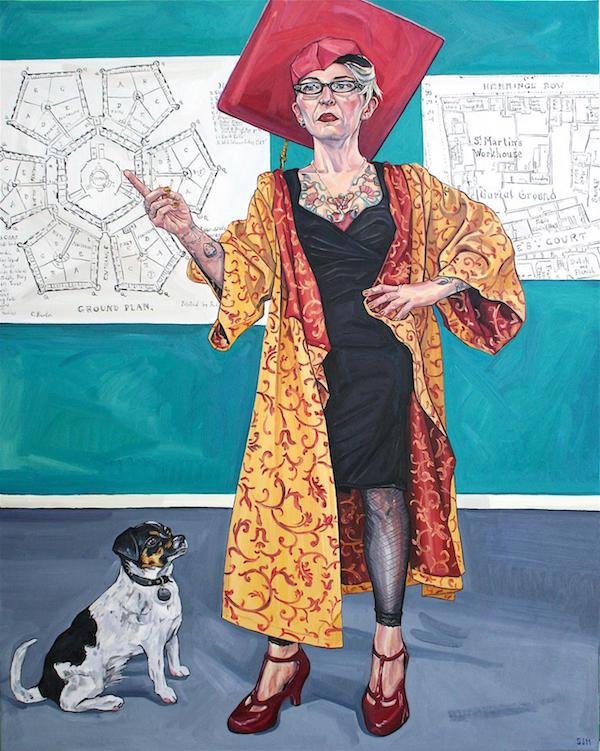 Full of life and colour, Bird La Bird is a performer who straddles comedy and performance art. As Bird, she says, she is "a surrealist who puts the camp back in communism and the fun back in feminism".Sarah JaneMoon chose to paint her because "she exudes charisma, charm and wit, and really knows her stuff". In this portrait, Bird stands in academic drag in front of floor plans of Millbank Prison and St Martin's Workhouse, the current sites of the Tate Britain and the National Portrait Gallery. These two sites are integral to Bird's research, her performances shedding light on the histories of these places, particularly in reference to women, the LGBT+ community and people of colour.
---
ESTHER BY ROBBIE WRAITH RP

This lovely drawing stands within a long tradition. Robbie Wraith studied under Pietro Annigoni and this portrait was drawn using John Singer Sargent's actual modelling stand (to put the chair on), and the work was also supported by Sargent's easel, which, incidentally, was also used by John Everett Millais and William Orpen. The model is Esther, a poet. It is one of two drawings made over two three-hour sittings. As with all commissioned portraits, Robbie keeps the studio conversations private, "as the atmosphere of being concentrated on encourages free, profound and honest conversations".
---
Portrait of the photographer with seated girl by Michael Taylor



This intense painting is a collaboration between Michael Taylor, painter, and Alistair Morrison, photographer. The resulting pair of portraits, one photographic, the other painted, creates a dialogue around the nature of the brush and the lens. The setting is the undeveloped, bunker-like ground floor of the exclusive Canaletto Tower in Islington, which Morrison was using to display his large installation The Adoration – Searching for Apollo. This is an altar-piece inspired work featuring 70 of the world's most iconic music legends.
In the background is one of Morrison's painterly photographs. Taylor has manipulated the dynamic diagonals of the space to make the camera the compositional centre of the complex perspective, and yet it is Morrison's piercing gaze that holds our attention.
---
Simon Wessely by Alastair Adams

This relaxed portrait by the artist Alastair Adams is not all it seems. It depicts the eminent psychiatrist Simon Wessely. Who would guess that Wessely had been tasked with reviewing the Mental Health Act just before sittings were completed? And yet, if you look more carefully, you will see not only a recently active phone on his lap but also an illuminated iPad, tucked down by the side of the chair, indicating somebody who might look relaxed, but who is also very busy!
---
VISIT

Royal Society of Portrait Painters' Annual Exhibition, Mall Galleries; 9–24 May 2019
10am–5pm, late nights until 7pm on 14 and 21 May
Free entry for Arts Society Members using the code AERP19, £4 standard.
Become an instant expert!
Find out more about the arts by becoming a Supporter of The Arts Society.
For just £10 a year you will receive invitations to exclusive member events and courses, special offers and concessions, our regular newsletter and our beautiful quarterly arts magazine, full of news, views, events and artist profiles.
FIND YOUR NEAREST SOCIETY