Enter the Wonderful World of Tim Walker
Enter the Wonderful World of Tim Walker
17 Sep 2019 - 16:10 BY The Arts Society
As renowned fashion photographer Tim Walker opens a new exhibition at the V&A, we examine one two key works on show.
---
Tim Walker's fantastical images have graced the covers of Vogue, W and LOVE. Born in England in 1970, he studied photography at Exeter College of Art and later worked as an assistant to photographer Richard Avedon in New York. Known for his extravagant designs, his work includes portrait and documentary commissions for newspapers, as well as books and short films. For part of this exhibition he has created 10 new photographic series, each influenced by V&A pieces, from jewelled snuffboxes to Indian miniature paintings.
Tim Walker, Sara Grace Wallerstedt, Fashion: Moncler 1 Pierpaolo Piccioli, London, 2018 © TIM WALKER STUDIO
---
The image above comes from his Illuminations series. It is of American model Sara Grace Wallerstedt and, in creating it, he has drawn on the V&A's stained-glass windows. 'Walker has always been fascinated by stained glass,' curator Susanna Brown tells us, 'from its illuminated colours to its significance as a storytelling tool.'
In the image, Walker channels the illuminated red used in many pieces of stained glass, as seen in the V&A's 16th-century panel Tobias and Sara on their Wedding Night. Walker has fond memories of walking home from school as a child in winter, and seeing the glow of his mother's red silk lampshades in the dark. 'Although many of the photographs in
this exhibition are a response to the V&A's collections, they are also often connected
to his personal life,' Brown explains. 'The illuminated red evokes an emotional response in him, while harking back to analogue photography and the light of the darkroom.'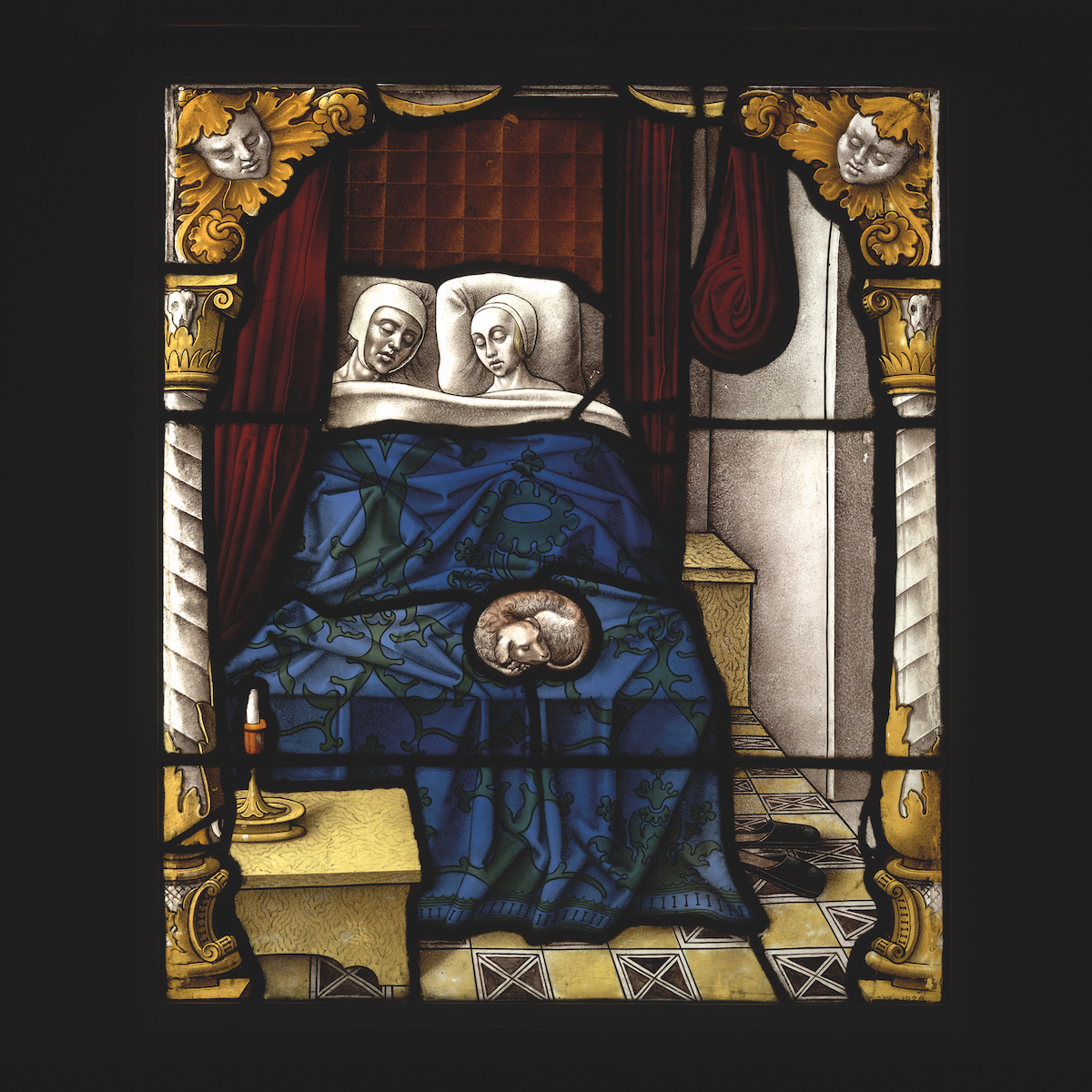 Tobias and Sara on their Wedding Night, about 1520, Cologne, Germany, stained-glass pane © VICTORIA AND ALBERT MUSEUM, LONDON
---
For Walker, the personal nature of Tobias and Sarawas particularly touching. 'It's an unexpectedly domestic scene,' Brown explains, 'from the figures in the nightcaps under their bedcovers, to the little dog curled up at their feet.' It draws on the biblical story of Tobias and Sara, a tale filled with demons, dogs, potions and passion. Walker's response to the work – and to the other items in the collection – was especially revealing, Brown adds. 'His imagination is so alive – he would alight on an object or an artefact and could swiftly see the story he wanted to tell.' The results promise to be an immersive journey into the spectacular – and the largest exhibition of Walker's work to date.
---
SEE

Tim Walker: Wonderful Things, 21 September–8 March 2020,
V&A, London; vam.ac.uk
Become an instant expert!
Find out more about the arts by becoming a Supporter of The Arts Society.
For just £10 a year you will receive invitations to exclusive member events and courses, special offers and concessions, our regular newsletter and our beautiful arts magazine, full of news, views, events and artist profiles.
FIND YOUR NEAREST SOCIETY