Encounter these incredible autumnal works of art
Encounter these incredible autumnal works of art
16 Oct 2020 - 09:24 BY Holly Black
From falling leaves to abundant harvests, autumn is an inspirational season for artists.
---
---
George Mason, The Harvest Moon, 1872
This stunning harvest scene is tinged with a warm and rich autumnal hue, achieved through a technique known as 'the Etruscan'. The artist developed this system of preparing a monochrome picture before flooding it with colour with the Italian landscape painter and revolutionary Giovanni Costa. On his return to the UK, George Mason became famed for his pastoral scenes, which often captured the back-breaking labour that came with working the land.
---
---
Georgius Jacobus Johannes van Os, Fruit, Flowers and Game, 1820
This image of abundance is not limited to the luscious selection of fruits, vegetables and freshly caught game birds. Look carefully and you can see the allusions to Bacchus, god of agriculture, fruitfulness and wine, etched into the tablet behind the feast. Georgius Jacobus Johannes van Os used these challenging, multitextured compositions to show off his exceptional skills, and was feted for his still lifes that captured the domesticated wonders of nature.
---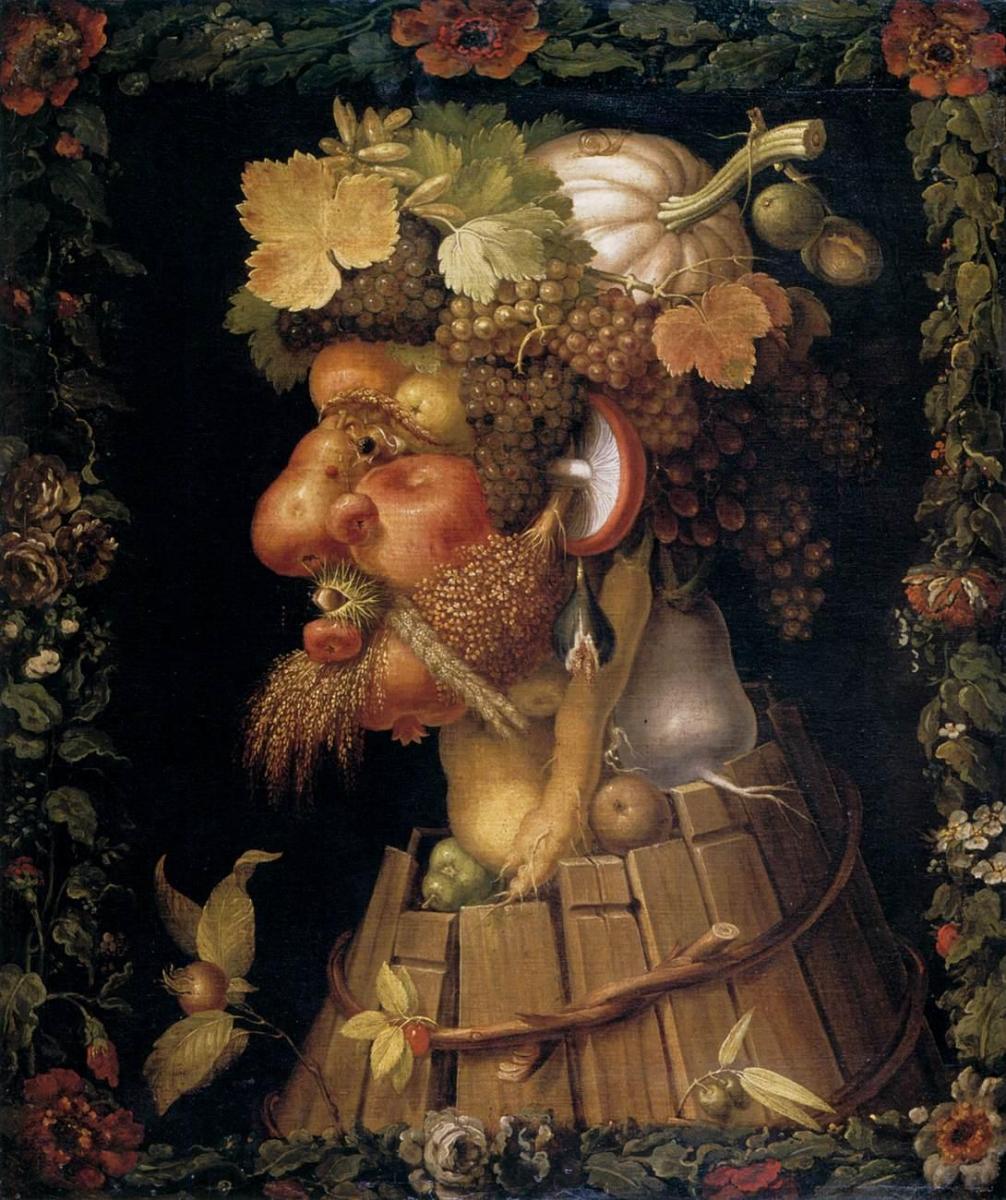 ---
Giuseppe Arcimboldo, Autumn, 1573
There is perhaps no artist better suited to the autumnal season than Giuseppe Arcimboldo. The Italian painter is famed for his surreal portraits, which see human forms take shape through abundant assemblages of vegetables, fruit, foliage, fish and more. This work is part of TheSeasons series, where delicious fare is combined with conkers and browning leaves, in a truly festive composition.
---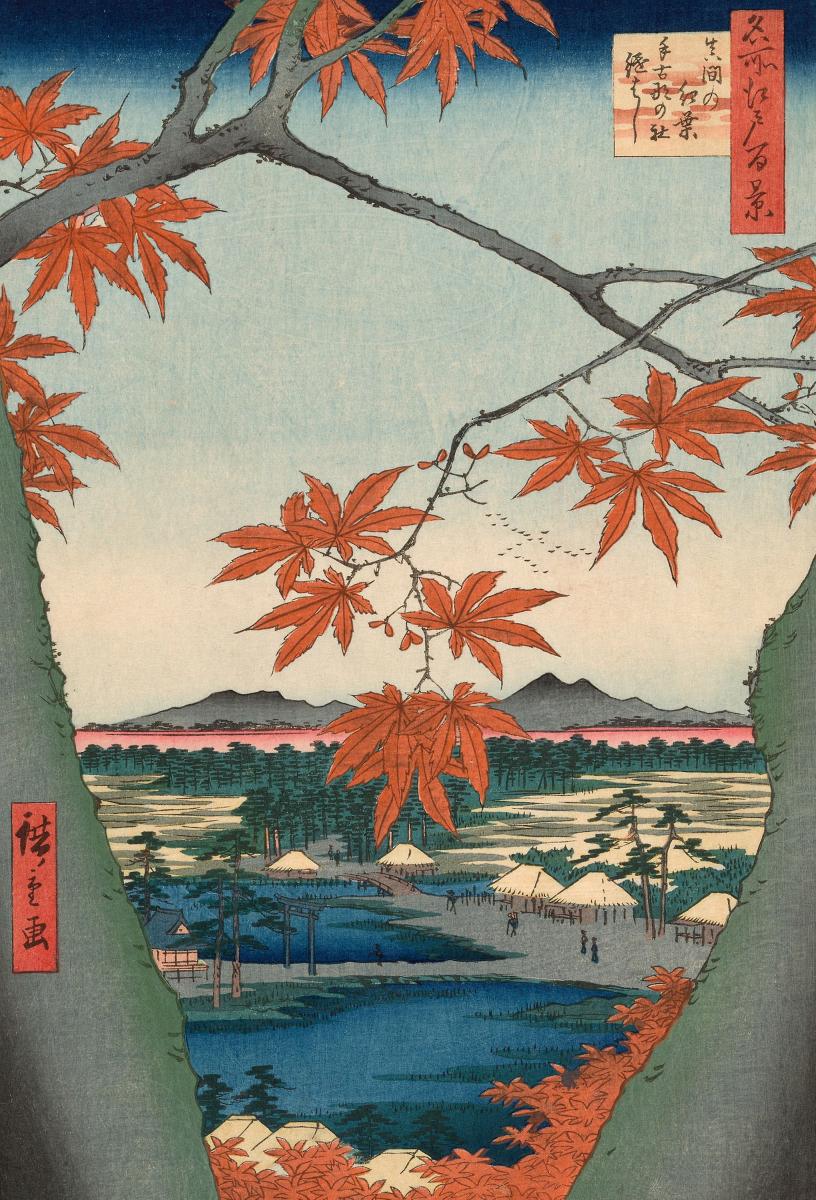 ---
Utagawa Hiroshige, The Maple Trees at Mama, Tekona Shrine and Tsugi Bridge, 1857
This beautiful woodblock print forms part of Hiroshige's One Hundred Famous Views of Edo, his ukiyo-e masterpiece that chronicled life in 19th-century Tokyo. Here, the artist captures a beautiful area famed for its proliferation of maple trees, which explode in glorious red and orange hues every autumn. The phenomenon remains a beloved moment in Japan, with momijigari (viewing of fall leaves) festivals taking place across the country every year.
---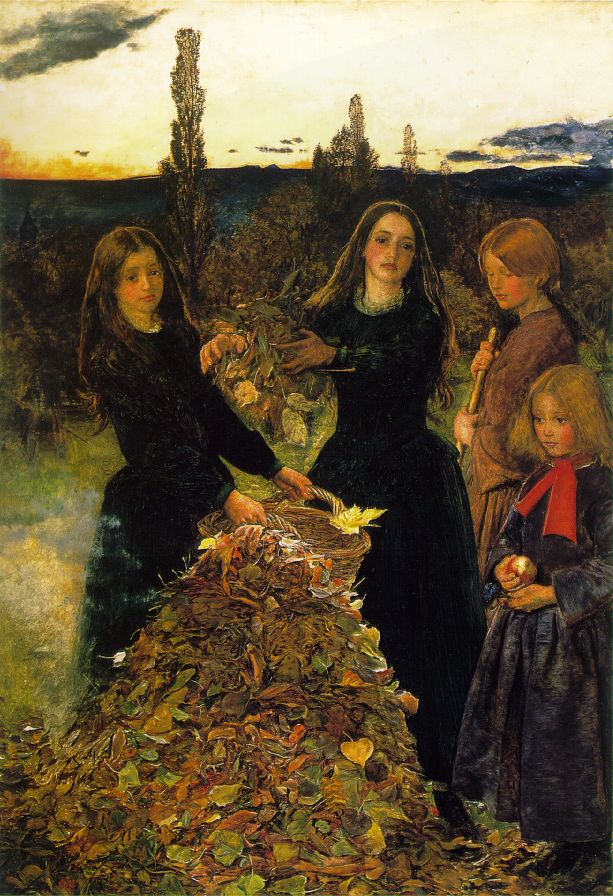 ---
John Everett Millais, Autumn Leaves, 1856
This ethereal scene was lauded by John Ruskin for its prefect depiction of twilight. It contains allusions to the loss of youth and innocence, which in turn relate to the change in seasons. For example, the youngest child holds an apple, possibly signifying original sin. The emphasis on beauty and visual balance is widely considered to be an early example of the burgeoning Aesthetic Movement, in which emotion and transcendence take ultimate precedent.
---
Holly Black is The Arts Society's Digital Editor
Become an instant expert!
Find out more about the arts by becoming a Supporter of The Arts Society.
For just £20 a year you will receive invitations to exclusive member events and courses, special offers and concessions, our regular newsletter and our beautiful arts magazine, full of news, views, events and artist profiles.
FIND YOUR NEAREST SOCIETY