A dog's life – Emily Brontë's furry friend
A dog's life – Emily Brontë's furry friend
22 Dec 2018 - 10:30 BY The Arts Society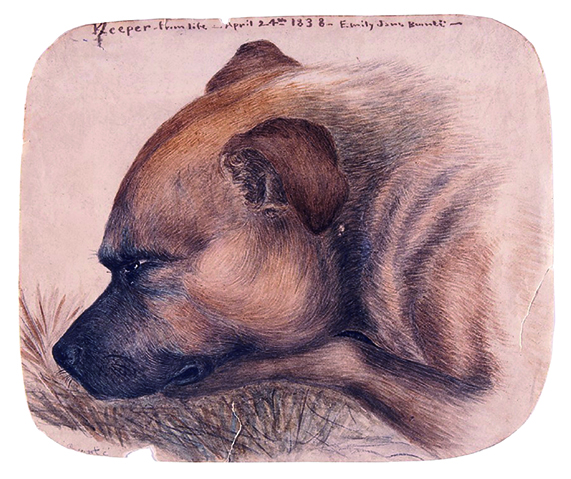 Image: Brontë Parsonage Museum
---
Emily Brontë painted this watercolour of Keeper, her bull mastiff cross-breed, on 24 April 1838. It is in our collection at the Brontë Parsonage Museum. She signed it in ink, in minute script, along the top edge, and again on the bottom left. It is one of her most accomplished works.
Keeper is shown looking placid, his head on his paw. Emily has captured his gentle side, although it is known that he could be intimidating. He was a terrific size – we have his brass collar, which is eight inches in diameter.
Emily preferred to draw and paint from life, as here, and favoured nature and animals as subjects (she felt more akin to the latter, than to humans). She developed acute observation skills, and her delicate, tiny brushstrokes capture Keeper's coat beautifully. Her confident use of light and shade in all her works somehow helps to evoke a sense of character, too.
---
'She developed acute observation skills, and her delicate, tiny brushstrokes capture Keeper's coat beautifully'

---
The Brontë children were schooled in drawing and painting. They were inspired, in particular, by the work of the wood engraver, artist and naturalist Thomas Bewick, and the English Romantic painter John Martin. They were also familiar with William Finden's engravings, and illustrations featured in annuals such as The Literary Souvenir.
---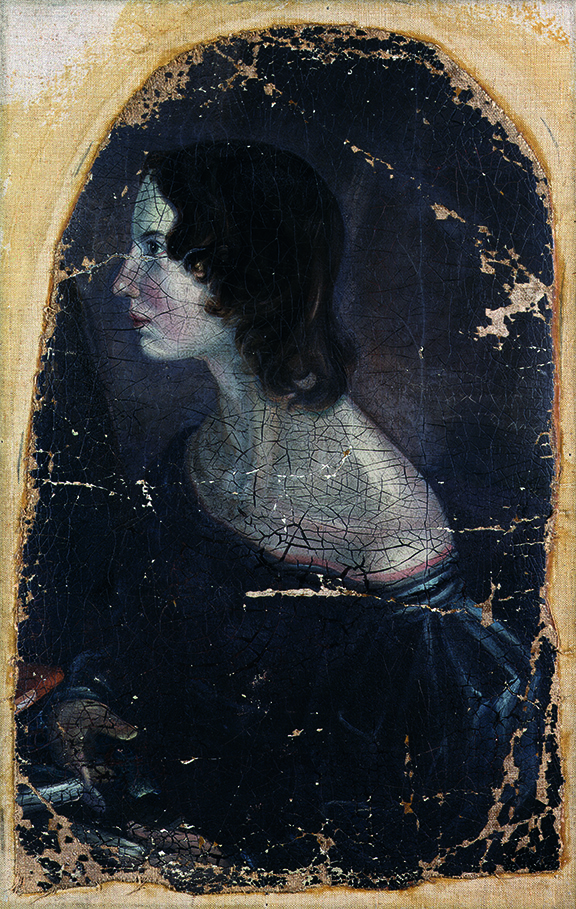 Image: Emily Brontë by Patrick Branwell Brontë c.1833 © National Portrait Gallery, London
---
They would copy works to learn techniques, but Emily was more of a freethinker when it came to her art. She honed her eye on what surrounded her and, as a result, I think was the more talented artist. Her earliest surviving work is the drawing Mullioned Window from around 1829–30. There are 29 surviving paintings and drawings by Emily, and I am currently working on authenticating another, called Ancona.
Some six of her works are 'lost', although it is possible that they are safely in a private collection, although we don't know where. This painting of Keeper was purchased from a private individual in 1903, from whom we also bought some of Charlotte's works.
---
'Emily was more of a freethinker when it came to her art'

---
We know very few facts about Emily; what we do know tends to be associated with her relationships with animals. She was devoted to Keeper – and he to her – but documented scenes between them make alarming reading. Once, having discovered the dog upstairs, having muddied a counterpane, Emily dragged him downstairs, attacking him with her fists and punching his eyes, only to gently bathe them later. She was not sentimental towards dogs, yet her tender feelings for Keeper come through in this work. When she died, on 19 December 1848, from tuberculosis, he followed her coffin into church. He died three years later and is buried somewhere in the parsonage garden.
---
Visit

Each month the Brontë Parsonage Museum offers access to the treasures in its collection on exclusive curator-led tours. Places are limited to 12. For details, go to bronte.org.uk/whats-on
Sign up

For our monthly free newsletter, full of more stories and news on latest exhibitions, at theartssociety.org/signup
Become an instant expert!
Find out more about the arts by becoming a Supporter of The Arts Society.
For just £10 a year you will receive invitations to exclusive member events and courses, special offers and concessions, our regular newsletter and our beautiful quarterly arts magazine, full of news, views, events and artist profiles.
FIND YOUR NEAREST SOCIETY